When you shop through retailer links on our site, we may earn affiliate commissions. 100% of the fees we collect are used to support our nonprofit mission.
Learn more.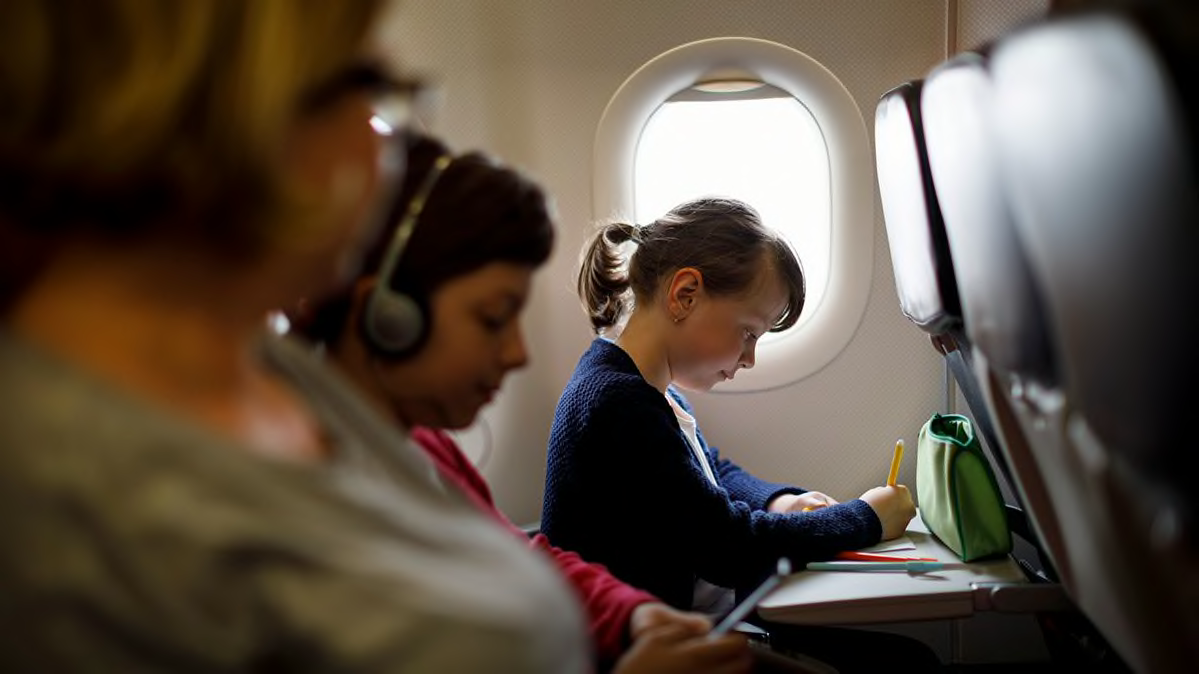 Flying with kids is stressful enough without the added angst of having your 6-year-old seated in the back of the plane when you're up front in row 12.
But without seat assignments—which can come with a steep fee or require the purchase of a more expensive class of ticket—there's no guarantee that children, even toddlers, will be seated with parents or guardians. It's a problem some airlines say they're addressing, even though complaints from passengers keep rolling in.
In fact, the Department of Transportation received 600 complaints about family seating in just the past three months, quadrupling the number it received in the previous two and a half years. Many of those reports came after Consumer Reports encouraged people who had experienced the problem to contact the DOT.
And more than 128,000 people have signed an online petition CR launched in late February calling for the three largest U.S. airlines—American, Delta, and United— to guarantee that children 13 and younger be seated with their families on planes at no additional cost.
Family seating is also on the radar in Congress and was one of the topics addressed Tuesday at a House aviation subcommittee hearing on ways to improve airline passenger experiences.
It's not just a matter of inconvenience for families, says Anna Laitin, director of financial policy at CR. Separating children from their parents during flights is stressful to children and parents and poses safety risks if there's an in-flight emergency. It could also put children at risk for sexual assault, she says.

Travel Troubles
Monica Fernandez is among the many upset flyers. Last June she flew from San Francisco to Newark with her 4-year-old daughter and 6-year-old son on United. While checking in she discovered that their basic economy tickets had them seated in different rows.
The gate agent couldn't help her and said she should try asking passengers to switch with her once she boarded. Fernandez says she had to beg other flyers, finally getting two to agree to move a few minutes before takeoff.
"My son is on the autism spectrum, and I could not have him seated away from me. My daughter was terrified, crying and calling out for mommy," Fernandez says. "It is infuriating that I have to pay to be seated next to my young children. Something needs to change."
But it's not only flyers who buy basic economy fares who can find themselves separated from their kids on a plane. It can happen even when you have assigned seats, say, if your flight is canceled and you're booked on another flight, or if a different type of aircraft shows up for your flight.
"Families face a constant battle to ensure they are seated together, even when they choose seats far in advance," Laitin says. "Nobody benefits from children sitting far away from adults who can care for them, and the risks created are simply too high."
What Airlines Are Doing
Airlines say they're clear about how restrictive basic economy fares are, with pop-up windows and other alerts pointing out that seats together for families or groups aren't guaranteed. Some of the major ones are beginning to address the problem.
United, Delta, and American say they now have systems in place that automatically scan reservations to flag flyers traveling with children on the same itinerary and try to seat them together before check-in whenever possible.
Andrea Koos, a spokesperson for American, says the airline's system will detect families traveling with a child under the age of 15 without seat assignments starting 48 hours after the reservation is made and will search for seats together.
Koos says American also blocks a certain number of seats that can be assigned at the gate for families and others who want seats together at the last minute.
Delta says it also reserves a block of seats so gate agents have some inventory they can assign at the last minute. It says it also has a process to try to seat groups on the same itinerary together, though it's not age-specific.
A United spokesperson, Charles Hobart, says the carrier now automatically seats children next to at least one adult traveling under the same passenger name, even if the family doesn't choose seat assignments when booking. "We launched this technology last summer as part of several family-friendly initiatives, including a new check-in and security lane at Chicago O'Hare dedicated to families to help de-stress the airport experience," Hobart says.
No Simple Fix
CR's Laitin says more is needed. "Airlines may be making some improvements, but the complaints we see show they're not working well enough," she says. For example, she points out that while United says it has processes in place to ensure that parents and young children sit together, its website still says basic economy travelers aren't eligible for family seating.
Even passing laws may not immediately solve the problem. For example, Canada's new Air Passenger Protection law, which went into effect last year, requires airlines operating in the country to seat children under the age of 14 near their parent, guardian, or tutor at no extra cost. But some families report still being separated.
Ashleigh Moore, a Salt Lake City native, says when her family—including her husband and two children ages 3 and 6—flew home from Toronto in January, they were each seated in separate rows. Neither the gate agent nor the flight attendant was able to help, Moore says, and no other passengers wanted to swap for middle seats on the 4-hour flight.
"Our children sat next to strangers," Moore says, adding that her 6-year old sat between two adults each watching R-rated movies. "We were concerned for their safety, both in case of an emergency, and also in case of an untrustworthy seatmate."
Moore contacted Delta to complain but the customer service agent wasn't aware of the law, though the airline ultimately gave Moore vouchers for new flights.

"The airlines need to find a better way to solve the problem," Moore says. "It shouldn't be up to families to deal with it, and it's not fair to ask passengers who have paid more for a seat to move."
What to Do
Unless there are new regulations in the U.S., the only way to guarantee that your family will sit together is to pay for a reserved seat and check regularly to make sure that assignment hasn't been changed. But there are ways you can try to be seated with your kids without paying extra. Here's what to do, and how to complain if you have a problem.
Call the airline. Try calling a reservation agent while you're booking your flight online and say you're traveling with children. While the airline isn't obligated to seat you together unless you pay extra to reserve seats, the agent may be able to make an exception or note in the reservation that you are traveling with children, which could help you later.
Get to the gate early. If the airline has blocked seats for groups of people who want to sit together, early birds stand a better chance of getting them.
File a complaint. When you have a problem, even after the fact, you should file a complaint. Start with the airline; it may offer vouchers for future travel for your trouble. You should also file a complaint with the DOT, which says it will continue to monitor the issue and has created a separate complaint category for family seating.