When you shop through retailer links on our site, we may earn affiliate commissions. 100% of the fees we collect are used to support our nonprofit mission.
Learn more.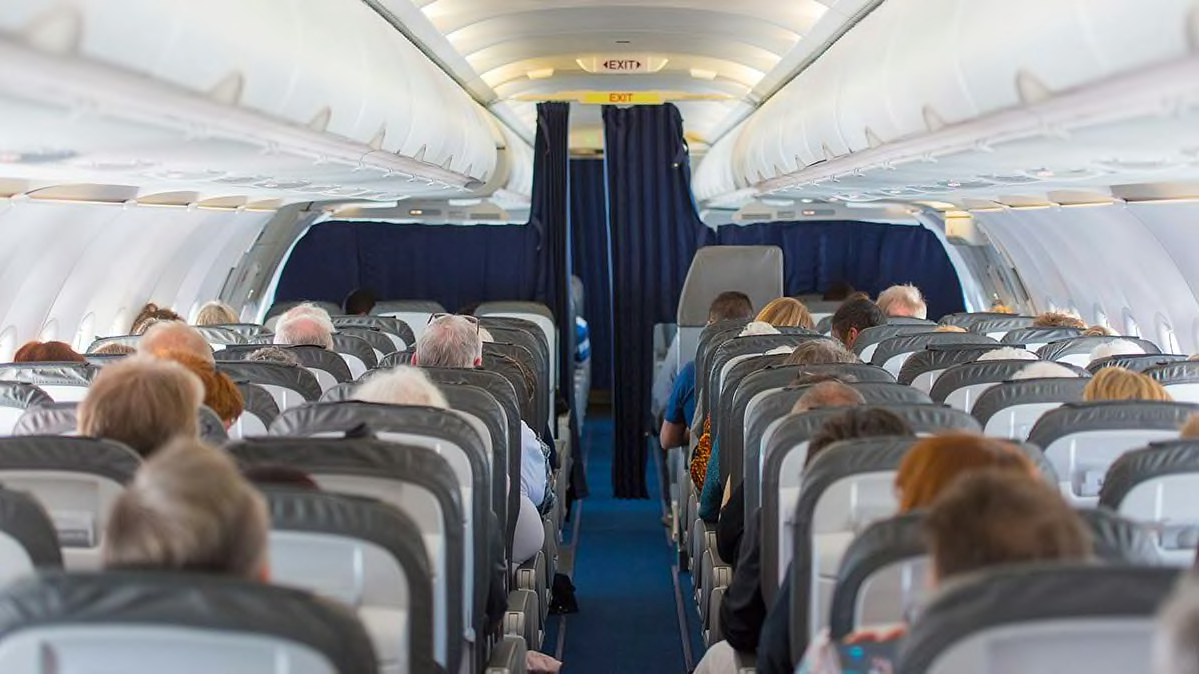 More passengers are taking to the air, and many—especially those in economy class—are finding themselves increasingly stuffed into airplanes and enduring more uncomfortable journeys.
According to a recent airline satisfaction survey of more than 55,000 Consumer Reports members, two major complaints were that seats were uncomfortable and legroom was insufficient.
"Things have gotten much worse in the back of the plane in terms of comfort," says Emily McNutt, travel editor at The Points Guy, a travel services website.
That's especially true since airlines like Delta, United, and American have introduced "basic economy" fares.
Though this class of ticket reduces the price, it also reduces the amount of space you have around you and even the padding on your seat. Plus there are plenty of restrictions: You usually aren't allowed to use the overhead bins and you are supposed to board the plane last. If you buy a basic economy ticket but then find you need to check in a bag, you'll have to pay extra.
As things get worse, here are some tips on how you can have a more comfortable flight.
Use an Airline Branded Credit Card
If you're in the market for a new credit card and you tend to travel on a particular airline, consider applying for a card branded by that airline. You'll get free benefits that will make your trip a little easier.

For example, if you travel on Delta Airlines and you have the Gold Delta American Express Skymiles card, you can check in one suitcase at no additional charge. You'll also get Zone 1 boarding—even if you have a basic economy ticket where you're supposed to board last. There is no annual fee the first year, and it's $95 after that.

Sometimes branded cards give you extra perks. The Delta Reserve card, for instance, offers free upgrades to more comfortable seats. It also offers access to airport lounges, as does the Citi/AAdvantage Executive World Elite Mastercard. But keep in mind that these cards generally come with a hefty $450 annual fee, so unless you travel frequently, such a card may not be useful to you.
Choose the Right Aircraft
The type of aircraft you choose to travel on can have a big impact on your comfort, especially on long-haul flights.
George Hobica, founder of AirfareWatchdog.com, says that the Boeing 787 and the Airbus A350 are more comfortable than other models. Hobica says the air in the cabin tends to be less arid on these planes. They also allow for higher cabin pressure, which alleviates symptoms of air sickness or respiratory distress.
Check Your Aircraft's Seat Map
When it comes to choosing a seat, McNutt says economy travelers should use a site like SeatGuru to pick the best seat possible. By plugging in the flight number and time of departure, SeatGuru will show you the seat map of your aircraft. It also describes the seats, explaining, for example, which ones don't recline, how much legroom is available, whether a window is misaligned, and which seats are located near brighter and louder areas of the plane, like the bathroom or kitchen galley.
If you still end up with a seat you don't really care for, you can sometimes make a last-minute change. Try arriving to your gate early and ask the agent in charge for a better seat before other passengers arrive, says Tracey Stewart, an editor at AirfareWatchdog.
"I've had surprising luck asking gate agents," says Stewart, who is 6 feet 3 inches tall. "It doesn't always happen, but it's worth a shot."

If that doesn't work, keep in mind that more seats may become available.
As the departure time gets closer, tons of seats open up. If you see an aisle or window seat become available—perhaps by using your airline's app—ask the gate attendant whether you can change to one of those seats, McNutt says.

Bring a Memory Foam Pillow
Pillows that the airlines pass out are overrated and gross, says Stewart, plus it's your tush that really needs something soft during flights.

Consider bringing your own cushion. "I bring a memory foam seat pad with me when I know I'll be flying long distances in economy class," Hobica says.
Another idea: Reduce anxiety by bringing a weighted blanket on board. You can get a 4-pound weighted blanket that applies pressure to your muscles and releases serotonin, Stewart says.
Because carry-on restrictions are getting more strict, make sure that your pillow snaps onto your carry-on bag and that your blanket fits inside.
Carry Noise-Canceling Headphones
A good set of headphones will come in handy to block out the sounds of crying babies or rambunctious spring breakers.
Consumer Reports rates a variety of headphones, so make sure you check out which ones are the best before you buy.
One design recently unveiled at the consumer electronics show is the Nuheara Live IQ. These ear buds feature noise cancellation and there's no wire connecting the two earpieces—great for anyone who wants to travel light.
Old-fashioned earplugs are another option to keep out unwanted noise.
Make an Amenity Kit
Just because you have a cheaper seat doesn't mean you have to give up all the comforts that come with the more expensive tickets. McNutt says that Premium cabin travelers get amenity kits that are usually fancy and designer-branded. For example, Delta offers a Tumi branded amenity kit for long-haul first-class travelers.
McNutt says you can make your own. A good amenity kit, she says, should have a travel toothbrush, toothpaste, travel-sized lotion, hand sanitizer, wipes, an eye mask, earplugs, a hairbrush, and a mirror.
You could also bring a car-back seat organizer, which can be hung on the seat back in front of you, over your tray table or on the seat pocket in front of you. It can hold everything from a drink to your laptop or tablet.
Be Polite
Everyone knows that air travel can be stressful. Even so, being polite and civil can help you to get along better with airline employees and fellow passengers.
"If we can civilize economy class through basic politeness, we're actually improving the feeling and spirit of it, boosting camaraderie, even if you can't get a comfortable seat," says Christine Sarkis, deputy executive editor at SmarterTravel.
Correction: An earlier version of this article did not correctly explain that the Boeing 787 and the Airbus A350 provide higher cabin pressure than other models.
Airplane Anxiety
Does air travel stress you out? On the "Consumer 101" TV show, Consumer Reports' expert Octavio Blanco explains to host Jack Rico what air travelers can do about airlines, airports, luggage, boarding, and fees.