When you shop through retailer links on our site, we may earn affiliate commissions. 100% of the fees we collect are used to support our nonprofit mission.
Learn more.
Illustration: Señor Salme
In September, American Airlines began service from Miami to Los Angeles—a flight of just under 6 hours—on its Boeing 737 Max aircraft. The plane is a feat of aviation engineering that Boeing says is 14 percent more fuel-efficient and travels 600 nautical miles farther than earlier versions of the 737. It is also one of the most recent examples of how cramped air travel has become: It carries 12 more passengers (for a total of 172) than American's other 737s, all of them shoehorned in by moving the seats closer together in all classes and shrinking the bathrooms so much that some people have reported difficulty turning around in them or washing their hands without getting soaked.
Even carry-on bags are getting less room: Alaska Airlines reduced the size of bags it allows onboard by 32 percent in June, and certain airlines won't allow you to bring a carry-on at all unless you pay a fee.
But it's not just irritations such as small bathrooms and vacuum-packed seating that make modern-day air travel so unpleasant. Planes today take off 85 percent full, according to the Department of Transportation, so there's plenty of competition for space in overhead bins and little chance you'll end up next to an empty seat. And as anyone who has purchased a ticket online knows, the price you wind up paying can bear little resemblance to the one that lured you in, once the numerous ancillary fees and other additional charges are factored in.
Flying wasn't always so frustrating. Many of us fondly remember the days before deregulation, when the fare was the fare and airlines battled for our business by trying to outpamper us. But with low-cost, no-frills carriers such as Allegiant, Frontier, and Spirit nibbling away at the market share of giants such as American, Delta, and United, these legacy airlines followed the lead of their low-cost competitors and began charging for niceties that were once included, such as allowing passengers to choose their seats or to carry on a bag. "They became ruthlessly focused on cost reduction," says Samuel Engel, an analyst who leads the aviation group at consulting company ICF.
In their most recent gambit to attract cost-conscious fliers and increase profits, the major carriers have carved economy class up into three tiers: basic economy, a bare-bones, highly restricted fare; standard economy; and enhanced economy, which comes with more legroom and other enticements (see chart below).
This move has left travelers with more choice—and more confusion. The new rock-bottom fares may look like a great deal at first glance, but they're less appealing once consumers understand that they come loaded with restrictions. Similarly, airlines offer enticements such as early boarding, extra legroom, and the ability to check a bag—all for a price. When you tally up the cost of all the extras, a fare that originally looked like a good deal can quickly turn out not to be.
"The airline industry has deliberately made comparison shopping and booking as confusing as it can," says William McGee, an airline and travel adviser for Consumers Union, the advocacy division of Consumer Reports. "Such opaque pricing makes it easier for the airlines to impose more—and higher—fees, and to increase base fares as well."
The following five tips, along with our airline and luggage ratings, will arm you with the strategies you need to cut through all the confusion and to get the most value for your travel dollar. We'll even show you how to pack your carry-on bag like a pro. Bon voyage!
1. Know How to Navigate the New Economy Class
There used to be just three choices when booking a seat on a major airline: coach, business, and first class. Now that American, Delta, and United have created new fare options to remain competitive with low-cost carriers, travelers on these airlines have three options in coach alone.
At the cheapest end of the spectrum, bare-bones basic-economy fares are available on many domestic routes and are expanding to international ones. (Alaska Airlines and JetBlue have announced that they will also be adding basic-economy fares.) Although it might save you money, basic-economy is the most restrictive fare: It is nonrefundable and nonchangeable. If you're unable to use the ticket, you lose its entire value. You can't choose your seat when booking, you have to wait to board, and on United you can't take a carry-on bag. (If you arrive at the gate with one, it will be checked for you and you'll be charged a fee of at least $30 per bag, plus $25 per bag for having it done at the gate.) Basic-economy seats are often the same size and offer the same legroom as standard-economy seats.
A basic-economy ticket might not be such a bargain when you consider the perks you don't get and the ones you could end up paying separately for. "The airlines are using these fares to attract price-sensitive consumers and then get them to pay far more than they intended in additional fees when they see just how few amenities are offered with the basic-economy ticket," McGee says. "Until airlines become more transparent about their pricing, consumers have to be diligent when comparison shopping."
Understanding the New Economy Class
American, Delta, and United now offer three levels of domestic economy class, ranging from a cheap and restrictive bare-bones fare to a roomier—and pricier—seat with enhanced perks. To help you choose the one that best meets your needs and budget, this chart shows how each stacks up against the rest.
Basic Economy
Standard Economy
Enhanced Economy
Seat Pitch 1

30 to 31 inches

Same as in basic economy

American: 33 inches

Delta: 34 inches

United: 34 inches

Seat Width

American: 16.6 to 17.8 inches

Delta: 16.3 to 17.3 inches

United: 16 to 17.3 inches

Same as in basic economy

American: 16.6 to 17.8 inches

Delta: 17.3 inches

United: 17 to 17.3 inches

Seat Selection When Booking Included in Fare

No

Yes

Yes

Priority Boarding 2

No

American: $9 to $74

Delta: $15

United: $15 and up

American: $9 to $74

Delta: Yes

United: $15 and up

Carry-On Bag

United: No

American/Delta: 1 bag

American/Delta/United:

1 bag

American/Delta/United: 1 bag (Delta offers dedicated space)

Free Beverage

Yes

Yes

United: Yes

American/Delta: Yes (with beer, wine, and spirits)

Free Snack

Yes

Yes

Yes

Free In-Flight Entertainment

Yes

Yes

Yes

First Checked Bag Fee 3

$30

$30

$30

Same-Day Ticket-Change Fee3

No changes allowed; value

forfeited if not used

American/Delta: $75

United: $200

American/Delta: $75

United: $200
The next tier, called Economy on United and Main Cabin on Delta and American, is less restricted. These fares usually entitle you to choose your seat at the time of booking, take a carry-on, board in the middle of the pack, and make itinerary changes or apply the value of an unused ticket toward future travel for a fee.
The enhanced-economy category, which also goes by different names on different carriers, offers seats with a few inches more legroom closer to the front of the plane (for faster deplaning) or in exit rows. Other perks can vary. You may get complimentary alcohol. Priority boarding is included on Delta. On United you can be among the first to board for a fee starting at $15; American charges a fee of $9 to $74 for that privilege.
To help you determine which tier of coach is the right one for you, consider these questions:
Do you hate being squeezed? If a tight seat is torture on even the shortest trips, enhanced economy may be worth the added cost for the extra legroom and more generous recline it provides. Prices vary, but we found that you could spend around $200 or more over basic economy, depending on your route and when you bought your ticket.
How important is it for you to sit next to a window or on the aisle? In general, basic-economy tickets don't allow you to select seats when you book, so you could very well end up in one of the dreaded middle seats. (United allows basic-economy ticketholders to pay a fee, starting at $5, to select a seat on certain flights.) You're effectively leaving your seat selection to chance with a basic-economy ticket, so if seat location matters a great deal to you, this might not be the best choice.
Are you traveling with children? Because basic-economy tickets don't usually allow you to select seats when you book, they can present challenges for people who want to be seated together, particularly for parents traveling with young children.
An American Airlines spokesperson told CR that the airline has automated tools to seat children with a family member; a Delta spokesperson said that the airline works with customers on a case-by-case basis and encouraged anyone with questions about seating to call Delta reservations. United referred us to Airlines for America, an industry trade group.
"Every effort is made to make sure families sit together," says Alison McAfee, Airlines for America's managing director of communications. "But many variables contribute to individual cases—specifically, how far in advance a booking was made and how many seats are needed together," McAfee says.
"This is a not just some convenience issue," says Consumers Union's McGee. "It's about safety, and it should not be treated by the airlines as yet another opportunity to nickel-and-dime passengers," he says.
The DOT website notes that basic-economy tickets "may not meet the needs of families with young children." If you're flying with your family and need to sit together, you may want to avoid basic economy entirely and book seats in standard economy. It's more expensive, but the peace of mind it provides may be worth it.
Do you carry an airline-branded credit card? These cards can offer fliers perks such as a free checked bag or priority boarding (more on that later). But read the fine print. Basic-economy ticketholders are often ineligible for upgrades.
2. Choose the Best Seat at the Best Price
Before you to pay more for a so-called preferred seat, research all the available options. In some cases, the cheaper seats on a plane can be as comfortable as, or better located than, those the airlines charge extra for, says Tracy Stewart, editor of Airfarewatchdog. More expensive seats could have a misaligned window (meaning you'll have no view of the clouds) or they might be in brighter, louder areas of the plane, such as across from the bathroom or galley.
Once you've decided on a flight (but before you've chosen your seats) check SeatGuru, a website that offers its own analysis of how much legroom and recline each seat offers. The site might also alert you to any undesirable attributes.
3. Choose a Top-Rated Airline
In our latest airline ratings survey, CR members identified a few carriers that deliver consistently good travel experiences (see airline ratings).
Of the 10 airlines in the survey, Southwest landed at the top of the ratings for overall satisfaction by passengers on economy flights. It earned high scores for service, ease of check-in, cabin cleanliness, pricing transparency, and keeping passengers informed of flight status. This no-frills carrier lists its fees clearly and lets you check two bags free of charge.
Alaska Airlines, JetBlue, and Hawaiian Airlines are also among the highest-rated airlines for economy flights. Like Southwest, they received favorable ratings for service, ease of check-in, cabin cleanliness, pricing transparency, and keeping passengers informed of flight status.
That said, if money is your primary concern, don't overlook ultra-low-cost airlines such as Allegiant, Frontier, and Spirit. Even though Frontier and Spirit have among the lowest reader scores in our ratings, they and other budget airlines have begun to offer perks—including early boarding and wider seats with extra legroom—for a fee.
When we compared the prices of enhanced economy on American and Delta with similarly upgraded service on low-cost carriers (see "Are Low-Cost Carriers Really the Cheapest?" below), we found that the low-cost airlines offered a better deal on all three routes we compared.
For example, an Allegiant Airlines round-trip fare between Chicago and Fort Myers, Fla., which included extra legroom, a carry-on bag, a checked bag, and early boarding, was about $200 cheaper than the price of a Main Cabin Extra ticket on American Airlines with comparable space and amenities.
While they may save you money, remember that low-cost carriers tend to have smaller fleets, so they might not be able to put you on another flight quickly if your flight is canceled or delayed, McGee says.
4. Find a Rock-Bottom Fare
Consumer Reports has concluded in previous airfare shopping tests that the best way to find the lowest fare is to search multiple times over multiple days. You'll also increase your chances of snagging the lowest price by shopping broadly, at both airline websites and third-party sites such as Google Flights, Kayak, and Orbitz.
"No single travel site or airline consistently offers the best deals in all cases," McGee says. Not all airlines appear on all third-party sites (Southwest, the top-rated carrier in our survey, doesn't appear on any of them), so always check fares directly with the airline sites.
Casting a wide net is only the beginning. To find the best deals you'll also need to:
Pay attention to fees. Not all airline and third-party websites provide all optional fees in a convenient and transparent manner during the shopping and booking process. (United, for example, requires shoppers to enter specific flight information and dates before providing checked-baggage fees.) That's why Consumers Union has been fighting for years for full airfare and fee transparency through all booking channels. To highlight these kinds of high and hidden expenses and help consumers to fight back, Consumer Reports has launched the What the Fee?! program. No matter where you book, be sure to understand the fare category you're purchasing and read the refund and baggage policies before you buy it.
Use price alerts and other fare-tracking tools. Sites such as Airfarewatchdog, Google Flights, Kayak, TripAdvisor, and others offer fare trackers that alert you when the price drops on a route that you want to fly. Other tools on some of these sites will predict whether airfare prices are likely to rise or fall, and Google Flights has an itinerary tool that shows how the cost of a flight will be affected if you decide to leave or return a day or two sooner or later. Many of these tools are also available as apps that you can download to your phone. Note that airlines must allow you to hold a reservation at the quoted fare, or cancel a booking without penalty, for 24 hours after you pay for it, as long as you're departing in seven or more days. That means you have 24 hours after purchasing your ticket to continue looking for a lower fare. (American and United also allow consumers to place a hold of up to seven days on a reservation for a fee.)
5. Carry an Airline-Branded Credit Card
Airline-branded credit cards can come with generous benefits. The Delta Reserve card, for instance, offers seat upgrades for cardholders with Medallion status on a space-available basis (basic-economy fares are not eligible for upgrades) and access to airport lounges. United's MileagePlus Card offers cardholders who are also MileagePlus Premier members complimentary upgrades when available. Other benefits include priority boarding and two free checked bags. But keep in mind that these cards have hefty annual fees of $450, so unless you travel frequently, they might not be worth the money.
Are Low-Cost Carriers Really the Cheapest?
Now that major airlines are going head-to-head with low-cost carriers, we wanted to get an idea of which offered the best fares. We compared the price of a low-cost carrier's no-frills ticket with a traditional carrier's basic-economy ticket, as well as the enhanced-economy fares of the low-cost and traditional carriers, on three round-trip routes. Our findings are far from conclusive but suggest that, on routes where these options are available, traditional airlines may match or beat the price of a no-frills seat on a low-cost carrier, while the budget airlines might save you money on a seat with extra room and other amenities.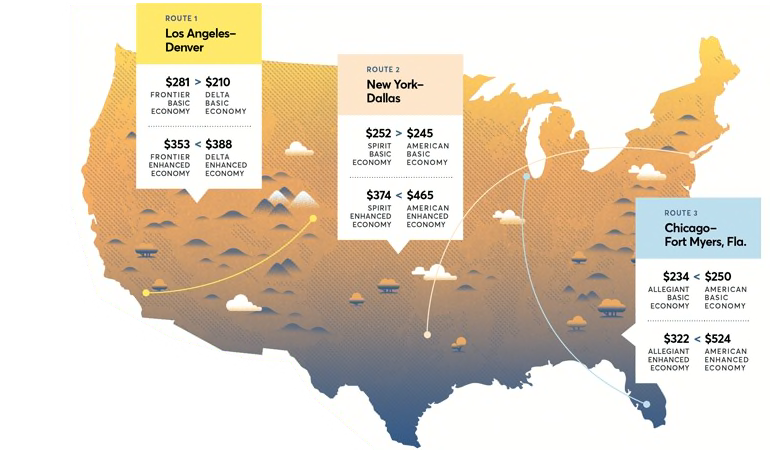 Editor's Note: This article also appeared in the December 2018 issue of Consumer Reports magazine.
Airplane Anxiety
Does air travel stress you out? On the "Consumer 101" TV show, Consumer Reports' expert Octavio Blanco explains to host Jack Rico what air travelers can do about airlines, airports, luggage, boarding, and fees.