When you shop through retailer links on our site, we may earn affiliate commissions. 100% of the fees we collect are used to support our nonprofit mission.
Learn more.
The easiest way to find and compare all of the flight and airfare options for a particular route is to use one of the many online travel agencies (which sell tickets) or fare aggregator sites (which direct you to an airline or other website to purchase the fare).
But do any of them offer lower prices than others?
To find out, we spent two weeks looking for the cheapest nonstop airfares on five busy domestic routes using nine popular sites—CheapOair, Expedia, Google Flights, Hotwire, Kayak, Orbitz, Priceline, Travelocity, and TripAdvisor.
We performed four sets of simultaneous searches on different days at different times, for a total of 372 queries. To check for merchants offering different prices to consumers based on their computer's browser history, we had at least one tester use a browser with a robust history of searching flights (which would be typical of a comparison shopper) and another using a "scrubbed" browser, or one cleared of all of the "cookies," or data files, that record previous web searches. (Consumers Union, the policy and mobilization arm of Counsumer Reports, has seen evidence of pricing based on search histories in previous investigations, not only with airlines and hotels but also with books and shoes.)
---
More on Air Travel
---
What We Found
The average prices overall ranged from $299 for Travelocity to $335 for CheapOair, which delivered the highest average fare and also failed to provide even a single lowest fare among the five routes in our test. We also discovered that airfares varied as much as $138 for the same route at the same time and as much as $238 over different days.
Among the 372 searches, we found 42 pairs of different prices on separate browsers for the same sites retrieved at the same time (in theory there should have been no differences). In fact, all nine sites provided different airfares on separate browsers at the same time at least once, although it occurred most frequently on Google Flights (12) and Kayak (8). Out of the 42 pairs that differed, 25 resulted in higher fares (by as much as $121) and 17 resulted in lower fares (up to $84 less) for the scrubbed browser.
"Cookies or no cookies, it is impossible for us to show different prices to different users," a Kayak spokesman told us when we reported our findings. He suggested that a difference of even a few seconds on simultaneous searches may have affected our results.
We can't say whether the fare differences we found are due to pricing based on browser histories. But we can say this: To increase your chances of finding the lowest airfares, search for flights multiple times and over multiple days, both with and without the cookies cleared from your browser (information on how to clear your browser of cookies can easily be found online).
Other Shopping Tips
Cover all the bases. Before booking a fare on an online travel agency such as Expedia or Orbitz, search google.com/­flights to see all of the carriers that serve the route you're flying, then check the airlines' own sites to see whether you can find an even lower fare. Although we didn't examine any airline sites in this test, remember that they often provide advantages as well, such as offering frequent-flyer-program discounts, seat selection, and details on optional fees for meals, baggage, etc.
Be flexible. We found that airfares could vary considerably for flights just hours apart, and at crosstown airports. All of those sites offer filters to help you narrow or broaden such choices, though we found that Kayak's were best. Use caution when employing the tools, though: We repeatedly found—after opting for specific departure times or choosing nonstop flights—that our preferences were ignored.
Use price alerts. Kayak's, for instance, will email you weekly or even daily notices when the price falls—helpful when you're shopping for fares well in advance.
Don't stop shopping after you buy a ticket. By law you can cancel a booking without penalty for 24 hours after you pay for it, as long as you're not traveling for at least a week. "Prices change all the time, so it's a good idea to check a few sites during that 24 hours to see if you can find an even better deal," says Carl de Marcken, a former MIT professor and fare expert.
---
The Rise of Regionals
Regional airlines—which often fly small aircraft that lack amenities—have grown considerably since 2000.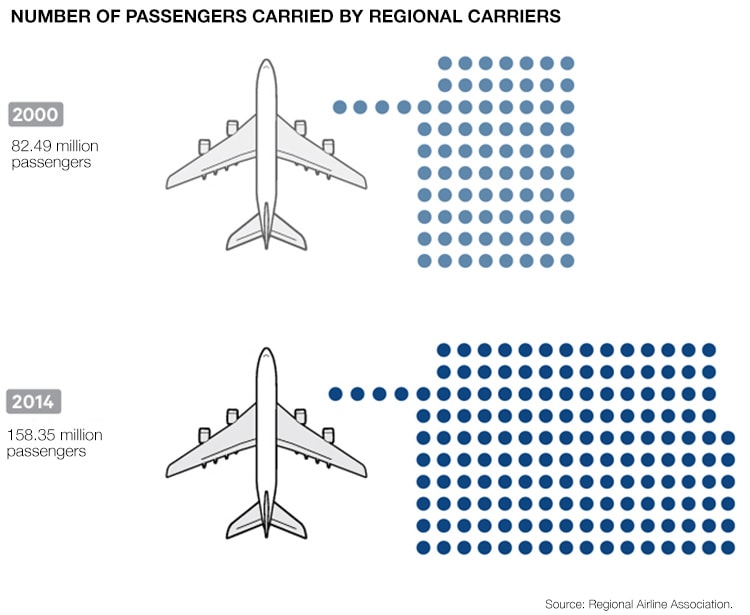 Illustration: Haisam Hussein