When you shop through retailer links on our site, we may earn affiliate commissions. 100% of the fees we collect are used to support our nonprofit mission.
Learn more.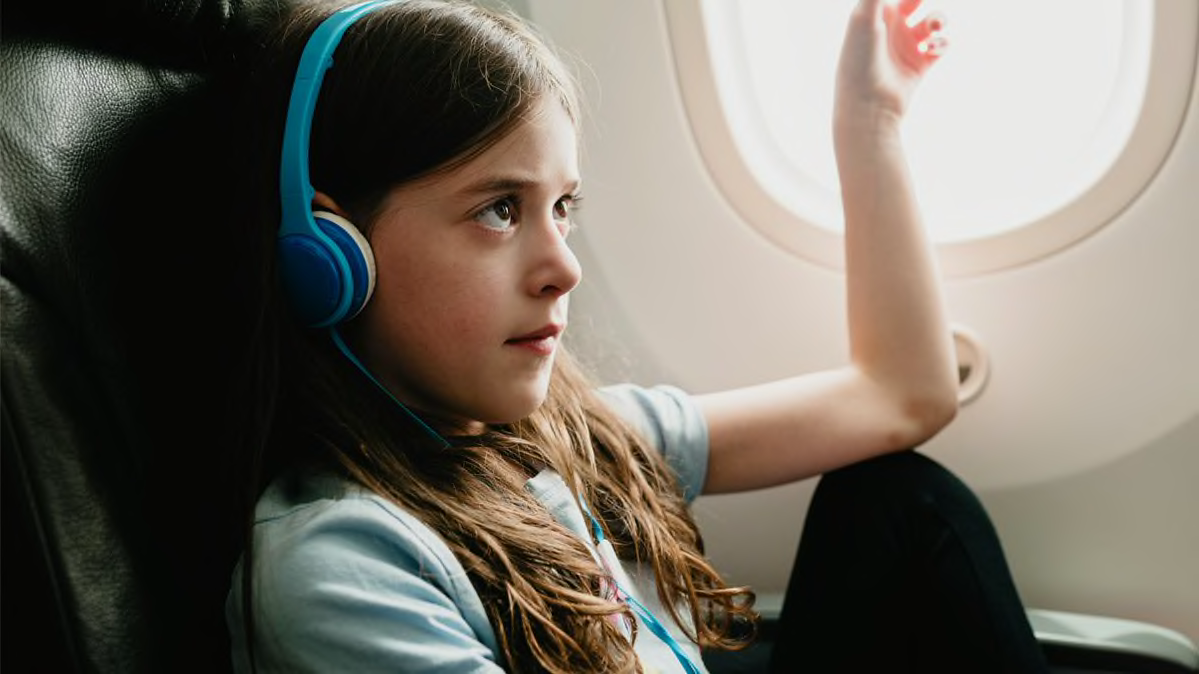 Summer is officially here, and for many families, that means packing kids off to camp or to visits with grandparents or a non-custodial parent. That summer migration creates a surge in the number of minors taking a flight alone, often for the first time in their lives.
Given all the hassles of flying these days, sending a child off on an airline trip can be stressful for adults. And now it's getting more difficult and more expensive to arrange.
"For years it didn't cost very much, but the prices have shot up," says Kyle McCarthy, editor of the Family Travel Forum. "And the rules have changed, too," she notes, with carriers raising the minimum ages for kids flying solo and capping the number on any given flight.
The standard fee for transporting an unaccompanied minor has risen to between $200 and $300 round-trip (in addition to airfare) on many major U.S. airlines (with the exception of Alaska and Southwest, which charge $100 round-trip). A little more than a decade ago, the fees were more in the range of $50 to $150 round-trip.
Why the Rules Are Changing
Airlines have been steadily increasing fees for lots of different services across the board, and watching over unaccompanied minors is no exception. That responsibility ultimately falls to the flight attendants on the plane, and this summer airlines are expecting record crowds.
"Aircraft are fuller than ever, and that limits our ability to check in regularly on the unaccompanied minors aboard," says Sara Nelson, president of the Association of Flight Attendants.
As a result, many airlines are now limiting solo trips for the youngest fliers to direct flights that depart during the day. The new restrictions come on the heels of reports about worrisome incidents in recent years. These include reports about several children boarding the wrong flight and a boy who disembarked his flight alone before it took off.
In most cases, airport staff didn't notice until alerted by a family member who had arranged to meet the child upon arrival. United recently apologized to the family of a 14-year-old boy who was mistakenly put on the wrong international flight (which had to return to the gate once the error was realized). He was then rebooked to arrive at his proper destination, and United not only apologized, but also refunded the unaccompanied minor fee.
Some airlines have even decided it's not worth the trouble. Frontier last November stopped accepting any minors under the age of 15, unless they're traveling with a companion above that age.
Allegiant, another discount carrier, also doesn't carry kids traveling alone, and British Airways last year said it would no longer accept any unaccompanied minors under the age of 14. (BA rival Virgin Atlantic, however, does accept unaccompanied minors aged 5-11, and doesn't charge a fee for the service.)
Most carriers still do accept children as young as 5, and most of these trips go off without a hitch. Of the 8,876 complaints received by the Department of Transportation about U.S. airlines last year, just 26 concerned unaccompanied minors, according to a DOT spokesperson. The federal agency does not regulate airlines' minors policies, but it does provide guidance in a pamphlet, "When Kids Fly Alone" [pdf].
Below, more tips for making sure your solo voyager can have a safe flight.
How to Prepare for Your Child's Solo Flight
Know your airline. Airlines have different rules for what ages they'll accept. The six largest U.S. airlines—Alaska, American, Delta, Jet Blue, Southwest, and United—all accept children ages 5 and up. But they have different limits for when children no longer are required to use the unaccompanied minors program. American, for example, requires all children up to age 14 to participate; Alaska makes it optional after the age of 12. On most airlines, kids under 8 cannot fly alone if they'll need to connect to another flight. You can find each airline's rules spelled out in full on its website.
Reserve well ahead of time. If you cut it too close, you may be out of luck. Some airlines now limit the number of solo kids on any given flight; JetBlue has a maximum of three per plane while United caps it at six.
Be picky about seating. The seat you choose for your child is among the most important decisions, says AFA's Nelson. "While kids might be excited about looking out of the window, it's safer for them to be in an aisle seat where the flight attendants can see them more easily." If you can, choose a spot as close as possible to the front of the plane, where the galley and jump seats are located. You might pay a seat selection fee, but in this case, you are also paying for the extra security of being close to the flight attendants. Nelson notes that there have been several disturbing incidents in which young female passengers reported being groped by an older male seatmate, unobserved by the crew. While these cases are rare, they're a wake-up call that tighter seating and packed planes "unfortunately create an opportunity for a small number of people who have ill intentions," Nelson adds.
Allow extra time at the airport. Virtually all airlines require an adult to accompany the minor to the departure gate and another to meet the child at the arrival gate; that means both adults must arrange a gate pass with the airline to go beyond security checkpoints, and there are inevitably forms to sign and IDs to show along the way. And you must stay at the airport until you can confirm that your child's flight is actually in the air; if they're delayed, you will be too.
Prepare your child. Even if your child has been on a plane before, familiarize him or her with the in-flight drill, from the importance of listening to the safety announcement to how to summon a flight attendant. Make sure kids know to speak up if anything happens to make them feel uncomfortable or unsafe. For the youngest fliers, there are picture books that illustrate just what's happening on the ground and in the air.
Pack an in-flight survival kit. Send kids off with a fully charged smartphone and a list of numbers to call in case of emergency once they land. And since airlines no longer accept cash, give your child a prepaid debit card in case he or she wants to buy something on board. Pack plenty of snacks, and something to entertain them.
Track your child's flight. Take advantage of technologies that show exactly where a commercial flight is at any given time. You can either use an airline's own app to do this or log on to flightaware.com or other independent flight tracking services. You can also stay in touch with your child via a free messaging app on airlines that offer one, such as Delta. This isn't just helicopter-parenting. If there's a connecting flight involved, for example, you won't be there to watch your child get on the next plane, and gate assignments can change, sometimes at the last minute.