When you shop through retailer links on our site, we may earn affiliate commissions. 100% of the fees we collect are used to support our nonprofit mission.
Learn more.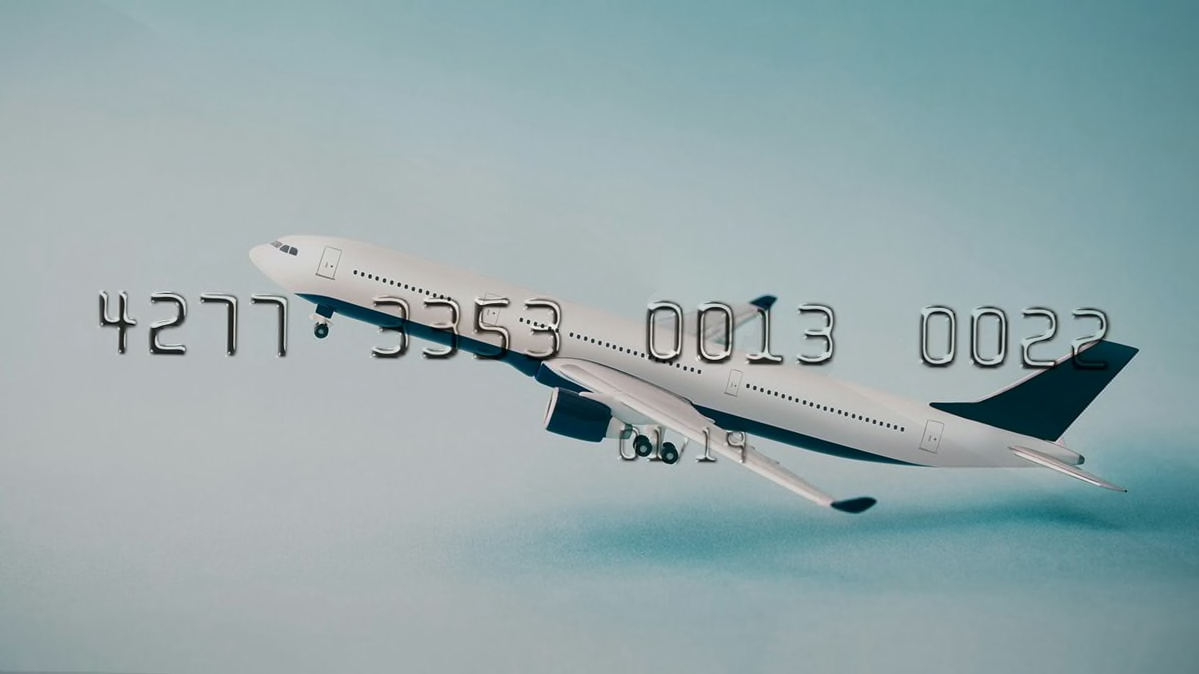 A 60,000-mile sign-up bonus. Free passes to airport lounges. Waived fees for checked bags and early boarding. You've no doubt seen these credit card offers lately, as airlines are dangling all manner of perks to get you to sign up—or trade up—for their co-branded plastic.
"We've seen more aggressive marketing from airlines, with elevated initial bonus offers, and also in-flight card pitches," says Gary Leff, an expert in airline loyalty plans who pens the View From the Wing blog.
One reason airlines are upping their ante: Just 13 percent of U.S adults have an airline or hotel co-branded card compared with the 43 percent of Americans who have at least one cash-back credit card, according to a recent survey by CreditCards.com. Another 12 percent have a general travel card that gives points that can be redeemed at multiple airlines and hotels.
But despite the enticing come-ons, it's not all gravy for cardholders. Recently, the largest carriers have been tweaking their perks to cut some key benefits—and add some, too. Leff and other experts caution consumers to be aware of changes that could affect how appealing these cards may be. And, as always, it's important to remember that while some airlines are offering sweet deals, it only makes sense to sign up if you know you're going to take advantage of the benefits.
A case in point: Major airlines, including American, Delta, Southwest and United, recently offered large sign-up bonuses of around 60,000 miles, about double the usual bonus. (Typically these require a minimum spending of around $2,000 to $4,000 on the cards in the first three months.) Signing up for these might sound like a no-brainer—but on closer inspection, these mileage windfalls may not be as valuable as they appear. Changes in those airlines' loyalty programs mean that it's harder to cash in those miles for the ultimate prize—a free vacation trip—or to apply them toward the "elite" status that can get you upgrades and other perks.
Here, CR shares experts' insights on what changes are in store for airline credit cards this year and how to find the perks that will work best for you.
Dynamic Pricing
When you're using an airline credit card to rack up miles for a future trip, it helps to have a clear goal in mind—say, two round-trip tickets to Paris. Knowing how many miles you need to get there can influence what you choose to purchase with that card.
But the airlines' move toward dynamic pricing—essentially unpublished prices that can change without notice—could make that calculation more difficult.
For instance, United Airlines recently announced that it will no longer publish awards charts for travel after Nov. 15, 2019. The airline said it was making the change to "match award pricing to customer demand" and claimed that it might result in lower award levels during times when there is more availability.
Delta made a similar move several years ago, and frequent-flier experts, including Joe Brancatelli, founder of JoeSentMe.com, say that move raised overall award prices (although this is hard to prove without a printed award chart.) "Delta's chartless awards have resulted in unbelievably high award prices," says Brancatelli. Unsurprisingly, United's move set off an uproar on Twitter.
Mileage Dilution
Another largely negative trend is that airlines are reducing or eliminating some cardholder benefits. For example, American said that starting this year it's terminating a rebate program on some of its cards, such as the Citi Advantage Platinum Select card and Barclays Aviator Red World Elite Mastercard products. Under the program, American would credit up to 10,000 of cardholders' miles every year any time those people redeemed some of their mileage balance.
American also rolled out a slew of other minor changes, including some positive ones, such as increasing a flight discount for Citi card holders from $100 to $125 a year. But it tweaked several other cards to lower or cut other perks.
Bottom line: The perks change, and although keeping track can be difficult, it's a good idea to reevaluate periodically whether a card is still the best one for you.
More No-Fee Cards
In a trend that might help some consumers, American and Delta have added no-annual-fee cards that earn at least one mile per dollar spent, and United recently introduced its own no-annual-fee card. These new products target the more occasional traveler, who spends less.
Be aware that these cards do carry fewer benefits. If you want additional perks like a free checked bag or airport lounge passes, you'll have to consider a higher tier, where paying an annual fee may save you in the long run, depending on which services are important to you.
And keep in mind that the big three airlines—American, Delta, and United—all offer a variety of credit cards with tiered fees tied to benefits; the annual fees start at around $50 and rise up to $450 a year at the highest level.
Smaller Airlines Get in the Game
The larger airlines' cards all require a significant amount of flying or spending to reach the highest rung of benefits. But shopping around may help you find other options. One midsized carrier, Denver-based Frontier Airlines, last year launched a branded Mastercard with an unusual premise: You can reach the elite status usually reserved for super frequent flyers without having to fly a lot. The card gives you one mile per dollar you spend, and if your flying credits and card spending total 100,000 miles in a year, all your airline ticket purchases become fully refundable.
JetBlue's card is another case where you can reach elite "Mosaic" status by using the airline's branded Barclays card for much of your non-air travel spending.
An Alternative Approach
In light of all these recent changes—and the difficulty of staying on top of them—some airline-industry experts are recommending a shift in strategy, even for those who fly frequently. Unless you live in a hub city and know you will be using a specific airline's miles, avoid airline credit cards altogether and use a cash-back reward card to save up for airline tickets with cash rather than those increasingly less valuable miles.
"Stop using airline and hotel plans and their related credit cards and build your own 'travel bank' based on cash-back cards," says Brancatelli. Of course, even here, consumers have to be careful, too: Many cards have limits on the spending that will qualify for the cashback rebate. He advises looking at a variety of cards and picking some with accelerators that rebate larger percentages on specified spending categories.