Best All-Season Tires for Winter Driving
CR shows you how to choose the best tires for your seasonal needs, with specific recommendations
When you shop through retailer links on our site, we may earn affiliate commissions. 100% of the fees we collect are used to support our nonprofit mission. Learn more. Cooling temperatures are a clear signal that it's time to inspect your tires and make sure you're ready for winter weather.
Tread depth is a key factor in how well tires can resist hydroplaning and sliding in snow. Tires are considered worn out when the tread is down to a 2⁄32-inch depth. But for winter, it's wise to start shopping at a 4⁄32-inch depth.
If you need tires, fall is the best time to buy. This is when tire retailers tend to have the most inventory and money-saving deals.
Due to the pandemic, the availability of some tire models may be limited. Be sure to have two or three models in mind based on Consumer Report's testing when you call or visit your local tire shop.
How to measure tread depth: Place a quarter head-down in a tread groove. If the top of George Washington's head is just visible, the tread has about a 4⁄32-inch depth. That's enough to offer some all-weather grip, but it's time to start thinking about replacement.
Changing your all-season tires for winter/snow tires will provide the optimum grip in foul winter weather and at sub-freezing temperatures. These special tires provide optimum grip to stop, go, and take sharp turns on snow or on icy roads. But this strategy brings expense and inconvenience: Changing tires every winter means buying a set of tires, and likely wheels. Further, winter/snow tires don't last as long as all-seasons, and they typically compromise grip on dry and wet roads.
To be clear: If you live in the snow belt and face harsh winter driving conditions, winter/snow tires are your best bet. But if you have the ability to wait until roads are cleared before traveling, there are some great choices in each all-season tire category for winter grip.
You could replace the current tires with the same make and model. But we found in our most recent survey of CR members who bought tires in the past year that most changed the make and model. By choosing a different tire model, you can select a tire that excels in the factors that matter most to you, using the CR tire ratings as a guide. Among the 15,945 members who reported on their tire purchase and/or installation experiences, all-weather grip was cited by 54 percent as the top feature they were looking for when shopping.
For the curated list below, we cast the spotlight on tires that excel for snow traction in five categories: all-season, performance all-season, ultra-high-performance all-season, SUV all-season, and truck all-season. (If winter/snow tires seem right for you, see our picks for the best winter/snow tires.)
Due to restrictions caused by the pandemic, we didn't do an ice test for the SUV and truck all-season tires. All other selections factor ice braking in their selection.
To find the best tires in each category that fit your car, use our tire selector, which you'll find at the top of our tire ratings.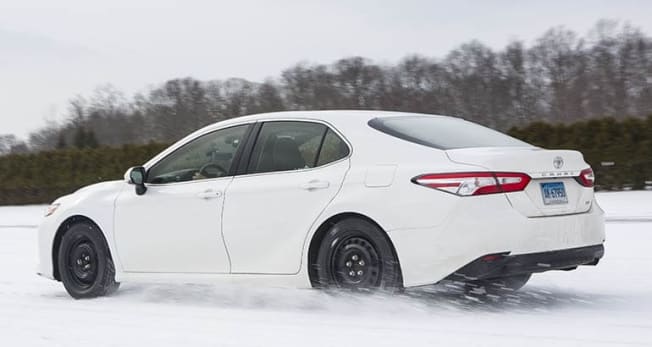 Best All-Season Tires for Winter Driving
Digital and All Access members can see the curated lists below and the latest, complete ratings on tires.
Become a member to read the full article and get access to digital ratings.
We investigate, research, and test so you can choose with confidence.