When you shop through retailer links on our site, we may earn affiliate commissions. 100% of the fees we collect are used to support our nonprofit mission.
Learn more.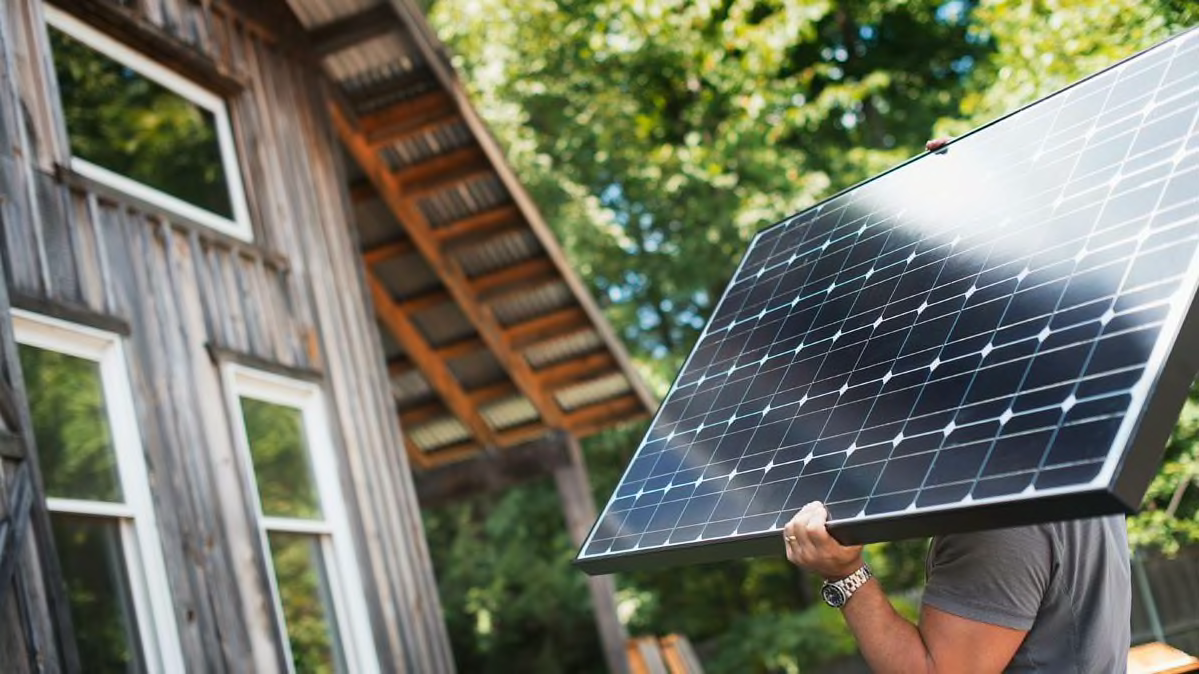 Given the option, most Americans would like to choose their own utility company. They'd also like more of the energy that powers their homes to come from renewable sources such as solar and wind. That's the result of a recent national survey conducted by Consumer Reports to gauge consumers' attitudes toward their utility companies.
In the survey, we talked to 1,200 U.S. residents representing a cross-section of the country. We also spoke to 400 residents of four states with a higher than average use of coal—Illinois, Ohio, Tennessee, and Virginia—to see whether they think about energy differently. Perhaps surprisingly, their views are mostly in line with the general U.S. population.
more on reducing energy consumption
"The American public expresses overwhelming majority support for the twin goals of greater reliance on cleaner and renewable energy sources," says Shannon Baker-Branstetter, senior policy counsel for Consumers Union, the advocacy division of Consumer Reports. "But they don't trust their utilities on pricing or investing in renewables, and want to be able to pick their utility provider."
Only 13 states and the District of Columbia offer consumers a choice in where to buy their electricity, and, with the exception of Texas, most of them are in the Northeast. If you live in a place that offers choice, we recommend that you research your options to see if you can save money and/or buy cleaner energy. "There has been a consistent pattern of predatory, abusive marketing and pricing in states that have deregulated," says John Howat, senior policy analyst at the National Consumer Law Center.

"Most states offer websites to compare offers and people should be skeptical about variable rates and hidden fees," says CU's Baker-Branstetter. "But under certain circumstances, people can save money compared to their default provider."

Consumer Attitudes Toward Their Utility
Clean and renewable energy. When asked about their attitudes toward cleaner and renewable energy:
Eighty-one percent agree that reducing pollution from power plants is a worthwhile goal.
Seventy-six percent agree that increasing renewable energy is a worthwhile goal.
Seventy percent agree that they expect electricity to become cleaner over time.

In fact, 8 percent or less disagree with any of these statements, the rest of the respondents are unsure. The attitudes in states that are more reliant on coal are similar.

Personal commitment to clean energy. With few other solutions available:
Fifty-three percent say they would be willing to install solar panels on their own roof or participate in a community solar garden or array if they could recover their investment in five years.
Forty-eight percent say they'd be willing to pay $5 more per month for energy that comes from renewable sources.
Attitudes toward electric utility companies. When it comes to their utility companies, most Americans are dubious that their provider has their best interests at heart.
Eighteen percent believe that their utility company cares about lowering costs for consumers.
Thirty-three percent trust their utility company to offer fair rates and service.
Sixty-one percent would like their utility company to invest in better energy efficiency before building new power plants.
Twenty-two percent think their utility is doing a good job investing in renewable energy.

So What to Do?
Almost 50 percent of consumers feel that utility companies have too much political power. It's true that utility companies spend millions of dollars each year lobbying at the state and federal level, according to OpenSecrets.org.
But that doesn't mean that consumers have no power of their own. "State public utility commissions are political appointees, so electing state leaders that prioritize fair rates and clean energy investments can help hold utilities accountable," Baker-Branstetter says. "It's up to the public to push utilities and utility commissions to improve their options, keep rates affordable, and clean up the grid."
For its part, Consumers Union will be submitting the results of the survey to the Environmental Protection Agency as part of our effort to oppose the repeal and weakening of the Clean Power Plan, the nation's first-ever carbon standard for power plants, which was passed in 2015. It was never put into effect, however, because it has been caught up in court challenges.
Public comments on the issue are being accepted by the EPA until Oct. 31. You can submit comments online or by email, regular mail, or fax. To learn how, go to the EPA's website.
A solution may take a while. To see an immediate benefit, you can cut your energy use at home by doing things such as:
Buying a programmable thermostat and setting it to your schedule.
Replacing old energy-hog appliances with new Energy Star models.
Plugging air leaks around doors, windows, and ducts.
Insulating your attic.
Need more ideas? Hire an auditor to identify the places where you're losing the most energy and then take corrective measures. Some utilities offer free audits—just call to ask. If not, you can find a certified auditor at the website of the Building Performance Institute or the Residential Energy Services Network.