When you shop through retailer links on our site, we may earn affiliate commissions. 100% of the fees we collect are used to support our nonprofit mission.
Learn more.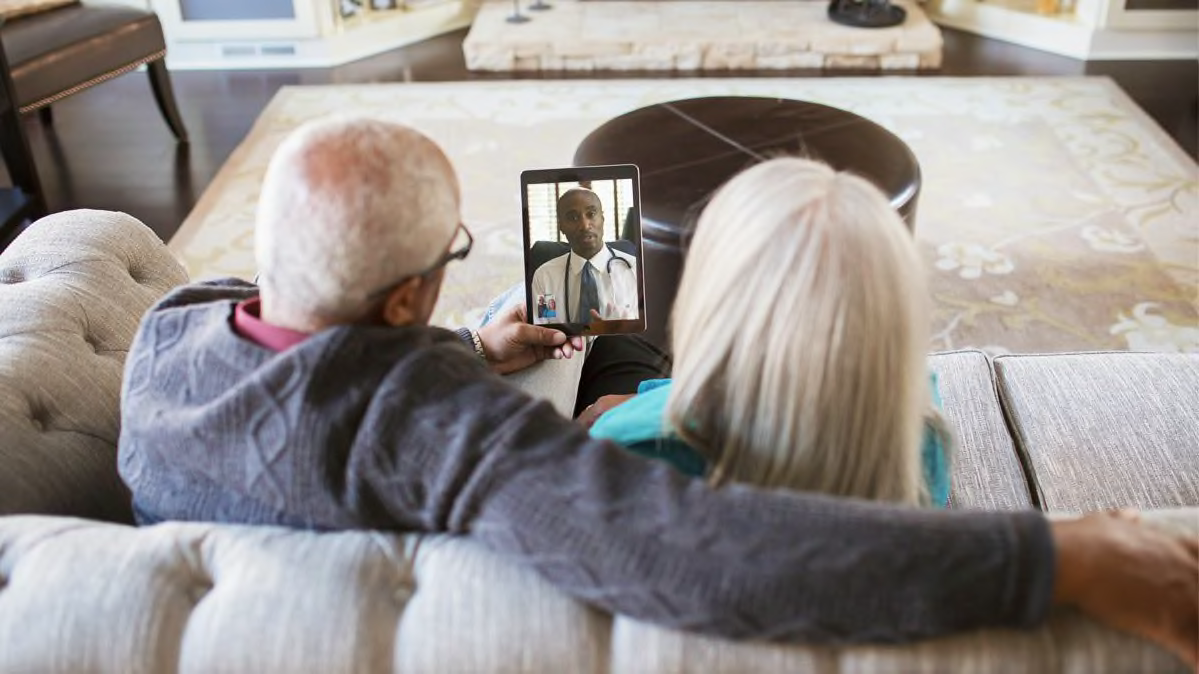 Patients who have shorter appointments with telemedicine doctors are more likely to end up with a prescription for antibiotics than those who have longer consultations, according to a new study.
These findings suggest that efforts to curb antibiotics overuse may be hampered by the growth of telemedicine itself. "Overall, telemedicine encounters are much shorter than in-person doctor visits," says Kathryn A. Martinez, Ph.D., M.P.H., an internal medicine researcher at the Cleveland Clinic and lead author of the study. "And our research shows an association between the length of your encounter and the likelihood of receiving a prescription for antibiotics."
With telemedicine, you can have a doctor diagnose your illness—and potentially prescribe a treatment—via video chat, smartphone app, email, text, or telephone. It sounds like a win-win situation, but the new study highlights some potential pitfalls.
Here, what you need to know about the new study, and how to approach a telemedicine appointment to make sure you're getting the care you need.
What the Study Found
The study, published Oct. 1 in the Annals of Internal Medicine, analyzed over 13,000 telemedicine encounters between physicians and patients suffering from a variety of respiratory infections (including sinusitis, pharyngitis, and bronchitis).
Sixty-seven percent of the phone calls resulted in the patient receiving a prescription for antibiotics. But the researchers were most interested in the association between the length of the call and the end result.
The encounters that ended with a prescription for antibiotics averaged 6.6 minutes. Those in which doctors prescribed nothing lasted about 7.5 minutes. And when a non-antibiotic treatment was prescribed, the encounters averaged 8 minutes.
"These are very small differences in very short encounters in which every minute counts," says Martinez. "But for the telemedicine physicians, who are getting paid by the volume of patients they treat, even a small increase in the time of each encounter can be a detriment."
Because the researchers didn't have access to the actual content of the telemedicine sessions, Martinez says they can only theorize as to why the calls resulting in antibiotic prescriptions were the shortest and whether those prescriptions were appropriate.
"But our theory is that it takes longer for a physician to explain to a patient why they don't need antibiotics than it takes to prescribe them," says Martinez. "Just a few sentences can take half a minute, longer if the patient pushes back or asks questions."
Antibiotics Overuse and Telemedicine
Many respiratory infections stem from a viral infection rather than a bacterial one, which doesn't require antibiotics.
"An antibiotic is of no real value if what you have is a viral infection," says Eric Topol, M.D., director of the Scripps Translational Science Institute.
And while antibiotics can be lifesaving, they can also cause serious side effects, especially when used in cases that don't require them. Even more concerning is that these drugs contribute to the spread of antibiotic-resistant superbugs, which sicken millions of people in the U.S. every year.
Potential overprescribing of antibiotics is certainly not a problem that's unique to telemedicine, says Topol. "But it is concerning that the shortness of a telemedicine encounter might make it worse."
Having more time with a patient—and the ability to do a physical exam and testing to check for the presence of a bacterial infection—may make it easier for doctors to avoid overprescribing antibiotics.
Telemedicine encounters, in addition to being short, don't usually involve your established physician. In most cases, you're communicating with a doctor you have no relationship with and may not encounter again.
"If the doctor is never going to speak with you again, he or she may not feel it's worth the time to educate a patient about antibiotics," says Martinez.
Be an Informed Telemedicine Patient
Even though it's doctors (or other providers) who are prescribing the antibiotics, patients can be a big part of the problem.
"Patients often view a telemedicine encounter as more of a consumer transaction than a healthcare visit," says Martinez. "There's an expectation that they get to call a doctor, pay for the visit, and get a prescription."
Coupled with that expectation is the fact that many patients still hold a firm belief that taking an antibiotic is the fastest way to rebound from most respiratory infections. "There's a tremendous placebo effect of antibiotics," says Topol.
A telemedicine visit may be helpful and convenient in many cases. But you can get the most out of those minutes by going in prepared.
Take the time before your call to write down your symptoms, look at the calendar to note when they started and when they may have become worse, and think about what you want to get out of the encounter.
And don't be afraid to speak up if the doctor seems too quick to simply prescribe an antibiotic and end the session. "If you have questions, it's okay to push back," says Martinez.