Apple is launching a trio of new iPhones—including the highly anticipated iPhone X—that come with faster processors and, for the first time, wireless charging.
The introduction largely fulfilled expectations that the tech giant would up its game by targeting consumers with an innovative, and pricey, smartphone in honor of the iPhone's 10th birthday. The iPhone X (it's pronounced "ten") features a big, sharp screen and is the first Apple phone that does away with a physical Home button.
The iPhone 8 and 8 Plus will play supporting roles in the iPhone lineup, but they also represesent advances over last year's iPhone 7 models. And all three phones are designed with augmented reality in mind. Apple says AR, which allows developers to superimpose animation over real-life images picked up by the phone's camera, (think last summer's Pokemon Go game), will be a big part of iOS 11, which is set to roll out on Sept. 19.
The iPhone 8 will start at $699 and the iPhone 8 Plus at $799. But the base model X, with 64GB of onboard memory, will cost much more, hitting consumers with a $999 price tag. (For comparison, the new 64GB Samsung Galaxy Note8 is priced at $930.)
Also announced at the event, the first at Apple Park, the company's new multibillion-dollar headquarters in Cupertino, California, were a new version of the Apple Watch that comes with its own cellular connection and a 4K Apple TV.
Apple is making a lot of promises for its new phones, including improved cameras and better battery life. We'll have objective evaluations once we buy the phones at retail—as we do with all products—and get them into our labs.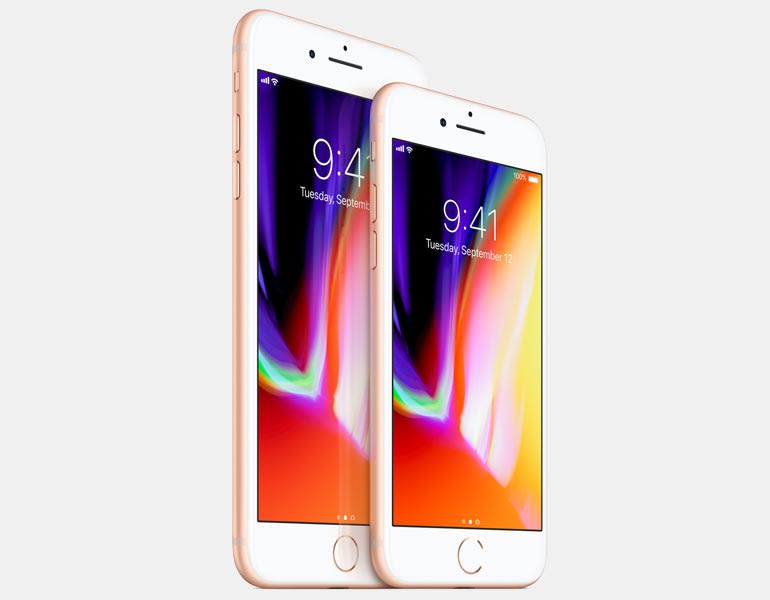 Key New iPhone Features
Juice without wires. Apple is following the lead of Android phone makers such as Samsung and LG by adding wireless charging capabilities. The technology lets a user charge the phone by placing it on a special pad (although you can also still charge the new iPhones through the Lightning connector—Apple hasn't gotten rid of that...yet). The new phones will support the Qi charging standard, which means you'll be able to use those charging pads built into the tables of places like McDonald's and Starbucks. Wireless charging is built into all three of the new phones.
More horses. All three of the phones will also get the company's new A11 Bionic chip, which is designed to supply the processing power needed for the new augmented reality features that will be included in iOS 11, along with the machine learning used in the iPhone X's facial recognition system. (Apple says the chip features a six-core CPU design with speeds that blow the transistors off the A10 Fusion chips used in the iPhone 7 and 7 Plus.)
Photo upgrade. It just wouldn't be a new iPhone without claims of a greatly improved camera. The iPhone 8 has a 12-megapixel camera, which is identical to the specs on the iPhone 7, but Apple says the iPhone 8's camera has a larger and faster sensor and new color filters. It also claims the camera will work better in low light and result in more uniformly lit backgrounds and foregrounds.
Meanwhile, like the 7 Plus before it, the 8 Plus includes a dual-lens, rear-facing camera with lenses for closeup and far-away shots. Upgrades to that camera and the underlying software allow the Plus to include an enhanced portrait mode, which allows a user to separate a subject from their background and adjust the lighting as desired. For instance, you can shoot a portrait, and then make the entire background go black; the shadows on the subject adjust automatically.
Glass front and back. Both the iPhone 8, with its 4.7-inch display, and iPhone 8 Plus, which has a 5.5-inch screen, are built with glass on the front and back sides and those pieces are connected with a color-matched aluminum bezel. Both are also constructed to be dust- and water-resistant; a claim that we'll test out once we get the phones into our labs. They come in silver, gray, and a new gold finish.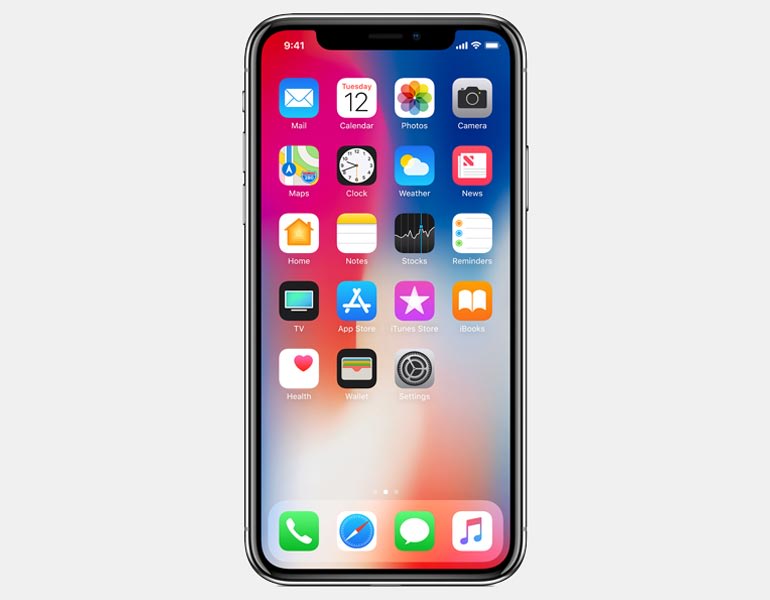 What Makes the X Different
End of the Home button. In order to free up space for its 5.8-inch screen, Apple is doing away with the X's physical home button. It'll be replaced with a system of taps, swipes and, facial recognition. The move is reminiscent of last year's decision to get rid of the 3.5mm headphone jack on the iPhone 7 and 7 Plus, which angered many Apple loyalists. As part of this effort to create a bigger screen without making a bigger phone, Apple is also nearly eliminating the bezels on the X's sides; stretching the screen nearly all the way from one side to the other.
Face ID replaces Touch ID. Apple says the X's facial recognition technology is significantly more secure than the touch ID fingerprint sensor its previous phones have used. The system uses a dot projector, infrared camera, and other hardware to map and identify faces, even in the dark. In addition to unlocking the phone, the system also can be used for Apple Pay and other secure apps. In the interest of protecting user privacy, facial recognition data is stored in the iPhone's Secure Enclave—a coprocessor that stores passcode and biometric data in encrypted memory—and and all processing is done on the device rather than in the cloud.
Apple goes OLED. The X has what Apple calls a "Super Retina" display, which incorporates OLED technology. The technology is also used in high-end TVs, particularly those built by LG, and features deep black levels and nearly unlimited viewing angles. Apple isn't the first to put an OLED screen on a smartphone. Android phone makers such as Samsung and LG already do this.
More camera capability. The same front-facing camera used for facial recognition is also designed to produce better selfies and it features Apple's portrait mode. Both the front and back cameras are geared toward AR with new gyroscopes and accelerometers for accurate motion tracking.
That fancy selfie camera is also allowing Apple to roll out what it's calling Animojis. Ever felt the urge to send your friend an iMessage where you speak to him in the guise of a talking unicorn? The phone will capture your voice and facial expressions, then animate the digital image in real time.
Pricing and Timing
Preorders for the 8 and 8 Plus start of Sept. 15, with in-store availability starting Sept. 22. Preorders for the X begin on Oct. 27, with availability on Nov. 3. The 8 and 8 Plus come in gray, silver and gold finishes, while the X will come in just gray and silver. All of the phones come in 64GB and 256GB versions. In terms of pricing, the 8 starts at $699, while the X starts at $999.
Consumer Reports is an independent, non-profit organization dedicated to helping consumers. We make it easy to buy the right product from a variety of retailers. Clicking a retailer link will take you to that retailer's website to shop. When you shop through retailer links on our site, we may earn an affiliate commission – 100% of the fees we collect are used to support our mission.
Learn more.
Our service is unbiased: retailers can't influence placement. All prices are subject to change.