When you shop through retailer links on our site, we may earn affiliate commissions. 100% of the fees we collect are used to support our nonprofit mission.
Learn more.
"Every once in a while, a revolutionary product comes along that changes everything," Apple CEO Steve Jobs said as he introduced the first iPhone in San Francisco on January 9, 2007. Any number of CEOs have made similar claims, but Jobs's words proved to be prophetic.
Ten years after that presentation, more than a billion units have been sold, a generation of app developers has emerged to fill the App Store, and the iPhone has become a cornerstone product of one of the most valuable companies in the world.
Here's a timeline of the most important events in the decade-long history of Apple's landmark device.
January 9, 2007: The iPhone Is Introduced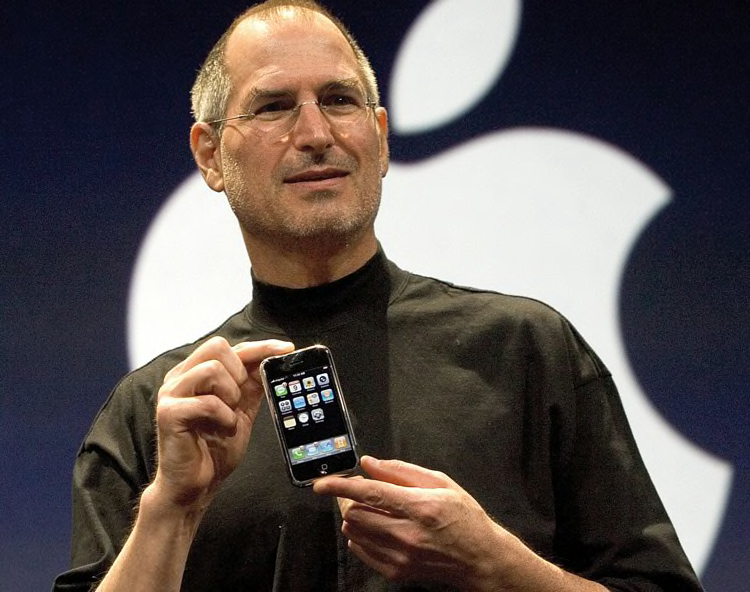 When the faithful assembled at San Francisco's Moscone Center in early January 2007, they had an inkling that Apple would be introducing something special, but they didn't know exactly what. Ever the showman, Steve Jobs milked that uncertainty for all it was worth.
He announced that Apple would be introducing three sexy products: "The first one is a widescreen iPod with touch controls. The second is a revolutionary mobile phone. And the third is a breakthrough internet communications device." And then he delivered the punch line. "These are not three separate devices, this is one device."
Despite a few naysayers—"OMG it's the Newton reborn!" wrote one internet wag, referring to a long-dead Apple personal digital assistant—reaction to the genre-busting smartphone was overwhelmingly swift and positive. Consumer Reports wrote that for Apple to enter the smartphone market, "it would have to be with a technology that is both transformative and disruptive. The new Apple iPhone, set to ship this coming June, is poised to be that rule breaker."

When the iPhone reached customers six months later, it wasn't the first smartphone—internet-enabled models from Palm, Nokia, Motorola and Blackberry were already on the market, mainly serving business people—but Apple's sleek, black touchscreen device became the first smartphone that millions of people wanted in their personal lives.
Consumer Reports testers liked the iPhone's touchscreen and features such a visual voicemail, but thought it stumbled in some other respects. "In voice-quality tests, the iPhone's performance has been undistinguished at best," we wrote. And, surprising as it seems now, we noted that the phone had "no voice-activated dialing and offers no easy way to access frequently called numbers."
June 9, 2008: Apple Announces iPhone 3G
While the 3G was just an incremental update from a technical point of view, it featured one game-changing improvement: A much lower price. "Just one year after launching the iPhone, we're launching the new iPhone 3G that is twice as fast at half the price," said Jobs.
Apple's research revealed that despite the iPhone's success, 56 percent of potential buyers said they didn't buy the phone because of the price. The original price of an 8GB iPhone was $599, with an AT&T contract. (A couple of months after after release Apple dropped the price to $399.) The price of an 8GB 3G? Only $199, after Apple convinced the carrier to front a significant portion of the price.
The phone would be released to the public one month later, after another major Apple introduction—the App Store.
July 10, 2008: Apple's App Store Opens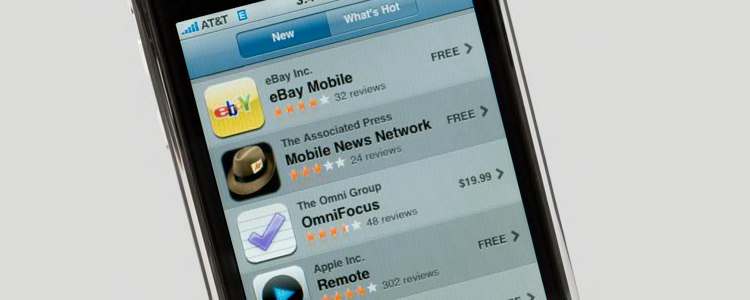 Over its first three decades, Apple had built its computer business on a key principle: Keeping tight control of both hardware and software development. So it had come as a shock when, on March 6, 2008, the company announced that it would open iPhone software development to coders of all stripes, and release an iPhone SDK—or software developer kit—to make that process easy.
Apple's new direction meant that practically anyone could build software for the sexiest tech gadget of the decade. With 250,000 downloads of the SDK by early June, app development became first a cottage industry and then a global one, with multinationals and regular guys in Mom's basement competing to produce all kind of apps, including games as addictive as Angry Birds.
While it was crowd-sourcing an army of developers, Apple also created a place where they could sell their wares (while giving Apple a 30 percent cut, of course). At the App Store, consumers could congregate at a single site to safely buy and download apps.
When it opened for business, the store had 552 apps—including now-iconic titles like the music-ID app Shazam! Today the App Store has 2.2 million apps.
That opening weekend in July 2008, users downloaded more than 10 million copies of apps. Since then, Apple has recorded more than 140 billion downloads. And in what could be the surest sign of the App Store's mega-star status, within two years Sesame Street even created a loving parody of Apple's "There's an app for that" commercial.
July 11, 2008: iPhone 3G Ships
Apple put its iPhone 3G into the hands of users one day after announcing the App Store. It had taken the company 74 days to sell 1 million original iPhones. By comparison, the lower-priced 3G sold 1 million units in its first weekend on sale, on its way to sales of 20 million devices.
The introduction of the 3G marked the beginning of an unofficial annual "upgrade season," in which consumers lined up—and in many cases camped out—in front of Apple stores to secure the first new iPhones on their block.
Consumer Reports ran the iPhone 3G through our labs and found the display quality brilliant, the interface intuitive, and the voice quality improved from the first iPhone.
But we were most intrigued by the hundreds (yes, just hundreds) of offerings in the App Store. "One we found hard to put down," we wrote, was "SEGA's Super Monkey Ball, which takes advantage of iPhone's accelerometer by having you tilt the phone to get the animated monkey to travel a maze rife with pitfalls.)"
June 7, 2010: iPhone 4 Enables the Selfie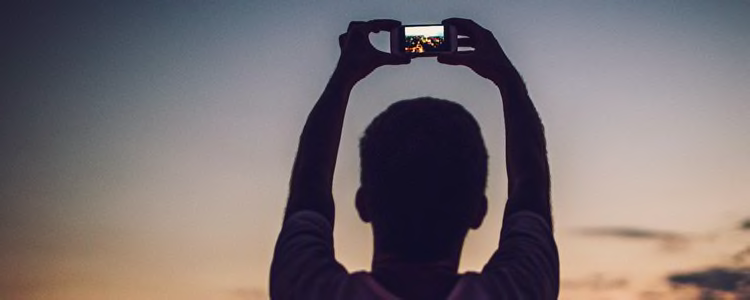 Sure, with its hardened-glass front and back panels, high-resolution retina display, and flat metal sides that doubled as an antenna, the iPhone 4 represented the first radical redesign of the original iPhone. But it was a feature that seemed like a throwaway at the time that turned out to be the real game-changer: A front-facing camera for the new FaceTime video chat service, and, yes, selfies.
Although photographic historians will tell you that the first selfie was taken in 1839, the iPhone 4 helped power a trend that reached a milestone in 2013 when "selfie" was chosen as "word of the year" by the Oxford Dictionaries.
July 16, 2010: CR Investigates iPhone 4 Signal Problem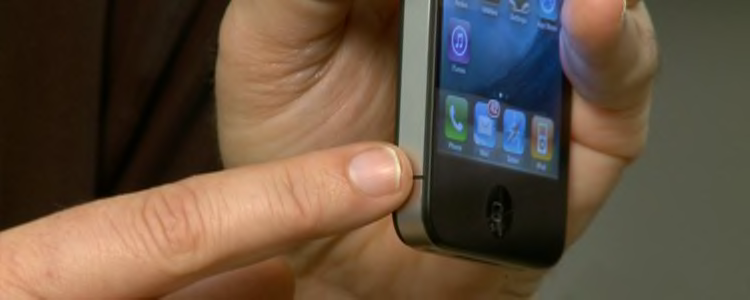 After testing the new iPhone 4, Consumer Reports engineers confirmed what users of the phone had already been saying: That the phone frequently dropped calls. Specifically, the signal-loss problem occurred when a user touched a spot on the phone's lower left side.
CR decided not to recommend the phone, but its technicians did find an affordable solution for iPhone 4 users: Cover the antenna gap with a piece of duct tape. On July 16, Jobs held a press conference addressing "Antenna-gate," while name-checking Consumer Reports—and offering new and existing iPhone 4 owners a free case to fix the problem. That did address the signal losses, but it wasn't enough to earn a recommendation from CR.
October 4, 2011: Siri Launches with iPhone 4s
While iPhone users had been speaking to their phones for years, the 4s was the first one to actually talk back. Consumer Reports described the new feature as "an intriguing voice-activated feature called Siri that accepts and responds to verbal commands in a conversational manner previously possible only in science fiction."
Siri owes her personality to a voice-over actress named Susan Bennett who had recorded her parts six years earlier for what she thought would be a company voicemail system.
The iPhone 4s solved the signal-loss issues that had plagued the 4, and Consumer Reports recommended it, while noting that it was far from the top-rated phone in the ratings. Android phones had long since entered the market, and brought consumers a wide variety of sizes, features, and prices. In 2011, we wrote, "Top scorers included the Samsung Galaxy S II phones, the Motorola Droid Bionic, and several other phones," including the LG Thrill and Motorola Droid Bionic.
The iPhone 4s was the first Apple device to work with carriers beyond AT&T. And it was the final Apple product introduced during Jobs' life; the Apple visionary and cofounder died of pancreatic cancer one day later, on October 5.
September 20, 2013: iPhone 5s Brings Fingerprint Scanning
Maybe it was just the maturation of a product line, but by the product's sixth anniversary, Apple's iPhone's launches had become less than earth-shattering (even while its rival Android phones were becoming more innovative).
The 5s was a high-scoring phone in Consumer Reports testing, thought it represented only incremental change from the previous iPhone 5, which itself was an incremental improvement over the 4s (albeit with a larger screen.) The 5s' most notable feature? What we called "a surprisingly reliable" fingerprint reader that allowed a user to unlock the phone without a password.
The 5c, introduced at the same time, was just an inexpensive iPhone—$100 with a two-year contract—in a colorful plastic case. It performed well, similarly to an iPhone 5, and sold 24 million units. However, the 5c was dismissed as sales failure by Apple standard; analysts surmised that a "budget" model ran counter to the company's upmarket image.
September 14, 2014: iPhone 6 Plus Prompts 'Bendgate' Controversy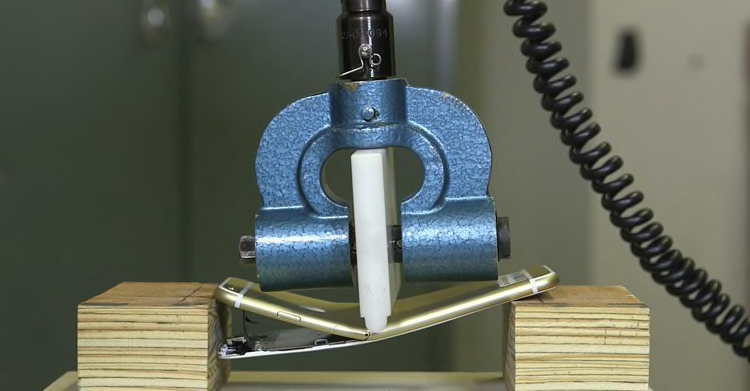 The 5.5-inch iPhone 6 Plus went on sale as the largest Apple phone ever, and almost immediately, the Internet erupted with photos of bent phones, and even a viral video of a guy creasing an iPhone 6 Plus with his bare hands. Consumer Reports investigated the rumor of flimsy construction using a high-precision Instron compression test machine. The verdict: Both the iPhone 6 Plus and the smaller iPhone 6 proved more rigid than YouTube videos suggested—though less rugged than the iPhone 5 and phones from Samsung and LG that we used for comparison.
That issue aside, Consumer Reports said that the iPhone 6 and 6 Plus were among the best smartphones we had ever tested, "providing excellent reasons for Android-clasping smartphone users to give them a try." Testers gave the displays high marks for color accuracy, contrast, and readability in bright light. And they appreciated improved battery life, with the iPhone 6 Plus hitting 17 hours of talk time.
September 7, 2016: iPhone 7 Does Away with Headphone Jack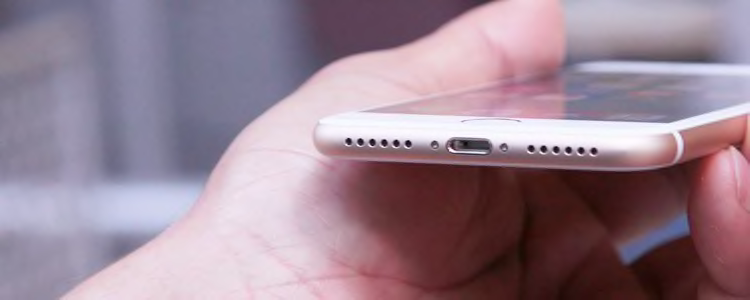 The iPhone 7 was introduced and the biggest stir was about what it didn't have. It featured a second telephoto lens on the back, but it lacked a 3.5-millimeter audio jack—a piece of equipment that had been standard not only on phones but on other electronic equipment for more than half a century. The move was controversial, and it didn't help that Apple's wireless AirPods were delayed for two months, finally reaching a limited number of consumers just before Christmas.
Criticism of Apple's decision came from all quarters, from environmentalists lamenting the "mountain of electronic waste" from all those discarded wired earbuds to young female mass transit riders who claimed that the sight of headphone cords were an effective barrier against guys approaching them on trains and buses. A group of wired earbud fans, 300,000 strong, signed a petition urging Apple to restore the headphone jack. A prank video on You Tube encouraged a few unsuspecting users to search for hidden headphone jack on their new iPhones. With a cordless power drill.
Why did Apple abandon this popular feature? "The reason to move on really comes down to one word: courage," Phil Schiller, Apple's senior VP of worldwide marketing, said at the iPhone 7 launch. "The courage to move on and do something new that betters all of us."
Despite Schiller's best efforts to channel Jobs with his launch-day hyperbole, iPhone 7 sales through the fall were disappointing, and there's a chance that the 7 could be the first iPhone that doesn't outsell its predecessor.
Not that the phone didn't perform well. "Now that we've finished testing the iPhone 7 and 7 Plus, we can confirm that they're the best models Apple has ever produced, though not by much" Consumer Reports wrote. One feature we found particularly appealing: This was the first water-resistant iPhone, reducing an owner's anxiety around sinks, bathtubs, and wading pools.
Does this mean the iPhone wave has peaked? Not necessarily. Many industry analysts suggest that consumers are simply waiting for the hotly anticipated 10th anniversary iPhone 8 with rumored features including an edge-to-edge display (with no frame visible around it) and wireless charging. Cowen and Co. analyst Tim Arcuri told investors that this pent-up demand "creates a veritable powder keg for upgrades with an innovative new phone in '17."