Coffee Maker Buying Guide
For many, the daily grind begins with a cup of piping hot coffee that's often only as good as the coffee maker behind it. That's why we've tested more than 150 coffee makers, rating each one and recommending the best coffee makers.
If you're buying a coffee maker, here's some good news: Consumer Reports lab tests show that you can brew a good cup of coffee with a model that costs around $100. Digging in, a few even more affordable models have made it onto our roundup of the best coffee makers under $50. Once you hit $200, you'll start seeing interactive displays, programmability, stainless steel detailing, adjustable brew strengths, thermal carafes, and other bells and whistles you'd find on professional-grade ranges.
So what's the right coffee maker type for you? The answer boils down to your drink habits, how you take your coffee, and which features you're willing to invest in. Below, we'll cover what you should know and consider ahead of buying a coffee maker, and grind down the details that make up the best coffee makers, ranging from drip coffee makers to cold-brew coffee makers, and everything in between. Our coffee maker ratings and reliability hub lets you narrow down your choices to the models that offer the best performance and reliability that matters to you.
What Should You Look For When Buying a Coffee Maker?
Good-quality coffee makers are available for reasonable prices. Extra features will often cost extra money, but you might not need them, depending on how you take your coffee. Ask yourself the following questions before you make a purchase.
How Much Coffee Do You Drink?
A 1- or 2-cup drip model or a single-serve machine may be the right fit for solo drinkers. Want more for yourself or to help more folks wake up? A larger automatic drip machine with a carafe or a self-serve reservoir might be better—most large models brew 10 to 12 cups, although typically a "cup" is really only 5 to 6 ounces, not 8 ounces.
How Often Do You Drink Coffee?
If you space out your coffee drinking throughout the day, consider buying a model with an insulated mug or carafe, designed to help keep coffee hot (or cold) and fresh-tasting for hours. Keep in mind that thermal carafes are not perfect—our testers say they tend to dribble and can sometimes be difficult to handle.
Want to Program Your Coffee Maker?
If filling the coffee machine and turning it on is too much to handle in the morning, consider buying a programmable coffee maker: It can automatically brew a fresh pot by the time you wake up (provided you prep everything for it the night before). Some even shut off automatically.
How Much Space Will Your Coffee Maker Need ?
Take into account the height of the coffee maker, as well as its width and depth. All the coffee machines in CR's tests can fit beneath upper cabinets. But depending on your cabinets' placement above the countertop, you still may need to pull the coffee maker out from against the wall in order to fully open the hatch and fill the reservoir.
How Much Do You Like Cold Coffee?
Certain drip and pod models offer "brew over ice" and cold-brew modes, which can whip up a drink in 15 minutes or less. However, these modes—along with automatic cold-brew coffee makers—tend to serve up something that's more lukewarm than ice-cold. Fans of true cold-brew coffee should consider a manual cold-brew coffee maker. You'll have to wait 12 to 24 hours, but it'll deliver a brew that's genuinely concentrated—and cold.
Will the Coffee Maker Last?
Before you settle on one manufacturer, whether it's a Cuisinart or a Mr. Coffee, consult our guide to the most reliable coffee maker brands, which uses predicted reliability and owner satisfaction data collected from thousands of CR members to zero in on the most liked and most durable brands.
How to Buy a Coffee Maker
Not all coffee makers will work well for all coffee drinkers. Here are expert strategies from Consumer Reports on how to pick the best coffee maker for you.
How We Test Coffee Makers
While all coffee makers receive baseline testing, including how easy it is to set timers, fill reservoirs, and generally use the machine, we also perform specific tests based on the type of coffee maker. You'll find all the details in our coffee maker ratings of more than 150 models.
To rate drip coffee makers, we conduct a brew-performance test to measure the brew temperature and contact time (how long water stays within the sweet spot of 195° F to 205° F for brewing). We also measure the concentration of the brewed coffee to make sure it's not too weak or too strong. Finally, we provide scores for predicted reliability and owner satisfaction for each coffee maker's brand, based on data from CR member surveys.
To rate single-serve pod coffee makers, our engineers evaluate the temperature and size consistency of individual cups of coffee, as well as the brewing speed. As with drip coffee makers, we provide brand-level ratings on predicted reliability and owner satisfaction, based on data from our annual survey of CR members.
To rate cold-brew coffee makers, our engineers judge ease of cleaning, and our expert taste tester evaluates the quality of each brew.
Match Your Coffee Maker to Your Habits
You'll find several varieties of coffee makers at retailers, including manual-drip systems, cold-brew coffee makers, and single-serve pod coffee makers. Below are the most common types.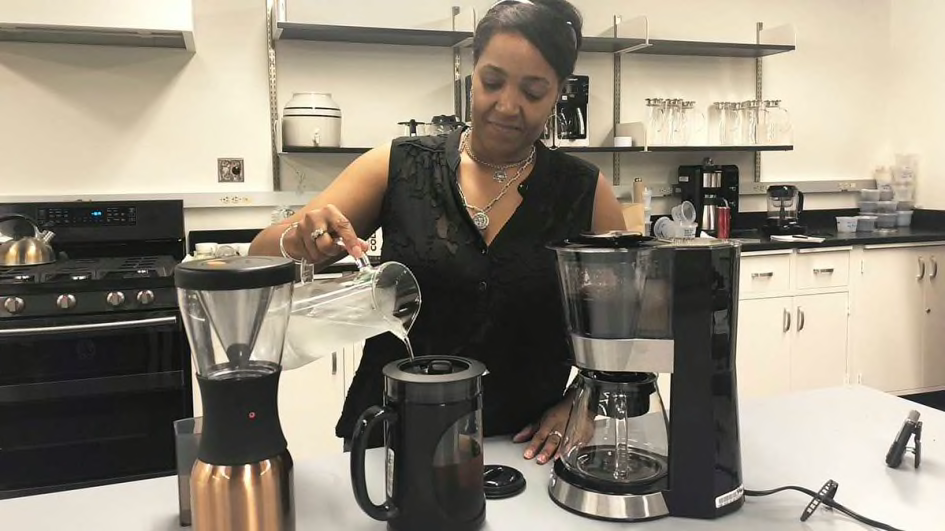 Coffee Maker Features
Some coffee machine features truly make a difference in terms of ease and convenience. But others are simply nice to have, and you'd hardly notice if they were missing.
The newest and most innovative coffee makers are all about bringing barista-quality beverages and versatility to your kitchen.
Ninja, Keurig, and other brands offer all-in-one coffee machines with increasingly more features, such as built-in milk frothers, coffee grinders, and cold-brew modes. (To read more about the top models from our tests, see our article on the best combination coffee makers.)
The renaissance began in 2015 with the Ninja Coffee Bar, which made it easier to brew lattes and iced coffees at home, thanks to its brew-over-ice and specialty coffee modes, as well as its ability to brew into both carafes and mugs.
Cold brew—the richer, less acidic brew that was once found only in independent cafés—is now a staple at major coffee chains. And there are a number of dedicated cold-brew coffee makers on the market for home kitchens, including a handful of automatic models (they plug into an outlet) that speed up the hourslong brewing process, shortening it to as little as 4 minutes.
Last but not least, many coffee maker designers are upping their style game to match the aesthetic of today's kitchens. New machines often feature more stainless steel accents and curvier designs that place greater emphasis on the glass or thermal carafe. Many models also come in white or lighter hues to match brighter kitchen color palettes. 
Thanks for sharing.
Oops, we messed up. Try again later
Recently Tested Coffee Makers
BEST TIME TO BUY:
November, December
Do you know when is the best time to buy Coffee Makers? Learn more
More From Consumer Reports