Food processors & choppers

Food Processor & Chopper Buying Guide
Food processors spare you lots of time, cleanup, and potential risk chopping with that knife. They're easy to use, too, even if you're a butter-fingered novice in the kitchen.
These are jack-of-all-trade tools: They can chop veggies, grate cheese, slice potatoes, grind nuts, blend sauces, even knead cookie dough. For small jobs, such as chopping basil or nuts, it's best to go with a mini-chopper. For bigger tasks like making breakfast casseroles, larger processors provide more power, convenience, and versatility.
You can spend as little as $13 for a basic chopper and up to $500 or more for a souped-up food processor. Some newer models are cordless and chargeable. 
How We Test Food Processors and Choppers
In CR's labs, we rate food processors and choppers on how well they perform in a number of tasks.
For choppers, we test models on chopping onions and almonds, puréeing peas and carrots, and grating Parmesan cheese. We test food processors on grating Parmesan cheese, slicing celery and mushrooms, and shredding carrots and cheddar cheese. We also assess how noisy each model is when operating on its highest speed.
If you regularly cook for a crowd or like to prepare multiple batches of a recipe, you might appreciate a bigger processor—with a capacity of, say, 11 to 16 cups. But they tend to cost more, sometimes weigh more, and hog counter space. A capacity of 7 cups or so is fine for most tasks.
Choppers make more sense for small jobs, such as dicing half an onion or mincing a handful of parsley. Plus they're easier to clean.
When Should You Pay More?
Lower-priced models we test tend to deliver subpar performance in at least one processing task. They also make quite a racket, whereas most higher-end models we test are quiet.
What About Capacity?
Claimed food processor capacities typically range from about 7 to 16 cups, although actual volumes often vary by 1 or 2 cups. Choppers hold only about 1 to 5 cups. They can be noisy, but you probably won't be using them for long periods of time.
Chop Shop: The Major Types
Full-sized processors are usually more versatile—able to chop and slice foods and knead dough. Mini-choppers look like little food processors, but they're designed to handle simple tasks, such as chopping half a cup of nuts or a couple of shallots. There are almost 70 food processors and food choppers to explore in CR's exclusive ratings. Here are the types to consider.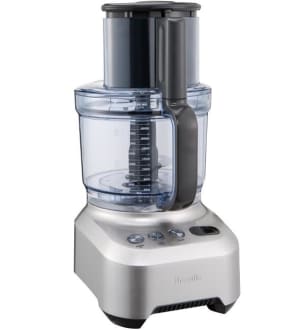 Food Processors
Most easily chop vegetables for soups or stews, slice salad fixings, and shred cheese for tacos. Some models can knead bread dough; just know that these models are generally more expensive.
Food processors Ratings
Food Choppers
The difference between food processors and choppers: power, capacity, and function. Smaller, lighter, and less expensive choppers make quick work of cutting up small batches of nuts and herbs that would get lost in a food processor's large bowl. Choppers do not have shredding and slicing blades.
Food choppers Ratings
Slice of Life: Features to Consider
Standard equipment includes a clear plastic mixing bowl and lid, an S-shaped metal chopping blade (and sometimes a blunt blade for kneading dough), a plastic food pusher to safely prod food through the feed tube, and a safety lock. Here are additional features worth considering.
Brands That Matter
More power or a bigger price tag isn't a sure bet on performance, and some fancy models we tested actually made more work than they saved.
This is a major brand that offers models in the low-priced to midpriced range. Available at department stores, big-box retailers, and online.
A premium brand with high-end and midpriced models. Available in specialty and department stores.
This is a midrange to premium brand. Some models also function as blenders. Sold in department, specialty, and appliance stores, and online.
This is a premium brand sold through department and specialty stores, and online retailers.
This brand offers low-priced to midpriced models. Available through department, appliance, and big box stores, and online retailers.
This brand offers premium products. Some models come in multiple colors. Sold in department, specialty, appliance, and big-box stores, and online.
Thanks for sharing.
Oops, we messed up. Try again later
Recently Tested Food processors & choppers
BEST TIME TO BUY:
November, December
Do you know when is the best time to buy Food processors & choppers? Learn more
More From Consumer Reports