Space Heater Buying Guide
The right space heater can keep you warm, save you money, and accomplish both in a safe environment for you and your family.
But how should you choose a space heater? That'll depend on the space you're trying to warm up, how quickly you want it to get warm, how many people you're hoping to keep warm, and how much you're willing to spend on bells and whistles, like oscillation and programmability. After our lab engineers tested more than 50 space heaters, we found that the highest rated models in CR's space heater ratings can heat an average-sized room (200 square feet) in about 15 minutes—and will run you between $25 and $690.
Let's take a closer look at how we test space heaters, which safety features to look for, the different brands you'll encounter, and other intel you need to find a great space heater. If you already know what you need, you may want to consult our picks for the best space heaters, as well as our recommendations of space heaters for your home office or personal space heaters.
How We Test Space Heaters
We evaluate how well space heaters warm up a standard-sized room (200 square feet) and how well they heat up a nearby person (known as spot heating) within 15 minutes. "Our spot-heating test uses a mannequin wired with sensors," says test engineer Chris Regan, who oversees our space-heater lab. "We want to know how your body will feel when you're sitting within 4 feet of the appliance."
CR's space heater testers also assess how noisy each machine is while running—here are our picks of the quietest space heaters—as well as how easy each is to use and move around any given space. Safety is critical to our space heater ratings. Each model undergoes three tests to determine its potential for causing a fire. Results of those three tests—tip-over, overheat, and drape—are combined for our overall fire safety score.
For the tip-over test, a unit gets a perfect score if it turns off in less than 10 seconds after being tilted on its face. (Many shut off instantly.)
For the overheat test, the heater is wrapped in fabric, causing heat to build up in the unit. Models that shut off in under 2 minutes without scorching the fabric earn a perfect score.
In the drape test, a portion of the heater's outlet is covered with cloth. Models that shut off in 2 minutes, or run for 30 minutes without scorching the fabric, land a perfect score in that test.
How to Choose a Space Heater
Determine your budget. The models in CR's tests cost between $25 and around $690. But a high price doesn't always correlate with top performance. In fact, one of the highest-rated space heaters we test is the Comfort Zone CZ499R, which costs $60. (If you're looking for a budget-friendly model, check out our roundup of the best space heaters for $100 or less.)
Factor in portability. If you're planning to move a space heater from room to room, you want one that's lightweight, such as the 3-pound Honeywell HCE311V or the 5-pound Atomi Smart AT1481. If you're looking for a larger space heater—to heat a big room, for example—look for one with wheels for easier movement.
Identify which features you want. A programmable thermostat—even a timer—lets you set when the heater turns on and off. A remote control lets you adjust the heater from afar. These features are nice to have but will add to the cost of your space heater.
Look for key safety features. Space heaters are, of course, designed to be hot. But they shouldn't burn you or create a fire hazard. Look for a unit with a sensor that shuts the heater off if it overheats. A switch that does the same if the heater tips over is a welcome plus for taller models, especially if kids and/or pets use the room, too. Read on for other safety tips regarding space heaters.
Look for a safety certification. Shop for a space heater with a label from a recognized testing laboratory, such as UL, ETL (Intertek), or CSA (Canadian Standards Association), verifying that the heater's construction and performance meet recommended U.S. safety standards.
Space Heater Sizes
Larger space heaters cover more space; smaller space heaters tend to cost less. You'd need multiple space heaters to cover an entire home, so compare their footprints and capacities before choosing.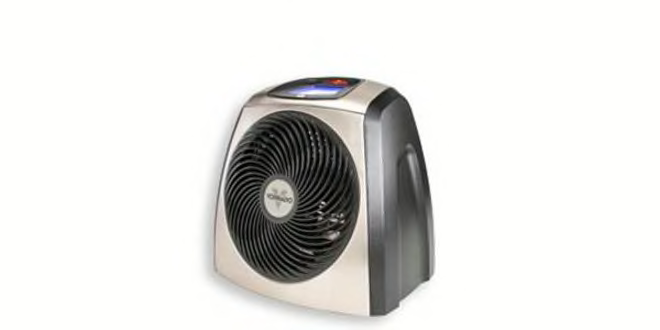 Small
Look for fast spot heating if you care more about quickly warming just one or two people rather than a roomful of folks. The best small models will quickly warm someone sitting in a room within 15 minutes. 
Space Heaters Ratings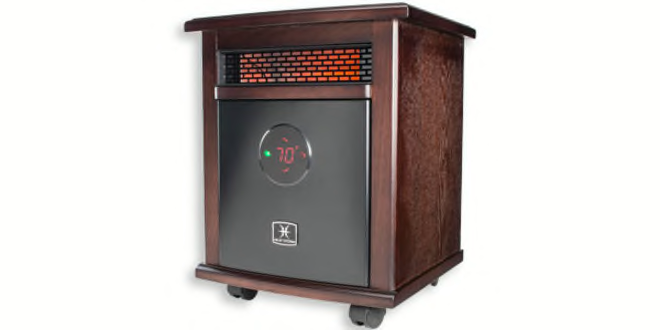 Large
A large unit is ideal for heating a full room. You may also want to consider a larger space heater if you like the look of wood and an electronic flame display. The best large heaters will warm up a standard-sized room, such as a family room, within 15 minutes.
Space Heaters Ratings
How to Shop for a Space Heater
With insights from rigorous testing, Consumer Reports' experts tell you what you need to know before you buy.

How to Use a Space Heater Safely
Along with the pros at the Association of Home Appliance Manufacturers and the National Fire Protection Association, our experts offer the following safety tips.
Place the heater on a hard, level, and nonflammable surface. These appliances are intended to sit on the floor, not on a table.
Establish a 3-foot kid- and pet-free zone around the heater, and never put a space heater in a child's room.
Keep the space heater at least 3 feet away from combustible materials, such as furniture, bedding, and curtains. A taller heater may need to be even farther away.
Don't use a heater in a workshop or garage near paint, gas cans, or matches.
Turn the heater off when you leave the room or go to bed.
Unplug the heater when it's not in use by pulling the plug straight from the outlet. Check the cord for damage periodically, and don't use the heater if the cord is frayed or worn.
Don't plug another electrical device or an extension cord into the same outlet as a heater—that can cause overheating.
Install working smoke alarms on every level of your home and in every bedroom, and test them monthly.
Space Heater Features
Check out these features to help you stay cozy during colder days, and also to use your space heater safely.
DeLonghi sells mostly convection heaters in the ceramic category, with models covering most types but primarily oil-filled and micathermic, in which the elements are covered. The products are sold at Amazon, Home Depot, Lowe's, Sears, Walmart, and many online retailers. Prices range from about $50 to $180.
Honeywell is part of the Helen of Troy group of products. HOT makes many small appliances, including hair dryers. Honeywell-brand space heaters are primarily the ceramic type with a fan. Honeywell space heaters are sold at Best Buy, Home Depot, Lowe's, Target, and Walmart. Prices range from about $30 to $220.
Lasko's primary type of space heater is ceramic with a fan. The heaters are available in many configurations, such as tower and pedestal. You'll find Lasko heaters at Home Depot, Lowe's, Target, and Walmart. Prices range from about $25 to $185.
Additional space heater brands to look at include Amazon Basics, Andily, Atomi Smart, Black+Decker, Comfort Zone, Costway, Crane, Dyson, Heat Storm, Jarden, Lifesmart, Mill, Pelonis, Soleil, and Vornado.
Thanks for sharing.
Oops, we messed up. Try again later
Recently Tested Space Heaters
BEST TIME TO BUY:
February, March
Do you know when is the best time to buy Space Heaters? Learn more
More From Consumer Reports