Consumer Reports is not currently testing Steam irons.

A hot, steamy iron with a good soleplate can work wonders on rumpled garments. Many new irons are easier to use and release enough steam to smooth dry cotton and linen.
Irons cost anywhere from $15 to $150 and our tests show that price doesn't always indicate performance—several top pick irons are around $50. You won't see cordless irons in our ratings. They were unimpressive in past tests so for now, we're not testing them. Use this guide to help you choose the best iron for your needs and budget. 
Steam and heat are important for banishing wrinkles. And while any of the irons tested will remove wrinkles, eventually, irons that produce little steam take longer to get the job done. You'll see steaming-rate scores in our ratings, along with scores for ironing quality and ease of use.
Soleplates
Choose from stainless steel, anodized aluminum, ceramic, and nonstick. The best gliders are often stainless steel or ceramic—our tests found that nonstick soleplates didn't glide as well.
Controls
Irons have dials, slides, or digital controls. Make sure the controls are easy to see and adjust and that fabric settings are clearly marked.
Comfort
Even an iron that's excellent at ironing may feel heavy or awkward in your hand, so hold it before you buy. 
Clean the Surface Occasionally
To remove residue clean the iron's soleplate—following the manufacturer's instructions—and especially if you use starch.
Minimize Leaking
Leaking can occur when you press at lower temperatures. To prevent dribbles press delicate fabrics first and before you add water. After ironing items requiring steam, empty the water. This reduces drips the next time and the heat can evaporate remaining moisture. It can also reduce mineral deposits on the soleplate.
Use Tap Water
Nearly all irons work fine with tap water, unless your water is very hard. Your manual will indicate what's best.
Irons vary by soleplate material, size, weight, and features. All tested irons removed wrinkles, but some produced more steam, making the job faster, and have a soleplate that glides more easily. The best gliding soleplates are often stainless steel or ceramic. Here are the types of steam irons to consider.
Conventional Steam Irons
These allow small amounts of hot steam to be applied to the fabric when ironing, making creases disappear faster. Features once found on pricier irons only are now standard on less expensive irons. Most new irons can be used with tap water, thanks to anti-calcium valves or resin filters.
Steam Ironing Systems
An iron allows you to apply a constant flow of high-pressure steam. A system takes up a lot more space than a conventional iron and can be placed on a chair or on a rack at the end of the ironing board. These systems take longer to heat up and some don't automatically turn off if you leave them unattended—the same is true for some irons. The steam production speeds up ironing and can easily remove wrinkles from even dry linen. The systems usually lack a spray function, but that's irrelevant if the steam flow is high enough. Past tests found systems that scored excellent overall in our tests. Currently there are none in our ratings.
Cordless Irons
These resemble conventional steam irons but do not have a power cord. While more maneuverable, the models we've tested have been unimpressive and no longer appear in our steam iron ratings (available to subscribers).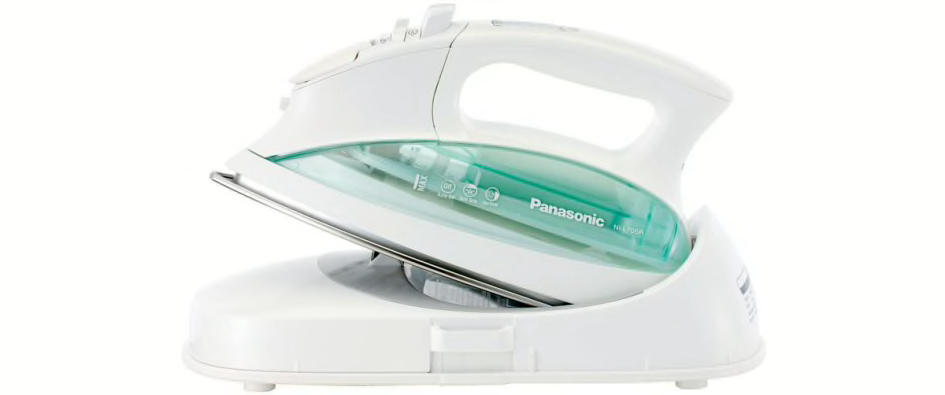 Features that were once only on pricier irons are now standard on less expensive models. Consider these features.
Auto Shut-Off
Most new irons have this feature. It turns off the power if the iron is motionless for a number of seconds or minutes, whether laid flat or propped up. Some irons will also shut off when left on their side. Auto shutoff can prevent a fire, but stored heat can still scorch fabric if the iron is left face down.
Burst-of-Steam or Surge Button
Delivers an extra blast of steam to subdue stubborn wrinkles, especially handy if you often press linen or heavy fabrics such as denim.
Convenient Controls
The list of fabric settings should be easy to see. A temperature control that's clearly marked and easily accessible, preferably on the front of the handle, is a plus. Most irons have an indicator light to show that the power is on.
Retractable cord
It can keep the cord out of the way when you're using the iron or when storing it, but make sure the cord doesn't whip when it retracts.
Self-Cleaning System
Flushes mineral deposits from vents, but not always effective with prolonged use or with very hard water. Try the burst-of-steam feature to clean vents.
Steam Gauge or Adjustable Steam
Adjust the amount of steam or shut the steam off, as needed. An anti-drip feature, found on most irons, is designed to prevent leaks when you steam at lower settings.
Transparent Water Reservoir
Some reservoirs are a small, vertical tube; others are a large chamber under the handle. A transparent chamber makes it easy to see the water level. Check that the water tank is marked with the water level. 
Vertical Steaming
Use the iron in an upright position to remove wrinkles from hanging garments and freshen drapes.
Water Fill-Hole Cover
A hinged or sliding cover over the water-fill hole is supposed to prevent leaking, but it doesn't always work. 

The major brand in the category, Black & Decker offers a wide range of irons with varying types of sole plates, including stainless steel, nonstick, and the newly introduced ceramic. New technology from the brand is the availability of steam on all temperature settings, including at low temperatures. The irons are sold at department stores, Target, Walmart, Bed Bath & Beyond, and through online retailers. Prices range from $20 to $80.
This is a midmarket brand with products that have a retro look or stainless-steel styling. Euro-Pro irons are sold at appliance stores, Sears, Target, Best Buy, Kohl's, and Macy's, and at online retailers. Prices range from $30 to $100.
GE steam irons are a value brand with basic features. They're sold at Walmart, and cost $20 to $30.
Hamilton Beach, a major brand, makes irons that are a bit more upscale and expensive than those from its sibling brand Proctor Silex. They are sold at department stores, Bed Bath & Beyond, appliance stores, and online retailers. Prices range from $30 to $80.
A major brand, models are available in stainless-steel and nonstick and are sold at Sears and Kmart.
Panasonic irons are in the midmarket range. The brand offers models with stainless-steel or ceramic soleplates. Cordless models are also available. Panasonic irons are sold at Walmart, Target, Sears, and appliance stores, and on Amazon.com and other online retailers. Prices range from $40 to $120.
This European brand is positioned as a premium brand. The models include either stainless-steel or nonstick soleplates. These irons have many features. They are sold at department stores, Bed Bath & Beyond, Sears, Target, specialty stores, and online. Prices range from $50 to $150.
A popular midpriced brand, sold at most appliance stores, Target, Best Buy, Sears, and Walmart.
This brand sells products in the lower to midrange category, with nonstick and stainless-steel soleplates. They are sold at a range of retailers, including department stores, Target, Walmart, and Bed Bath & Beyond. Prices range from $20 to $60.
T-Fal irons have a nonstick soleplate. They're sold at most major retailers, including Walmart, Target, and Kohl's, and at Amazon.com and other online retailers. Prices range from $30 to $90.
Thanks for sharing.
Oops, we messed up. Try again later
Recently Tested Steam irons
BEST TIME TO BUY:
June, July, August, November
Do you know when is the best time to buy Steam irons? Learn more
More From Consumer Reports