A thermostat is the brains behind your home's heating and cooling system, whether that system consists of a heat pump, furnace, boiler, or central AC. By monitoring and controlling the temperature in each part of your home, a responsive thermostat is key to keeping your home comfortable.
And some thermostats can save you money. A smart thermostat can shave about 8 percent off your home's heating and cooling bills, amounting to an average savings of $50 a year, according to Energy Star. (Some thermostat manufacturers claim those savings can reach $100 or more.) Of course, non-connected, programmable thermostats—which, according to the Energy Information Administration (PDF) are used in about 42 percent of U.S. homes—can also provide energy savings.
But for years, the problem has been that they're too difficult to program for many consumers. For that reason, Energy Star stopped certifying the entire product category in 2009. In fact, according to a study (PDF) published in the Energy Research & Social Science journal, 40 percent of programmable thermostat owners don't use the programming feature to set schedules. That's a problem because a thermostat can save you money on your energy bill only when it's set to use less energy. You can do that manually every time you go to bed or leave the house, or program your thermostat to do it for you on a schedule. 
Smart thermostats, however, are gaining popularity. They tend to have simple controls and touch-screen displays that make programming easier. More important, smart thermostats connect to the internet via WiFi, allowing you to change the temperature at home through an app on your smartphone wherever you happen to be—as easily as you would check your bank account balance. Smart thermostats can also factor in your local weather forecast and "learn" your temperature preferences through sensors and computer algorithms. The idea is to move beyond needing to program the thermostat altogether.
As a result, Energy Star launched a certification specifically for smart thermostats in January 2017. The packaging label makes it easy for you to know which smart models will help lower your energy bills. As of June 2022, 64 smart thermostats have received Energy Star certification, and that number is likely to continue to grow. For top-performing smart thermostats that will save you energy and money, see our guide to the best smart thermostats.
Some of the user interface improvements created for smart thermostats have also trickled down into non-connected, programmable thermostats, making some of them a more easy-to-use option for consumers who don't want an internet-connected model. In our tests, the top-performing programmable thermostats received ratings of Excellent for ease of programming and Very Good for manually changing the temperature. To see which programmable thermostats ace our usability tests, check out our guide to the best programmable thermostats. 
The world of thermostats moves at a much slower pace than those of more popular electronics, such as smartphones and computers, but there are still some notable changes happening in the industry, especially around smart thermostats.
Ecobee was a pioneer when its smart thermostats began using wireless remote temperature sensors, which can be placed in areas away from the thermostat to more accurately heat and cool rooms that might run too hot or too cold. Now, most new smart thermostats offer these sensors.
There are also a handful of startups making smart air vents, which connect to select smart thermostats and redirect the airflow of forced air HVAC systems for better heating and cooling. For more information on wireless temperature sensors and smart air vents, check out our guide to getting the right temperature in every room of your home.
Last, smart thermostats are becoming much more affordable. Google released a new Nest Thermostat model in 2020 that now costs $100, while smart home startup Wyze has a smart thermostat that costs about $75. For more smart thermostat options in every price range, see our smart thermostat ratings.
At Consumer Reports, we've tested hundreds of thermostat models over the years. And while once upon a time they weren't very accurate, most now are able to keep rooms close to the set temperature. It's for this reason that we no longer test manual thermostats—all they do is hold a set temperature.
With temperature accuracy a given, CR focuses our testing on ease of use—taking note of how simple each thermostat is to set up, program, read, and operate.
For programmable thermostats, the ease of use testing is broken down into four aspects of the product experience: setup, ease of reading the display, programming, and manual operation.
Our setup test evaluates how easy the thermostat is to configure for your HVAC system after physical installation, and our display test judges how well information is presented and how easy it is to read. The programming test looks at the number of steps it takes to create a heating and cooling schedule and the cues provided for understanding the schedule-building process. The manual operation test assesses the ease of using a thermostat's primary functions, including controlling the setpoint, building a schedule, setting home/away status, and creating a vacation period.
For smart thermostats, our testing has a different focus. We factor in smart features like alerts, app control, and geofencing (where the thermostat tracks your phone's location to know whether you're home). We also account for machine learning and automation features, which allow smart thermostats to learn your habits and routines to adjust temperatures for you. And with the growing popularity of digital assistants, we consider voice control with Amazon Alexa, Apple HomeKit/Siri, and Google Assistant, if those integrations are available. These criteria factor into our unique Smart IQ and automation scores for smart thermostats. We also consider ease of wireless setup and, as we do with programmable thermostats, evaluate ease of manual operation.
Our test engineers then take all of this data and incorporate it into our Overall Scores for both smart and programmable thermostats.
Thermostat Types
The iconic round thermostat with a dial is a relic, though Honeywell makes a modern version. Today's models have bright displays and easy-to-use interfaces.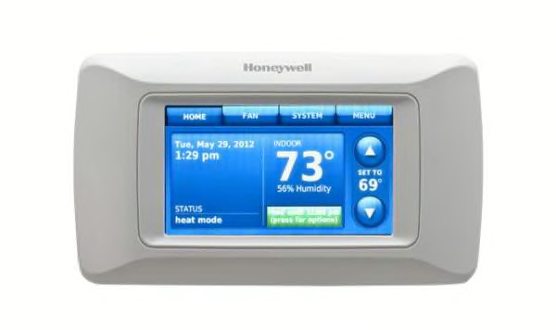 Programmable Thermostats
With no connection to the internet, these models require you to set the temperature, as well as select the heating or cooling cycle of your HVAC system, on the unit itself. Most feature a digital interface with the option to schedule or automatically adjust your home's temperature based on times you specify.
Pros: Programmable thermostats are cost-effective. Most models allow you to set different temperatures for multiple times of the day and/or every day of the week.
Cons: They lack the convenience and flexibility of automation, remote control, and voice control.
Programmable Thermostats Ratings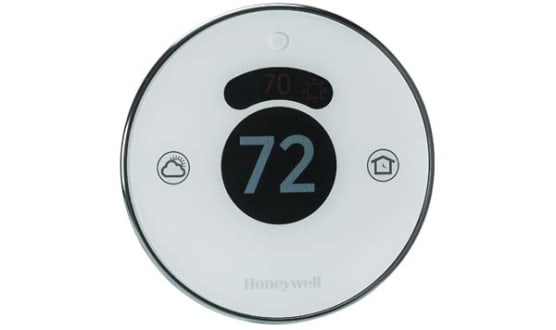 Smart Thermostats
These models allow you to remotely control your thermostat via your smartphone or computer. Some employ multiple sensors to monitor temperatures in various parts of the home for more balanced heating or cooling. Some models track your temperature preferences and use that data to optimize your heating and cooling schedule.
Pros: Smart thermostats are energy-efficient and convenient. They offer finer control of your HVAC system to reduce your carbon footprint, lower your home's energy usage, and save money. And they're able to automate your heating and cooling with little to no manual input.
Cons: They tend to be more expensive than programmable and manual thermostats. Also, not every smart thermostat works with every home's existing HVAC system.
Smart Thermostats Ratings
How to Choose a Thermostat
1. Decide whether you're interested in a non-connected programmable thermostat or a smart thermostat.
If all you care about is simple programming, a non-connected thermostat will suffice, and these models are much more affordable. If you're interested in controlling your thermostat with your voice or an app, or letting it learn your habits and adjust the temperature accordingly, then you should consider a smart thermostat. To narrow your choices, factor in smart features (such as geofencing), price, and attributes that matter to you, such as color, size, or style.
2. Consider your HVAC system.
Nearly all of our tested models work on common heating and cooling systems, but check the packaging for exceptions. This is especially a concern with smart thermostats, because not all models support all types of HVAC systems. For example, the Nest Thermostat E doesn't support two-stage heat pump systems, but the Nest Learning Thermostat does. And if you have separate heating and cooling systems, you may need to install a separate thermostat for each system, as well as for each zone of heating and cooling.
3. Scope out your wiring.
You'll also want to open up your existing thermostat to see what kind of wiring you have. Most non-connected, programmable thermostats will work with as few as two low-voltage wires (common in older heating systems), but newer thermostats often require a common wire, or C-wire. The C-wire provides continuous power for features like displays and WiFi. If you aren't sure whether you have a C-wire, you'll need to consult an HVAC technician.
If you know you don't have a C-wire but you really want a smart thermostat, you have a few options:
• Choose a model with a power adapter or power extender that allows you to add a C-wire to your system, such as those from Ecobee and Honeywell Home.
• Buy and install a third-party add-a-wire adapter.
• Pick a model from our ratings that doesn't require a C-wire (look under the Features & Specs tab in our ratings table). Both Nest and Emerson claim you don't need a C-wire for many systems. Nest models, in particular, have an internal battery that charges whenever your system is running. But some HVAC professionals caution against this arrangement, saying it could potentially damage your HVAC system.
• Have a C-wire professionally installed.
4. Consider your home's aesthetics.
If you're replacing something that will stay on your home's wall for the next decade, you'll probably want it to look good. Today's thermostats, especially smart models, come in a variety of shapes and styles. You could go for the classic, round look of Google Nest thermostats or the futuristic all-glass, rounded-square style of Ecobee models. Honeywell Home and Lennox thermostats offer a more modern, boxy look with large displays, and models from Emerson, Hunter, and Lux have a more conventional style that you'd expect from programmable thermostats. Of course, when it comes to looks, the decision is entirely up to you. You're the one who's going to have to live with it, so choose the style that looks best in your home.
A Word About Installation
Most non-connected thermostats can be wired easily into your home's heating and cooling system. Simply take a photo of the wired connection on your current thermostat so that you know which wires go where and connect those wires to the corresponding ports on your new thermostat. Many smart thermostats will also include detailed installation instructions or video walkthroughs to make the process easier. Consumer Reports also has a step-by-step installation guide and video to help you complete the task.
TIP: Install a thermostat on an interior wall that's centrally located, and away from vents and other sources of drafts or direct sunlight, which could distort temperature readings.
Thermostat Features
The features on programmable and smart thermostats vary from model to model. We've identified some that make it easier to control the thermostat, keep you comfortable, and allow you to maximize your energy savings.
The Best Time to Buy Thermostats
Once you've picked out the perfect thermostat for your home, check its price at online retailers and your local hardware stores. And don't forget to check your local electric utility, which might have rebates or discounts on new thermostats.
If you aren't replacing a broken thermostat, the best time of year to buy one is October through December, when holiday and end-of-year sales will include thermostat discounts (even if they aren't the greatest gift).
Carrier is an arm of Carrier Global Corporation and is one of the largest HVAC brands in the U.S. Carrier smart thermostats are available only from HVAC dealers, and they range in price from $150 to $600.
Based in Toronto, Canada, Ecobee is one of the youngest—but fastest growing—brands in the industry. Ecobee makes only smart thermostats, which range in price from $150 to $250. Its thermostats are available at Lowe's, Home Depot, Best Buy, Amazon, and Overstock.
Emerson's Climate Technologies division manufactures thermostats. The company also sells thermostats under the White Rodgers brand. Emerson produces both programmable and smart thermostats, such as its Sensi line of smart thermostats. Prices range from around $30 to $150, and Emerson models are sold at Home Depot, Lowe's, Amazon, and other hardware stores.
Introduced in 2011, Nest was acquired by Google, which eventually folded the company into its hardware division and rebranded its products as Google Nest. It's one of the fastest-growing thermostat brands and is well-known for introducing the industry's first "learning" thermostat. Google Nest makes only smart thermostats, with prices ranging from $130 to $250. They're available at Home Depot, Lowe's, Best Buy, Amazon, and many more retailers.
Honeywell Home thermostats are made by Resideo, which was spun out of Honeywell in 2018. Resideo is one of the largest thermostat manufacturers in the industry, making manual, programmable, and smart models. Honeywell Home thermostats range in price from $20 to $250 and can be purchased at Home Depot, Best Buy, Lowe's, Amazon, dealers, and many other stores.
Lennox is a large, national HVAC company and sells its products through a network of more than 6,000 dealers. Lennox programmable and smart thermostats range in price from $130 to $850. They're available on Amazon.
Lux is one of the oldest thermostat manufacturers in the U.S. It manufactures manual, programmable, and smart thermostats. Lux thermostats are sold at Home Depot, Lowe's, and other hardware stores, and models range in price from $18 to $150.
Venstar is one of the largest thermostat manufacturers and suppliers. Venstar makes programmable and smart thermostats, which range in price from $75 to $220 and are sold at Amazon, specialty online retailers, and plumbing retailers.
Thanks for sharing.
Oops, we messed up. Try again later
Recently Tested Thermostats
BEST TIME TO BUY:
October, November, December
Do you know when is the best time to buy Thermostats? Learn more
More From Consumer Reports