When you shop through retailer links on our site, we may earn affiliate commissions. 100% of the fees we collect are used to support our nonprofit mission.
Learn more.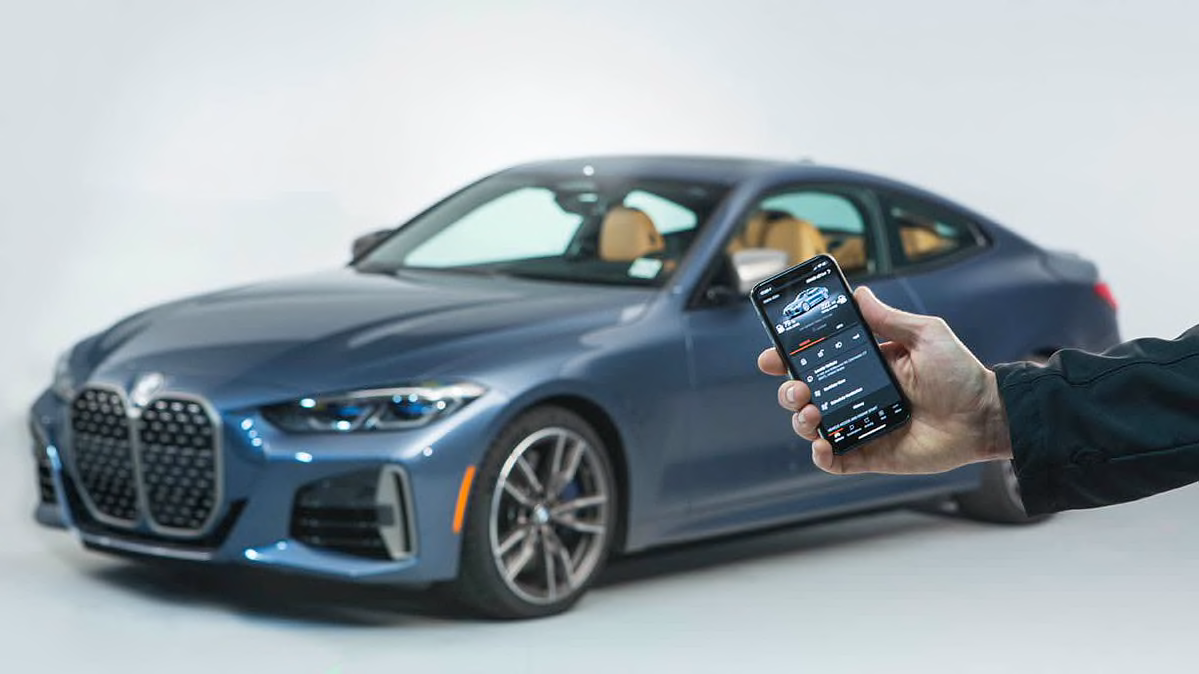 Most new cars on the market today come with a keyless fob you can use to unlock the doors and start your car without ever removing the fob from your pocket. But they can be bulky, and they're one more thing you have to carry, and potentially lose. To address those issues, BMW has joined a small but growing list of companies offering a digital key that allows a driver to use a smartphone to unlock the doors and turn on the car.
Consumer Reports evaluated BMW's version of the technology, which works directly through the iPhone's "wallet" feature instead of requiring a special app. The automaker, which developed the feature with Apple, says this is the first iPhone-compatible digital key. Here's what we found when we used the feature.
The BMW digital key is available in vehicles equipped with the Comfort Access option, which is default on some models and part of an expensive options package on others. With it, and an iPhone or Apple Watch, users can unlock doors when approaching the car and start the engine once inside, as long as the fob is present. Though the key does work, it takes a little getting used to, and this clever feature doesn't fully replace the fob.
"There's an advantage to just being able to hop in your car when all you have is your smartphone, but the app doesn't do everything the fob does," says Alex Knizek, an engineer at CR's Auto Test Center. "It's nice to have the option to use a phone, but it was a little bit trickier to set up and use than the fob," he says.
How It Works
There are a few different types of technology available that can turn your phone into a surrogate key fob. Tesla and Lincoln, for example, use Bluetooth low energy (BLE) as the basis for their phone-as-key tech. BMW, as well as Hyundai and Kia, rely on near field communication (NFC), which allows low-speed communication between two devices at a distance of up to about an inch and a half. BMW's iPhone-compatible version also comes with a card-like key that can be used in lieu of an iPhone or Apple Watch.
BLE works at a greater distance than NFC, but unlike BLE, BMW says its NFC-based tech will work for about 5 hours after a phone's battery has run down to zero percent, because there is still some reserve power in the battery for functions like paying for transit and using the digital key.
Proximity sensors that come with BMW's Comfort Access option—available across BMW's model lineup—are required for the digital key feature to work. They're compatible with newer iPhones and can detect an owner's phone or a phone belonging to someone who has permission to drive the vehicle. BMW says the digital feature is compatible with the iPhone XR, XS, XS Max, and later iPhones, and Apple Watch Series 5 or later. BMW requires iOS 13.6 and later for iPhones, and WatchOS 6.2.8 or later for Apple Watches.
You can touch the phone to the door handle to unlock the doors, and once you're inside, just dock the iPhone in the car's digital charging tray and the car can be turned on.
We didn't evaluate how well the digital key works with an Apple Watch, but you'd unlock the car by holding the watch near the door handle, and start the car by holding it next to the wireless charging tray inside. This could require some acrobatics for people who wear a watch on the left wrist.
Knizek says the iPhone setup process for BMW's digital key can be time consuming, but when complete, it was fairly easy to get into and start up CR's rented BMW M440i xDrive with the iPhone. He did have to remove his iPhone from his pocket to gain access to the car, however.
Getting Set Up
You can add the digital key feature on both your iPhone and Apple Watch by adding them to your Wallet app. Knizek says it took him about an hour to get his iPhone working as a key in our rented M440i. You need your key card and your phone in the car as you work through the setup process, and you will have to access your email account for verification purposes. BMW says it offers product experts to help set up various features as a part of its new vehicle delivery process, at no extra charge.
"You're not going to just set this up when you're on the run—you have to set aside some time for it," he says. "But once you have it set up, you don't really have to do anything else."
Although the digital key feature works with most new BMW models, you will need to have Live Cockpit and BMW operating system 7, along with Comfort Access (option number 322) in order for it to work. The latest version of the My BMW app will need to be installed on your phone as well. The BMW app is not required beyond the initial setup because the car key is added directly to the Apple Wallet app.
How to Use It
Once you're set up, you hold the top of your phone near the door handle until you see a checkmark and an "OK" appear on the phone's display. "Express mode" is enabled by default, which allows the phone to work as a BMW key without entering your security code or using fingerprint or FaceID to unlock the phone.
If you choose to use password protection for the digital key, you must first touch the phone to the door handle, enter your password or use FaceID, then place the phone on the handle a second time.
Knizek notes that there is no NFC sensor on the passenger side of the car, necessitating a circuitous approach if you're on the wrong side of the car when you want to unlock it. And because the digital key won't work from your pocket like a regular fob, there can be weather-related issues and slippery situations.
"I had an experience during a downpour where I was fumbling with the phone to open the car," Knizek says. "If I'd had the fob in my pocket, I could have just opened the car." We also found that it can take a few tries to find the right phone position to unlock the doors with it.
Because of these issues, most drivers may want to just use their key fob for daily access, and use the phone or card for times when the fob isn't handy or to provide access to another driver.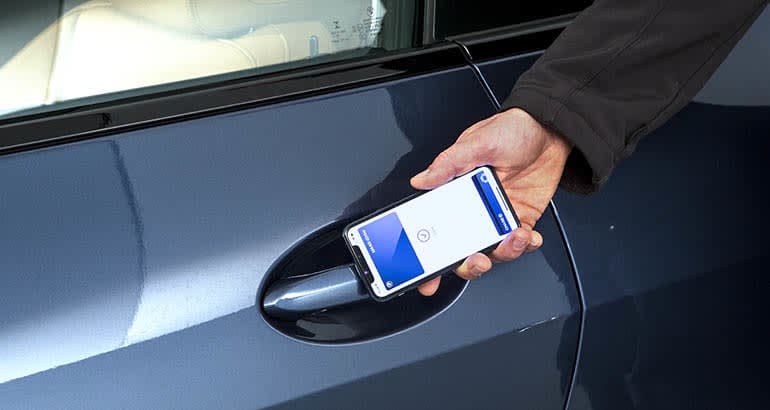 Sharing, Valet, and Security
BMW's digital key feature can be shared with up to five other iPhones, along with an Apple watch associated with each phone. Invitations can be sent from the car owner's phone to other users, and access can also be revoked by the main user. Users can also delete themselves using their iPhone, and they can also be removed from the list using the car's menu—filed under "Settings," "Doors and Windows," then "Digital Key." You can also use the car's menu to delete users if you lose your phone or sell the car.
A BMW spokesperson told CR in an email that drivers should always carry a fob or digital key card in case there are problems with your iPhone-based digital key. That may seem to obviate the need for an iPhone-based key, but a fob or key card can be given to a valet or anyone else who will drive your car.
"Personally, I would have the digital key feature set up to use as a backup, in case I forgot my fob, but for most circumstances, the fob is easier to use," Knizek says.