When you shop through retailer links on our site, we may earn affiliate commissions. 100% of the fees we collect are used to support our nonprofit mission.
Learn more.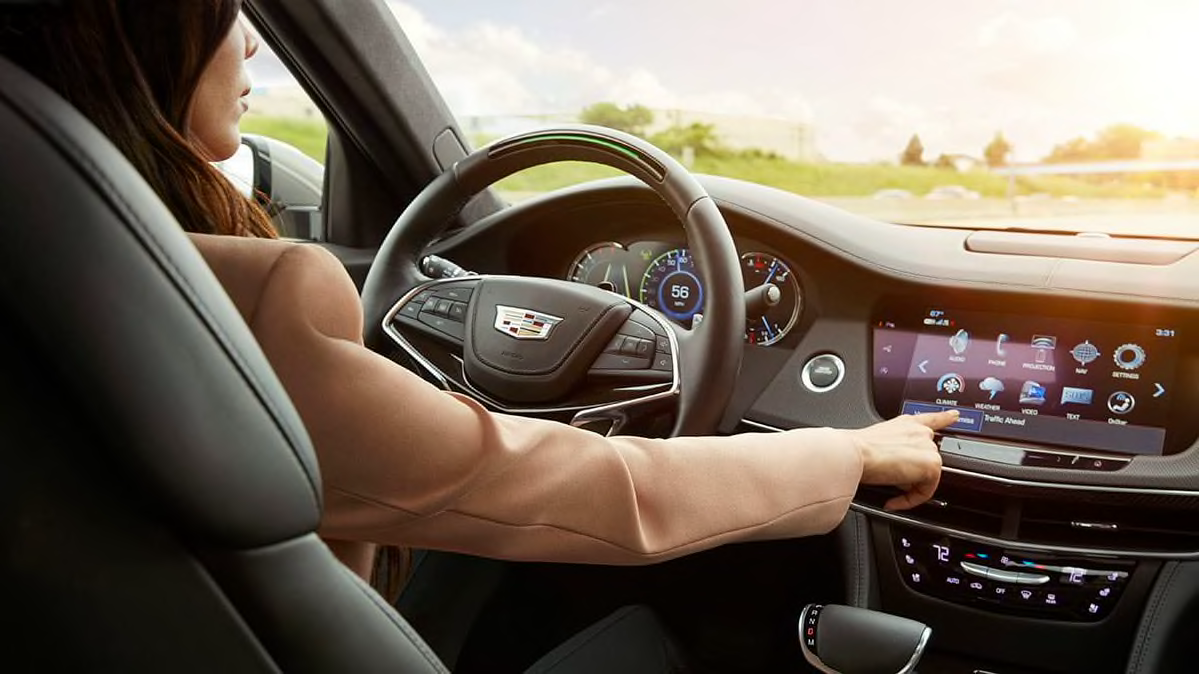 There may soon be many more drivers heading down the highway without their hands on the wheel.
General Motors said Wednesday that it would make its Super Cruise driver-assist system available on all Cadillac models at some point, starting in 2020. After 2020, the automaker will roll Super Cruise out to models from its other brands (Buick, Chevrolet, and GMC).
Unlike other driver-assistance systems, Super Cruise allows drivers to take their hands off the wheel. Super Cruise combines adaptive cruise control, which keeps a car in the flow of traffic; lane-centering technology; and a driver-monitoring system, which makes sure the driver is always looking forward and engaged with where the car is going.
We found when we tested the system that it works best when drivers keep their hands off the wheel. That's because the system will turn off when it senses the driver taking over control.
"Cadillac is proud to be the leader for the company's innovation," the brand's president, Steve Carlisle, said in a statement. "Groundbreaking technologies like these continue to provide unparalleled comfort and convenience for our customers."
While hands-free driving may look futuristic and impressive, that's not what's really important about Super Cruise, says Jake Fisher, director of auto testing at Consumer Reports. It's more relevant that GM designed Super Cruise with safety in mind, and it's the most responsible approach to semi-autonomous technology available to consumers today, he says.
"We think it's safer than other driver-assist systems, and that's why other automakers should follow suit," Fisher says. CR purchased a 2018 Cadillac CT6 with Super Cruise last year to evaluate this technology. "All of the other systems on the road are focused on convenience. Super Cruise is the only one on the road that can actually make someone safer."
System Monitors the Driver
A large part of that safety advantage comes from this system being one of the first to effectively use an inward-facing camera that evaluates whether the driver is paying attention to the road.
Other semi-autonomous systems use sensors to make sure drivers' hands are on the steering wheel, but those systems can be gamed and aren't as good at measuring whether people are paying attention, Consumer Reports' testers have found.
Super Cruise is backed up by 130,000 miles of highly detailed maps created with lidar—basically all the divided highways in the U.S. and Canada. The maps make it possible for the vehicle's system to be constantly aware of what the road will look like for about 1.5 miles ahead, including curves and exit-only lanes. It will warn drivers when it's time for them to retake control of the car.
Because the monitoring and mapping are in place, the system can be engaged only when it's safe to do so, Fisher says.
Also, the system gives very clear indicators as to who is steering, the car or the driver. There's a bright light bar on top of the steering wheel, so drivers can see it when their eyes are where they should be—on the road. When the car is steering, the light is green. The steering-wheel light turns red when the human needs to take over. While the human is steering, the bar is blue.