Can BMW's Video 'Genius' Help You Understand Your Car?
I tried BMW's Remote Visual Guidance service, which walks owners through some of the more complex aspects of new-car technology. Here's what I found. As the car expert among my friends and family, I'm often called on to answer the same simple question: "What does this button do?" Whether it's a picture of a car with squiggly lines under it (it's for traction control), a switch that says "Eco," or the new symbols for the various advanced safety systems that are increasingly common on new vehicles, today's cars are packed with more features and corresponding icons than ever—and it feels like I've given tutorials on all of them.
At least one automaker is trying to give me a break. 
BMW offers a free service for owners of its newer vehicles that gives video help via smartphone. It's called Remote Visual Guidance, and according to industry experts I spoke to, it's the only service of its kind. The feature is part of BMW's Genius service, which allows drivers to ask for assistance from experts at BMW dealerships the same way an iPad owner might go to the Genius Bar at an Apple store.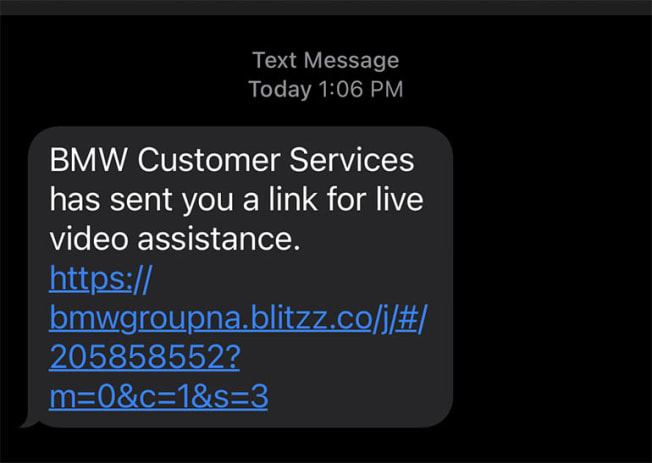 Bobby explained that most modern BMWs can be customized to respond in lots of different ways, and he led me through a series of menus within the iDrive infotainment system. After a few clicks, I saw one marked "Turn off vehicle after opening door." Bobby instructed me to click on it. Problem solved.
Now, as an automotive journalist who has driven dozens of modern BMWs, I already knew where to find the answer to this question: in the owner's manual. But I can see the appeal of the Genius for folks who might not be as comfortable searching through online forums or who aren't as deft with manual jargon. Every car company has its own specific language to describe functions and buttons—Bobby cut through all of it to solve my issue and make the car act the way I wanted.
Impressed by how quickly he solved my problem, I asked Bobby about his training. He said that he'd been a BMW enthusiast for years, and started working for the company after college.
On another call, I asked a different customer service rep which questions are most common. No. 1, he said, is "What is this symbol?" But he also said he helps customers set up a phone and walks new electric vehicle owners through unfamiliar parts of the charging process.
Other automakers use similar remote video setups to help technicians diagnose broken cars, and Lincoln created a remote showroom service. But as of right now, BMW offers the only video-based feature that helps consumers understand their vehicles after their purchase. (Remote Visual Guidance has been available since 2020.) Perhaps BMW launched it in response to the steep learning curve of its iDrive infotainment system. In our review of the 2022 BMW 3 Series—which uses the same version of iDrive—we said it "​​definitely requires some time to master the intricacies of all of the available functions." 
According to BMW spokesperson Jay Hanson, Genius—including Remote Visual Guidance—is free, and owners can call as many times as they want. However, specialists like Bobby can usually only help with the five most recent model years.
A spokesperson for Blitzz, the company that powers the remote video service that BMW uses, told me that the company isn't working with any other automakers. That's too bad, because there are plenty of cars out there with convoluted infotainment systems and complex interiors, and their owners would also benefit from a little remote guidance. At the very least, it would give me a break from helping everyone I know figure out their cars.