When you shop through retailer links on our site, we may earn affiliate commissions. 100% of the fees we collect are used to support our nonprofit mission.
Learn more.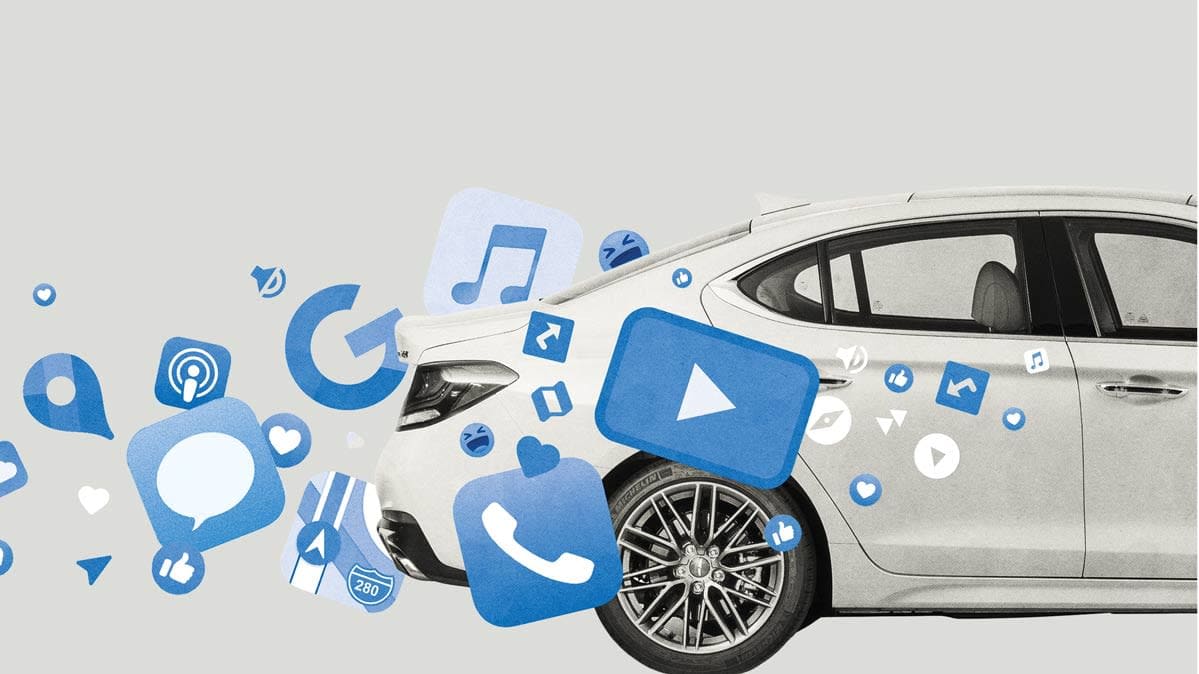 Illustration: BEN SCMULEVITCH
If you're shopping for a car, you probably care about how comfortable and reliable it is, if it's safe and efficient, and whether it's fun to drive. But what about the infotainment system? That's the interface and software that show up on your car's center screen—and it's playing an increasingly important role in modern vehicles.
The infotainment system runs all of the communication and entertainment functions of a car, from phone calls and navigation to music and podcasts. The decisions each manufacturer has made about user experience, hardware design, and smartphone connectivity can mean the difference between falling in love with your new ride and having a frustrating relationship with it.
Almost all new vehicles sold in the U.S. this year (98.8 percent) will have a digital display screen, according to the market research firm IHS Markit. But how well and easily the systems operate can be vastly different depending on the car and model year. Most new cars this year will also be equipped with Apple CarPlay and Android Auto compatibility (76 percent and 69 percent, respectively), allowing drivers to merge their smartphone's features with their vehicle's built-in screen.
More on In-Car Electronics
We surveyed more than 73,000 of our CR members about how satisfied they are with their car's infotainment system, including whether they found it distracting to use and whether they preferred to use Android Auto or Apple CarPlay instead of the factory-installed system.
Members told us that CarPlay compatibility could make up for a lousy system's deficits and that wireless connectivity wasn't as convenient as it might seem. We also learned that the built-in systems of some of the most widely sold and reliable vehicles—including certain Honda and Toyota models—were among the most frustrating to use. The same was true for certain respected luxury brands. In fact, Acura had the lowest satisfaction marks in the survey, and Lexus and Mercedes-Benz weren't far behind.
"Cars from luxury brands and those with the latest technology are often the most difficult to use," says Jake Fisher, senior director of auto testing for Consumer Reports.
By contrast, the systems in certain less expensive vehicles, including those made by Fiat Chrysler Automobiles (FCA), Ford, and General Motors, earned some of the highest marks in our survey. Fisher says that's largely because they're simple to understand and operate.
Our survey sheds light on how well some car owners are interacting with today's increasingly advanced vehicles and demonstrates just how integral smartphones have become to the driving experience. It also shows that consumers need to be careful when shopping for a vehicle, because some automakers whose cars routinely top our reliability and owner satisfaction surveys haven't been as successful designing user-friendly infotainment systems.
Our advice can help you find a system that works for you. And if a car you're interested in has an infotainment system with a low satisfaction rating—or if you already own one—we have advice on how you can get more out of it and make it easier to use.
Test-Driving the Tech
There are almost as many infotainment systems as there are brands of cars, and each has its own pros, cons, and idiosyncrasies. For example, Ford and Chrysler screens display shortcuts to frequently used tasks. Certain Honda, Acura, and Infiniti models split their infotainment features across multiple screens in the center console. Although IHS Markit says a vast majority of vehicles with displays—97 percent—rely on touch screens, Mazda uses a rotary controller instead.
Regardless of the differences, the best systems have one thing in common, says Kelly Funkhouser, program manager for vehicle interface testing at Consumer Reports: They're designed to minimize distraction. "Hard buttons or controllers with a bad menu structure can be as distracting as a touch screen with a bad interface," she says. "What's most important is that drivers can use the system quickly without taking their eyes off the road."
Sometimes cars with the most satisfying infotainment systems can become distracting when those systems are combined with other basic vehicle controls. Tesla's infotainment system, for example, got top marks from drivers. But our experts say that the controls on the Tesla Model 3 are more complicated than they need to be. That's mostly because the company put important vehicle controls—such as steering wheel and mirror adjustments—on the same screen as the infotainment system.
"In most cars, it's intuitive to feel around for those controls without taking your eyes off the road," Funkhouser says. "But on the Model 3, these simple tasks must be done through multiple steps on the touch screen."
Distraction as a Deal Breaker
Lexus is another case in point. The automaker uses two similar systems throughout its model lineup with different controllers, and both systems received some of the lowest ratings from our members. The Remote Touch system uses a mouselike controller and the Remote Touchpad system uses a trackpad, like on a laptop. Although Lexus says upcoming models will have touch screens, most of the current models don't. Survey respondents complained that making selections with these controllers required a great deal of hand-eye precision, which was especially challenging on bumpy roads. In addition, CR's testers say these systems require users to navigate through layers of menus to do even simple tasks, such as changing audio inputs.
Although many Lexus vehicles are at the top of CR's reliability and owner satisfaction ratings, their distracting infotainment systems can be deal breakers for some buyers.
Nancy Tutini of Maryland drives a 2018 Lexus LS with Remote Touchpad. She finds it frustrating and distracting. "Simplicity should be the goal!" she said in the comments section of the survey. "Who thought this was an upgrade?"
In a written statement, a Lexus spokesman told CR that the automaker was working to improve its existing and future systems. "We want to give our customers both choices for remote touch interfacing," he said, "and we will continuously improve towards a better [user experience] and seamless technology."
Jake Fisher at CR says that top-rated systems from FCA, Ford, Genesis, and GM tend to have big icons and simple controls that people can easily touch and understand. They might not look flashy, but they don't require additional effort to master.
When a Phone Has the Edge
Android Auto and Apple CarPlay let users mirror familiar apps from their phone on their car's screen. The smartphone-based systems can add navigation and voice recognition to a basic infotainment system. And their user interfaces—similar to those of a smartphone—are a good way to get around the limitations of a confusing built-in system from an automaker.
For example, user satisfaction with Toyota's low-rated Entune system was higher for drivers who plugged in their phone and started using Apple CarPlay instead. (Android Auto wasn't widely available on new Toyota vehicles until after our survey was completed.) Gary Goldberg of Maryland, who drives a 2020 Toyota Corolla, said that Entune was "clunky and superfluous" and that he used CarPlay "whenever possible."
If the vehicle you want to buy or already own doesn't have Android Auto or Apple CarPlay, it might be possible to get a software update. Ford, Hyundai, Mazda, and Toyota have offered programs to retrofit certain older touch screens with CarPlay compatibility, though you should check with a dealership to find out whether the upgrade will work for your particular vehicle or whether any other software updates are available. A Toyota spokesman told CR that the company was working to update certain older infotainment systems even though they won't be eligible for an Android Auto or Apple CarPlay upgrade.
If your car isn't compatible with one of these systems, Fisher says, it might be easier to get a sturdy smartphone mount and connect your phone over Bluetooth for phone and audio than to rely on a subpar built-in system.
The Used-Car Disadvantage
If a vehicle has undergone a major redesign, even one model year can make a big difference in how easy the infotainment system is to use. Funkhouser says this can be a big concern for used-car shoppers.
Consider the tale of two Subarus. If you bought a 2018 Forester, you'd get a version of Subaru's Starlink infotainment system that isn't compatible with Android Auto or Apple CarPlay and can't be upgraded to add compatibility. If you bought a Forester from the 2019 model year or later, you'd get a redesigned vehicle with an updated version of Starlink. The differences are stark. "I just don't use the Starlink system because it's confusing, and the manual doesn't help at all," said Jackie Williamson, a survey respondent in Washington who drives a 2018 Forester. "I just quit outright because I felt it wasn't worth a migraine."
But John Howell of Nevada praised the Starlink in his 2019 Forester. "The system is responsive, intuitive, and easy to use while driving," he said.
Ultimately, Funkhouser says, it's up to drivers to find a system that works for them, which is why it's so important to try it out as part of the test drive. "Even if a brand gets a good score," she says, "we still recommend trying out a system in person."
Most Distracting Built-In Systems
The best infotainment systems are designed to keep a driver's attention on the task of driving, says Kelly Funkhouser, CR's program manager for vehicle interface testing.
When we asked over 73,000 CR members how distracting they found their car's infotainment system, they told us which ones take their eyes—and minds—off the road.
Two Lexus systems that our survey shows were among the most distracting require drivers to use a mouselike controller or touchpad to make selections. It might seem high-tech, but these input methods are finicky and require precise hand-eye coordination, which can distract drivers, our testers found.
Certain Acura, Honda, and Infiniti models split their infotainment displays across two screens, which our members and testers agreed could be distracting.
"It's not always clear where information is located," Funkhouser says. "Sometimes you think a menu item or setting will be located on one screen, but then it turns up somewhere else."
Acura: AcuraLink II
Frequently used tasks are often hidden deep in touch-screen menus.
Honda: HondaLink
Can't operate controls by feel; responds slowly to inputs.
Infiniti: Infiniti InTouch
Menus are cluttered on touch screen, with too many layers.
Lexus: Remote Touchpad/Remote Touch
Touchpad/mouse controllers are hard to use, diverting driver's attention from the road.
Toyota: Entune
Responds slowly to inputs; voice commands are often misunderstood.
Editor's Note: This article also appeared in the September 2020 issue of Consumer Reports magazine.