When you shop through retailer links on our site, we may earn affiliate commissions. 100% of the fees we collect are used to support our nonprofit mission.
Learn more.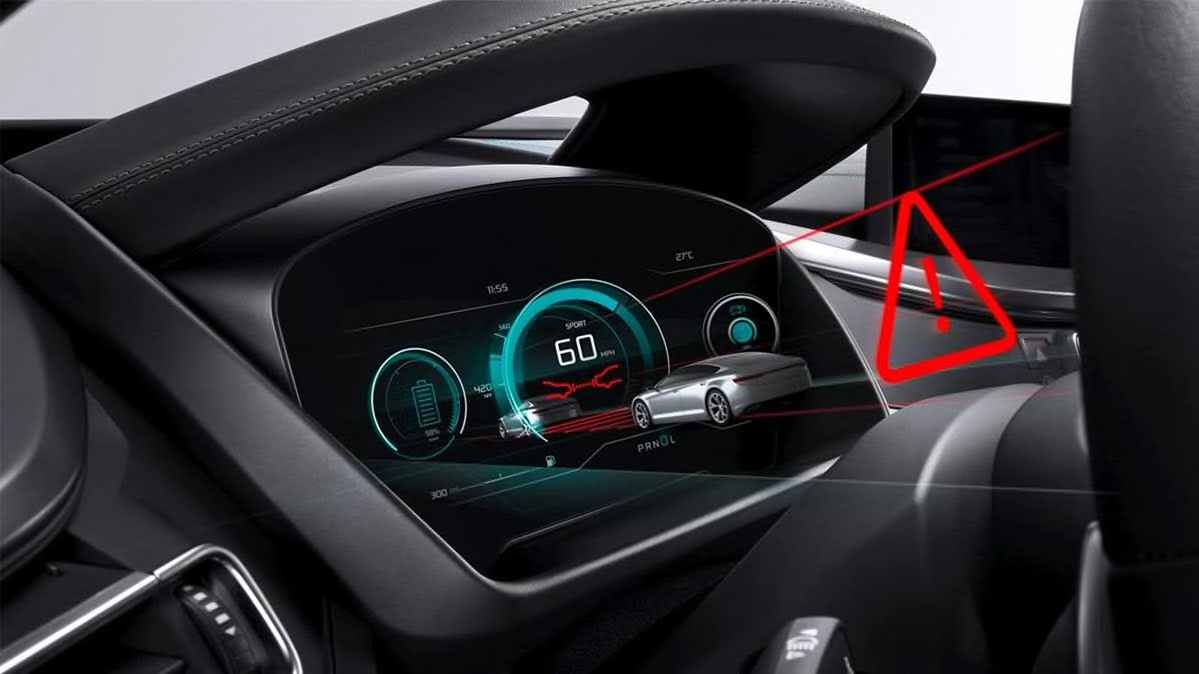 If you're planning to buy a new car in the next two or three years, chances are your next ride will be a lot different from the one you're driving today.
It's not just about electrification and automation. Consumer Reports predicts that a host of high-tech developments will transform nearly every car on the road, from dramatic screen displays and enhanced connectivity to reimagined safety technology and the kinds of seats you might find in a first-class airline cabin.
CR spoke with industry experts, analysts, and suppliers to learn more about the cars and features of the very near future. With that information, you can decide whether you want to wait for that new tech to go on sale or hold on to your more familiar car a bit longer.

Bigger Screens—and More of Them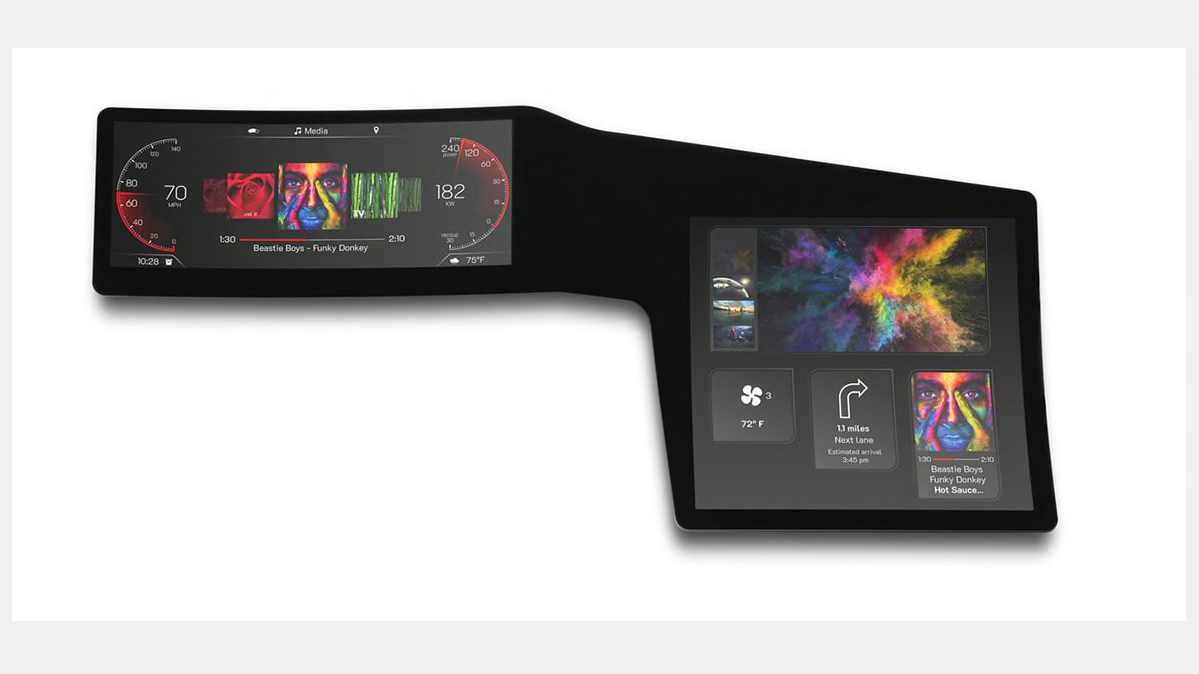 Get ready for wide, uninterrupted screens with vivid colors.
"What's happening to displays is that they're becoming larger, they're becoming curved, and there's more of them," says James Fisher, a spokesman for Visteon, an automotive supplier that makes screens and other infotainment technology for manufacturers including Ford, Jaguar Land Rover, and Mercedes-Benz.
In addition to brighter, easier-to-read displays, the next generation of luxury vehicles will get screens that curve to surround the driver, such as the one found in the latest Cadillac Escalade. CR saw a demonstration of a bendable center console display that can face either the driver or passenger.
Despite the wow factor, consumers don't necessarily want bigger, fancier screens, says Tom Neri, commercial director for technology and durables at GfK, a market research firm.
"It would appear that some of it is, 'We have it because we can,'" Neri says. "But I don't think we're necessarily seeing a large consumer demand for it."
Neri says that many consumers prefer simpler interfaces that might be easier to use while driving, and a GfK survey shows that 51 percent of people find high-tech interfaces distracting. CR's owner satisfaction surveys show that only 56 percent of members reported they were very satisfied with their car's infotainment system, which also underscores the concern with in-car technology.

Eyes on the Road—and the Driver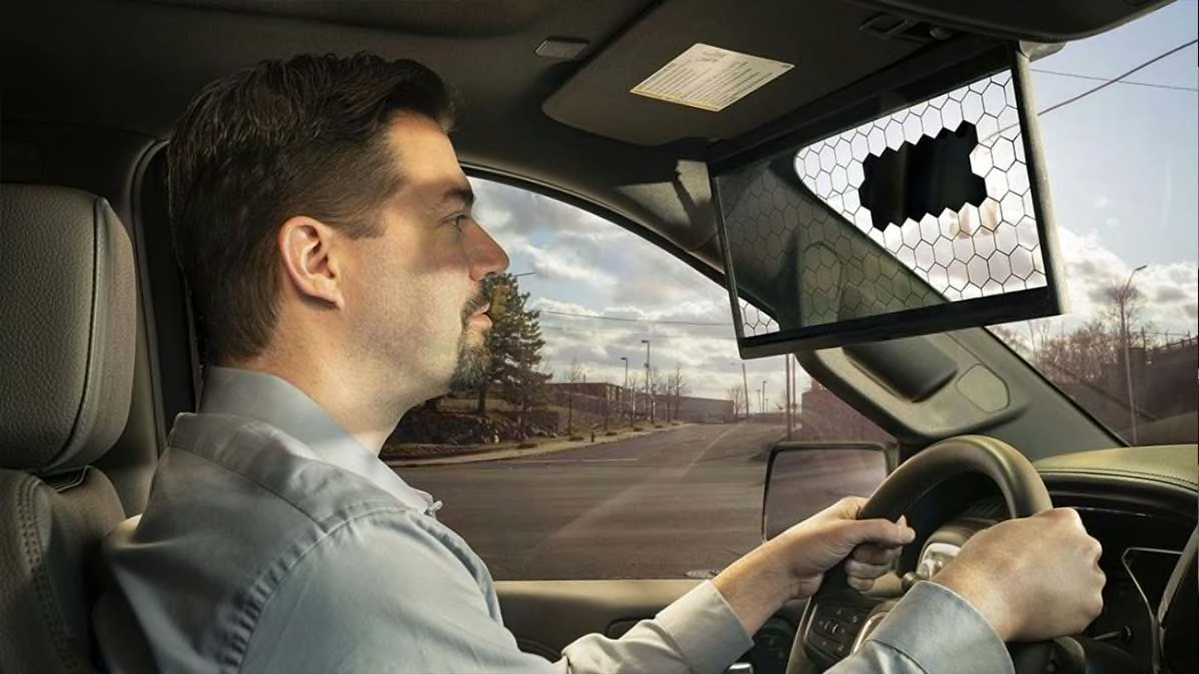 More cars will be watching drivers to make sure their eyes are on the road in the near future. These technologies are likely coming in response to new rules adopted in the EU that require new cars to be fitted with technology designed to warn drivers of drowsiness or inattentiveness.
The automotive supplier Bosch, for example, has promised an interior monitoring system for cars that can determine eyelid movements, direction of gaze, and sitting position. It will alert drivers when they aren't paying attention, optimize airbags depending on how a vehicle's occupant is positioned, and set off alarms if a child or pet has been left behind in a locked vehicle.
A few systems are already on the market, but some of them don't work very well. "Driver monitoring is especially important in cars where drivers can activate some driver assistance features, such as lane keeping assistance, adaptive cruise control, and active driving assistance, with the push of a button, and essentially hand over some control of the vehicle," said Kelly Funkhouser, head of autonomous and connected vehicles at Consumer Reports.
CR has evaluated several driver monitoring systems. Our tests have found that the infrared camera-based monitoring in GM's Super Cruise feature does a good job of ensuring that drivers are engaged and paying attention to the road. We haven't been impressed by systems that rely solely on sensors that can tell if a driver is holding the steering wheel. In CR's view, these don't truly show whether a driver's eyes and mind are focused on the road.

Advanced Safety, Now in 3D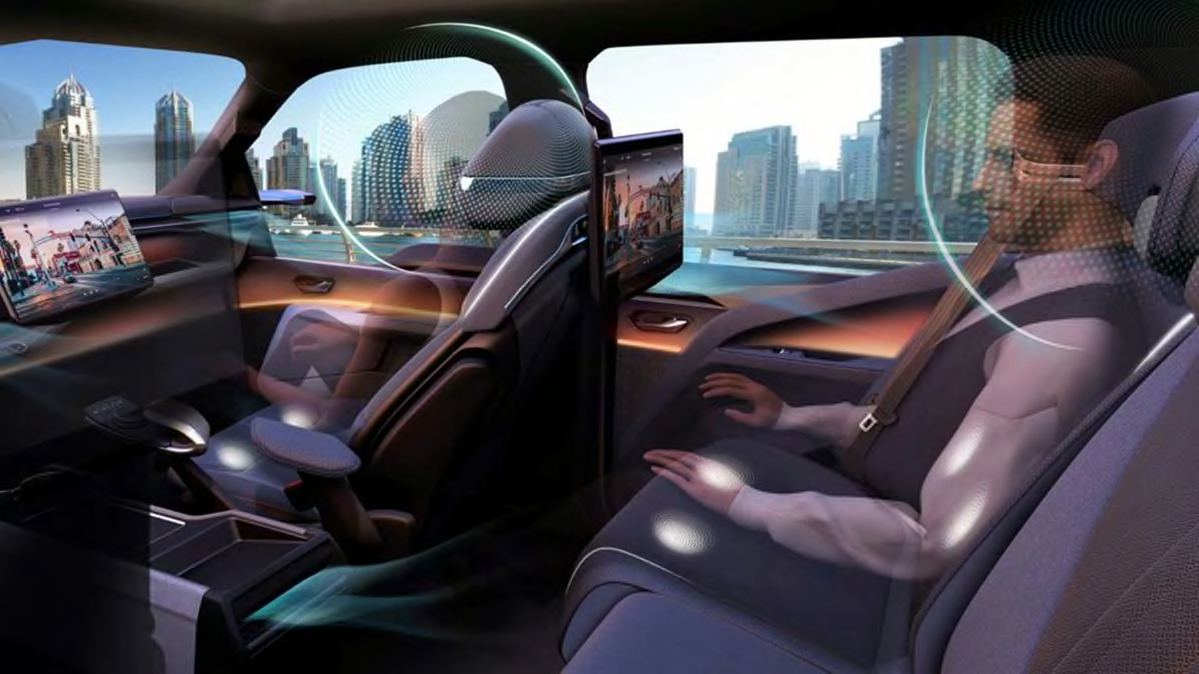 Automakers and suppliers are developing even more sophisticated technology to help cars—and drivers—sense if a crash is about to happen and take action to prevent it.
Visteon and Bosch have plans to market 3D displays for behind the steering wheel. These digital gauge cluster screens make safety alerts, such as forward collision warnings, visually pop out so they attract the driver's attention. (Drivers can turn off the 3D display if they choose.) Genesis, Mercedes-Benz, and the French automaker Peugeot are already offering this feature on some cars.
Continental and Faurecia have developed several cleaning systems for the sensors and cameras that advanced safety systems rely on to detect obstacles, pedestrians, and other vehicles. They're meant to battle snow, ice, and other weather-related issues that can block or obscure sensors and cameras.
And then there are the most important sensors of all: The driver's own eyes. Bosch has developed what it calls a "virtual visor" concept—a transparent LCD display that uses eye-tracking cameras to block out precisely where the sun's rays are interfering with the driver's vision. It could provide a real safety benefit. According to a 2017 study published in the journal Medicine, the risk of a life-threatening crash is 16 percent higher during bright sunlight compared with regular daylight.

Fewer Speakers, More Space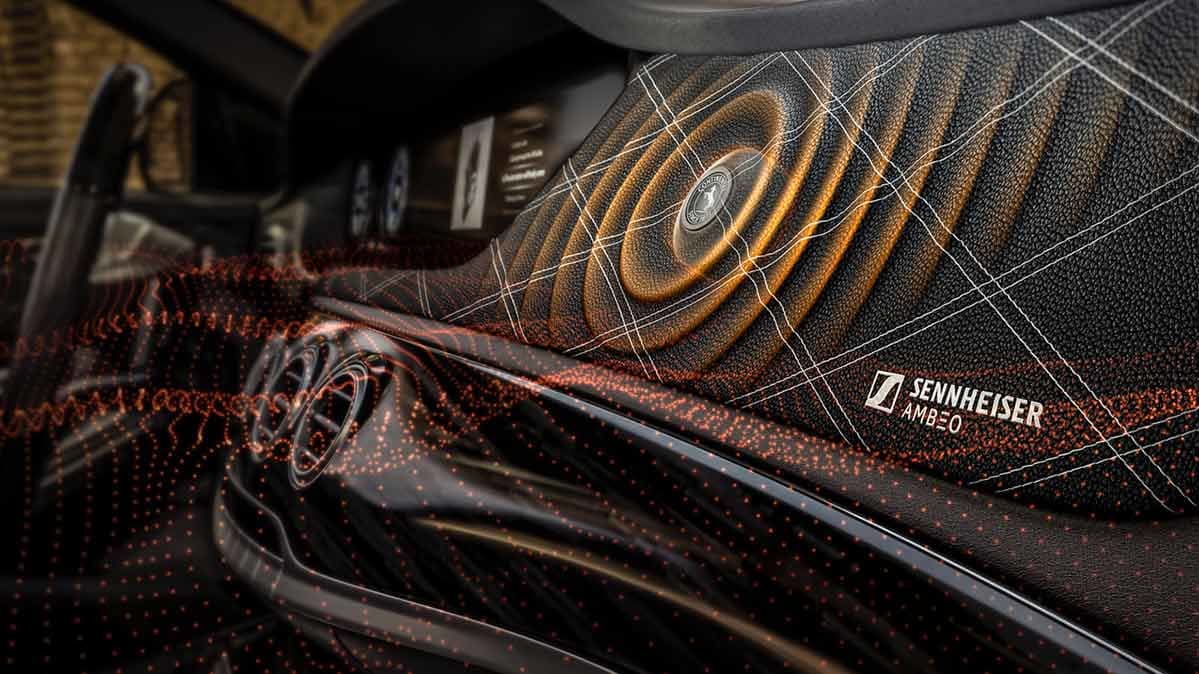 Fancy sound systems with multiple speakers take up a lot of space that could be used for storage. The automotive supplier Continental and the auto company Sennheiser created a car audio system that eliminates speakers entirely. Instead, the audio system sends vibrations directly to parts of the vehicle's body to create sound, similar to how an acoustic guitar resonates when a string is plucked. Continental says the new system can use 90 percent less space than a traditional in-car audio system, space that can be repurposed for storage or other equipment.
Faurecia, a company that makes automotive interiors and infotainment technology, has developed speakers that can create individual sound zones within a car. In other words, the driver can be listening to the news or taking a phone call while a passenger is listening to music, says a company spokeswoman, Misty Matthews. She says this could be especially useful for ride-share services or carpooling, so that each passenger can choose what to listen to. Or it could come in handy if the kids in the back want to listen to different music than the parents up-front.
"Broadly speaking, sound zones to help manage something like a phone call or the driver hearing the navigation system while the remaining occupants still hear the vehicle's audio will see much more application," said Brian Rhodes, an automotive analyst with the market research firm IHS Markit.
First-Class Upgrade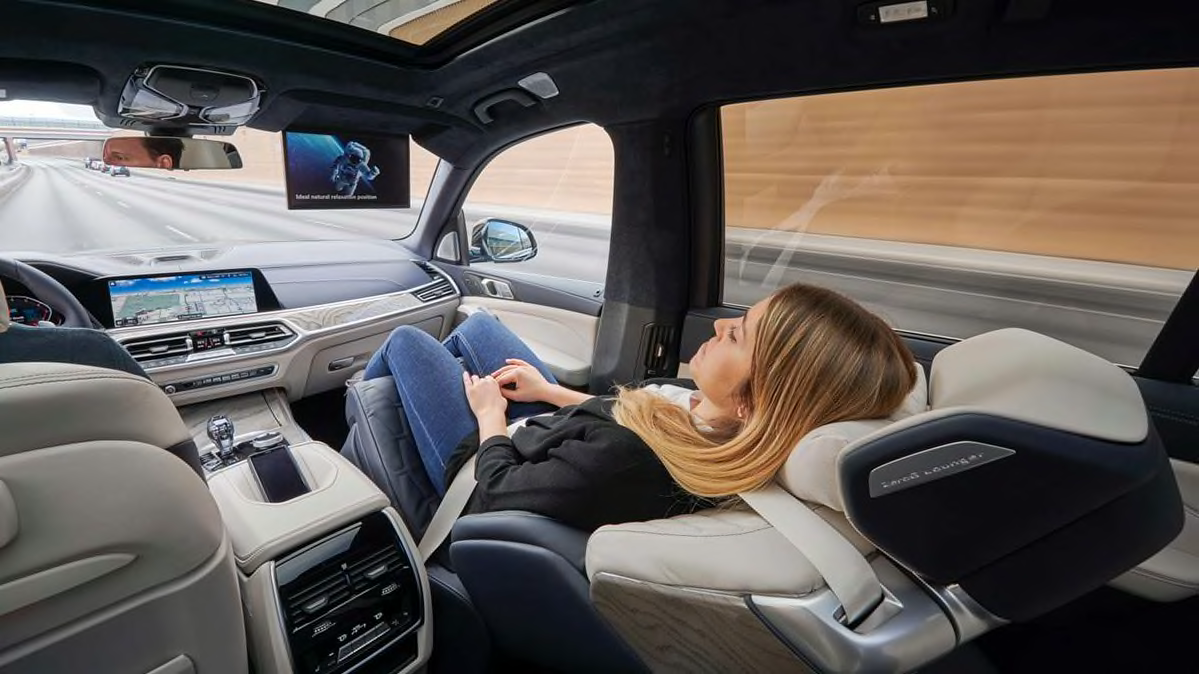 More cars will get comforts like leather seating surfaces, heated and cooled seats, and even optional massage functions.
"Luxury seating is absolutely poised to trickle down to less-expensive vehicles, and in some ways already has," said Colin Giles, a technical research analyst at IHS Markit.
These amenities won't be limited to the driver's seat. BMW displayed two luxury passenger seat concepts at the CES technology show this year that could signal the direction high-end automakers are headed.
The BMW Urban Suite concept removes the front passenger seat of the i3 EV and installs a lounge chair and footrest in the rear, along with additional storage and a small desk space. It looks a lot like a first-class seat on a luxury airliner. The ZeroG lounger is a lie-flat seat that can lift the passenger's legs for an experience that evenly distributes pressure across the body. A BMW spokesperson told CR that it may be available as an option on the X7 SUV in the near future.