When you shop through retailer links on our site, we may earn affiliate commissions. 100% of the fees we collect are used to support our nonprofit mission.
Learn more.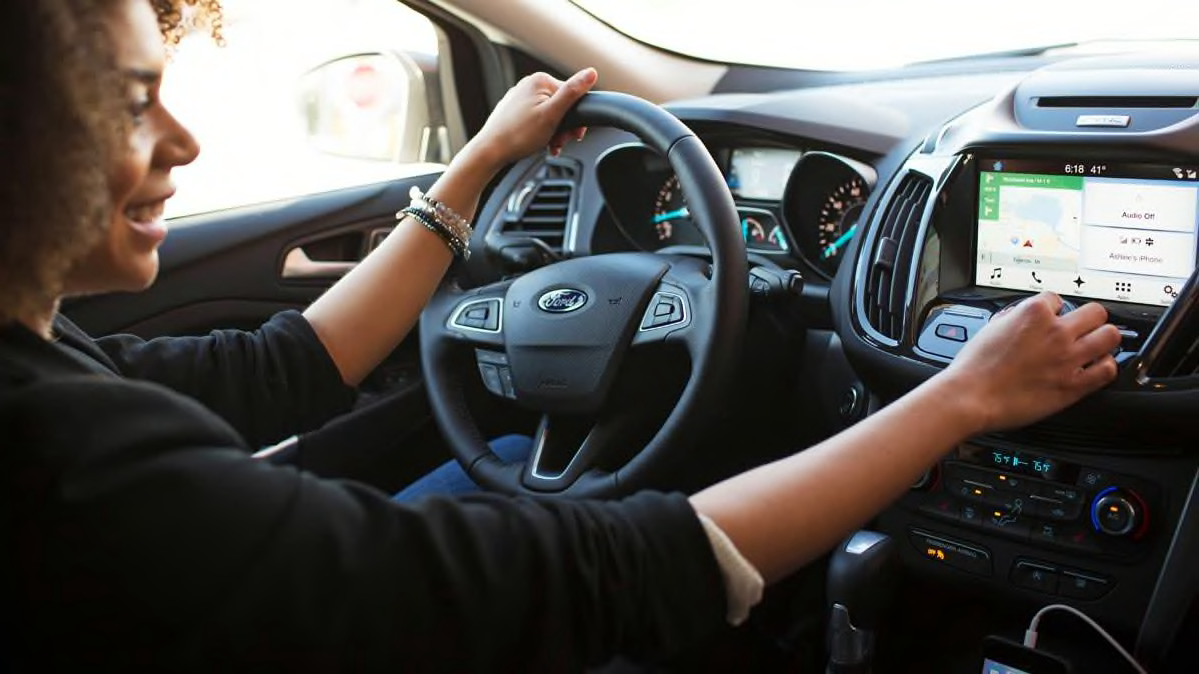 Like it or not, display screens are becoming as common in cars and trucks as steering wheels and speedometers. In an effort to satisfy a growing demand from drivers for high-tech gadgetry, automakers are placing audio, navigation, telephone, and texting capabilities—a bundle of features known as infotainment—front and center, adding a screen on the dashboard where only knobs and buttons used to be. In 2014, just 53 percent of vehicles sold in the U.S. had a dashboard touch screen, according to data from research and consulting firm IHS Markit. This year, that number is up to 82 percent.
But for all of the convenience these systems are supposed to provide, CR's most recent owner satisfaction survey of members suggests that there's plenty of room for improvement. From data collected on more than 60,000 vehicles, only 56 percent of owners reported that they were very satisfied with their car's infotainment system.
There's a large gap between best and worst: The top-rated system, Tesla's IVI, had an 86 percent owner satisfaction rate, compared with a 46 percent satisfaction rate from users of the lowest-rated system, Lexus' Remote Touchpad. (Download a PDF of our full ratings of all infotainment systems or check them out below.)
"A good system is one that's easy to learn and easy to use every day," says Kelly Funkhouser, program manager for vehicle usability and automation at Consumer Reports. "It should be responsive, not sluggish, and have straightforward controls that are easy to identify and operate."
CR member Yoshie Suo of El Dorado Hills, Calif., gives high marks to the Sync 3 infotainment system in his 2017 Ford Explorer, describing it as "very reliable and intuitive." Edward Philmon of Harker Heights, Texas, praises the system in his Genesis G90, saying, "It gives me the information I need without giving too much or being intrusive or distracting."
More on Infotainment Systems
Other systems that won high marks from CR members include those from BMW, Fiat Chrysler Automobiles (FCA), Porsche, Volkswagen, and Audi.
Mike Novak, marketing manager for FCA's Uconnect, the fifth-highest-scoring system overall, credits its high user satisfaction largely to software that runs smoothly, without the bugginess sometimes found in other systems. He says that drivers also appreciate Uconnect's large screens (they range from 7 to 12 inches) and the fact that FCA decided to keep buttons and knobs for frequently used utilities (such as volume and tuning), rather than replacing them with touch controls, as some automakers have done. Novak explains that FCA's research shows that drivers prefer buttons and knobs over touch controls because they can be found by feel and can be used in cold weather when the driver is wearing gloves.
Infotainment System Features
Our Experts Recommend
Modern vehicles are constantly paying attention to the environment outside, and inside, the cabin. Here's how your info knows what's going on. (Hover your mouse over each blue dot to reveal information about each feature.)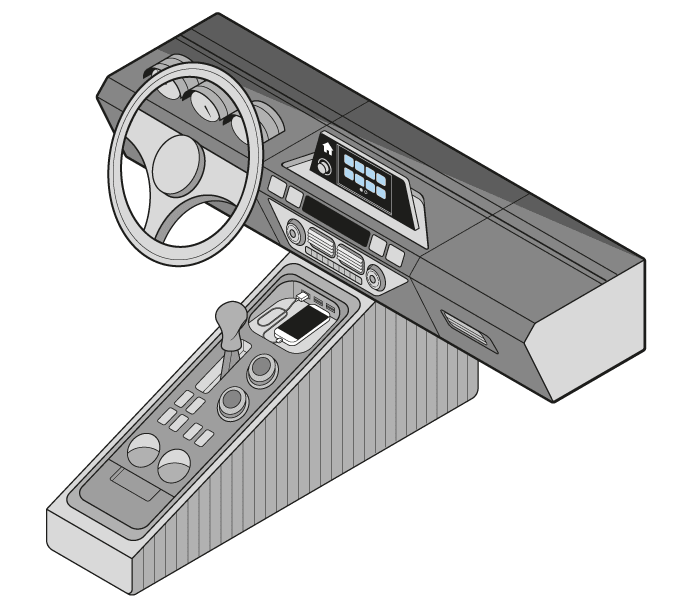 Dashboard Dissatisfaction
CR members complained most about systems that require them to take their eyes—and minds—off the road. Many of the low-rated systems in CR's survey use multiple screens, such as certain versions of Honda's HondaLink or some Jaguar and Land Rover systems, which divide functions across two displays.
Honda says it has largely moved away from multiscreen systems on newer cars, based on research and customer feedback. "Generally speaking, our newest generation systems have a single display with large fonts and a simplified menu structure," a spokesman told CR.
CR members also expressed annoyance with systems that incorporate track pads (similar to those found on laptop computers), such as the Remote Touchpad in Lexus models, which can be hard to control when driving on a bumpy road. Karen Menning of Debary, Fla., says her Lexus' system is "impossible to use accurately while driving," and Bernard Schiff of Austin, Texas, says his is "hard to use without taking eyes off the road."
CR's Funkhouser says the added complexity of those designs can distract drivers, as can a subpar voice recognition system, which was another common complaint. "When you need to repeat a command over and over because the system doesn't recognize your voice, the risk of cognitive distraction increases rapidly," she says. CR member Yoshie Suo says the system in his Acura TLX, the other vehicle he owns, is "too complicated," noting that it has poor voice recognition.
Smartphone vs. Built-In Systems
Members rated their satisfaction with the three types of infotainment
systems in a recent CR survey.

APPLE CARPLAY
64% VERY SATISFIED
A simple, easy-to-use design is among CarPlay's strong points.

ANDROID AUTO
59% VERY SATISFIED
Google Assistant's voice control beats that of many built-in models.

BUILT-IN SYSTEMS
58% VERY SATISFIED
Members noted the ease of switching between functions, such as audio, navigation, and phone.
`
Are Smartphones Smart?
Perhaps the biggest development in infotainment over the past five years has been the increasing popularity of the smartphone-enabled systems Android Auto and Apple CarPlay.
Like built-in systems, Android Auto and Apple CarPlay let drivers control audio, phone, text, and navigation apps on a vehicle's built-in screen, but with popular apps such as Google Maps and Waze for navigation and Spotify and Audible for entertainment. They're designed to reduce driver distraction by using simple, intuitive interfaces and the same familiar icons that drivers find on their phones. Fortunately, they also limit the functions that drivers can access (you can't, for instance, scroll through Facebook on Android Auto or Apple CarPlay). As of 2019, nearly all automakers now offer Android Auto and Apple CarPlay on at least some of their vehicles.
The smartphone-based systems can also take the place of a car's built-in (and often buggy) voice recognition feature, meaning a driver can simply ask Siri or Google Voice to provide directions, read or send texts, or make a phone call instead of having to type in an address or phone number on a touch screen.
"I just say where I want to go and let Siri bring up the destination in Apple Maps," says CR member John Greenstreet, explaining why he prefers to use CarPlay on his BMW.
Android Auto and Apple CarPlay use your phone's data plan to connect to cloud-based services, which means they offer better access to real-time traffic, better navigation search results, and better speech processing than many built-in systems.
To use Android Auto or Apple CarPlay in cars that have them, drivers can simply connect their phones to the system with a cable. Some Audi and BMW models even allow wireless connectivity for CarPlay users.
Overall, surveyed members with Apple CarPlay-compatible infotainment systems reported higher satisfaction making calls and using navigation functions than did those with an Android Auto-capable system or the vehicle's built-in system: 64 percent are very satisfied with Apple CarPlay, 59 percent are very satisfied with Android Auto, and 58 percent are very satisfied with their vehicle's built-in system.
Though smartphone-based systems may offer improvements over a vehicle's built-in infotainment system, they aren't perfect: Some CR members complained about intermittent freezing and bugginess, and difficulty switching between Android Auto or Apple CarPlay functions and those on the built-in system that also use the touch screen (such as an AM/FM radio).
Remember that the same cost, privacy, and signal issues that come with your phone come with these systems, too. Phone-based navigation may not work in remote areas where a cell signal is weak; any audio you stream or maps you download may count against your phone's data plan; your phone may share location data with third parties; and apps could pull information from your calendar or email, depending on your privacy settings.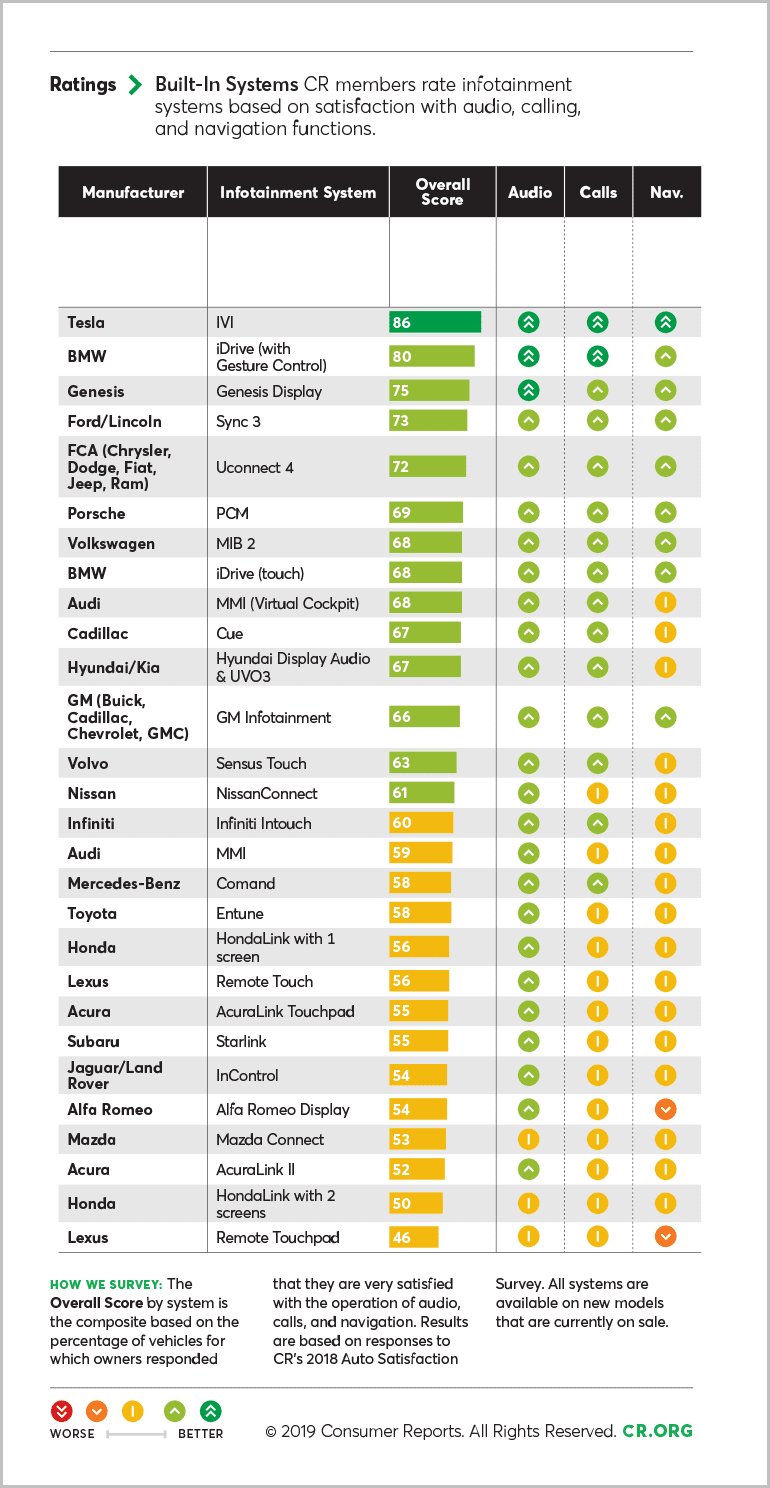 Editor's Note: This article also appeared in the June 2019 issue of Consumer Reports magazine.