When you shop through retailer links on our site, we may earn affiliate commissions. 100% of the fees we collect are used to support our nonprofit mission.
Learn more.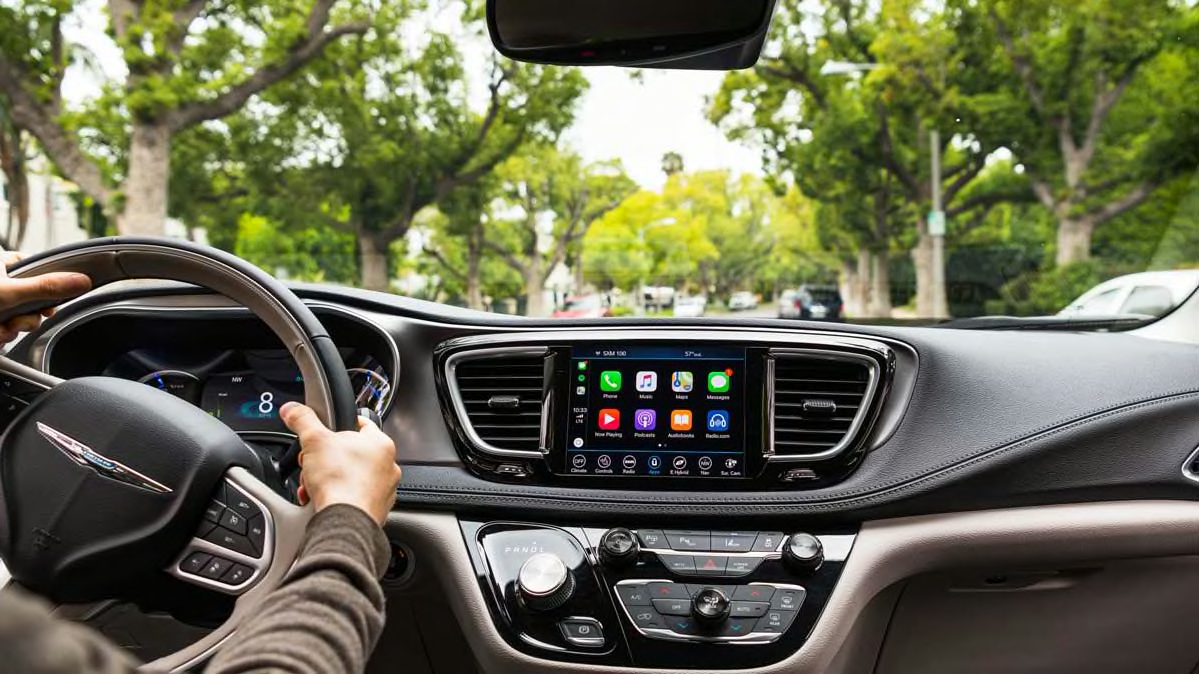 Infotainment systems are designed to let drivers make a phone call, respond to a text, or enter a destination into the car's navigation system without having to fumble with their phone.
But the reality isn't quite so straightforward. In fact, depending on the vehicle's infotainment system, as many as half of the Consumer Reports members surveyed report that they still use their phone for at least one of those tasks, which can cause additional driver distraction.
"Drivers want an infotainment system that is quick, responsive, and easy to understand," says Jake Fisher, senior director of auto testing at CR. "But if the system doesn't work well, drivers will often turn to the device they know best: their phone. That choice can be more distracting—and dangerous." Though performing tasks on an infotainment system can also be distracting, Fisher says it's usually a far better choice than fiddling with the small controls on a phone.
To show which built-in infotainment systems are best at keeping drivers from picking up their phones, we created our "hands off phone" score. Based on CR member responses for more than 60,000 vehicles, the score indicates the percentage of respondents who are more likely to use their vehicle's built-in system to make and receive calls, get directions, or use voice recognition to respond to text messages while driving, rather than picking up their phone.
More on Infotainment Systems
For example, 68 percent of those who own a vehicle with the top-rated Sync 3 system—found in Ford and Lincoln vehicles—primarily use it instead of their phones.
At the other end of the scale, half of those who own a vehicle with a one-screen HondaLink system reported primarily using their phone instead of the system.
Michael Barrett of Austin, Texas, says he ignores his Honda's built-in infotainment system and uses his phone when he needs to make a call. "The voice activation is cumbersome and unreliable," he reported in CR's survey.
Regardless of which kind of car they drive, survey respondents were less likely to pick up their phones when they used Android Auto or Apple CarPlay than when they used their vehicle's built-in system. These smartphone-based systems replicate the smartphone experience people are familiar with on a car's built-in screen. They also provide access to up-to-date maps and real-time traffic with familiar apps, including Waze.
This disconnect is not lost on the industry. "Automakers are working to better match what you see in consumer electronics with what you see in the car," says Brian Rhodes, associate manager for connected car research and analysis at market research firm IHS Markit. "Not only in terms of the features, but how you use the features," he says.
Our members also complained about infotainment systems that fell short when it came to map data, which tends to be more current on phones than in a car. For example, a CR member from Sarasota, Fla., reported that he lives in a housing development that was completed two years ago, but the streets still do not show up on the infotainment system in his Lexus. "The dealer says the maps won't likely be updated until next year," he says. "Smartphone maps are much more current."
'Hands Off Phone' Score
How we test: The hands off phone score below is a composite based on the percentage of vehicles where owners opt to use the built-in system vs. picking up their smartphone for three tasks: calls, navigation, and texting.
MANUFACTURER
INFOTAINMENT SYSTEM
SCORE
iDrive (with Gesture Control)
67
Audi
MMI (Virtual Cockpit)
61
Hyundai Display Audio, UVO3
55
HondaLink with 2 screens
53
GM
(Buick, Cadillac, Chevrolet, GMC)
GM Infotainment
53
HondaLink with 1 screen
50
Editor's Note: This article also appeared in the June 2019 issue of Consumer Reports magazine.