When you shop through retailer links on our site, we may earn affiliate commissions. 100% of the fees we collect are used to support our nonprofit mission.
Learn more.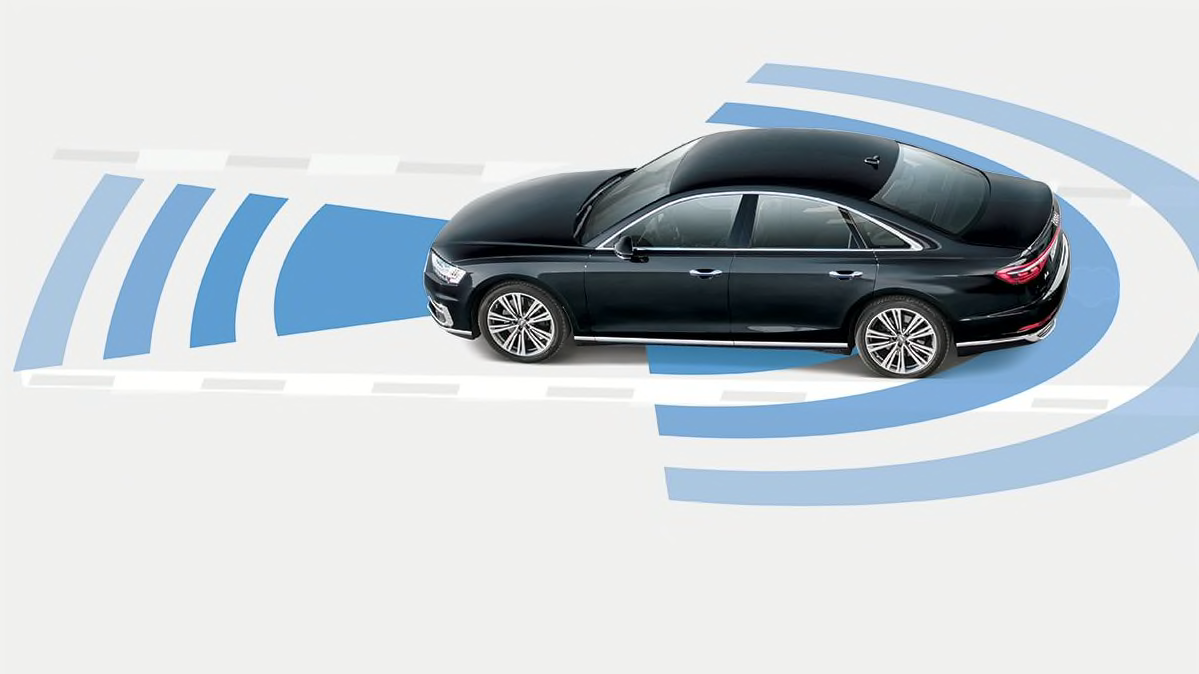 Illustration: T.M. Detwiler
James Eriksen was driving his 2017 Subaru Outback on a four-lane road in Skokie, Ill., when he sensed something coming up alongside him.
"Suddenly, a deer jumped right in front of my car, and before I could fully apply the brakes, my Outback came to a complete stop on its own. That was amazing!" Eriksen wrote in response to Consumer Reports' latest Advanced Driver Assistance Systems (ADAS) survey*. "Without the car's automatic emergency braking system, I'd have hit the deer, no question about it."
Similar scenes of near-collisions are occurring all over the country, according to the results of our exclusive survey. We asked CR members to tell us about their experiences with ADAS in their vehicles, including forward collision warning (FCW), automatic emergency braking (AEB), blind spot warning (BSW), and others. A majority—57 percent—reported that at least one advanced driver-assist feature in their vehicle had kept them from getting into a crash. Studies and our own testing have shown that several of the features can improve safety, but we wanted to get some real-world, behind-the-wheel details from our members. For this ADAS survey, CR members provided data on about 72,000 vehicles.
These systems use a variety of "eyes"—cameras, radar, and other sensors—to see what's happening on the roads around them. They process that information using onboard computers that can respond, often faster than a human driver, when a crash appears imminent. They can brake for the driver; they can give initial steering input to keep a car in its lane; and they can maintain a safe speed and distance from other cars in traffic, all with minimal input from drivers.
More on Car Tech & Driving Safety
Over the past decade, there's been a huge increase in the availability of these systems in cars sold in the U.S., starting with FCW and AEB, and expanding to BSW, lane departure warning (LDW), lane keeping assist (LKA), and, most recently, pedestrian detection systems.
Because they're proving so effective, CR gives extra points to the Overall Score for tested models that have the following systems as standard equipment across all trim lines: FCW, highway-speed AEB, city-speed AEB with pedestrian detection, and BSW.
"Cars can do so much today to keep their drivers and passengers safe, and we want to push the industry to make these systems commonplace for all drivers," says Jake Fisher, senior director of auto testing for Consumer Reports. "Our survey results show that in the real world, these systems are creating positive outcomes in situations that only a few short years ago would have ended in costly and tragic results."
While it's great that automakers are putting more of these proven systems in new cars—including mainstream models such as the Nissan Altima—some car companies continue to charge extra for them. Automakers including Tesla and Toyota are putting many of these systems in almost all of their 2019 models, but Fiat Chrysler Automobiles and General Motors don't have AEB standard on a single 2019 model.
"Safety shouldn't be optional," says William Wallace, a safety policy advocate for CR. "These systems should be standard on every new car, not just on luxury vehicles or more expensive trims, because even drivers and passengers who don't know about these systems would benefit from having them."
Vehicles that have FCW and AEB have 50 percent fewer front-to-rear crashes compared with cars without the systems.
According to IIHS safety research
Collision Avoidance
The CR survey—which includes comments from members who have benefited from these systems in their cars—shows that advanced driver-assist features are coming of age and are clearly helpful for some drivers—possibly even lifesaving.
The survey respondents reported the highest satisfaction with AEB, adaptive cruise control (ACC), and BSW in their vehicles.
The least satisfying systems were lane-keeping features because of their annoying alert chimes, vibrations, or overly aggressive steering corrections. That led owners to disable them more frequently than other ADAS features, according to the survey.
The feature that drivers most often said kept them out of a crash in our survey was BSW: 60 percent said it had prevented a collision. BSW was also the system that drivers turned off least often for being annoying, according to the survey results.
A CR member in Florida was in her 2017 Toyota Prius when the BSW system helped her avoid a motorcyclist. "I was about to move from the middle lane to the right lane when a motorcycle traveling at a high rate of speed appeared out of nowhere," she said in an email to CR. "If the monitor hadn't lit up [in the passenger-side mirror], I would have entered the lane without enough clearance. That was one scary experience."
The Price of Peace of Mind
CR's survey results showed that some drivers didn't specifically seek out these features and that they were unwilling to pay extra for them.
One in 5 survey respondents told us they didn't specifically look to get AEB in their cars. But among even those owners, nearly half—42 percent—said AEB prevented an accident.
Take John Molinaro, a CR member from Athens, Ohio, who didn't know much about Subaru EyeSight, the automaker's suite of advanced safety and convenience features, when he was buying a 2016 Outback wagon. "I saw it as a $1,300 option I didn't need," he told us. "However, during my first week of ownership, the car's AEB system prevented a major accident when a vehicle in front of me slammed on its brakes to avoid hitting a cat. It was definitely worth the extra money to not crash into that car." The cat survived too, he said.
His experience is exactly why CR has been pushing for systems such as FCW and AEB to be standard equipment on all versions of all models, says Kelly Funkhouser, CR's program manager for vehicle usability and automation. "Many drivers don't realize that they'll need these features or that they're available, so they're less likely to spend extra money to get them."
FCW, AEB, and BSW have been shown to reduce crashes and injuries, according to the Insurance Institute for Highway Safety, a nonprofit scientific and educational organization.
IIHS data shows that vehicles equipped with FCW and AEB have 50 percent fewer front-to-rear crashes compared with cars without the systems.
Cars equipped with rear automatic braking, along with rearview cameras and parking sensors, had 78 percent fewer crashes compared with cars without those three systems, says David Aylor, IIHS manager of active safety testing.
Given the rate of growth for AEB in cars sold in the U.S., some 28,000 crashes and 12,000 injuries could be prevented by 2025, the IIHS says.
An Even Safer Future
Many motorists will soon be getting these systems. Only 29 percent of new vehicle models sold in the U.S. in 2018 had standard AEB. But that number rose to 48 percent for the 2019 model year, according to data compiled by Shawn Sinclair, CR's automotive engineer for advanced driver assistance systems. Twenty major automakers have pledged to include standard FCW and city-speed AEB in almost every new vehicle for sale in the U.S. by September 2022. It's part of an agreement negotiated by the automakers and the National Highway Traffic Safety Administration and IIHS. Consumer Reports has agreed to monitor automaker progress.
Some manufacturers, such as Acura, Audi, BMW, Genesis, Lexus, Mercedes-Benz, Tesla, Toyota, and Volvo, are leading the industry by already making FCW and AEB standard in most (or, in some cases, all) of their vehicles.
A Toyota spokeswoman, Tania Saldaña, says these features have been a great selling point for the automaker: "Most Toyota owners have indicated that standard AEB was a determining factor in selecting a new vehicle."
We asked FCA and GM why AEB isn't standard across a model line in any of their 2019 vehicles. An FCA representative, Eric Mayne, said the automaker "offers AEB in 19 models across six brands and eight vehicle segments, from small SUV to heavy-duty pickup." A GM representative said that some of its vehicles will have standard FCW, AEB, and other advanced safety features for the 2020 model year.
Vehicles that have FCW and AEB have 50 percent fewer front-to-rear crashes compared with cars without the systems, according to IIHS safety research.
In our most recent survey, we asked CR members to rate their experiences with the advanced safety and driver-assist systems on their model-year 2015-2019 cars. Respondents answered questions about their satisfaction with the systems and told us which ones helped them avoid a crash. The survey covered about 72,000 vehicles.
Forward Collision Warning (FCW) and Front Automatic Emergency Braking (AEB)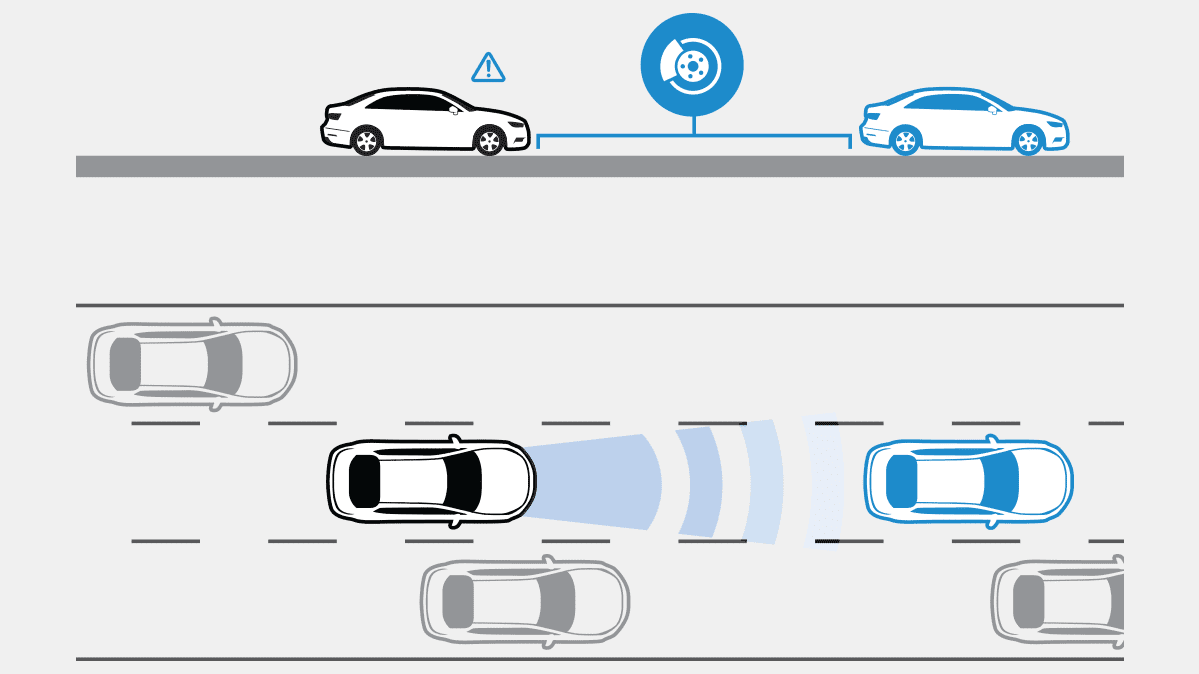 Illustration: T.M. Detwiler
Percentage of owners who said FCW and/or AEB helped them avoid a crash
What they do: Forward collision warning (FCW) provides a visual, audible, and/or tactile warning (such as a vibrating seat) about an impending collision when a car or object is detected in its path. If the car senses a potential collision, and if drivers don't react in time, the automatic emergency braking (AEB) system initiates braking to prevent a crash, or at least to reduce the severity of a collision. AEB comes in two forms: city speed and highway speed. IIHS data shows rear-end collisions are cut by 50 percent for vehicles equipped with both FCW and AEB.
Good: Systems that use FCW to warn drivers of possible crashes.
Better: Systems that can issue a warning and take action if the driver doesn't react appropriately.
Best: Systems that can operate at all speeds and detect pedestrians.
CR's take: More automakers are making FCW and AEB available in new cars, but the two safety features are still not standard equipment across the industry. CR believes these systems should come with all trim levels given their ability to protect and save lives. Extra credit is awarded in our Overall Score for models that have systems that can operate at highway speeds and detect pedestrians as standard equipment.
Automakers with the best systems, according to owners*: Genesis, Lincoln, Subaru, Tesla, Volvo
Blind Spot Warning (BSW)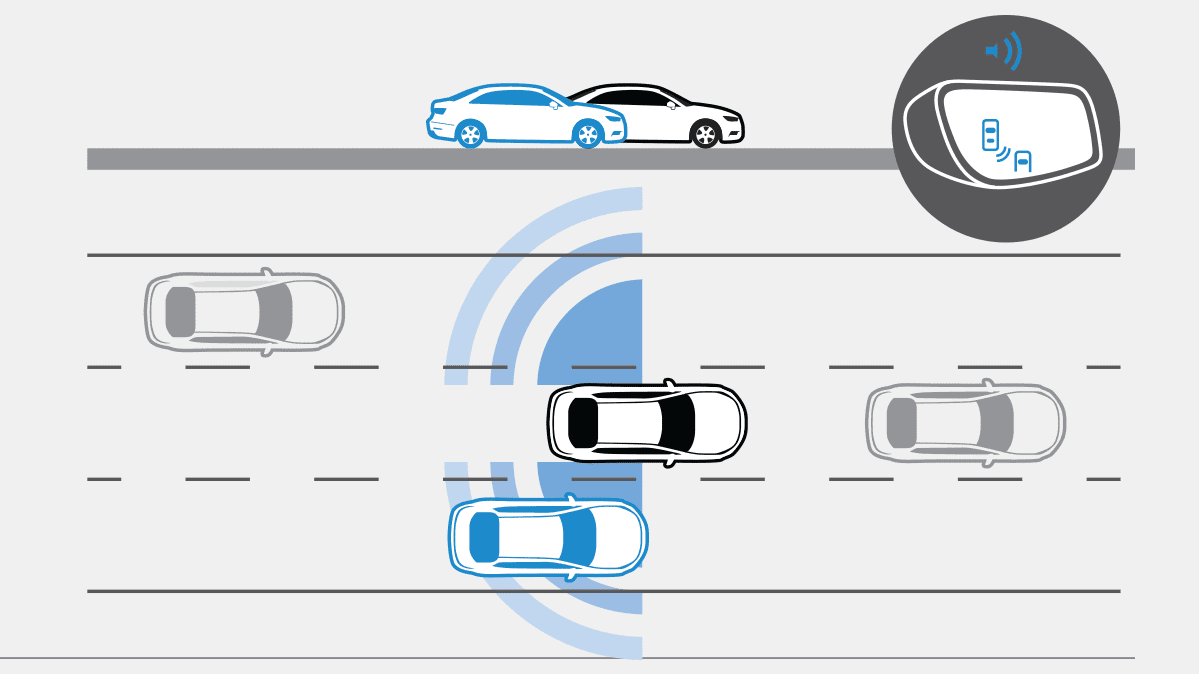 Illustration: T.M. Detwiler
Percentage of owners who said BSW helped them avoid a crash
What it does: Blind spot warning (BSW) indicates when there's a vehicle on either side of your car, warning about what's potentially in your blind spot. BSW gives a visual alert—usually on the side mirror or mirror frame, or near the base of the front pillar—to indicate that it might be unsafe to merge or change lanes. Some systems provide an additional, audible warning when the turn signal is activated if a car is in a lane next to you.
Good: BSW systems that provide a visual warning on a side-view mirror.
Better: Systems that provide a visual and audible warning and can detect fast-moving vehicles approaching in an adjacent lane. The better systems warn about other vehicles moving into a driver's blind spot before they get there.
CR's take: BSW is one of CR's recommended safety features. Models that have it as standard equipment across all trims get bonus points from CR, and our members also rate it favorably. It makes for safer lane changes, a real boon for drivers in vehicles with big blind spots. CR's testers prefer systems that use a bright warning light on the side mirror, as opposed to on the infotainment display screen or instrument cluster. Even if shoppers have to pay extra for this feature, we don't think they'll regret it.
Automakers with the best systems, according to owners*: Genesis, Hyundai, Kia, Lexus, Lincoln, Mazda, Mercedes-Benz, Nissan
Lane Departure Warning (LDW) and Lane Keeping Assist (LKA)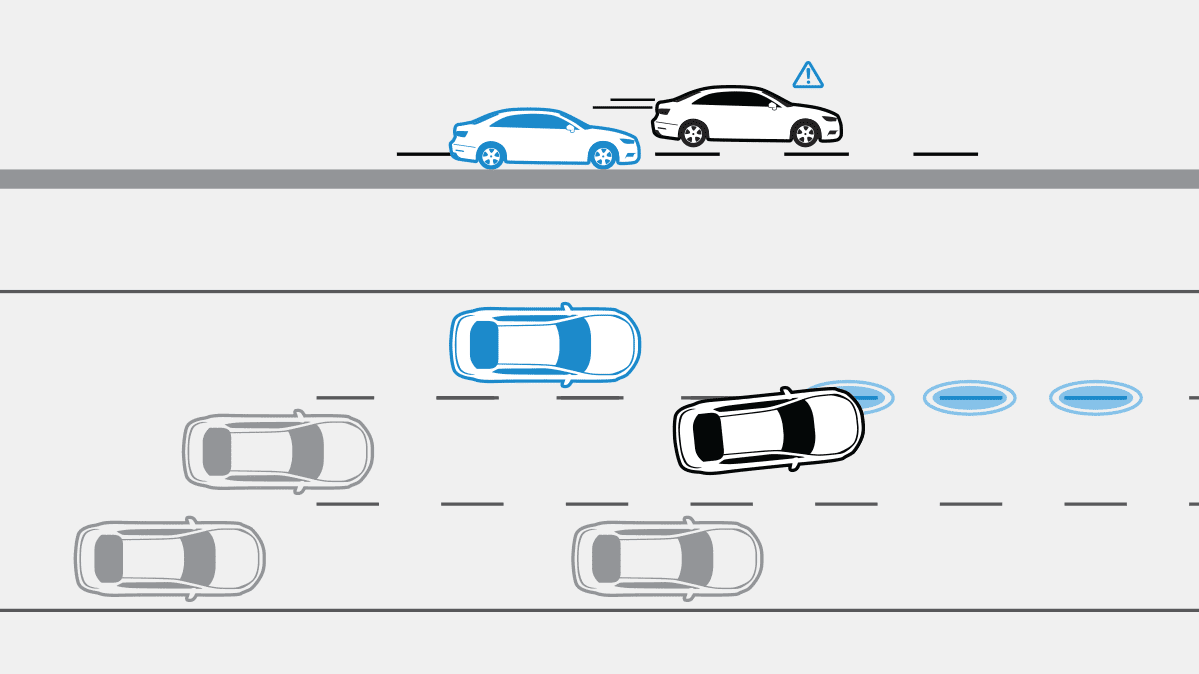 Illustration: T.M. Detwiler
Percentage of owners who said lane systems helped them avoid a crash
What they do: Lane departure warning (LDW) gives drivers visual, audible, and/or tactile warnings (such as a seat vibration) when a car approaches or crosses lane markings, unless the driver has activated a turn signal. Lane keeping assist (LKA) gives steering input and/or applies the brakes to correct a vehicle if it starts to exit its traveling lane. Owners told us that they found overly sensitive systems to be annoying. Respondents also reported significantly lower satisfaction with LDW and LKA compared with other features.
Good: LDW systems that have audible, visual, and/or tactile alerts to warn drivers that they're drifting out of a lane.
Better: LKA systems that automatically steer a car to keep it in its current lane when the car drifts.
CR's take: LDW systems can help sleepy or distracted drivers. The alerts also provide a good reminder to use your turn signal when changing lanes. But systems that are too sensitive and have lots of annoying false positives, particularly audible alerts, can cause drivers to turn them off, negating any benefits. When using LKA, giving a wide berth to a cyclist or pedestrian might cause the system to try to steer back toward the cyclist or walker, so always be alert. Most systems require drivers to keep their hands on the wheel. But lightly holding the steering wheel—to prevent the system from issuing an alert—doesn't mean the driver is paying attention to the road.
Automakers with the best systems, according to owners*: Cadillac, Genesis, Hyundai, Jaguar, Mercedes-Benz, Tesla
Rear Cross Traffic Warning and Rear Automatic Emergency Braking
Illustration: T.M. Detwiler
Percentage of owners who said rear systems helped them avoid a crash
What they do: Most basic rear cross traffic warning systems also include a rearview camera. (For all new cars built for sale in the U.S., rearview cameras are now mandatory.) Some systems provide static lines on the screen that indicate how close your car is getting to other objects as you're backing up. Others have dynamic guidelines on the screen that move as you turn the steering wheel. Some cars are available with a 360-degree view that can show a top-down view around the car. The most sophisticated systems—those with rear cross traffic alerts coupled with automatic braking—detect vehicles or people approaching from the rear and apply brakes when needed.
Good: Rear cross traffic warning systems provide drivers with a visual, audible, and/or tactile alert (the seat vibrates, for example), notification that an object or vehicle out of rear camera range is approaching from either side.
Better: Cars that automatically brake when the system senses that a collision is imminent.
CR's take: These systems are helpful in increasing the driver's view into obscured areas. But drivers shouldn't rely on just the system; they still need to turn their head, check their side mirrors, and look out windows for objects that may be out of range of the camera or sensors. Drivers have complained about occasional false alerts from the systems that offer warnings or brake for them. And drivers have been surprised by warning beeps when they can't see anything, or by the car braking unexpectedly.
Automakers with the best systems, according to owners*: Genesis**, Hyundai**, Infiniti, Jeep, Kia**, Lincoln**, Mazda**
Adaptive Cruise Control (ACC)
Percentage of owners who said ACC helped them avoid a crash
What it does: Not as much a safety feature as it is a convenience, adaptive cruise control (ACC) uses lasers, radar, and/or cameras to keep a constant space between your car and the car ahead. If highway traffic slows, the better ACC systems can bring the car to a complete stop, then bring it back up to speed when traffic gets going again. Less advanced systems only work above certain speeds, typically around 37 mph.
Good: ACC that maintains a driver's set speed, slowing and accelerating in response to the traffic in front of the vehicle.
Better: ACC that works at all speeds, including coming to a complete stop and then restarting with traffic back to the previously set speed.
CR's take: ACC is a convenience feature and not a safety feature. It isn't designed to prevent crashes, but it's a great system for the highway, reducing some of the stress involved with driving. It also helps prevent tailgating.
Automakers with the best systems, according to owners*: Cadillac, Ford, Genesis, Lincoln, Mercedes-Benz, Porsche, Tesla, Volvo
*We rated automakers based on owner feedback about which systems helped them avoid a crash, as well as their satisfaction with the feature. They're listed alphabetically.
**Even if a car in our survey didn't offer rear AEB, we still included the manufacturer because it scored well for rear cross traffic warning.
Editor's Note: This article also appeared in the August 2019 issue of Consumer Reports magazine.
*The ADAS survey was part of CR's 2018 Fall Survey, which was fielded October-December 2018.