When you shop through retailer links on our site, we may earn affiliate commissions. 100% of the fees we collect are used to support our nonprofit mission.
Learn more.
As it promotes its upcoming 2019 A8 flagship sedan, automaker Audi has taken the novel approach of telling consumers: Go ahead, use our self-driving technology, watch TV, and keep your hands off the wheel "permanently."
Those marketing claims, among others, including Peter Parker (Spider-Man) driving hands-free in an Audi commercial, have safety advocates worried.
They're concerned about the limits of Audi's self-driving technology, whether drivers will understand their responsibility when it comes to safety, and whether it's ever proper for drivers to stop paying attention to the road, let alone watch TV from the driver's seat.
Short of Full Autonomy
If a car were truly fully autonomous, some of these issues might be moot. But Audi says its new technology does not achieve that level of self-driving, something no car sold in the U.S. today can do.
The technology in question is Audi's "AI Traffic Jam Pilot," which the German automaker says takes self-driving car technology to a new level. Here's an excerpt from its press release:
"The traffic jam pilot manages starting, accelerating, steering and braking. The driver no longer needs to monitor the car permanently. They can take their hands off the steering wheel permanently and, depending on the national laws, focus on a different activity that is supported by the car, such as watching the on-board TV. As soon as the system reaches its limits, it calls on the driver to take back control of the task of driving."
The system will work up to 37 mph, Audi says.
Audi told CR that it won't activate the technology on any of its future vehicles in the U.S. until it gets the okay from regulators or from new laws, said Justin Goduto, Audi's innovation and tech spokesman.
The regulators "have to decide what's within the realm of acceptable technologies," Goduto said.
He also said Audi has no plans currently to sell cars in the U.S. that have televisions for drivers to watch, despite the language in the press release.
"This is a touchy area and, as a car manufacturer, we expect our customers to pay attention and to drive safely," he said.
Audi doesn't encourage drivers to use mobile phones or other outside technologies while the car is moving in Traffic Jam Pilot mode, he said. But the automaker does think using "in-vehicle technologies," such as interacting with the infotainment system, "should be OK."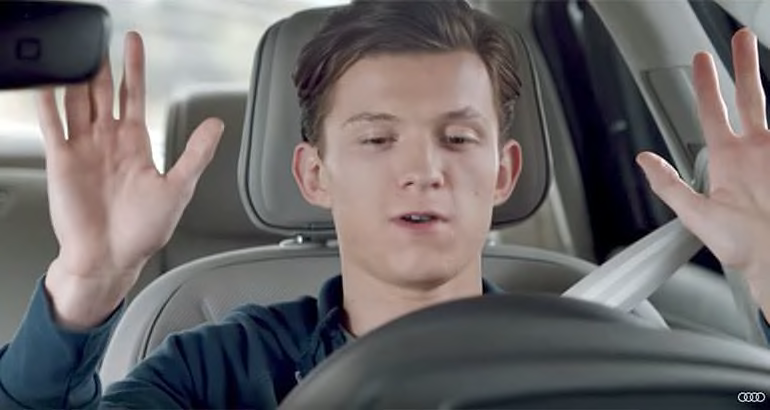 Who's Responsible for Safety?
David Friedman, director of cars and products for Consumers Union, the policy and mobilization arm of Consumer Reports, expressed concern that Audi would market future autonomous driving technology as a way for drivers to watch TV.
"Audi's marketing of an onboard TV for the driver is disappointing at best and irresponsible at worst," he said, "especially if that TV can in any way be accessed in other driving modes, like adaptive cruise control."
Other advocates also felt the coming technology, as Audi describes it in the press release, could be promising too much.
"We have concerns about a system that would allow drivers to disengage from the driving task if the system isn't able to completely and safely resolve any situation, up to and including reaching its limits," said David Zuby, chief research officer for the Insurance Institute for Highway Safety.
"We think it's irresponsible to have an automated driving system that confuses the driver as to what his responsibilities are," he said.
How does the system let the driver know he needs to intervene? Goduto says there's a 10-second warning system that includes an automated tone, a visual cue, and a minor brake pulse. "There has to be enough time for the driver to reorient themselves and take control of the car," he said.
Audi points out in its release that the car also monitors the driver: "During highly automated travel, a small camera in the driving area detects if the driver tires or falls asleep. As soon as the speed rises above (37 mph) or the line of vehicles breaks up, the traffic jam pilot informs the driver that they need to take charge of driving once again. If they ignore this prompt and the subsequent warnings, the new A8 is braked to a standstill."
Safety concerns over bringing a car to a standstill in moving traffic was raised by General Motors in a query to the National Highway Traffic Safety Administration. The agency, in its response in November 2016, did not offer a solution but urged GM to think long and hard about the issue.
"We urge GM to fully consider the likely operation of the system it is contemplating and ensure that this fallback solution does not present an unreasonable risk to safety."
Nationwide, Laws Vague on Autonomous Features
Audi acknowledges that it's a long road before its Traffic Jam Pilot technology becomes available to U.S. consumers, partly because laws governing self-driving tech vary from nation to nation and state to state in the U.S. Because of that, the automaker plans to take its time in rolling it out.
"With regard to the some of the technologies including Traffic Jam Pilot, we will be continuing to work with regulators and legislators (i.e. our recent first New York autonomous testing license) to evaluate when we bring Traffic Jam Pilot to the U.S. market," said Audi spokeswoman Amanda Koons.
There are no current federal laws that would stop Audi from selling an A8 equipped with AI Traffic Jam Pilot in the U.S. Currently, that leaves only state laws to govern how drivers could use these systems. There is legislation under consideration in Congress that would make setting standards a federal responsibility.
Automakers prefer this approach over having to negotiate with 50 state legislatures. While 14 states currently have laws targeting distracted driving, enforcement of those laws is an ongoing issue.
Some states have laws regarding hands-free driving, Audi's Goduto noted. "New York state has a law on the books that states (that) at all times a driver must keep one hand on the wheel while driving. It is illegal to drive without your hands on the wheel, whether your car can do it or not."
But in Florida, he noted, "a driver can be engaged in 'side tasks' during autonomous driving," he said. The law does not define what a "side task" is.