When you shop through retailer links on our site, we may earn affiliate commissions. 100% of the fees we collect are used to support our nonprofit mission.
Learn more.
The newly introduced 2019 Audi A8 is a technical tour de force.
While much of the technology is something drivers will appreciate, the A8's self-driving capabilities raise safety concerns.
The car features powerful turbocharged V6 and V8 engines, standard all-wheel drive, and even optional heated foot massage for rear occupants. Yes, this car will warm and massage your feet, as part of what Audi calls its rear "relaxation seat," available in the long wheelbase model.
It will also tickle your fingertips, thanks to a new dashboard almost devoid of buttons that uses haptic touch sensors for tactile feedback. The infotainment system consists of two large touch screens, with the lower of the two controlling heating and ventilation commands, along with text functions. Pressing a command elicits a soft pulse on your fingertip to mimic the tactile feel of an actual button.
The A8's overall look is clean and modern, even if finger smudges are likely to become the bane of every A8 owner's existence. There are three more optional touch screens in the commodious rear seat, too. Audi has promised a more "natural form of voice control," to better let you keep both hands on the wheel.
Set to go on sale in Germany this fall, the 2019 A8 doesn't arrive in the U.S. until next spring or summer. Further pricing, powertrain, and technological details will be revealed closer to the A8's official sale date.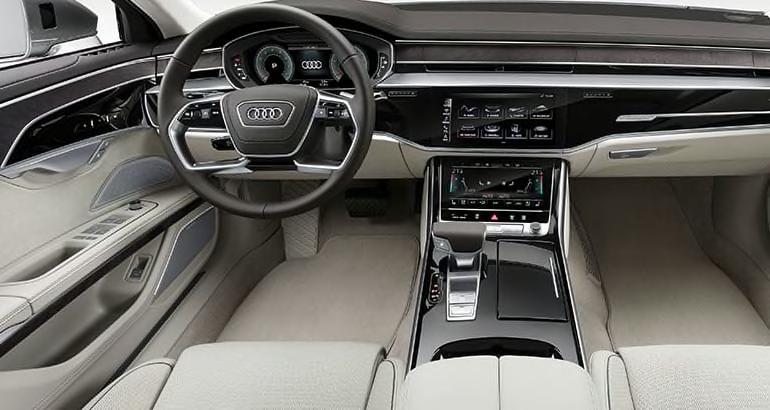 The car's technology also includes features that would allow Audi to join several other automakers, including BMW, Mercedes-Benz, and Tesla, in providing what is called Level 3 self-driving capability. That allows the car to operate free of human intervention in specific driving circumstances. (Learn more about levels of automation.)
According to Audi, the system relies on artificial intelligence (AI) software, meaning the car is capable of learning and adapting these functions to specific driver preferences, behaviors, or daily routines. Audi says its flagship sedan will be the first production car fitted with a laser sensor array (known as lidar), which helps control and monitor these "piloted driving functions" by using a front camera, ultrasonic sensors, and radar sensors in unison.
Audi notes, however, that it will work with regulators across the globe, including in the U.S., to determine where and when to make these Audi AI features available to drivers; the automaker cautions that these features might not be available immediately upon the launch of the A8.
Audi's AI dashboard button operates three functions: the Audi AI Traffic Jam Pilot, Parking Pilot, and remote Garage Pilot.
In Traffic Jam Pilot the car takes over all driving functions, including steering, braking, and acceleration. In theory, it's the most impressive, and controversial, of the A8's self-drive systems.
According to the company's press release, Traffic Jam Pilot lets a driver "take their hands off the steering wheel permanently and, depending on the local laws, focus on a different activity that is supported by the car, such as watching the onboard TV."
But, as Consumer Reports has noted, this approach raises serious safety questions.
Available at speeds up to 37 mph, Traffic Jam Pilot can be engaged only when it detects "a physical barrier," such as a guardrail, between opposing lanes of traffic. Once the 37 mph speed threshold is reached, Traffic Jam Pilot alerts the driver to take control of the car.
Other features, like Parking Pilot and Garage Pilot, don't require a driver in the car. These two systems let an A8 owner remotely park his or her car when outside the vehicle, via a smartphone app. Unlike similar systems offered by other manufacturers that allow only straight forward/reverse operation, Audi A8's AI Parking and Garage Pilot allows the car to steer in or out of a parking spot.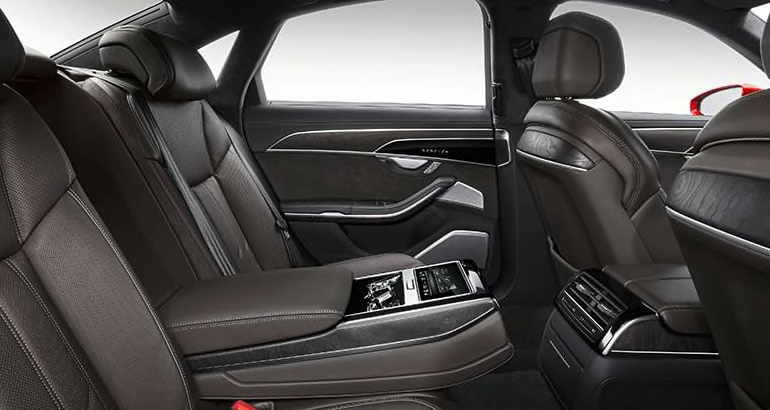 "It's unclear if Audi's highly automated driving features should be approved across the United States," said Jake Fisher, director of auto testing at Consumer Reports. "Drivers cannot be expected to quickly take control of the car in an emergency situation when their hands are off the wheel, especially if they are watching TV."
Audi USA spokesman Justin Goduto said he could not detail the timing of the rollout of the AI functionality in the U.S., saying that it would depend on regulators.

Read the complete road test on the current Audi A8.