When you shop through retailer links on our site, we may earn affiliate commissions. 100% of the fees we collect are used to support our nonprofit mission.
Learn more.
The 2018 Consumer Electronics Show in Las Vegas promises to unveil a future of smarter, safer, and more efficient cars, and Consumer Reports will be there to help separate the truly feasible from the merely fantastic.
The future of self-driving cars will be a dominant theme. This year Lyft and Aptiv (a self-driving-car technology company spun off from auto-parts maker Delphi) are teaming up to provide continuous autonomous rides around Las Vegas for show attendees. Joining them will be FEV, a German parts supplier, and Navya, which has built a driverless people mover that's already on the road in Paris.
The real news, however, might be under the skin of the demo fleets, because the technology for the sensors and software that make self-driving cars work is getting better—and cheaper. Velodyne, a key supplier of lidar, the siren-looking device often housed on the top of self-driving cars, just cut the price of its devices in half. (Lidar bounces laser beams off of surrounding objects to create a kind of a map.) Other companies are promising better cameras, radar, software, and computing processors; these are all the building blocks of self-driving vehicles.
A team from Consumer Reports will be at the show, checking out the wares and exhibits, and keeping CR.org readers informed of the latest developments.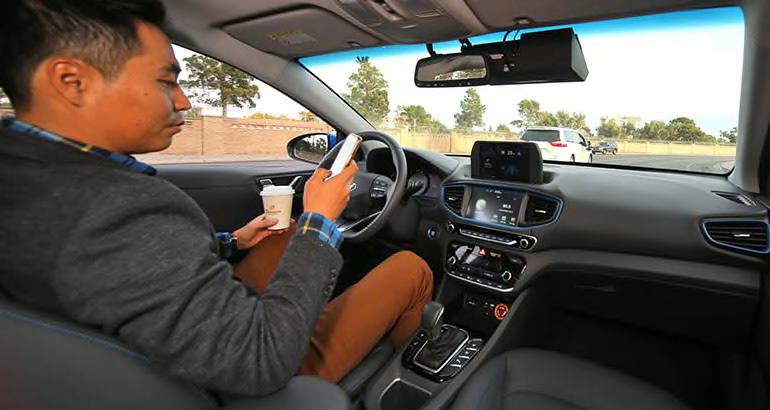 Pampering the Passengers
Lots of companies are trying to make the people still inside the cabin more comfortable, instead of just removing the car's driver. They're trying to do this with artificial intelligence (AI) or augmented reality. Hyundai will be showing off its Intelligent Personal Cockpit, which features voice-recognition enhanced by AI and monitors the vital signs of passengers. Nvidia, an artificial intelligence pioneer that developed powerful processors through its video-game business, will be discussing how that technology can be transferred to cars.
Swiss software developer WayRay will introduce the first-ever augmented reality auto navigation system called Navion. Through a device placed on the dashboard, directions, trip details, and real-time warnings about road hazards such as pedestrians are projected onto the windshield. It's controlled through voice commands or hand gestures. WayRay also is showing a holographic infotainment system. As with many gee-whiz innovations, Consumer Reports looks at how useful these systems could be for drivers vs. how much of a distraction they might be.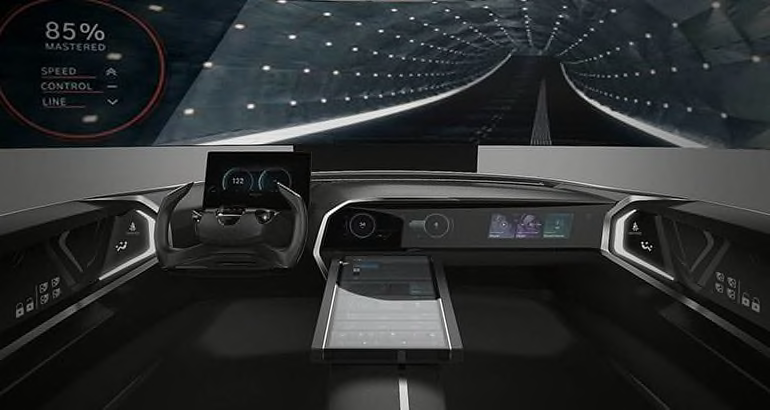 New Green Models Unveiled
Some futuristic car concepts that are meant to be easy on the environment will be shown:
Hyundai will unveil its next-generation hydrogen-powered fuel-cell car at CES, and Kia is expected to reveal its new, all-electric Niro EV SUV concept.
Fisker, a maker of stylish all-electric cars that had almost its entire inventory wiped out in Superstorm Sandy five years ago, is back with a glamorous sedan called the Emotion. It's touting a breakthrough battery package with more than 400 miles of range, but it has a hefty base price of $129,900.
Chinese startup Byton will show off its first car, an all-electric SUV that it's calling a Smart Intuitive Vehicle. In addition to the car having zero emissions, Byton is promising the most advanced car controls on the road, using a combination of facial recognition and the reading of hand gestures to engage features such as navigation and audio. (In CR's testing, we've found that automakers' experimentation with gesture controls, such as on BMW's 7 Series, can be superfluous and more distracting than reaching for the traditional knobs and buttons that drivers are familiar with.)
Views of the Auto Future
In addition to all the technology, CES has become an important stop on the auto-show circuit to unveil news about the industry and its regulators.
Ford's new CEO, Jim Hackett, is scheduled to deliver a keynote address focusing on how the company believes a big part of its future is in delivering "mobility services," for the "smart cities" of the future. Instead of just selling cars at a traditional dealership, Ford believes it needs to move people in multiple ways—whether they hail a ride on an app or own a share of a car.
Transportation Secretary Elaine Chao, who oversees traffic safety as well as regulations for fuel economy, is scheduled to deliver a speech on technology innovation later in the week.