Choosing the Best Car Seat
Of all the things you'll buy for your child, a good car seat is one of the most important. You'll need one from the moment you take your baby home from the hospital until he or she grows enough to fit into an adult seat belt, typically around the age of 10 or later. What's scary is that about 46 percent of child seats and boosters are installed incorrectly. A poorly installed seat leaves a child vulnerable in a crash.
All car seats are required to meet federal safety standards in a 30-mph crash test. CR has tested seats for more than 30 years, and we go further today with a simulated 35-mph crash that better represents current vehicle environments. We also test for ease of use: How simple it is to follow instructions or manage buckles and straps; and how well the car seat fits into five different vehicles with challenging interiors. So the better a seat does in our tests, the better your chances of installing it correctly, and safely securing your child.
Spending a lot of money doesn't necessarily mean you'll get the best car seat. Many midpriced models work as well as or better than pricier ones. Whatever the cost, a certain seat may simply just not work with your car. This is why we strongly recommend planning ahead. Use our guide to figure out the right seat for your child (and car), and to know when you'll need to move your child to the next one.
Choose the Right Model
As your child grows, you'll need to transition from one car seat to another. We explain the different types to help you zero in on the right one for your needs. For more information on which cars work best with child seats, see the Driving With Kids, or Child Safety, sections of our vehicle road-test reports.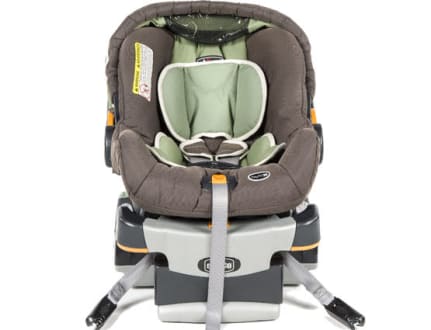 Infant Car Seat
This is the first seat for most new parents. It can only be installed rear-facing, and it has a removable carrier that connects to a base installed in the car.
This car seat provides the best fit for newborns and smaller babies, and can be used for children from 4 to 40 lbs. (depending on the model). Most kids will probably get too tall before they get too heavy for these car seats. A child is too tall when the crown of his head is less than 1 inch from the top of the car seat's carrier shell or when she exceeds the height limits of the seat.
Price range: $80 to $500
Infant Car Seats Ratings
Convertible Seat
The next step after outgrowing an infant seat, is a convertible seat, which should be purchased no later than your child's first birthday. It can be installed rear- or forward-facing.
The harness system, similar to an infant car seat's, has a higher rear-facing weight limit. This means kids can ride rear-facing longer, which CR and the American Academy of Pediatrics recommend as the safest option.
It must be installed rear-facing for children younger than 1 and weighing less than 20 lbs. These seats can be used rear-facing up to 40 to 50 lbs. (depending on the seat). Some manufacturers allow forward-facing after age 1, but CR recommends rear-facing up to the rear-facing limits of the seat. In some states (CA, CT, DC, IL, LA, ME, NE, NJ, OK, OR, PA, RI, SC, VA, WA), children younger than 2 years must ride this way. When your child is ready, the seat can be turned around and used forward-facing until it's time for a booster seat.
Many can hold children as heavy as 65 lbs. Although the minimum weight limit allows for newborns and smaller infants, this type of seat often doesn't provide the best fit for smaller babies or the convenience of a detachable carrier.
Price range: $40 to $450
Convertible Car Seats Ratings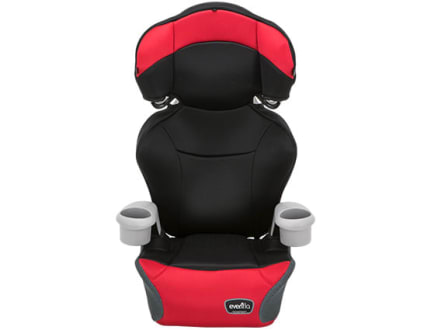 Booster Seat
When your child outgrows the weight or height limit of a forward-facing seat's harness, it's time for a booster that uses a car's own seat belt.
Boosters raise a child up in the car so that the seat belt fits correctly—over the sternum and the center of the collarbone (not the neck) and low across the upper thighs (rather than the abdomen). They come in two main styles, high-back and backless.
Although backless versions are portable and easy to install, we recommend high-back models, because they better position the shoulder belt, provide some side-impact protection, and are more comfortable for children to lay their heads against.
Many states have booster laws, some of which require children as old as 9 years and as heavy as 80 lbs. to use a booster.
Price range: $11 to $320
Booster Seats Ratings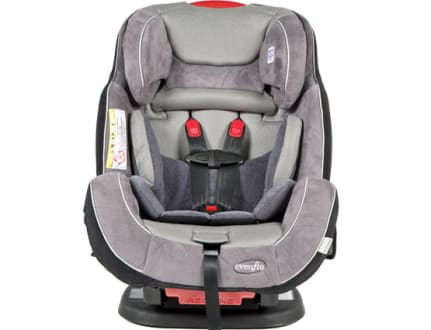 All-in-One Car Seats
These provide great value by taking a child from birth to booster seat. They're a tempting money-saver, but our tests have found that by trying to do too much they don't do any single task all that well.
This type of seat accommodates children from 4 to 50 lbs. sitting rear-facing, kids from 20 to 65 lbs. forward-facing in a harness, and kids from 30 to 120 lbs. in booster mode.
All-in-one car seats are often large and heavy, lack the convenience of a detachable carrier, and might not fit smaller babies (or smaller vehicles). They could be a good backup seat or a seat for a caregiver who transports a child less often.
Price range: $100 to $300
All-In-One Car Seats Ratings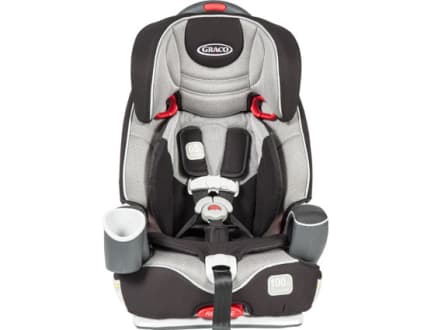 Toddler Booster
These can be used only by children who are at the appropriate weight, age, and height limits to sit facing forward.
Designed to be forward-facing only, these have a harness (for use up to a certain height and weight), and then transition to a booster, removing the harness. They're for children weighing between 20 and 90 lbs. harnessed, and 30 to 120 lbs. in booster mode.
Toddler boosters are a less expensive alternative to convertible seats (if your child meets the forward-facing age and weight requirements), and they offer a safe option for an older child not yet ready for a booster or a transition seat.
Price range: $55 to $295  
Toddler-Booster Seats Ratings
Video Buying Guide
For more, watch our video below.
Terms to Learn
Here's a quick look at the most common features on the seat types. When installing, be sure to follow the vehicle owner's manual and seat instructions, and consider having your installation checked by a Child Passenger Safety Technician at a car seat checkup event.
What to Know Before You Buy
• Know your child: Get used to keeping track of your child's height and weight, which (along with age) can determine seat size and when its time to move up to the next level. Note: Any behavioral or health issues will also affect your choice.
• Know your stores: Some retailers will let you test-install a seat in your car, which is great because we've found that cushion angle or seat belt placement can make a car and child seat incompatible. Also a must: a store that accepts returns. Large department stores such as Target and Walmart offer a limited range of products in stores and a wider selection available online. Online retailers such as Albee Baby, Amazon, Buy Buy Baby, and Diapers.com offer an even larger selection of seat brands and models. Many retailers offer free shipping on car seats. Make online purchases only after you've seen the models in real life. You can find higher-end models at specialty stores or boutiques.
• Know your car: Check the child-safety sections of your vehicle owner's manual, and study up on relevant features such as belts, LATCH, and seats.
If It's Not Your First Seat...
Even seasoned parents may be fuzzy on the right seat type and when it's time for a change. Check out our recommendations for the minimum number of seats your child will need before he or she is ready for just the vehicle seat belt by itself.
• Keep your baby rear-facing until at least 2 years old, or they exceed the rear-facing height or weight limits of their seat. CR recommends moving your child to a rear-facing convertible no later than their first birthday for added head protection.
• Until your child outgrows the harness height or weight limits, stick with a forward-facing harness.
• Your child needs a booster seat until they are 57 inches tall, between 8 and 12 years old, and fits the vehicle belts correctly. 
• You should replace a seat that's damaged in any way or that has been in a severe accident (use NHTSA's checklist).
• Even after your child is ready to use just the vehicle belt alone, they should ride in the backseat until age 13.
• Seats that have not been in a crash can be reused, but they do expire. Some have a printed date—usually on the manufacturer's label or molded into the seat, which always includes a production date. Others will expire in a certain number of years, so it's up to you to check the child seat manual and do the math.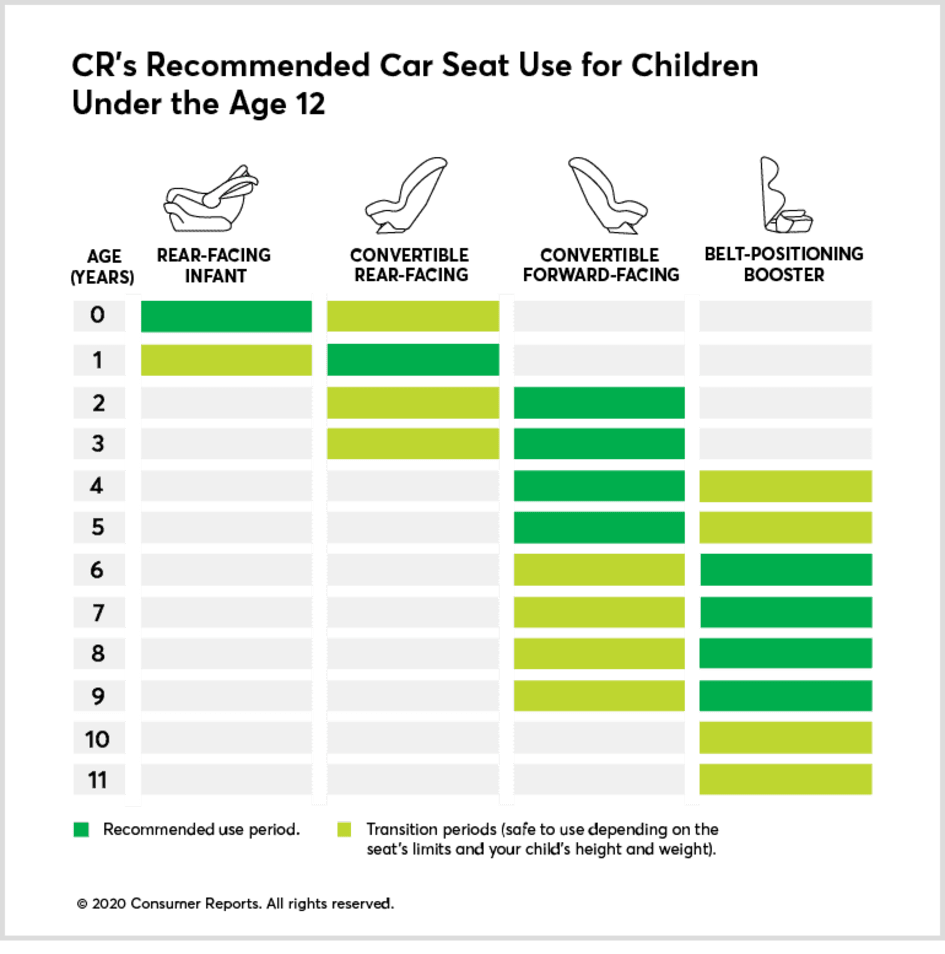 5 Ways to Make Sure Your Child Is Safe
Studies conducted by NHTSA and in the field indicate that car seat, booster seat, and seat belt misuse rates vary from 74 to 90 percent. Yes, you read that right—the majority of child seats are not installed correctly. Here's how to do it properly:
Right seat: Check the seat's height and weight limits (see our timeline above). Age is also an important factor because it is reflective of your child's skeletal development.
Seat tight: Once installed, the seat shouldn't move more than 1 inch side to side or front to back. Don't get discouraged—this can be tricky.
Harness height: In rear-facing installation, the harness straps are at or below your baby's shoulders. For forward-facing, harness straps should be at or above a tot's shoulders. The chest clip should always be at armpit level.
Harness tight: If your child is secured properly, you shouldn't be able to pinch any fabric on the straps at the child's shoulders.
Final check: Recline right and tether tight. Check the recline angle for rear-facing seats (most have an indicator) to avoid allowing the child's head to fall forward and obstruct breathing.
For forward-facing seats installed with either LATCH or seat belt, always attach and tighten the top tether to help prevent forward movement, which could cause head injury.
Consumer Reports Car Seat Crash Test
Thanks for sharing.
Oops, we messed up. Try again later
More From Consumer Reports