Consumer Reports is not currently testing High chairs.

The right high chair can help make feeding a hungry baby more enjoyable for both of you. But with so many features, styles, and materials available—not to mention budget considerations—selecting the correct high chair can seem overwhelming.
The bottom line is you want a sturdy, stable high chair that can stand up to heavy use, spills, and regular cleaning. You also want to consider whether you favor a high chair designed primarily for use in the home, or a multipurpose model you can take on-the-go. Perhaps you prefer a chair that can be adapted as your child grows from a baby to a school child.
To make sure your high chair purchase meets your needs, test models at a store. Mid-priced high chairs are a good value and can offer the best combination of useful features. To hone your search, use our high chair buying guide to understand safety features as well as design factors that are important to you.  
The Lowdown on High Chairs
High chairs are typically designed for use from infancy to three years of age, with a top weight limit of around 50 pounds. Here are some important factors to consider when shopping:
Safety First
Safety features are a top consideration. Look for these main components: A crotch post; a safety-restraint system with a five-point harness; wheels that lock in place (or a chair that doesn't have wheels); and if it's a folding high chair, make sure it won't pinch your fingers when closing.
Style and Design
From conventional to contemporary, high chairs come in a range of décor-enhancing styles. Some are functional—adjustable trays with dishwasher-safe inserts make for quick cleanup; seats that recline to multiple positions are handy when bottle-feeding, and chair heights that accommodate your growing baby are a plus. (Height adjustment can be equally convenient for the parent; you can lower the high chair seat to match your chair, allowing you to sit while feeding the baby.) Others are downright practical—such as high chairs that convert to booster chairs when your child is ready to sit at the table. If space is tight, consider a chair that folds or has a smaller footprint.
Certified Is Best
A certification sticker shows that the manufacturer has met safety standards set by ASTM International (formerly American Society for Testing and Materials), and that it takes part in a certification program administered by the Juvenile Products Manufacturers Association. JPMA certification can provide some level of assurance that the product meets safety standards, but is not a guarantee that it does.
Assembly and Returns
You might not know what high chair will best suit your child until you try it. Keep your receipt or packing slip. If you receive a high chair as a gift, ask that a gift receipt be included. Some high chairs require assembly and can come with more parts than you might expect, or can be tricky to put together. If you're not handy, you might want to buy a high chair that comes fully assembled.
Think Twice About Secondhand
We recommend against buying or accepting a second-hand chair. If you do, get the model name and date of manufacture—which should be on a label permanently affixed to the chair—then check www.recalls.gov to be sure the chair has not been included in any safety recalls.
High Chair Types
High chairs have grown up and some of the newer ones are packed with features. You'll find the features for each high chair in our Ratings on the features & specifications tab on each model page.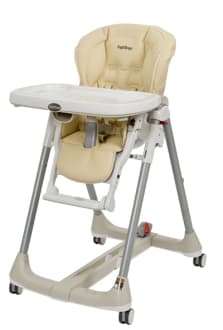 Traditional High Chairs
This category includes basic models to high-end models. Meant primarily for home use, traditional high chairs are not designed to fold for travel, or transform into on-the-go child seats. Basic models make good second high chairs to leave at a grandparent's house.
Pros: Top-end models tend to have a sleeker, more upscale look. Some have higher-end fabric or styling and offer greater adjustability. There's an endless selection of models, materials, and features.
Cons: High-end high chairs don't necessarily deliver top quality; less-expensive models can be just as durable. Watch for protruding or widely spaced legs that can be a tripping hazard. Grooves in the molded plastic of the tray or seat can trap food and dirt. You want double-action latches, which are more difficult for a child to undo.
High chairs Ratings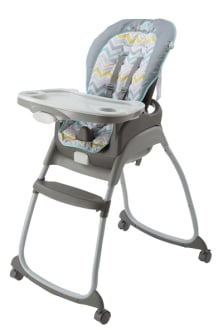 Multipurpose/Modular High Chairs
These high chairs have a base and a seat unit with a tray. When needed, the seat unit can be lifted directly off the chair frame (with or without the tray) and strapped to an adult dining chair to serve as a booster seat. As your child gets older, the booster tray can be removed and the seat base moved closer so your child can dine at the table.
Pros: You can potentially seat two kids with one high chair by using the base for the older child, and the high chair/booster for the younger one.
Cons: Many modular chairs have a base that does not fold.
High chairs Ratings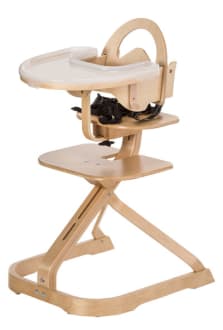 Grow With Me High Chairs
A Grow With Me high chair is a chair, almost always constructed of wood, that converts to a toddler or youth chair (ages 3 to 5 years), with some models lasting into young adulthood (or up to 175 pounds or more). Not all wooden chairs do all three conversions, but this style is gaining in popularity in part due to their design aesthetic and adaptability.
Pros: A chair that fits many developmental stages. The style, more like furniture than another piece of baby gear, appeals to many parents.
Cons: Seat height is adjusted with a hex key/Allen wrench so you'll need to keep that tool handy indefinitely. High chair conversion kits or "baby sets" can be awkward to use. Spacing can be tight with the seat platform in the designated position(s) for use with a baby set.
High chairs Ratings
Open and Close the Safety Harness Fastener
Make sure you can easily operate the harness fastener but your child cannot. If it's difficult for you to use, you might be tempted not to use it every time your child is in the seat, which is a mistake. Although the current safety standard set by ASTM International doesn't call for a five-point harness (a waist and crotch restraint with shoulder straps), a three-point harness (waist and crotch restraint) is required for certification.
On some chairs, you can convert a five-point harness to a three-point one, but we don't recommend it. Five-point harnesses are safer because they can prevent a child from standing or leaning over in a high chair and possibly falling or tipping the chair over.
Test the Tray
It should be easy for you to engage, adjust, and disengage—but not for your baby. Tray latches shouldn't be accessible or visible to your baby.
Check for a Crotch Post
The voluntary industry standard requires high chairs with completely bounded openings to have a fixed post attached to the tray or the seat of the chair.
Adjust the Seat Height
Adjustable seat heights allow the high chair to be used at the level of your dining room table, so your baby can eat with the rest of the family, or at a height that works well for a seated caregiver. Remember it isn't safe to adjust the height when your baby is seated in the chair.
Assess the Seat Cover
Look for durable upholstery. The seat cover should feel substantial, not flimsy. Make sure upholstery seams won't scratch your baby's legs. Seat covers should be easy to wipe clean or be machine washable. Too many seams, or decorative stitching or piping, can add to the chore of keeping the seat pad clean. Rubber or foam seat pads are easier to keep clean, and the sleek, modern look appeals to many parents.
Make Sure That Wheels can Be Locked
If you're buying a model with wheels, make sure they lock or become immobilized by the weight of your seated baby.
Watch Out for Rough Edges
Examine the underside of the feeding tray and edges of the seating area, including the armrests and seatback. Make sure nothing is sharp. Avoid high chairs with small holes or hinges that could trap little fingers.
Check for Small Parts
Before using, and periodically while the chair is in use, make sure the caps or plugs that cover the ends of metal tubing are well secured, and that labels, stickers or tags are firmly attached. Check any fasteners for tightness. Parts small enough for a child to swallow or inhale are a choking hazard.
Try Folding It
If you plan to fold up your high chair every day, practice in the store. Some chairs' folding mechanisms can be stiff or awkward. Some chairs may take up nearly as much space when folded as they do when opened.
Give the Chair a Good Shake
Push contenders around to see how well they hold their ground, or lift it if that's how you would move it within your home. A chair should feel stable and sturdy, not wobbly. Look for a high chair with a wide base for stability.
Baby on Board: Features to Consider
Safety is a prime consideration when buying a high chair because you don't want your child slipping, sliding, climbing out, or possibly falling. The ease of use of several features can also affect safety. If a harness is hard to use, or a buckle is hard to operate, parents or caregivers might be tempted to not use them. Trying them in the store can help. Check our High Chair Ratings for our assessments of the safety and ease of use of high chairs.
One of the world's best-known names in child-care products. Graco originated popular products such as the baby swing sold in the 1950s, and later the Pack n' Play portable play yards. Graco is part of the Newell Rubbermaid group of companies, whose portfolio includes strollers, car seats, high chairs, activity centers, and more. Their products are sold in major juvenile retailers nationwide and online.
This Italian company has been making strollers, car seats, high chairs, and kid-sized riding chairs for more than 60 years. These higher-priced products are available at Babies "R" Us, specialty shops, and online.
Dorel Juvenile Group markets strollers, car seats, high chairs, and other gear under various brand names, including: Eddie Bauer, Cosco, Safety 1st, Maxi Cosi, and Quinny. Its products are available in mass merchants and online.
This Canadian company is the inventor and exclusive manufacturer for several juvenile products, including high chairs. Available wherever juvenile products are sold.
This is a Spain-based company that offers modern-styled juvenile products, including high chairs and strollers, and accessories. Its products are sold at juvenile product stores and online.
One of the largest baby brands in Europe, this 50-year-old company is part of the global Artsana Group, a "holistic, innovative lifestyle" company that makes everything from baby feeding systems to cosmetics to medical supplies. Chicco (pronounced "kee-ko") products are now sold in more than 120 countries in six continents. Available wherever juvenile products are sold.
Based in upstate New York since 1930, this company has been making learning toys, award-winning baby gear, and many licensed children's products. Available everywhere juvenile products are sold, and online.
Based in Italy for more than 40 years, the company manufactures high-end strollers, prams, high chairs, and table chairs. Go to the company's website for purchasing information in your area.
This family-run, U.S.-based company manufactures strollers, high chairs, and play yards, and a full line of accessories for its products. It has centers in Dallas and Orange County, Calif. Available online and at Buy Buy Baby.
Baby Bjorn, 4 Moms, Ingenuity, OXO, Svan, Boon, phil&teds, Bloom, Summer Infant, Badger Basket, Mamas and Papas, Stokke, Mia Moda, Ikea.
Thanks for sharing.
Oops, we messed up. Try again later
More From Consumer Reports