Back-to-School Essentials for Busy Parents
Top-performing products to help you get through the day
When you shop through retailer links on our site, we may earn affiliate commissions. 100% of the fees we collect are used to support our nonprofit mission. Learn more. For parents, the COVID-19 pandemic has made back-to-school plans for their children particularly stressful this year.
Many school districts are combining in-class and online learning, which means kids' schedules will be even more hectic than usual. Parents, then, will need everything from that critical morning coffee to a good night's rest in order to survive.
So Consumer Reports has come up with an array of back-to-school items that should help parents through the ordeal. These products will also help keep the entire family fueled, fed, and healthy.
CR's take: There's nothing like a perfect cup of coffee to jump-start even the most jam-packed day. A traditional drip coffee maker, the Cuisinart PerfecTemp 14 Cup Programmable DCC-3200 makes plenty of java, thanks to its 14-cup glass carafe. It features programming, auto-shutoff, a cleaning indicator, a permanent filter, a water filter, brew-strength control, and a small-batch setting. This model aced our test for brew performance and does well in our other tests, too.
For more options, check CR's coffee maker ratings and buying guide.
CR's take: Whip up a batch of healthy smoothies for yourself and the family: This 1,100-watt blender is a CR Best Buy and comes with a battery-powered vacuum pump that sucks out air from the blender jar, making smoothies smoother, less foamy, and more consistent in texture than smoothies made in regular mode. Two 20-ounce plastic cups with lids are also included.
For more options, check CR's blender ratings and buying guide.
CR's take: Make mealtime easier after a busy day: The 6-quart Zavor Lux LCD gets perfect scores in our tests for pressure-cooking succulent, fall-off-the-bone ribs; steaming broccoli and carrots; and slow-cooking thick, tender chili (a test most pressure-cook models don't excel at). The 1,000-watt cooker has a stainless steel insert, which proves to be more durable than nonstick coated inserts in our tests.
For more options, check CR's multi-cooker ratings and buying guide.
CR's take: No time to cook? Make the most of leftovers: A new addition to our ratings, the General GEW1000E is superb at heating food evenly. Speed of heating was also impressive, and this microwave runs quietly. All the controls are intuitive, so you don't need to consult the manual. The main drawback of the General is that it lacks a defrosting function, so if that's one of the reasons you need a microwave, look elsewhere.
For more options, check CR's microwave ratings and buying guide.
CR's take: Give yourself the gift of silence whenever you need it most—without breaking the bank—with the Monoprice BT-300ANC. These headphones don't have the latest features—like a monitor mode or adjustable noise cancellation—but they deliver where it counts: above-average sound quality (for when you want to rock your favorite playlist) and fantastic sound-blocking abilities (for when you need to tune everyone else out).
For more options, check our complete ratings and buying guide for headphones.
Instant Camera
Canon Ivy Cliq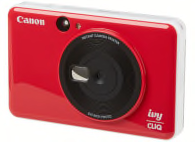 CR's take: Make Thursdays a true throwback with a fun instant camera to take pics the "old fashioned" way—without your smartphone. The Canon Ivy Cliq nails the basic promise of instant cameras: You point, you shoot, and a few minutes later a photo emerges. Not just any photo, but an image with great dynamic range. It's also the easiest camera to use among the three Zink models we tried. You can choose whether to print a photo in a 2-inch square with a white border beneath it or the more elongated 2x3-inch format. The model also gives you the option to reprint the last photo taken in case someone else wants a copy.
For more options, read "Best Instant Cameras: How Six Would-Be Polaroid Replacements Stack Up."
CR's take: From catching an episode of "What We Do in the Shadows" in your new "base" in the laundry room to taking on a day full of video calls, this Surface Pro 7 is the latest model in a long line of Microsoft 12.3-inch detachables. Our testers note strong performance for everything from browsing the web to editing office documents to watching high-resolution streaming video. Beyond that, two components stand out: the high-quality display, which our testers say is bright and produces accurate colors, and the built-in webcam, a tool that has grown in importance this year. The built-in 3.7-megapixel webcam is better than what you'll find in many laptops nowadays (including Apple's). Be prepared for compliments from your Zoom colleagues.
For more options, check CR's laptop rating and buying guide.
Ergonomic Mouse
ZLOT Vertical Gaming Mouse
CR's take: Go from daytime spreadsheets to post-work videogame time with the Zlot Vertical Gaming mouse. This mouse places the forearm, wrist, and hand in a "handshake" position, greatly reducing stress in the forearm. When properly oriented, it reduces wrist extension, too. Note, however, that the natural position with the front facing forward requires slight extension. The model features 11 programmable buttons, five dots-per-inch settings, and a matte finish that feels comfortable under the fingers and palm. On top, you'll find a mini joystick, handy for gamers but potentially annoying for others because it springs into action with a slight bump. No left-handed option is available.
For more options, read "The Best Ergonomic Mouse for You."


CR's take: A good night's sleep can go a long way when you're dealing with dueling schedules all day. The foam Tuft & Needle Mattress earns an Excellent rating in our durability tests, which means it shows no signs of wear and tear after eight to 10 years of simulated use. It offers decent support for sleepers of all sizes, whether you prefer to sleep on your side or your back.
For more options, check CR's mattress ratings and buying guide.