Whether you're heading out for a long ride or just tooling around town, if you are going to ride a bicycle, it is essential that you wear a bike helmet that fits your head properly.
More visits to hospital emergency departments for traumatic brain injuries (TBIs) involve bicycling than any other sport or recreational event, according to the Centers for Disease Control and Prevention. (TBI is a term used to describe a spectrum of head injuries from concussions to skull fractures.) A 2021 CDC study found that there were almost 600,000 emergency department visits for bicycle-related TBIs between 2009 and 2018. The researchers pointed out that this is probably an underestimate of the true number of head injuries related to bike riding because many people would see a doctor instead of going to the hospital, or not seek care at all after an accident.
Helmets are important for everyone, but especially for kids—in fact, wearing a helmet is the law for kids in 21 states and the District of Columbia, according to the Bicycle Helmet Safety Institute. Some cities and towns, including Seattle, mandate helmets for adult riders, too.
In the event of an accident, experts say that wearing a helmet can protect you from TBIs and death. That's because bike helmets absorb the force of the impact, taking the hit so that your head doesn't have to. According to the Insurance Institute for Highway Safety, in the majority of bicyclist deaths the most serious injuries are to the head, highlighting the importance of wearing a bicycle helmet. And helmet use has been estimated to reduce the odds of head injury by 50 percent and the odds of head, face, or neck injury by 33 percent.
Bike helmets don't have to be expensive: We found great models for less than $50 and one that's closer to $20. But if you think that old helmet stored in your garage will last a lifetime, it won't. The protective foam liner can deteriorate in just a few years, meaning it may not provide sufficient protection in an impact. Consumer Reports recommends replacing a helmet that's more than 5 years old. 
Helmet Head Is a Good Thing
All bike helmets sold in the U.S. must meet safety standards set by the Consumer Product Safety Commission and have a label to that effect. Consumers can usually find this label on the liner inside of the helmet, on the exterior surface, or attached to the chinstrap, according to the CPSC.
At Consumer Reports, we evaluated helmets for ventilation, fit adjustments, ease of use, and other features. Then we got to the serious business of testing how each helmet would fare in an accident.
In our tests we strap helmets onto head forms and use an apparatus that drops the helmets at about 14 mph onto a flat anvil to find out how well they withstand impact. An electronic sensor inside the head form monitors the force that would be transmitted to a rider's skull in an accident.
We also test the strength of the chinstraps, attachment points, and buckles to make sure that a helmet will stay on your head and in position during an accident. We drop an 8 3⁄4-pound weight 2 feet so that it yanks on the straps to simulate the force that might occur in a crash.
Remember: A bike helmet should be replaced every five years, or sooner if it is damaged. If the helmet has been involved in an accident, replace it, even if it does not appear to be damaged. The expanded polystyrene foam that dissipates the energy from the impact may still look intact, but bike helmets are designed to do the job just once.
Bike helmets are designed and tested for their ability to protect against severe head injury, such as a skull fracture. But there are a few different helmet technologies that aim to reduce rotational force, which correlates to how much the brain moves inside the skull in the event of an impact and is thought to be a factor in concussions. The two most common are Multi-directional Impact Protection System (MIPS) and WaveCel.
MIPS is a thin, low-friction liner inside the helmet that allows the outer shell to slide a few millimeters across the skull on impact, reducing rotational force and the amount of energy transferred to the head. It was first released in a cycling helmet in 2010 and can now be found inside hundreds of different helmets made by companies including Cannondale, Scott, Bell, Trek, and Giro.
In our earlier tests of two pairs of the same brand and model helmets—one MIPS, one not—the MIPS helmets reduced rotational force up to 43 percent compared with the non-MIPs helmets. The MIPS helmets cost around $20 more than non-MIPS versions of the same model.
Instead of a sliding component, helmets with WaveCel have an internal layer made of a malleable plastic that forms a sort of three-dimensional mesh. It's designed to crumple, flex, and glide sideways at the moment of impact, functioning like a suspension system to absorb the rotational force from the impact.
Both technologies are comparable in reducing the risk of brain injury, according to researchers at Virginia Tech's Helmet Lab, but it's difficult to prove that any helmet will protect against concussion because there's no single objective test, such as a CT scan or an MRI, that can determine whether someone has one. Instead, concussions are diagnosed based on symptoms and the results of a neurological exam. But there may be some added benefit, so even if it's not definitive, a MIPS or WaveCel helmet may be worth the extra cost.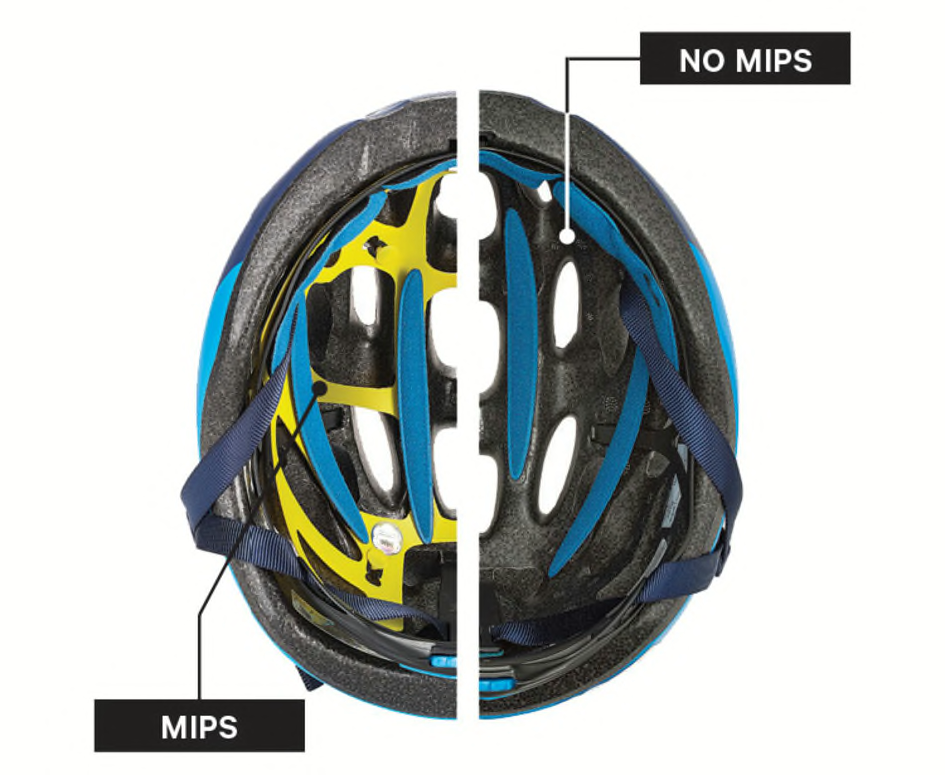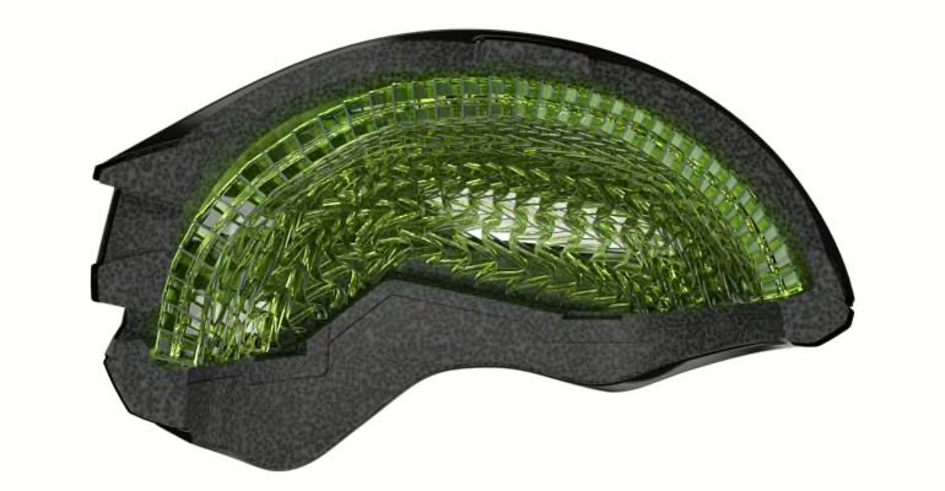 Crania Mania: Shopping for the Right Helmet
A good fit is crucial. If the helmet is not properly positioned on the head, it may not protect you at the moment of impact. Straps must be snug and the helmet positioned correctly. Once it's properly adjusted, only minor adjustments are likely to be necessary the next time you wear it.
Manufacturers' styles and sizing are different, so the best way to find a helmet that fits you well is to go to a store and try a variety of brands, models, and sizes. Head sizes and shapes vary. If a helmet can't be adjusted to stay on your head, try a different model. For kids, never buy a too-big helmet thinking the child will grow into it. 
Once you find one that fits your head the best, adjust it so that it will protect properly. Here is a three-step checklist for ensuring the right fit while in the store.
• The helmet should fit snugly but not uncomfortably, with your head partially compressing the soft foam pads inside—even before the straps are tightened.
• Select the size that fits as closely as possible without being uncomfortably tight. Then use the sizing pads, if provided, to fine-tune the fit.
• Check in the mirror to be sure the straps form a V under and slightly forward of each earlobe.
Once you have found the helmet that is right for you, use the tips from the illustration below to fine-tune the fit of your new helmet.
Our Bicycle Helmet Ratings are dedicated to Marc McEntee, a Consumer Reports testing employee for 25 years who died unexpectedly in May 2016. Marc lent his talents to many important projects during his tenure with CR, including bicycle helmets, heart rate monitors, and strollers. We honor him and his contributions.
1. The front edge should be no more than 1 inch above your eyebrows. With the straps fastened, push up firmly on the front edge of the helmet. If it moves back, the straps are too loose.
2. Push the helmet side to side and front to back: It should be snug enough that the motion wrinkles the skin at your temples.
3. A ponytail can alter your fit, so make sure to test a helmet wearing the same hairstyle you ride with.
4. To test that a buckled chinstrap is tight enough, open your mouth halfway; the helmet should press down on the top of your head as you do.
5. The front and back straps should make a V that meets just below and forward of the ear.
6. Grab the back tip and try to pull it up over the top of your head to the front. If the front of your helmet slips down, shorten the back straps.
Bike Helmet Buying Guide Video
For more, watch our video below.
Bell is the largest manufacturer of bicycle helmets in the U.S. Its product line includes road, mountain, BMX, and dual-sport helmets. Many of the helmets are built with MIPS (Multi-directional Impact Protection System) technology, and they're sold at specialty stores, online, and at mass retail stores. Prices range from $25 to $400. Bell also owns the Giro brand.
Bern helmets are round in shape, in the style of skate or ski helmets. In fact, many Bern helmets are multisport models, and some even come with interchangeable liners so that they can be used in winter or summer. Sold at specialty retail stores and online. Prices range from $50 to $120.
Cannondale's line of helmets includes road and mountain bike models. It offers helmets for adults and kids, and prices range from $35 to $160. Sold in specialty stores and online.
Garneau, aka Louis Garneau, originated in Canada. Its U.S. operations are headquartered in Vermont. Garneau offers a full line of helmets for kids and adults, ranging in price from $30 to $350. They're sold primarily in bicycle shops and sporting goods retailers.
Owned by Bell, Giro's line of helmets includes road, dirt, aero/triathlon, and urban models, and like Bell, many of its helmets feature MIPS technology. Giro helmets are sold at specialty stores, online, and at sporting goods stores. Prices range from $40 to $275.
Lazer, a helmet company based in Belgium, has been in existence for many years. Models are priced from $50 to $250 and are brightly colored, lightweight, and highly ventilated. They are sold mostly through sporting goods stores and specialty bike shops.
Owned by C-Preme, a company based in Los Angeles, Raskullz makes helmets that feature popular toy and cartoon designs meant to appeal to kids. Raskullz helmets are sold in sporting goods and mass retail stores. Prices range from $25 to $28.
Schwinn is owned by Pacific Cycle USA and offers low-priced helmets sold online and at mass retail stores. Prices range from $20 to $40.
Scott is a high-end brand sold primarily at bike shops and sporting goods retailers and e-tailers. Scott sells both hard- and soft-shelled helmets at prices ranging from $100 to $220. The top-rated Arx Plus helmet model employs MIPS technology.
Known for sunglasses, ski helmets, and snowboarding helmets, Smith makes bicycle helmets with liners that use Koroyd technology (a honeycomb-style cluster of plastic tubes that collapse on impact). Sold online and at specialty retail stores. Prices range from $80 to $260.
Science Behind Safe Bike Helmets & How They Fit
Thanks for sharing.
Oops, we messed up. Try again later
Recently Tested Bike Helmets
BEST TIME TO BUY:
April, May
Do you know when is the best time to buy Bike Helmets? Learn more
More From Consumer Reports