When you shop through retailer links on our site, we may earn affiliate commissions. 100% of the fees we collect are used to support our nonprofit mission.
Learn more.
If you're shopping for a bicycle helmet, you might assume that all the products you're considering have met some basic standards for safety. But a recent investigation found that potentially unsafe helmets are widely available online.
To be legally sold in the U.S., bicycle helmets are supposed to meet standards set by the Consumer Product Safety Commission. Those standards require a certain level of protection from skull fracture and a detailed label with information demonstrating compliance with CPSC standards.
When purchasing products online, however—even regulated products like helmets—it can be difficult to know that what you've bought is truly certified as safe. (In fact, I realized while working on this story that I had inadvertently bought a helmet for my own son that doesn't comply with CPSC standards.)
Consumer Reports shoppers, working with our testing experts, were able to find and purchase 13 helmets without a label certifying CPSC compliance from four online marketplaces: Amazon.com, Sears.com, Aliexpress.com (a subsidiary of Chinese retail giant Alibaba), and LightInTheBox.com (a global retail company with headquarters in Beijing). These helmets represented a variety of styles, marketed toward road cyclists, mountain bikers, and recreational riders.
To be clear, CR is not saying these helmets are definitively unsafe, something that can't be determined without putting them through testing. But the fact that they came without a required label indicates they may not have been tested according to CPSC standards. The lack of a label itself (or the presence of an improper label) makes the helmet non-compliant, meaning these products should not be for sale in the U.S.
We contacted all four online retailers to let them know what we found, and they all said they would remove (or already had removed) the items.
While we were glad to see a swift response, our investigation highlights a more pervasive issue—that products that may threaten consumer safety are easy to purchase, even when regulations say they shouldn't be.
A Confusing Landscape for Shoppers
On e-commerce marketplaces around the globe, there may be thousands of listings for helmets that are not properly certified for safety or are counterfeit versions of real products, says Andrew Love, head of brand security for Specialized Bicycles (which also makes helmets).
Even savvy buyers can run into trouble. When buying a bike helmet online for my toddler recently, I made sure it had a CPSC certification—or claimed to. Though I didn't recognize the brand name, the helmet had a four-and-a-half star rating on Amazon, and the listing said it was CPSC certified, as did a label inside the helmet when it arrived.
But that label did not contain all the information required by the CPSC, which should be a red flag for consumers, according to Peter Anzalone, senior test project leader for bike helmets at Consumer Reports. It lacked required information such as the month and year of product manufacture and the statement saying which CPSC safety standard the helmet complies with, making the helmet not properly certified for safety.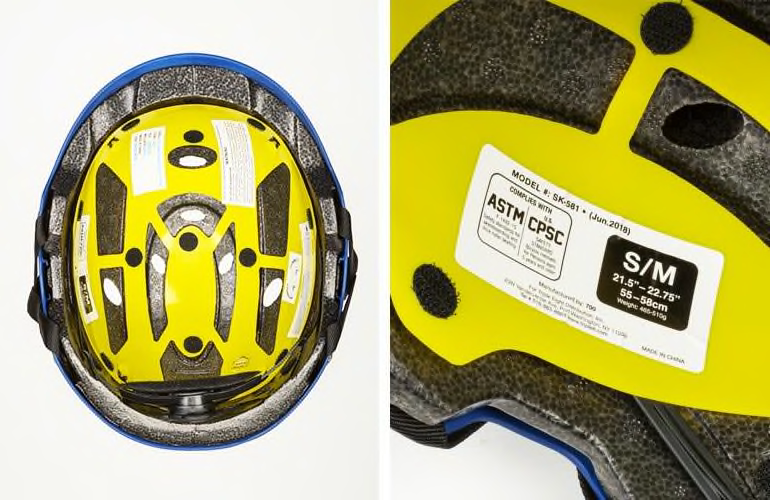 The easy online availability of helmets that don't seem to be properly certified for safety is "certainly concerning," says Barry Miller, Ph.D., director of outreach at the Helmet Lab at Virginia Tech, which tests helmets for a variety of sports and conducts research into how helmets can reduce risks for brain injury. "You just don't know what you're getting."
It's hard to know exactly how many consumers end up buying counterfeit helmets or helmets that are potentially unsafe knock-off versions of brand-name helmets, says Thom Parks, the senior director of product safety for Bell and Giro. But it's a real issue—Parks said that as we spoke, he was holding a helmet that appeared to be a copy of a Bell helmet with a different brand name that he'd bought from an online marketplace.
Wearing a helmet when you ride a bike is essential—I've had a helmet save my own skull after a car trying to make a left turn plowed right into me. But it's impossible to know just by looking at your computer screen whether many of the helmets available online are safe enough to meet the standards required for bike helmets in the U.S.
Helmets aren't the only products getting counterfeited and mislabeled. According to Steve Francis, director of the National Intellectual Property Rights Coordination Center, part of the Department of Homeland Security, a flood of cheap, potentially uncertified products like counterfeit pharmaceuticals and computer chargers or adaptors—which can catch fire if not properly made—can also be produced en masse, then sold through online marketplaces with few built-in safeguards.
Many of the 13 helmets purchased by CR display a sticker or label declaring that they comply with the European CE safety standard. But this standard does not qualify products to be sold in the U.S., and it doesn't require helmets to withstand impacts as strong as the CPSC standard does. While it's possible that some or all of these helmets might pass the CPSC's required tests, they need to demonstrate that they meet the standard before being sold in the U.S. Part of demonstrating that includes affixing a label indicating the helmet complies with the CPSC's standard.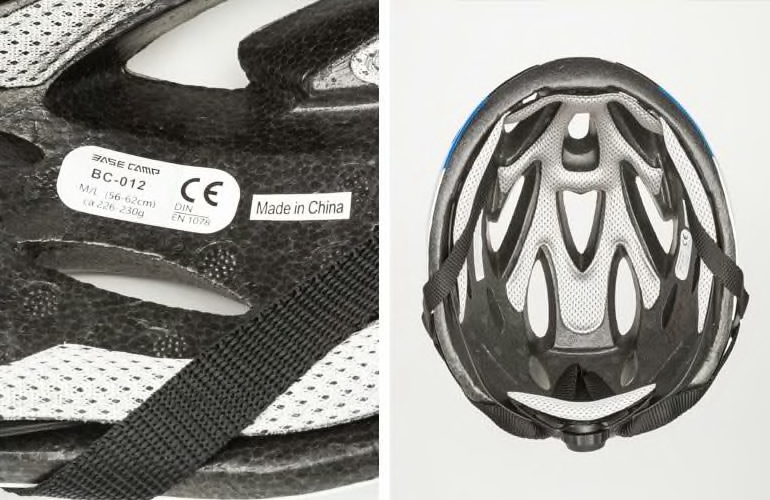 Labels don't solve all problems, and are themselves counterfeited, says Francis. But these stickers are at least a first indicator of compliance.
In order to better understand what consumers should know about the bike helmets that are available online, I consulted a number of experts familiar with bike helmets and the ways safety standards are applied to goods purchased online. Though our findings are troubling, consumers can still take important steps to help ensure that they are purchasing a legitimate product.
Tracking a Vast, Complex Marketplace
It's not surprising that we were able to find a number of helmets without CPSC certification online, says Neal Cohen, a consumer product safety lawyer and former CPSC official. Helmets are certified as safe by the manufacturers themselves, he explains—as with many other products, they're not tested by the CPSC before they come on the market. That means that companies need to know and understand the required testing protocols, then either conduct those tests themselves or have their products tested by a third-party lab.
Bell and Giro test helmets in their own lab, then send some out to third-party test labs as well, according to Parks.
"Manufacturers are basically on the honor system," says Francis, though the CPSC will act if it realizes that there are products for sale that shouldn't be.
With limited manpower, it's impossible for CPSC officials to survey all online marketplaces across the internet looking for unsafe products, says Cohen. But there are several ways that regulators might catch unsafe products before they reach consumers.
One of the main strategies the CPSC uses to catch bad actors is examining products as they go through customs. A product like a bike helmet might receive extra scrutiny if it's one of the current enforcement priorities for the CPSC, Cohen says.
"Helmets which do not meet safety standards can be (and are) seized when they enter the U.S.," Francis says.
But while some helmets might get seized, others make it through, and experts we consulted say that small parcel air packages aren't necessarily stopped, even when they contain products that don't appear to conform to regulations.
The CPSC will also investigate whenever consumers or legitimate manufacturers report that they've discovered unsafe products, according to Cohen.
In response to a query from Consumer Reports about the helmets we purchased and about how helmets purchased online are regulated, a CPSC spokesperson said: "We received the information and are reviewing it."
Onlines Sales: Uncertified Helmets, Safety Unconfirmed
Traditional walk-in retailers sell products directly to consumers, which means they are likely to be held liable if they sell an unsafe helmet—something Cohen says helps ensure that they sell certified products.
The sellers operating through online marketplaces are technically liable for selling unsafe products too, but it's often hard to figure out who they are—and they may be located in other countries. For many, the risk of prosecution is low, according to Francis.
And as for most online marketplaces like Amazon or AliExpress, "they're never physically seeing or testing the item, they're just an intermediary between buyer and seller," says Francis. Because of that, they're not necessarily going to know whether or not a product meets safety standards, he says. And they are unlikely to be held liable if it does not.
In many cases, platforms collect certificates of compliance from sellers—documents that certify that products meet safety standards. But this isn't a foolproof system. LightInTheBox sent CR certificates for a number of helmets, for example, but it's not clear that the helmets we purchased through the site are covered by these certificates, because not all the brand and model names on the certificates match items we purchased, and the helmets don't have labels that explain which production lot they come from.
Every lot of helmets produced should have an individual certificate of compliance, according to Anzalone.
A LightInTheBox spokesperson said that the company requires all suppliers of products like helmets to present certificates of compliance, and said it would be reviewing both legal requirements for helmets and its product inventory. LightInTheBox said it has also begun notifying customers who had purchased helmets that did not meet safety standards, according to the spokesperson. After being contacted by CR, the company also decided—at least temporarily—to stop selling bike helmets to U.S. customers.
An AliExpress spokesperson described AliExpress as a "third-party online marketplace" that "connects buyers and sellers around the world." The spokesperson specified that the company "require[s] our merchants to comply with all the applicable local rules and regulations," and said it would make the sellers aware that they were selling "potentially non-compliant products" so that they could notify customers and potentially take other measures. It also removed the product listings we flagged.
An Amazon spokesperson said that sellers using the company's marketplace "are required to comply with all relevant rules and regulations and Amazon policies." Non-compliant sellers "are subject to action, including removal of selling privileges and withholding of funds," according to the spokesperson. The listings that CR flagged are no longer available.
The helmet CR purchased from Sears.com was sold through Ebay, because certain Ebay sellers' products appear on the Sears marketplace. A Sears spokesperson said the helmet "was sold by an unaffiliated third party vendor on our marketplace site," but that these vendors are "contractually obligated to be responsible for compliance with all laws and regulations." The spokesperson said they notified the seller and that the product was no longer for sale.
An Ebay representative said the company was committed to stopping the sale of counterfeit items, and buyers who believed they had purchased a counterfeit item may be covered under Ebay's Money Back Guarantee. Additionally, Ebay's product safety policy prohibits the sale of items that don't meet legal requirements.
CR also attempted to contact several of the sellers we purchased helmets from through these marketplaces. In many cases, their contact information couldn't be found. One seller replied to say it had submitted reports to Amazon that showed the helmets it was selling met required standards; the product we purchased from it did not come with the required label, however, which makes it, by definition, non-compliant.
Though the platforms responded quickly to de-list the helmets we notified them about, taking down individual listings is not enough to prevent such products from being sold, according to Love, from Specialized. "They just pop back up," he says. He says that every day, his brand security team gets an average of just over 89 listings taken down from e-commerce sites around the world, mostly of counterfeit products.
Love says many of the "generic" helmets, off-brand ones like those CR purchased, are often similar to counterfeit helmets, just without copying a brand name. While it's possible that some lesser-known companies might produce safe helmets, unless there is proof that they've been tested and certified, "we just don't know," he says.
What Consumers Should Know About Buying Safe Helmets
For consumers bewildered by the seemingly infinite number of choices and trying to balance cost, style, and safety, a few simple steps can help you make a safe choice. (For more general tips on finding the best helmet, check out CR's Bike Helmet Buying Guide.)
Know what safety certification is required. Bike helmets should always include instructions on how a helmet should fit and be worn, according to the CPSC. Additionally, the CPSC helmet regulations (PDF) and a CPSC website explaining the rules provide the following guidance for what information should be found on helmet labels:
The helmet should have a statement saying it "Complies with U.S. CPSC Safety Standard for Bicycle Helmets for Persons Age 5 and Older" or "Complies with U.S. CPSC Safety Standard for Bicycle Helmets for Persons Age 1 and Older (Extended Head Coverage)."
The name, address, and telephone number of the manufacturer or importer issuing the certificate, or of the private labeler of the helmet.

The name and address of the foreign manufacturer, if the helmet was manufactured outside the U.S.
Information, such as a serial number, that allows you to identify the production lot of the helmet, and the month and year the helmet was manufactured.
Additionally, each helmet needs to be marked with its model number and several warnings—outlined on this CPSC website under the question "What requirements are there for instructions and labeling for bicycle helmets?"

Buy from trusted sources. Love, Parks, and our experts recommend buying a helmet directly from your local bike shop, because walk-in stores should be selling only certified products, and they can help you find what works best for you. If you don't have a local bike shop, walk-in chain stores are also a reasonable option. If you want to buy a bike helmet online, make a purchase either directly from the manufacturer or directly from an authorized seller for that product, such as that seller's official Amazon or Ebay store or from authorized dealers listed on the manufacturer's website. You can also buy from reputable retailers with an online presence, like REI and Performance Bicycle, suggests Anzalone.
CR's helmet ratings can also help. All of the helmets we rate are certified and carry the CPSC's required information on the labels, and if a helmet lacks this information, we won't test it. We also run our own comparative evaluations on a selection of certified helmets to judge protection.
Last, don't assume a product is safe or genuine just because it's for sale in the U.S. "The burden is on the consumer in most cases, unfortunately," says Francis. Know that unsafe or uncertified helmets are out there.
Some deals are too good to be true, but you don't need to spend a lot to get a helmet that offers excellent protection. We've found helmets that offer excellent protection available for as little as $22.