When you shop through retailer links on our site, we may earn affiliate commissions. 100% of the fees we collect are used to support our nonprofit mission.
Learn more.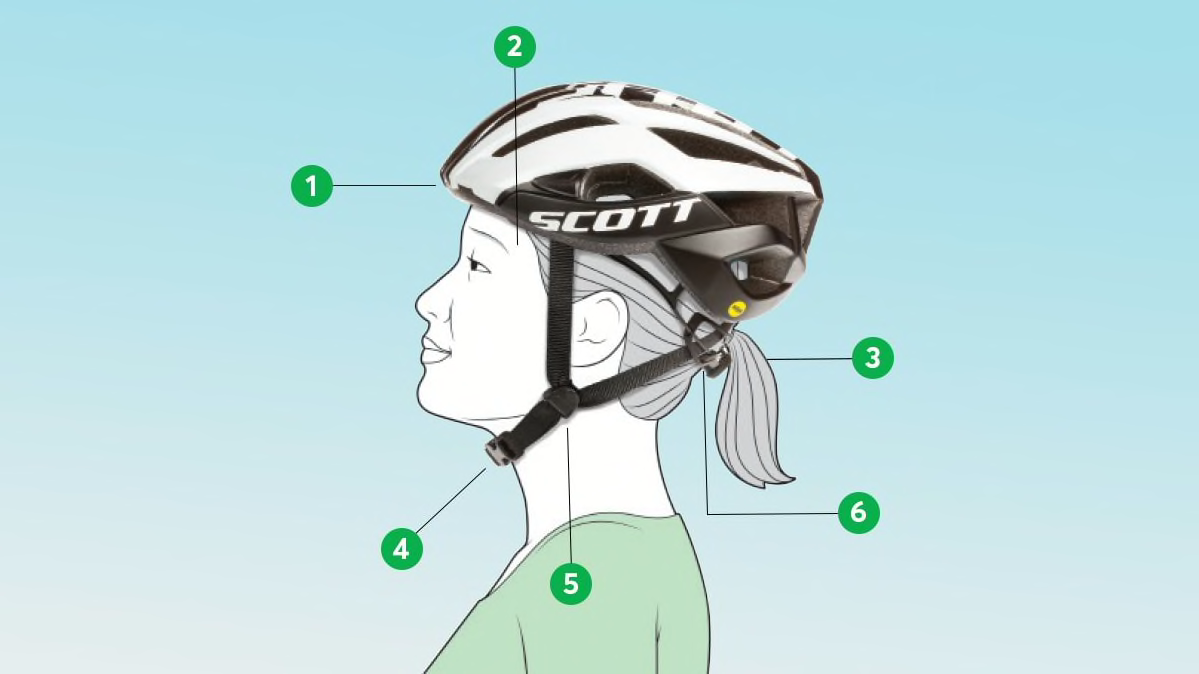 Illustration: Chris Philpot
A bike helmet is a cyclist's best line of defense against severe head injuries, such as a skull fracture—and, when it's sitting on your head correctly, it could save your life.
Making sure your helmet fits properly isn't as simple as picking up a size small, medium, or large. Use our expert fit guide to ensure you have your helmet strapped on correctly before hopping on your bike.
Always replace your bike helmet after a crash: It's designed to withstand only a single impact. (The Scott Arx Plus, $100, is shown.)
1. The front edge should be no more than 1 inch above your eyebrows. With the straps done, push up firmly on the front edge of the helmet. If it moves back, the straps are too loose.
2. Push the helmet side to side and front to back: It should be snug enough that the motion wrinkles the skin at your temples.
3. A ponytail can alter your fit, so make sure to test a helmet wearing the same hairstyle you ride with.
4. To test that a buckled chin strap is tight enough, open your mouth halfway; the helmet should press down on the top of your head as you do.
5. The front and back straps should make a V that meets just below and forward of the ear.
6. Grab the back tip and try to pull it up over the top of your head to the front. If the front of your helmet slips down, shorten the back straps.
Inside CR's Bicycle Helmet Test Lab
'Consumer 101' TV show host, Jack Rico, finds out what happens when Consumer Reports testers strap a bicycle helmet into CR's crash simulator. Plus, CR expert, John Galeotafiore, demonstrates the correct way to wear a helmet.
How We Test Bike Helmets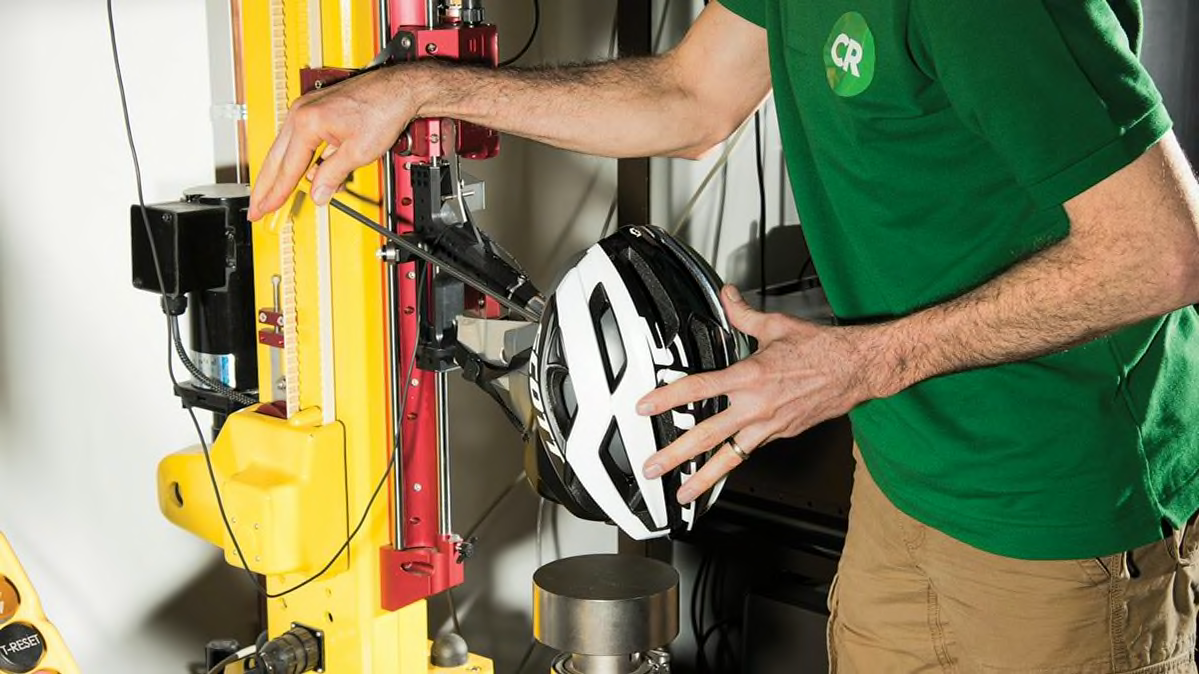 Every helmet that CR rates goes through a series of safety tests.
One is an "impact absorption" test to see how well it holds up in a crash—and that's what our uniaxial impact monorail machine (photo above) is for.
CR engineer Peter Anzalone straps each helmet onto a "head form," which simulates the size of a human head. The machine hoists up the helmet 2 meters to drop it back down onto a steel anvil at about 14 mph. This happens once on each of its sides: the front, rear, side, and crown.
As the helmet hits, a sensor detects the amount of g-force exerted on the head form, which tells our testers how quickly a cyclist's head would decelerate in a similar crash if wearing the helmet. The force must be under 300 g's to meet the federal safety standard.
Editor's Note: This article also appeared in the June 2018 issue of Consumer Reports magazine.