When you shop through retailer links on our site, we may earn affiliate commissions. 100% of the fees we collect are used to support our nonprofit mission.
Learn more.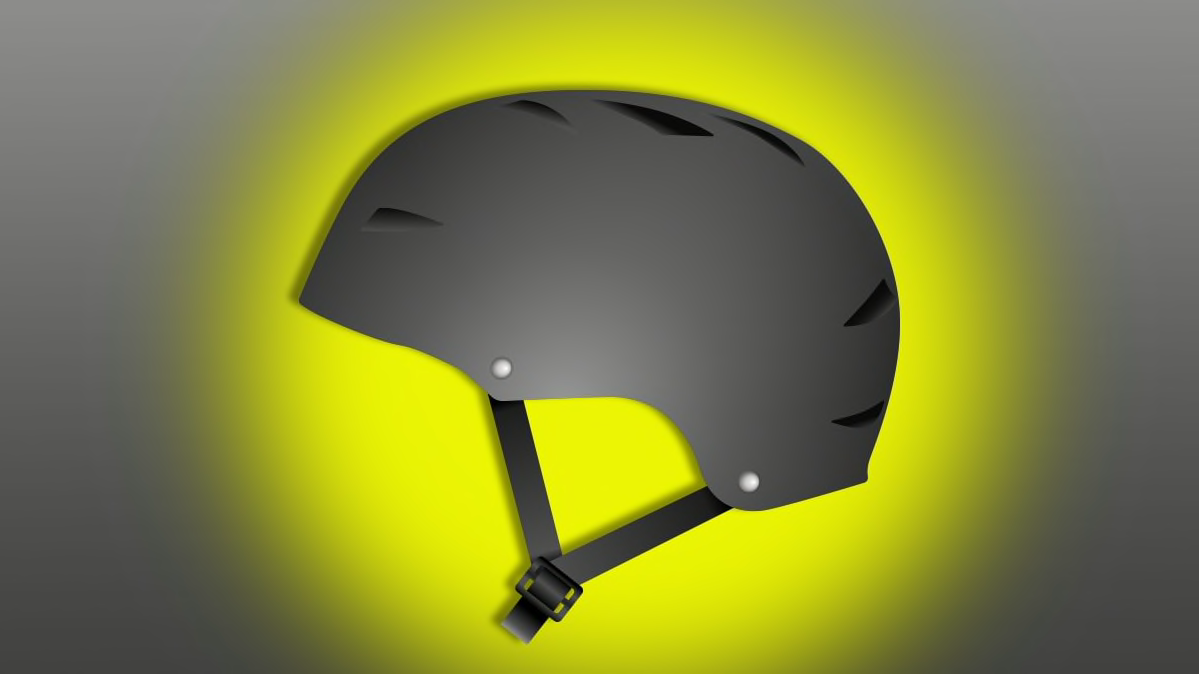 Consumer Reports is rating three bicycle helmets "Don't Buy: Safety Risk" after they failed our tests designed to assess how well a helmet would protect a rider during a crash.
The Bontrager Ballista MIPS did not pass our test of its retention system (the straps and buckles that keep a helmet in place on your head). The Morpher Flat Folding helmet and Woom Kids helmet did not pass our impact absorption tests, a failure our testers have not seen since 2006.
CR has reported all these findings to the Consumer Product Safety Commission and to the manufacturers.
Trek Bicycle, the maker of the Bontrager helmet, says it stands by the safety of the Ballista MIPS helmet and is not planning any corrective action. Jeff Woolf, the CEO and founder of Morpher, said that while the helmet may have failed CR's tests, it has been certified to pass all required U.S. safety standards at third-party labs and that accordingly Morpher helmets are safe for consumers. Woom Bikes said it halted U.S. and Canadian sales of its helmets soon after CR contacted the company and is figuring out its next steps.
We are not aware of any injuries related to the problems found with these helmets.
Wearing a helmet can help cyclists protect themselves from head injuries—especially potentially fatal ones. But a helmet can provide suitable protection only if it works as designed.
That's why Consumer Reports puts every bike helmet through the same series of tests in our labs. Our tests are modeled after—but not identical to—the CPSC's standard and are performed to provide comparative evaluations for consumers, not for the purposes of compliance or certification. Of the 15 helmets we evaluated this year, these were the only three that failed.
For details on each of the three "Don't Buy" helmets, what our tests found, and how the manufacturers responded, read on.
Bontrager Ballista MIPS: Failed Retention System Strength Test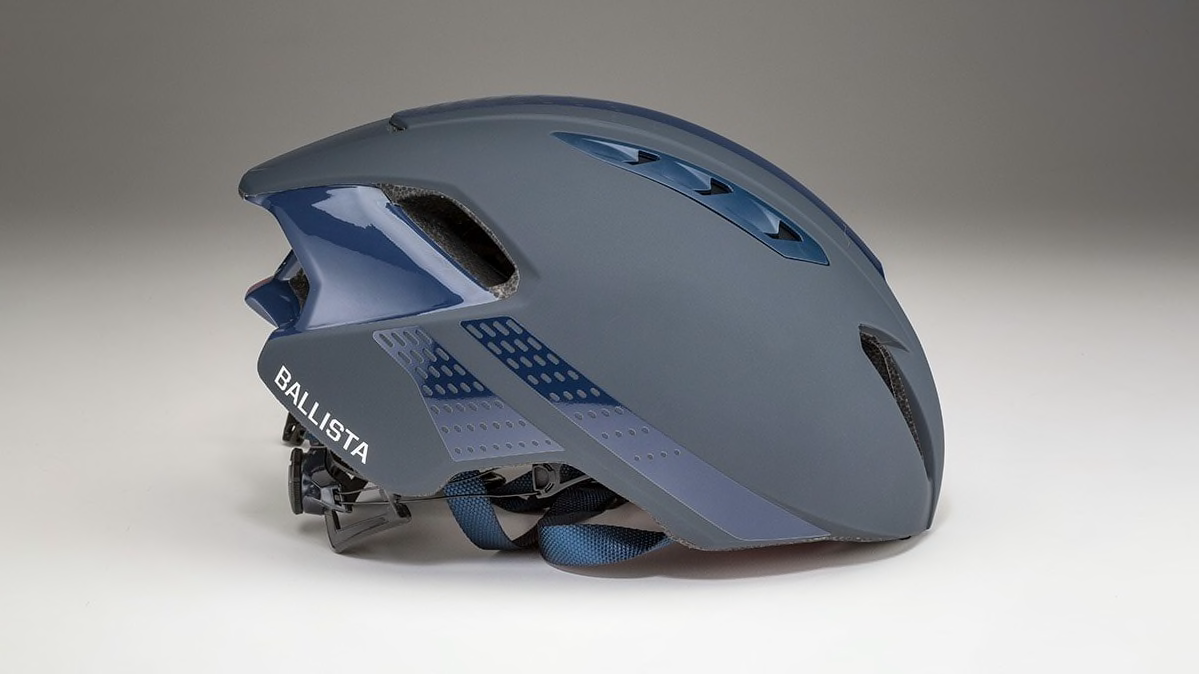 To test a helmet's retention system, we use a weight to tug at it, simulating what might happen in the event of an accident (such as falling off a bike and hitting the road).
When we put the Bontrager Ballista MIPS helmet through this test, the chinstrap buckle broke in two and fully released. When a helmet fails a test in CR's labs, we put a new helmet—the exact same model—through the same test. In the case of the Bontrager Ballista MIPS, the second sample failed the retention system strength test in the same way.
Without an intact buckle, "there's nothing to keep a helmet on your head," says Peter Anzalone, senior test project leader for bicycle helmets at CR. "If that happens in a crash, the helmet can become displaced or come off so that if there is any subsequent impact, you're not protected."
Eric Bjorling, a spokesperson at Trek Bicycle, said the company has been "unable to replicate" our results and "categorically disagrees" with CR's findings.
"The Bontrager Ballista MIPS has been on the market in the United States for over two years with over 6,000 sold without a single consumer claim of buckle failure," Bjorling said in an emailed statement. "All Bontrager helmets are rigorously tested at certified test facilities and pass all domestic and foreign federal safety requirements. As certified laboratories have been unable to replicate Consumer Reports' findings, we believe that they are not indicative of the performance or safety of the Ballista MIPS helmet. Regardless, we have reported Consumer Reports' findings to the CPSC and will work with them on anything further they require."
Bjorling said the best way for consumers with questions to contact Trek Bikes is via its online form. People in the U.S. can also use online chat on the Trek Bikes site or call its rider support line at 800-585-8735.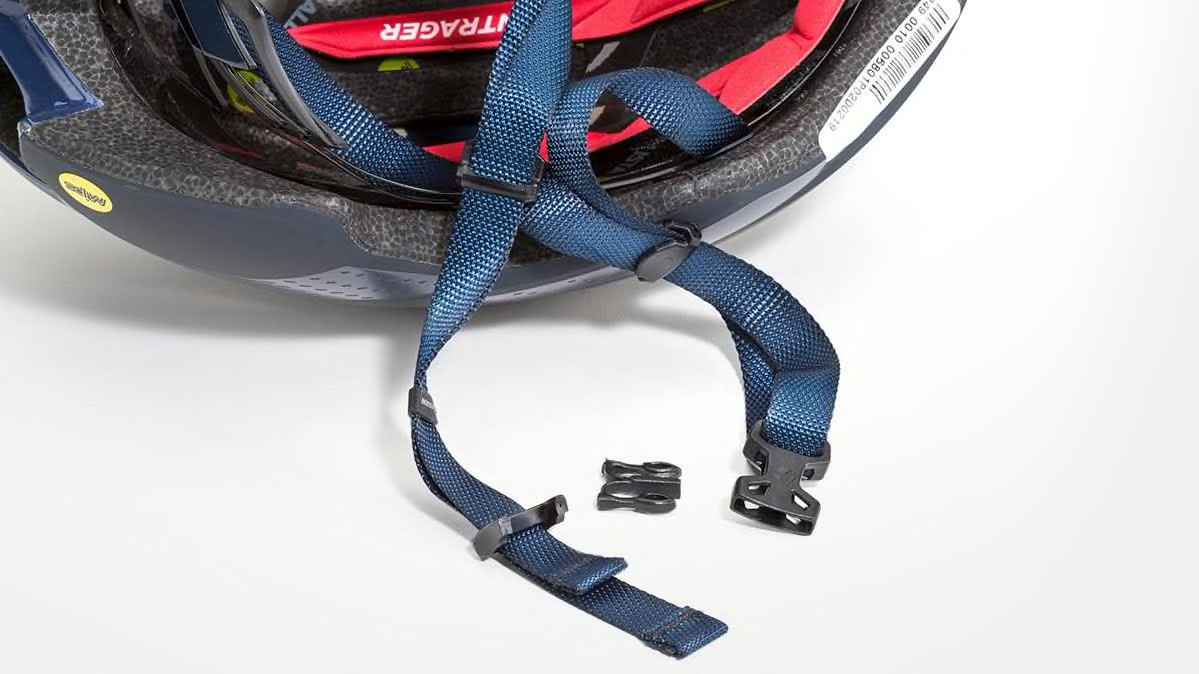 Morpher Flat Folding Helmet: Failed Side Impact Test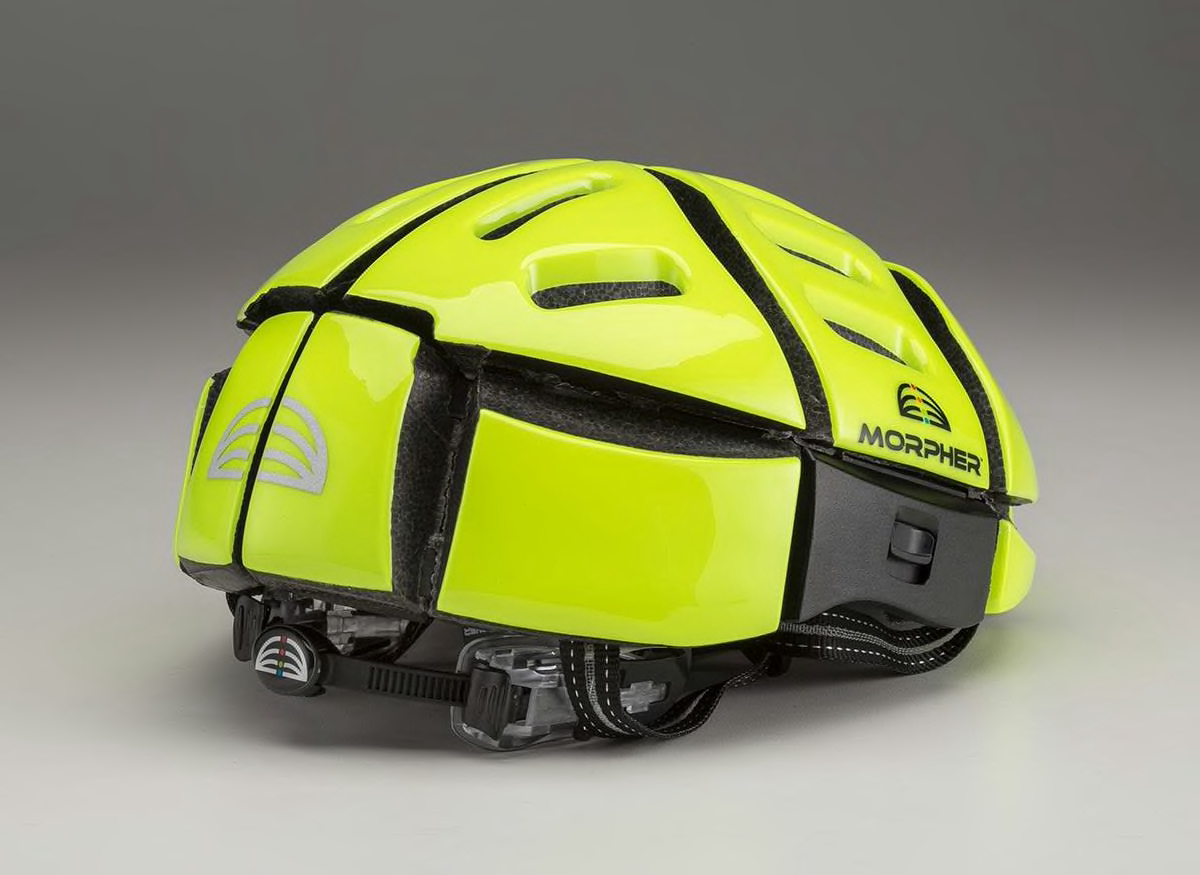 To test how well a helmet can absorb the force of an impact, we use what's called a uniaxial monorail impact machine. Each helmet is strapped onto a headform, which simulates the size and shape of a human head. It is then lifted approximately 2 meters into the air and dropped onto a steel anvil at almost 14 mph. This happens once on four of its sides: the front, rear, side, and crown.
As the helmet hits the anvil, a sensor detects the amount of force exerted on the head form. In a crash, the helmet's job is to absorb as much of that impact as possible, to protect against skull fracture.
The Morpher Flat Folding Helmet failed our side impact absorption test. In practice, Anzalone says, that means "if you fall and hit your head on the side, it could compromise protection."
In a phone call, Jeff Woolf, the CEO and founder of Morpher, called CR's findings "hugely worrying for me as an inventor and manufacturer."
Morpher helmets are independently tested to make sure they comply with CPSC and European standards for safety, according to Woolf. "Everything is done with safety in mind," he told CR. "We want to exceed CPSC standards."
Anzalone said he appreciated that a helmet designed for folding may be easier to carry for people on the go, which may help incentivize helmet use. "It would be great if the industry could come up with a folding helmet that worked well—especially with all the bike and scooter share services now, it would be really convenient if there was an effective folding helmet out there that people could just stick in their backpack."
Woolf said he worked closely with his factory to understand CR's findings, but that CR's test "is not that required by the health and safety standards set by the government."
"I'm not doing this to get rich, I'm doing this to do something good for the world," he said. "I'm trying to help people be safe."

Consumers with questions about their Morpher helmets can call the company's helpline at +44 20 3581 5773 or email support@morpherhelmet.com.
Woom Kids Helmet: Failed Rear Impact Test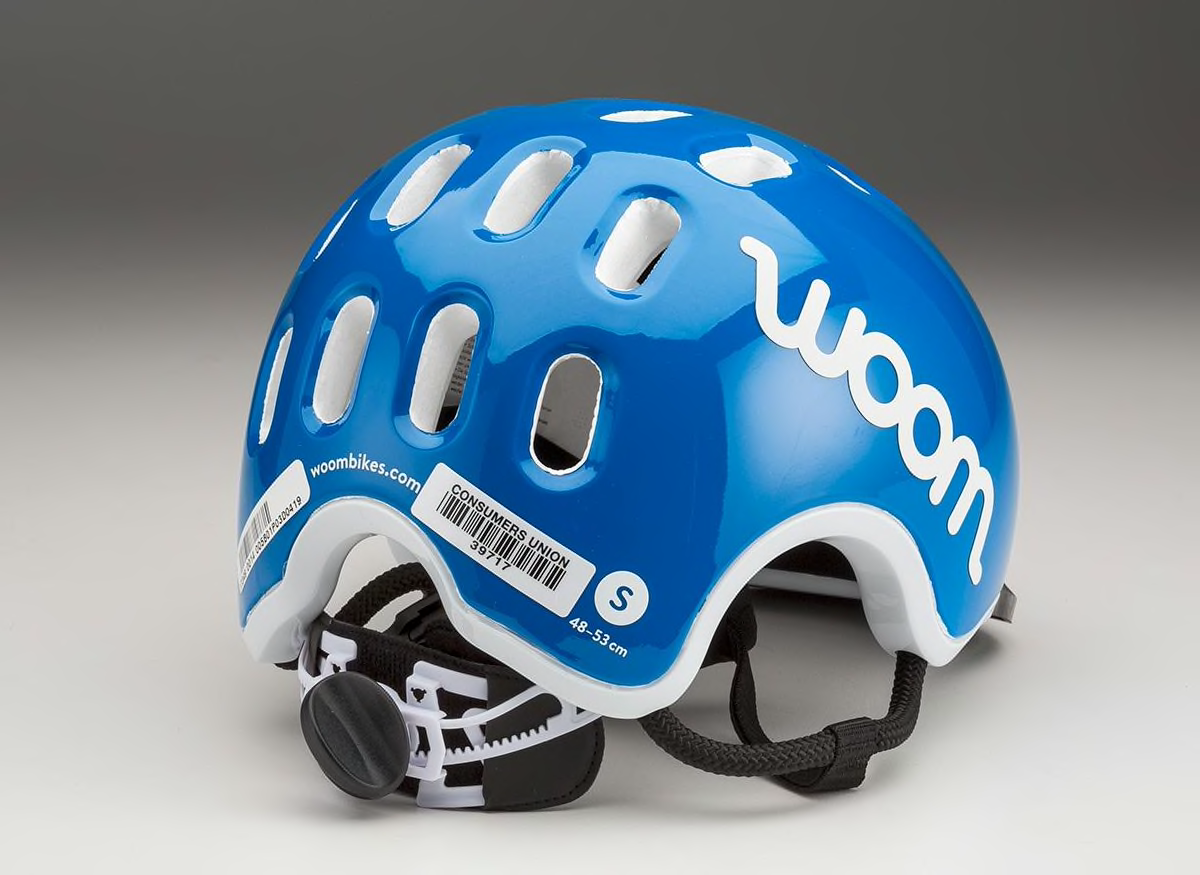 The Woom Kids Helmet failed our rear impact absorption test. This means it may not adequately protect the head from skull fracture in the event that a child wearing it falls and hits the back of his head, Anzalone says.
Soon after CR shared its findings with Woom, the company said it stopped sales of all its bicycle helmets in the U.S. and Canada, and that it would figure out any appropriate corrective action after more testing has been performed.
"I was both surprised and concerned about your most recent test findings concerning small size helmets that we have sold in the U.S.," Mathias Ihlenfeld, the owner and CEO at Woom Bikes USA, said in a statement. "I immediately investigated. In 2018, a CPSC accredited test lab tested these helmets and informed us that they successfully passed all tests required by the CPSC."
He said consumers with any questions can contact Woom Bikes USA at 844-572-4003 or safehelmet@woombikes.com.
What Consumers Should Know
Wearing a helmet is essential whenever you ride a bike. If you already own one of these helmets, our advice is to replace it as soon as possible. Use these helmets only if you do not yet have access to another helmet and need to ride your bike.
CR's product safety experts say that using one of these helmets in spite of its poor performance in our testing is still better than riding without a helmet.
In our most recent bicycle helmet ratings, we recommend 16 helmets for adults and four for kids. The two adult helmets that got the highest scores are the Scott Arx Plus, $125, and Cannondale CAAD MIPS, $80. The two kids helmets that got the highest scores are the Bell Sidetrack MIPS, $60, and the Garneau Nino, $40.
Our updated ratings for 2019 will be available later this summer.