Is Banking at Walmart Worth It?
The services are more limited than at traditional banks, but you'll get convenience, modest fees, and rewards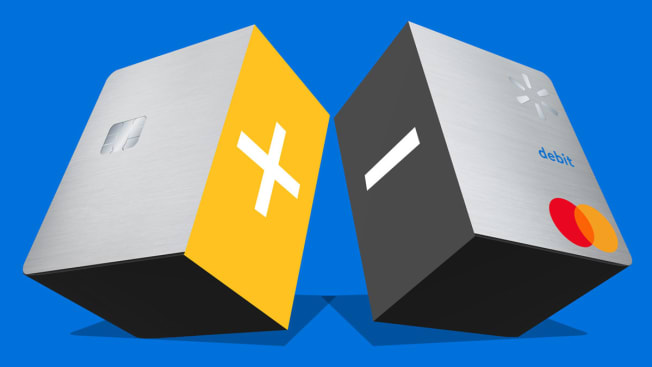 You probably know Walmart for its enormous selection of low-priced products—everything from groceries to furniture to auto parts. 
But you may not realize that Walmart also runs one of the nation's biggest banks. At its more than 4,600 in-store MoneyCenters, as well as online, millions of customers have access to basic, low-cost banking services, including the ability to withdraw cash, make deposits, and pay bills.
In fact, among major financial institutions, Walmart holds the largest share of the U.S. consumer banking market, at almost 19 percent, according to Michael Moebs, head of Moebs Services, a bank consulting firm in Lake Forest, Ill. Runner-up Bank of America has a 12.5 percent share.
"Walmart has tremendous scale and is really efficient," Moebs says.
How Walmart Banking Works
The centerpiece of Walmart banking is its MoneyCard, which originally launched as a prepaid debit card. But in June 2021 the MoneyCard was upgraded to a demand deposit account—insured by the Federal Deposit Insurance Crop.—which is essentially the same as a checking account. That gives you a bank routing number and an account number.
With a MoneyCard account, you also have online banking access via the Walmart MoneyCard app and website. The physical MoneyCard is a Mastercard or Visa debit card that can be used wherever those payment systems are accepted.
To open an account, you can apply for the card online; those without online access can purchase a MoneyCard starter kit at a Walmart store for $1. (You will need to give the cashier a starting amount of cash, generally at least $20.) You can also open family accounts for up to four members; each must be 13 years or older.
There's no minimum balance, and there's no credit check when you apply, though Green Dot will do screening to avoid fraud. But the MoneyCard is one that is accessible to many Walmart customers, who may lack strong credit histories. 
If you direct-deposit at least $500 each month, there's no account fee. Otherwise, you will pay $5.94 per month. 
You may encounter fees for other services, including these.
• Overdrafts: For those with direct deposit, you can opt in for overdraft coverage for up to $200. You won't be charged if the overdraft amount is deposited within 24 hours. Otherwise, you will incur a $15 fee for each transaction that is more than $5 and overdraws your primary deposit account by more than $10.
• Check cashing, check deposits, and reloading your card: These services are free at Walmart MoneyCenters as long as the money is deposited in your MoneyCard account. (Check cashing services are not available in all states.) You can also deposit checks via the app by taking a photo. Transfers from outside bank accounts are free via the app.
• Cash deposits: You can deposit cash free via the app, using a code that you present to the cashier. Otherwise, adding cash to your account at a Walmart register will incur a $3 fee. If you reload cash at other locations, such as retailers in the Green Dot network, you may be charged fees of up to $5.95.
• Cash withdrawals: You can withdraw cash free of charge at Walmart MoneyCenters and customer service desks. Cash withdrawals are also free when you make a purchase in a Walmart store and request cash off the MoneyCard when checking out. You'll pay $2.50 for a cash withdrawal at a participating bank teller. 
• ATM transactions: If you make an ATM withdrawal using the card, Walmart will charge a $2.50 fee, and you may be charged an additional fee by the ATM operator. Balance inquiries at an ATM cost 50 cents, but you can do a balance check at no cost online, via the app, or by phone.
What You Get With Walmart Banking
With a Walmart MoneyCard account, you also have access to some useful benefits.
Early direct deposit: Customers who are getting their salary directly deposited from their employer can access their pay up to two days before payday.
Early benefit access: Direct deposit customers can receive government benefits up to four days early. Eligible programs include Social Security benefits, SSI (Supplemental Security Income), pensions, and state unemployment benefits.
Savings account: You have access to a no-fee Vault savings account with an annual yield of 2 percent for the first $1,000 you put away. Funds on the account can be transferred at any time back to your checking account. Each dollar you save enters you into a monthly prize drawing, with 999 $25 prizes and one grand prize of $1,000 awarded each month.
Walmart Rewards: With a MoneyCard, you will earn up to 3 percent cash back at Walmart.com, 2 percent cash back at Walmart fuel stations, and 1 percent cash back at Walmart stores. You can earn up to $75 in cash back rewards each year.
For regular Walmart shoppers, especially those who face financial obstacles to opening a low-cost checking account at a traditional bank, a MoneyCard account can be a sound choice.
You don't need a large sum to open an account, your money is FDIC-insured, and you have in-person access to tellers if you have a question or issue.
And though you may be charged fees, depending on how you access your money, the basic costs are clearly laid out.
"With many banks, you really need to dive into the fine print to find out what the charges may be," says Rachel Gittleman, financial services outreach manager at the Consumer Federation of America.
Still, some Walmart customers may want to consider another option: opening a Bank On account at Woodforest National Bank, which operates branches in Walmart stores in 17 states, including Illinois, Pennsylvania, and Texas. 
Bank On accounts are low-fee checking accounts designed for low-income customers and those just starting out. Nationally certified by the nonprofit CFE Fund, which works to help low-income families, these accounts must meet strict standards, including minimum balances of as little as $25, all-in fees of $5 or less per month, and no overdraft or nonsufficient funds (NSF) fees. More than 200 banks and credit unions offer them, including Alliant Credit Union, Citi, and Wells Fargo. Many can be opened online. 
Banks may label these accounts by different names. At Woodforest, it's called the WBank Account, and you'll need to go to a branch to open one. (Make sure it's the right account because other Woodforest accounts may levy $32 overdraft fees.) If you shop at a Walmart with a Woodforest branch, it's worth comparing the benefits before you sign up for a MoneyCard. 
But if you're a regular Walmart customer who can meet the direct deposit requirements, you may find that the MoneyCard's benefits and convenience make it a better option.