Best Kamado Grills From Consumer Reports' Tests
These charcoal-fueled grills look and cook like nothing else, and you don't have to spend $1,200 to get a great one
When you shop through retailer links on our site, we may earn affiliate commissions. 100% of the fees we collect are used to support our nonprofit mission. Learn more. If you're serious about grilling, a kamado grill is the gold standard. Its thick walls, airtight design, and highly adjustable dampers combine to create a cooker that can produce a rip-roaring fire for searing steaks or slow-burning coals to gently smoke pork butts or brisket—with no need to add extra charcoal or even fidget with the dampers.
For more than three decades, the Big Green Egg was the only widely available kamado-style charcoal grill. It developed a cultlike following, and it's easy to see why. The Big Green Egg, like most kamado grills, is positioned as a combination charcoal grill, smoker, and outdoor oven.
When Consumer Reports first tested it, we noted that the Big Green Egg delivered unparalleled control over flames and cooking temperature flexibility when compared with a traditional charcoal grill.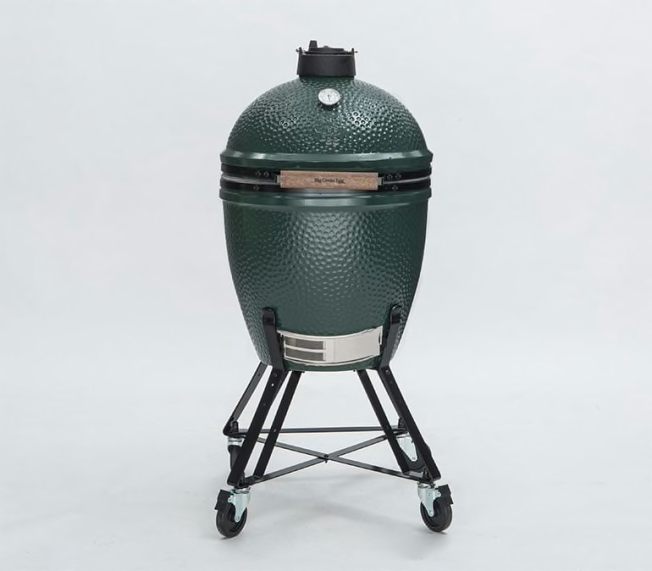 But can these Egg-inspired alternatives really cook as well as the original? Consumer Reports currently has seven kamado grills in our kamado grill ratings, including the Big Green Egg, as well as models from Char-Broil, Kamado Joe, Weber, and others. Chief among their similarities is that the seven kamados we tested can make great food. (We test high-heat cooking with pizza and low-heat cooking with pulled pork shoulder.)
But we also found some big differences in how easy each grill is to use and control. Some require constant adjustments to the temperature; others can be set and left alone for hours, which is exactly what you want when you're cooking a brisket.
A kamado grill can provide a greater temperature range than any other type of grill, but it also works differently from gas, pellet, or charcoal grills. You'll need to practice using the dampers to control the heat. No matter which model you purchase, these five tips will help you get great results.
Brisket and ribs: Use a heat-deflecting plate (included with the Kamado Joe featured below, and sold as an extra for other models) to protect slow-smoked meats from drying out during cooking. The plate is usually an inch-thick ceramic disc that doubles as a pizza stone.
Chicken: Thin pieces can be cooked with the lid open the entire time. For thicker pieces or a whole chicken, close the lid and control the temperature with the dampers.
Vegetables: Skewer smaller vegetables like button mushrooms, cherry tomatoes, and pieces of peppers to keep them from falling through the grates on your grill because the gaps on kamado grills can be larger than those on gas.
Pizza: Heat the pizza stone (included with most kamados) in the grill, then dust it with cornmeal to prevent sticking. Dust the underside of your pizza and pizza peel, too.
Fish: Hearty fish like salmon, tuna, and swordfish stand up well to smoke imparted by cooking with a mix of charcoal and wood chips or wood chunks. For more delicate fish like sole, tilapia, and bass, try cooking only with charcoal, because otherwise the smoke flavor can become overpowering.