Can Other Kamado Grills Beat the Big Green Egg?
CR pits 7 competitors sold at Home Depot, Lowe's, and Costco against the iconic original
When you shop through retailer links on our site, we may earn affiliate commissions. 100% of the fees we collect are used to support our nonprofit mission. Learn more.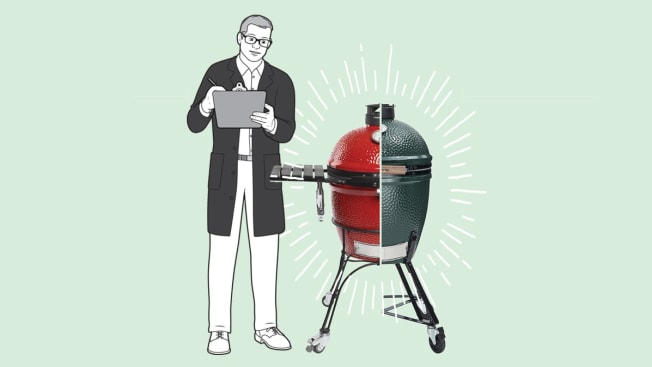 When Consumer Reports first worked with the Big Green Egg in 2017, we were impressed by its ability to sear a steak at over 1,000° F and then, with just a few minor adjustments, maintain a low, steady 200° F flame for hours to turn out succulent ribs.
With that kind of performance, we determined that the Big Green Egg really might be worthy of its devout following, even with a $1,100 price.
At the time, the egg-shaped ceramic charcoal grill was the only one of its kind. But what a difference several summers can make. Now, the Big Green egg faces competition from look-alikes sold at major retailers, some with prices as low as $300.
Could any of these newcomers match—or even beat—the performance of the Egg? To put grills to the test, our technicians wire each model with highly sensitive thermometers, called thermocouples, to assess how evenly they heat across the grates.
After hours of grilling, three kamados proved to be strong competitors to the Big Green Egg. CR members can read on for the details or jump right to our kamado grill ratings. If you're not sure what kind of grill is right for you, you should start with our grill buying guide.
And if you do ultimately land on a kamado grill, there are certain tips that will help ensure great results. Here, we've highlighted five of the foods that we think are best on a kamado and provided expert tips for preparing each.
5 Tips for Great Results—on Any Kamado
A kamado grill can provide a greater temperature range than any other type of grill, but it also works differently from gas, pellet, or charcoal grills. You'll need to practice using the dampers to control the heat. Regardless of which model you purchase, these five tips will help you get great results when cooking on a kamado grill.
Brisket and Ribs
Use a heat-deflecting plate (included with the Kamado Joe featured below and sold as an extra with other models) to protect slow-smoked meats from drying out during cooking. The plate is usually an inch-thick ceramic disc that doubles as a pizza stone.

Chicken
Thin pieces can be cooked with the lid open the entire time. For thicker pieces or a whole chicken, close the lid and control the temperature with the dampers.
Veggies
Skewer smaller vegetables like button mushrooms, cherry tomatoes, or cut pieces of peppers to keep them from falling through the grates on your grill, because the gaps on kamado grills can be larger than those on gas grills.

Pizza
Heat the pizza stone (included with most kamados) in the grill, then dust it with cornmeal to prevent sticking. Dust the underside of your pizza and pizza peel, too.

Fish
Hearty fish like salmon, tuna, and swordfish stand up well to smoke imparted by cooking with a mix of charcoal and wood chips or wood chunks. For more delicate fish like sole, tilapia, or bass, try cooking with charcoal only because the smoke flavor can become overpowering.
3 Kamado Grills That Beat the Big Green Egg