Tony Hawk Silver Signature Series Helmet Fails CR Safety Test
Consumer Reports rates this helmet a Don't Buy: Safety Risk. It was a replacement for the Dimensions Bluetooth Speaker multipurpose helmet, which was recalled.
Consumer Reports is rating Sakar International's Tony Hawk Silver Signature Series helmet a Don't Buy: Safety Risk after it failed one of our tests during evaluations designed to assess how well a bike helmet would remain in place to protect a rider during a crash. The helmet was offered to consumers as a replacement for the Dimensions Bluetooth Speaker multipurpose helmet, which was recalled in March. 
Why the Tony Hawk Helmet Is a Don't Buy
During a test of the Tony Hawk helmet's retention system—the straps and buckles that keep a helmet in place on your head—the chin strap buckle on the helmet broke on two separate helmets. While the first helmet we tested passed the test, CR's chin-strap evaluation requires two helmets to pass, and the subsequent two helmets failed in the same way.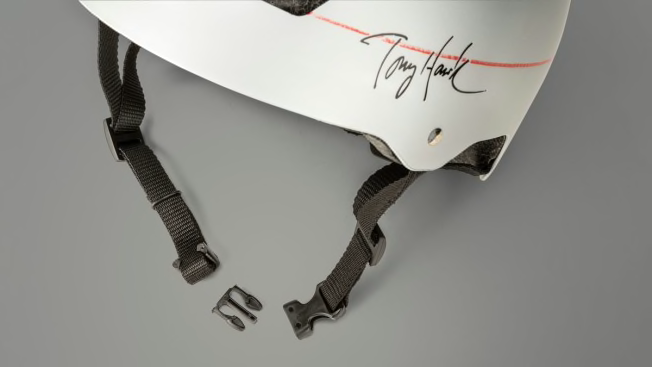 The Importance of a Secure Chin Strap
Wearing a helmet can help cyclists protect themselves from head injuries—especially potentially fatal ones. But a helmet can provide suitable protection only if it works as designed.
The Consumer Product Safety Commission has a standard to evaluate the strength and holding power of a bike helmet's chin strap. Consumer Reports' helmet tests are modeled after—but not identical to—the CPSC's standard. Our tests are performed to provide comparative evaluations for consumers, not for the purposes of compliance or certification.
In our labs, we drop a weight to tug at the retention system. (See the video above.) That simulates what might happen in the event of an accident, such as falling off a bike and hitting the road. Of the roughly 20 helmets we evaluated this year, this was the only one that failed.
Wearing a helmet is essential whenever you ride a bike. If your child already has a Tony Hawk Silver Signature Series helmet, our advice is to replace it as soon as possible. Use this helmet only if your child does not yet have access to another helmet and needs to ride their bike. Note that many states and municipalities have laws requiring that children wear a helmet when riding. 
CR's product safety experts say that using this helmet in spite of its failure in our retention system test is better than riding without a helmet. "Any helmet is better than no helmet," says CR's Galeotafiore. 
In our most recent bicycle helmet ratings, we recommend four helmets for kids. The two that got the highest scores are the Bontrager Tyro, $55, and the Garneau Nino, $45. Our updated ratings were just published last week.