How to Choose and Use the Right Bike Rack
Pros and cons of roof-, trunk-, and hitch-mounted racks, and tailgate pads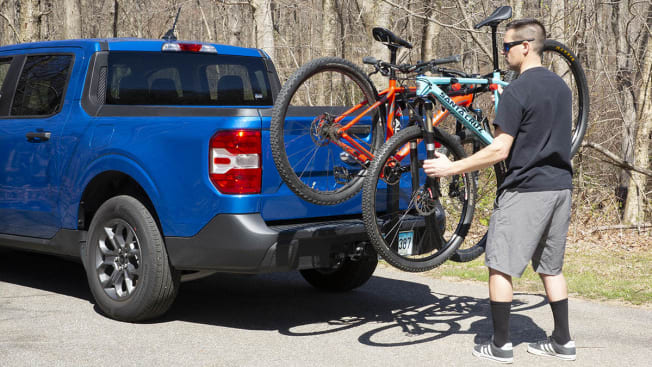 While some folks are lucky enough to be able to go on a good bike ride straight from their house, many others—especially those who live in busy urban or heavily built-up areas—don't have that luxury. They have to transport their bikes to a good or safer place to ride. You might be able to squeeze one bike into your vehicle, but trying to fit two adult bikes into a car or a smaller SUV can be a real chore. 
That's where bike racks and carriers come in. They can provide a smart, safe, and easy way to transport your bike(s) to those beautiful country roads, serene bike paths, or secluded forest trails that you're dying to visit. The problem is that choosing the right bike rack isn't simple. There are now a plethora of types, makes, and models of racks and carriers on the market, whether it's an old-school, inexpensive strap-on trunk-mounted carrier, a roof-mounted rack, a high-zoot hitch-mounted platform rack, or a tailgate pad specific to pickup trucks. (See our reviews of bike racks and bike locks.)
Based on our experience with models purchased for this evaluation, the team felt that platform-type racks were the best choice overall. Here we offer specific advice for three different use scenarios.
Casual use: Go with a platform type, like the Bell Right Up 350, $160—unless you have a pickup truck. The decision then boils down to how much you want to invest in the platform. Even a basic, low-cost platform—in our experience—is preferable to a hanging rack.
Two or more bikes: If you're moving multiple bikes weekly and possibly year-round, invest in a high-quality (and pricier) platform type like the one our team favored, the Küat NV 2.0, $849. 
E-bike: Buy a rack that is designed for its heft, such as the Thule EasyFold XT, $884. We found that this rack made loading easier, and its larger carrying platform is well-suited for heavier bikes. 
Key points to consider when choosing a rack.
Avoid these: A trunk-mounted or hitch-mounted hanging rack can be a cheap option, but these types let the bikes swing back and forth. This is likely to damage not only your bike but also, potentially, your car, too. Ultimately, these could prove to be the most expensive choices.
Truck owners: Cyclists who own a pickup truck should get a tailgate pad, like the RaceFace T2 Tailgate Pad L/XL, $199. They are easy to load, they secure to the tailgate, and they're inexpensive. They also allow you to carry bikes if you are using your hitch to tow a trailer. But otherwise, a hitch-mounted platform is the way to go. 
Choose reflectors: No matter what you choose, the rack and/or the bikes are likely to partially obscure reflectors or lights on the car. It's smart to choose a rack that has reflectors on it; otherwise, put reflective tape on the rack yourself. 
We will soon post detailed looks at the various racks that we purchased. For now, let's go through the pros and cons for each type to help identify what will work best for you.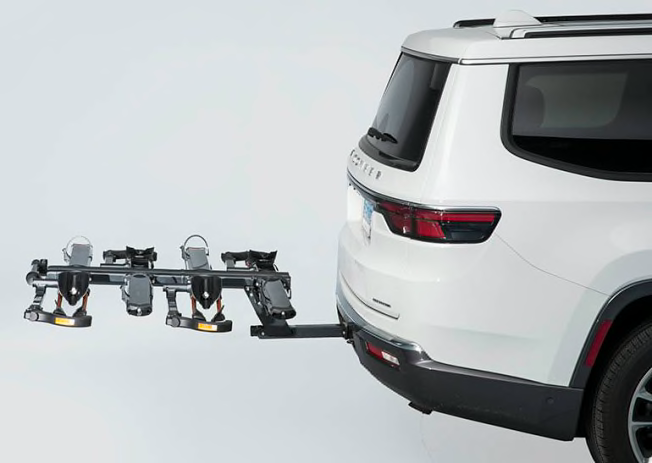 Hitch-Mounted Platform Racks
Pros
Relatively easy to load bikes on because these racks are lower to the ground. 

Bikes typically mount more securely than with the hanging-rack style, with less chance of the bikes shifting during travel.

Bike weight is on the shock-absorbing tires, not on the bike's top tube as with a hanging rack.

It's easy to install the rack on your vehicle—just slide it into your vehicle's hitch and secure it with a bolt.

Bikes attach to the rack securely regardless of the bike's frame style.

Some racks include integrated cable locks to deter bike theft.
Cons
You'll have to install a hitch if your vehicle doesn't have one.

You need to make sure the size of your vehicle's hitch receiver matches that of the rack you're buying. 

A hitch rack won't work if you also need to tow a trailer—for instance, to take a boat on vacation.

The rack and/or the bikes on the rack may interfere with opening an SUV's liftgate or a car's trunk lid. 

A rack full of bicycles is likely to greatly diminish the view through your vehicle's backup camera.

Some wide-tire mountain bikes, like "fat tire" bikes, might not fit securely into the tire trays. Make sure to check the specs of the carrier before purchasing.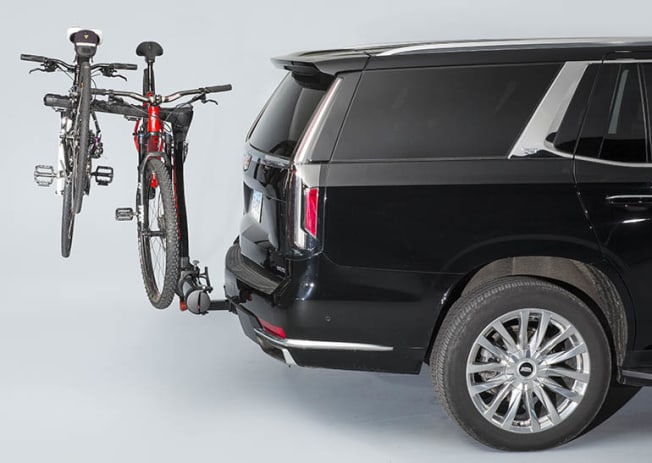 Hitch-Mounted Hanging Racks 
Lower loading height than a roof rack. 

Relatively easy to install the rack on your vehicle—just slide it into your vehicle's hitch and secure it with a bolt.

Capable of carrying multiple bikes.

Some racks include integrated cable locks to deter bike theft.
A bike's frame could get scratched because the main mounting point to the rack is the underneath portion of the bicycle's top tube. This could also cause damage to a carbon frame.

Bikes typically aren't as sturdily mounted to the rack as with a platform model. 

The rack and/or the bikes on the rack may interfere with opening the SUV's tailgate or a car's trunk lid.

Bike wheels will spin in the wind as you're driving unless they are secured with bungee cords; if a bike's rear wheel spins, its pedals could bang into another bike and damage it.

Certain bicycle frame designs—in particular, some full-suspension mountain bikes with heavily angled top tubes—are extremely difficult or impossible to mount.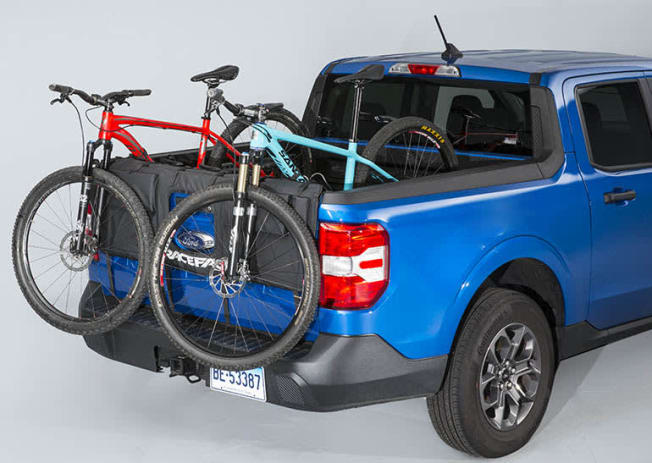 Pickup Truck Tailgate Pads 
Simplest and quickest bike-loading. Ever.

Can carry five to seven bikes without taking any wheels off.

It's relatively simple to install the pad on the truck's tailgate. 

Pad doesn't stick out off the back of the truck like a hitch-mounted rack.

Less expensive than most hitch racks and roof racks. 
Some pads might block part or all of a truck's backup camera view, depending on the design of the pad and the location of the truck's camera.

It might take two people to thread the pad's mounting straps under the tailgate.

The rear sections of the bikes in the bed are close together, with a potential for parts to get scratched. 

Requires a tall lift to get the bike over the tailgate and into the bed.

Road bikes may tilt to one side during transport.

Bikes are unsecured unless you lock them together with an additional cable lock.
Bikes and rack don't interfere with opening an SUV's liftgate or a car's trunk lid. 

Both the rack and the bikes can be easily locked to the vehicle. 

Doesn't block your vehicle's backup camera.

Your vehicle doesn't need to have a hitch.

A roof rack doesn't add any length to your vehicle.
Significantly reduces fuel economy, even when the rack is empty.

It's a tall lift to put bikes on the roof, especially with SUVs. 

It is typically a bit more complicated to install a roof rack on your vehicle than other forms of racks.

They can potentially scratch the paint where the rack attaches to the vehicle, depending on the design and whether the vehicle has built-in roof rails.

Just about every cyclist has a story about someone ramming their bikes into the roof of a garage or a parking structure.
Relatively inexpensive.

You don't need to buy and install a hitch.

Easy to remove the rack when you're not using it.

Rack is small and lightweight, and easy to store.
Makes access to a car's trunk or an SUV's liftgate difficult.

Too much weight could damage the trunk lid.

The rack's mounts could scratch your vehicle's paint.

May be difficult to lock the bikes to the rack or the car.

Easy for bikes on the rack to bump into each other and cause damage to the bikes or your vehicle.

May be difficult to get a secure fitment because every vehicle is different.

Straps may loosen during the drive, leaving bikes less secure.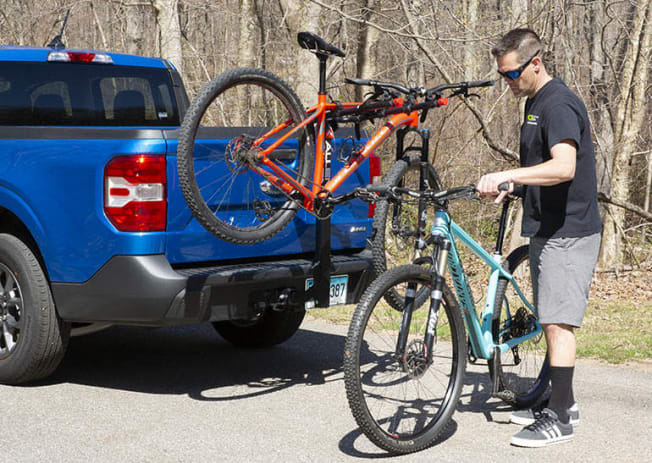 While spending a few weeks with various versions of hitch-mounted platform racks, hitch-mounted hanging racks, and pickup-truck tailgate pads, we picked up a few bike-loading tips. One thing we learned for certain: Every bike rack and pickup-truck tailgate pad has its own set of nuances. 
Loading bikes can be a head scratcher. With every type of rack, other than the pickup tailgate pad, you need to take your time figuring out the best way to load your bikes onto the rack. Each combinations of bikes and rack forms a unique puzzle. 
It's always a tight fit. Although some larger hitch-mounted platform racks tend to keep bikes more separated and secure, in our evaluations it was pretty common—especially for mountain bikes, with their wide handlebars—for some parts of the bikes to rub against each other. Even when securing the bikes in alternating directions (one faces left, the next faces right), the brake levers or shifter mechanisms would contact another bike's seat. 
Remove the pedals. One good way to make sure bike pedals—in particular the wide platform pedals vs. the more streamlined "clipless" pedals—don't damage the frame or spokes of another bike is to remove the pedals during transport. Most pedals can be quickly and easily removed with either a specific bike-pedal wrench or an 8 millimeter hex wrench. Just remember this one simple rule when taking the pedals off or on: "Drivetrain side is correct." That means, the drivetrain side's pedal (the right side of the bike) is the usual "lefty loosey, righty tighty," while the non-drivetrain side pedal (left side) is the opposite: Its threads are "righty loosey, lefty tighty." Be aware of the sharp chainring when removing a stubborn, hard-to-loosen pedal. Use grease on the pedal threads when reinstalling so they don't seize to the crank. Your local bike shop can sell you the wrench and lube, and show you how to take the pedals on and off.
Racks can scrape the bikes, too. Be extra careful when loading bikes onto racks that use metal center supports to attach to the bike. We found that it's very easy for those metal sections to rub against the bike. 
Bungee cords are key with hanging racks. With hitch-mounted hanging racks, use bungee cords to secure the tires in place so that they don't spin around while you're driving. If the rear wheel, in particular, spins, it will cause the pedals to move and possibly come in contact with another bike. (Plus, let's be honest: A bunch of spinning bicycle wheels looks pretty silly.) The front wheel can also sway back and forth, potentially damaging brake and shifter cables.
Backup cameras and parking sensors. Count on any hitch-mounted rack to at least partially obstruct the view through your vehicle's backup camera, or potentially completely block it if you have four bikes mounted. It's also likely that the rack will activate your vehicle's rear parking sensor warnings, and potentially apply the rear automatic braking system (if equipped). Consult your vehicle owner's manual to learn how to deactivate these systems, if necessary for driving in Reverse. 
When you shop through retailer links on our site, we may earn affiliate commissions. 100% of the fees we collect are used to support our nonprofit mission. Learn more.