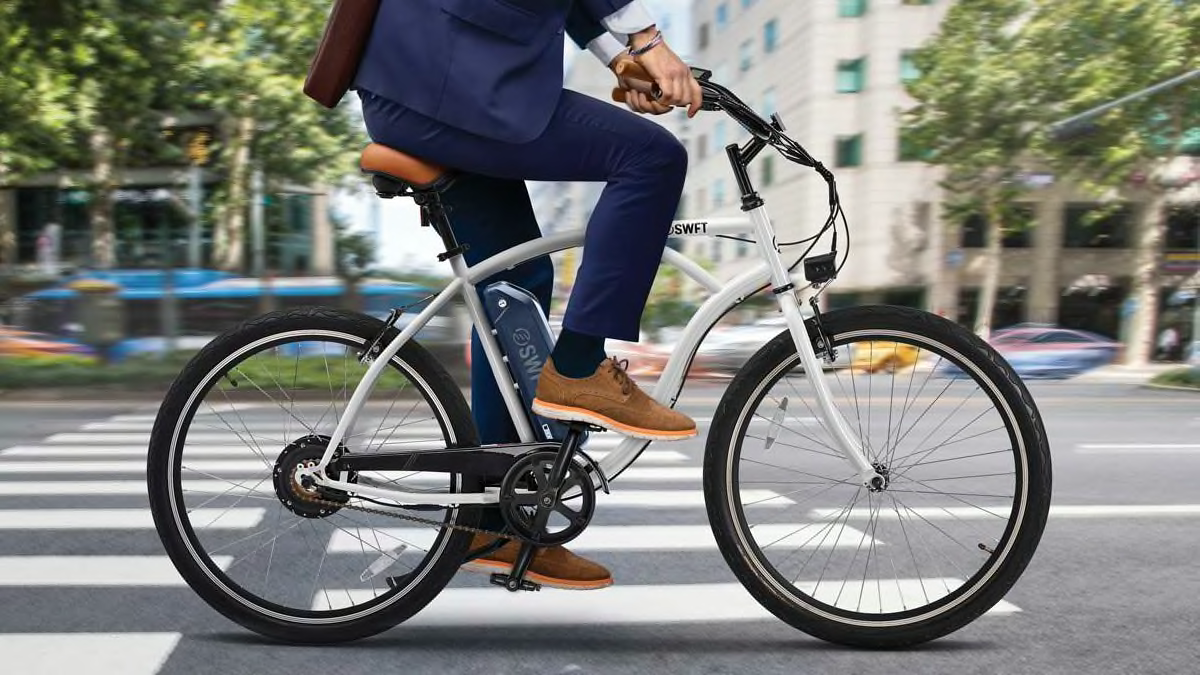 Electric Bike Buying Guide
Electric bicycles make riding easier and more appealing to an ever-broadening array of people. They are both a healthy recreational outlet and a frugal means of transportation. It is no wonder that they have become so popular over the past few years.
With many people looking for the best electric bike for their needs and budget, Consumer Reports recently bought 11 new bicycles to test. Along with the findings from our previous evaluations, shoppers now have our expert guidance on 16 models, including our picks for the best electric bikes. CR's e-bike ratings are based on each model's electric range, performance, and features.
If you're thinking about buying an electric bike, dig in and do some research first. There's a lot to know before you choose the model you like. For starters, regulations differ from state to state, with some states requiring an operator's license or helmets to use them on public roads. Climate and terrain are other important considerations. Are there hills where you live, and is the weather good for riding? E-bikes tend to be more expensive than conventional bikes, so it pays to make sure a model will work for you before spending the extra money to buy one.
CR's evaluations of several different models break their characteristics down into the areas that are most likely to affect the rider: range, acceleration, hill climbing, speed control response, and how the bike performs on just pedal power when the battery is out of juice.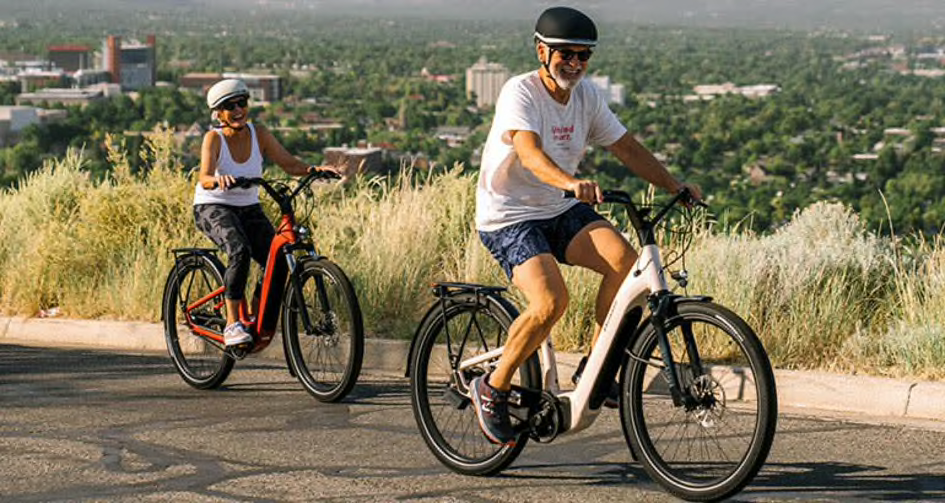 Electric bicycles come in a range of styles to suit different uses—everything from riding steep mountain trails to getting to and from work. But there are three general categories related to their electric propulsion systems. Each type applies electric power to the bicycle's driven wheel in a distinct way, whether using input from the rider's pedals or from a thumb or twist-grip-activated throttle. Deciding which one is best for you depends on how you plan on using the bike, and how far you want to go.
Class 1 includes pedal-assist bikes, which power the electric motor as your feet apply pressure to the pedals. There's no throttle control on the handlebar to get the bike going; the electric part works only when the rider is pedaling, and the e-assist cuts off at speeds above 20 mph.
Class 2 bikes also have an electric motor that works up to 20 mph, either while the rider is pedaling (pedal-assist) or with electric propulsion alone, via a throttle control.
Class 3 limits an e-bike's top speed to 28 mph. These faster, more powerful models might not be legal to ride in some areas, such as on bike paths.
Of the 16 e-bike models CR tested, seven were in the Class 1 category and nine were in Class 2. We did not test any in Class 3. The prices ranged from $600 to $4,000. The highest-rated e-bikes were also the most expensive we tested, although none was anywhere near the $6,000 to $7,000 high end of the price range consumers are likely to encounter at bike shops.
We found that more selectable gears made for a better riding experience once the battery was drained and pedaling provided the only motive power. Single-speed bikes aren't as versatile. Depending on the model, electric assist was applied either at the hub of the rear wheel or in what's called a mid-drive, in which power is applied at the bottom bracket, where the pedals are located.
The full ratings from our latest e-bike evaluations are available to Consumer Reports members. 
Types of Electric Bikes
Find the right e-bike for you.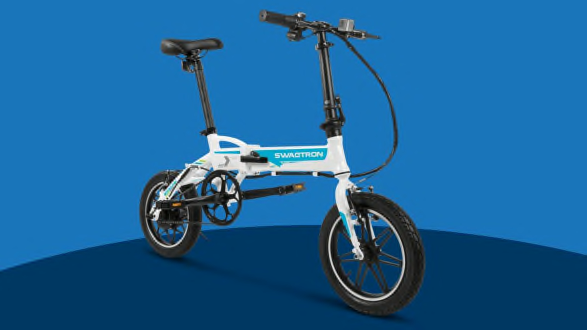 Commuter Bikes
Price range: $600 to $13,000
Commuter bikes are built to serve as practical transportation. They come in a variety of styles, including models with narrow tires and straight handlebars, others with bigger tires and thicker frames, and folding e-bikes that make them easier to stow on a bus or train. For many people, e-bikes represent a much more cost-effective alternative to gas-powered scooters or even a car. Many people like the fact that they can commute on an e-bike without getting too sweaty on the way to work, thanks to the electric-assist, and that they aren't as likely to get stuck in grinding car traffic.
Pros: Designed with versatility and comfort in mind, these e-bikes can be outfitted with fenders, lights, and other accessories to make them a viable alternative to a car for around-town errands and work commutes.
Cons: With sturdy construction aimed at weathering the punishment of daily use, commuter bikes tend to be a little heavier than some types of recreational models, especially with an electric motor and a battery added into the mix. 
Electric Bikes Ratings
Cruisers
Price range: $450 to $5,000
Built for comfort, cruisers often share many of the same attributes of commuter bikes. They offer a relaxed, comfortable upright seating position and often a softer ride because of bigger tires and cushier seats. Look for swooping handlebars that keep a rider's arms at a relaxed distance from the body. The addition of an electric motor to either of these configurations makes it possible to use a thicker frame and wider tires to soak up bumps in the road.
Pros: Plush seats, wider tires, and a relaxed upright seating position make for a comfortable ride. Great for leisurely cruises around town.
Cons: Cruisers may not have the gear selection of more utilitarian or sport-oriented models, meaning they're usually not as well-suited for longer distances.  
Electric Bikes Ratings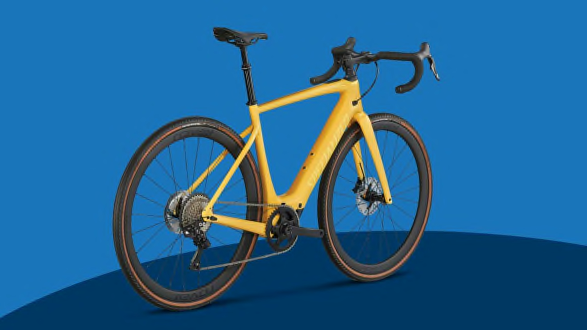 Performance Road Bikes
Price range: $3,000 to $14,750
Road bikes usually have a lightweight frame, narrow tires, and drop-down handlebars that help the rider maintain an aerodynamic position. Like their pedal-powered counterparts, electric road bikes feature slimmer, lighter components to increase efficiency. The assistance offered by an electric motor makes it possible to cover longer distances and handle steeper grades with less fatigue than with conventional bicycles.
Pros: Lightweight and built for speed, these bikes can cover longer distances with ease. The electric motor and battery mean you can travel even farther—or climb steeper hills—than on a conventional road bike but still get a workout.
Cons: These models tend to be expensive, and the aggressive riding position can be uncomfortable for some riders.
Electric Bikes Ratings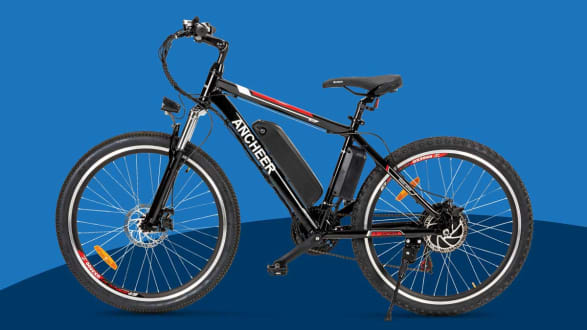 Mountain Bikes
Price range: $840 to $15,000
With beefier frames, bigger tires, and—sometimes—long-travel suspension components, mountain bikes are built to handle trails, large rocks, logs, and other rough terrain and obstacles. The fun part of mountain biking is the faster, more effortless downhill thrill rides, but getting there usually involves a demanding pedal up steep grades on loose terrain. Adding an electric motor to a mountain bike makes a lot of sense for someone who wants the fun without as much fatigue.
Pros: Electric mountain bikes can help riders maximize trail time and quicken the pace of the uphill portions of a ride. They can also expand access to mountain biking to people who may not have the fitness to handle the more grueling parts of off-road riding.
Cons: While conventional pedal-powered mountain bikes are allowed more places than ever, their electric counterparts may not be permitted on some trails. Be sure to check state and local regulations before you buy one. 
Electric Bikes Ratings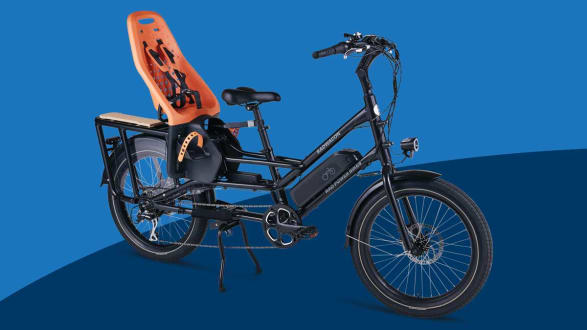 Cargo Bikes
Price range: $1,300 to $7,500
Their strong frames, fat tires, and robust components make cargo bikes the industrial beasts of the two-wheeled world—purpose-built to haul bulky items and extra passengers. Pedal-powered cargo bikes have been around for a while, and the electric versions make it even easier to transport a lot of weight on two wheels. Like their pedal-only forebears, cargo e-bikes can be configured with rear-mounted seats or cargo racks, or front-end cargo boxes supported by one or two wheels. Bicycle taxis can also be included in this group; the two-wheeled models are popular for urban delivery and for ferrying children.
Pros: Adding more weight to anything makes it more difficult to move around, and electric propulsion can be a game-changer for anyone who wants to use a bicycle as an alternative to a car, such as to run errands and carry large loads of groceries, packages, or passengers.
Cons: Cargo bikes are larger and heavier than most other types of bicycles, and adding a battery and an electric motor makes them weigh even more.
Electric Bikes Ratings
Take your time and find a model that fits you physically, and that will also meet your long-term needs. If you're in a hilly area, you may want a model with a higher number of gear selections to save energy—both yours and that of the battery. Consult local regulations so that you know what, if anything, is required to ride an e-bike in your area, and where you are allowed to ride one.
There are a number of new brands that specialize in building e-bikes, like Rad Power Bikes and Blix Electric Bikes. You may be unfamiliar with them, but some of these newer companies have strong businesses, innovative products, and good customer support. However, be leery of internet bike brands that might not be there tomorrow to offer customer support. Diligence is warranted if you stray from the long-running name brands, including Cannondale, Specialized, and Trek.
We're also not bullish on any type of bike sold through big-box stores: The salespeople are seldom experts in bicycles. This can impact assembly and repairs, and you might wind up spending any money you saved trying to get a budget bike to work properly—or upgrading later. Many smaller bike retailers won't even service models sold from big-box outlets because the quality is so poor.
Buying a bike from a direct-to-consumer manufacturer is another option, but the bike will probably need some final assembly, such as fitting the handlebars, seatpost, and pedals. You will need some mechanical aptitude, and you might need specific tools, such as hex wrenches or a torque wrench. You can bring the bike to a local shop for assembly, but it will charge you to perform the work.
That said, many local bike shops now sell e-bikes, and the sales and service staff are typically quite knowledgeable about them. Plus they can help you make a solid choice when you decide you want to buy one.
We always recommend test-riding any bike before buying it. You should get a sense of how the bike feels, brakes, and shifts. (A dealer can customize its fit for you.) Some dealers will also allow you to rent an e-bike, giving you a chance for an extended ride on the road or trail you plan to frequent. Even if it's not identical to the model you want to purchase, renting would let you gain additional seat time to settle on the style of e-bike that works best for you.
Once you've selected the model you want, keep in mind that it can be—and should be—further customized. The handlebar tape or grips, the pedals, and especially the saddle are your points of contact and control. Your hands, feet, and butt have to perch comfortably, and all of the bike's parts can be adjusted to fit you—for instance, with a new stem to lift the handlebars closer to your torso. A dealer can also add features for you that might not come with a bike, such as a bell, lights, fenders, or a luggage rack. But the key is in getting the fit right.
If you haven't purchased a new bicycle in a while, you might be in for some sticker shock. Bicycles, and especially electric ones, can be a relatively big-ticket item. There are buy now, pay later options, and these vary in how they're set up. A large finance company, Affirm, offers some 0 percent options, but it can also charge interest rates between 10 and 30 percent. Klarna is a similar competitor, and it is more likely to offer a "pay in four" plan that has 0 percent interest on a four-month loan. How do these banks make a cent on zero-interest loans? Simple: Merchants or exercise bike brands like Peloton, which has zero-interest loans through Affirm, are fronting the finance charges because moving inventory is more valuable to them than making a few extra bucks off the financing.
Our advice: Consider the possibility of high interest rates before signing up for any buy now, pay later plan.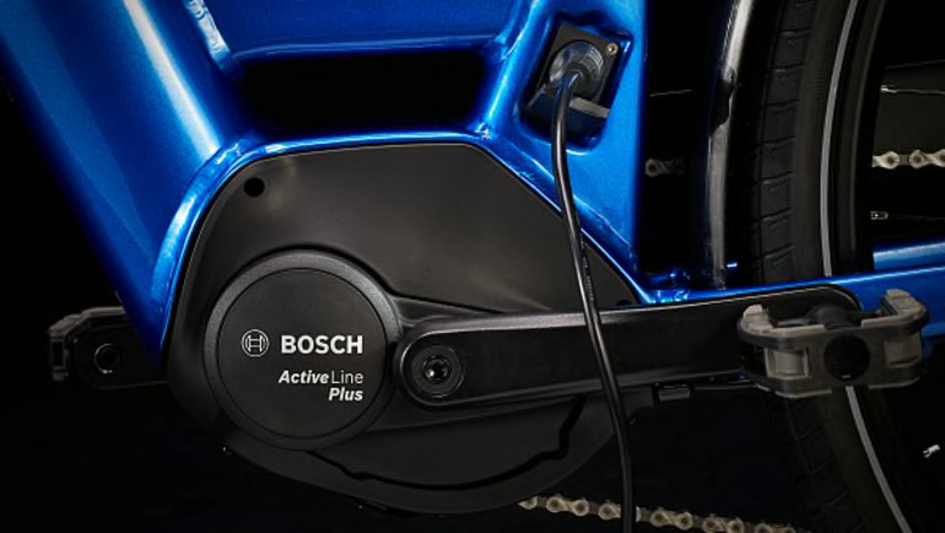 We cannot stress enough that you should always wear a helmet; it's the single most important measure you can take to prevent serious injury or death while riding an electric bicycle. Gloves can help absorb vibrations and protect your hands if you take a spill. Polycarbonate glasses can shield your eyes from bugs and errant pebbles. A water bottle is handy to have on long, hot-weather rides, too, so consider having a water bottle holder installed on your e-bike. High-visibility clothing can help others see you. Our guide to bike riding safety also covers why you should add USB-rechargeable lights for greater visibility—and how to ride to ensure both comfort and safety.
There are a lot of options when it comes to customizing your e-bike. A bike shop may swap certain components at little or no cost, but it is important to factor this into your overall budget so that you have some funds left over after purchasing the bike for upgrades. Adding a bell, a taillight, or a padded seat cover is quick and easy, and the shop is likely to install it at no extra charge. But getting a new seat or stem can range from $30 to well over $200 for the part alone, before you add in the cost for the shop to install it. 
Electric Bike Features
You can read in detail about electric bike features in our slideshow below.  
Thanks for sharing.
Oops, we messed up. Try again later
More From Consumer Reports