How to Read a Blood Pressure Monitor
How to interpret the three key metrics you see on your device—plus tips on getting accurate readings
When you shop through retailer links on our site, we may earn affiliate commissions. 100% of the fees we collect are used to support our nonprofit mission. Learn more. Then there are important steps to take, once you have your monitor, to make sure your readings are accurate. (Read more about that below.)
But what do the readings on a blood pressure monitor mean? We break down the three key metrics displayed on home blood pressure monitors.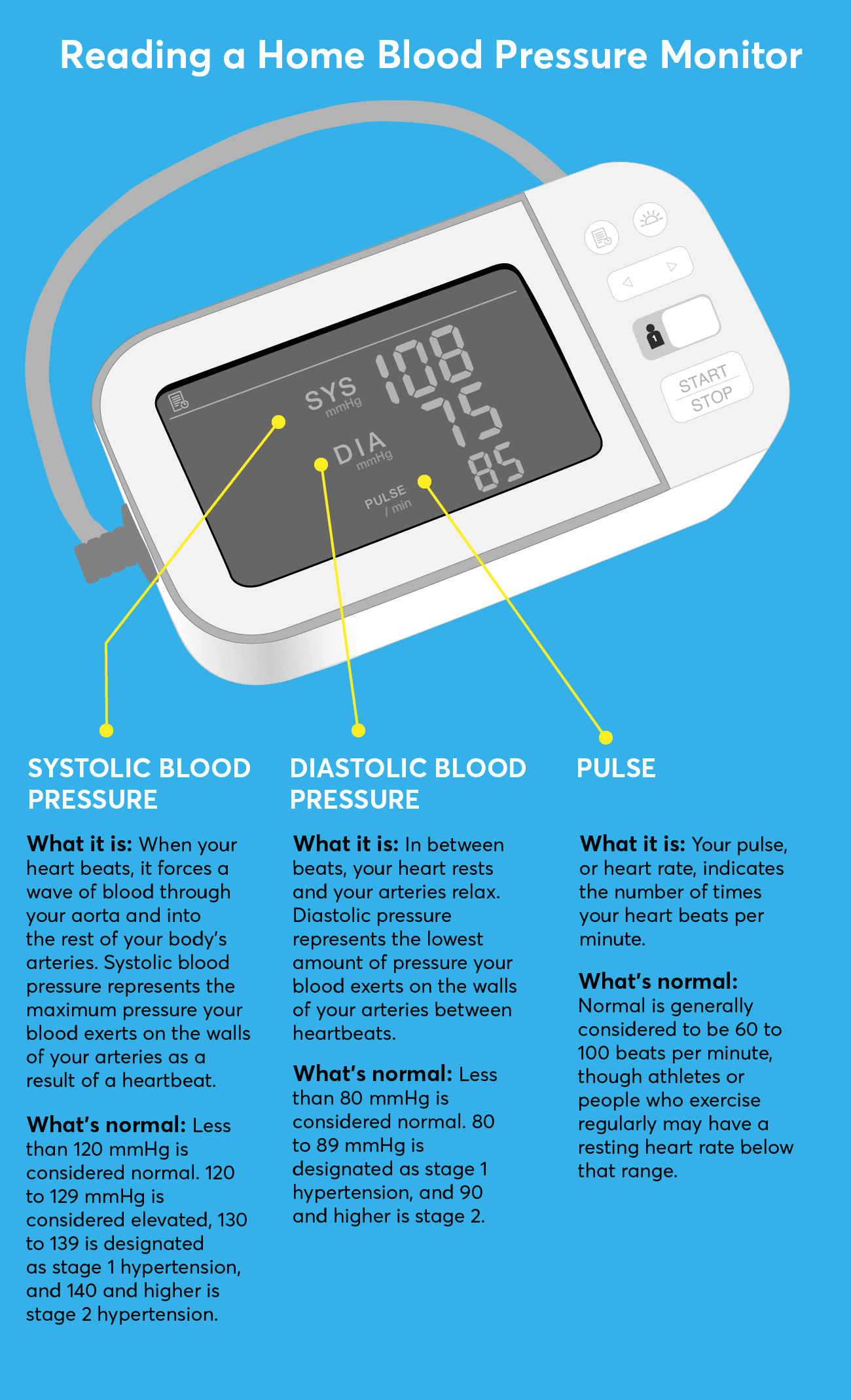 Illustration by: Sharon Seidl
Which Measurement Is Most Important?
It's most useful to track systolic blood pressure, and systolic pressure is the basis for most guidelines, says Willie Lawrence, MD, chairman of the oversight committee of the American Heart Association's National Hypertension Control Initiative and medical director of the Center for Better Health and Cardiovascular Wellness in Benton Harbor, Mich.
Increases in systolic pressure are more consistently associated with increases in disease risk when compared with diastolic blood pressure, according to the latest guidelines on blood pressure targets. 
At-home blood pressure monitoring can give an important picture of your cardiovascular disease risk. But using the proper technique to get an accurate reading is crucial, Lawrence says. "Otherwise the blood pressures you get at home, they don't mean anything."
Procedures to follow include:
30 minutes before you measure, don't smoke, consume caffeine, or exercise.

Use the bathroom before you measure. Wear a short-sleeved shirt—you should not measure your blood pressure over your clothes.

Sit with your back straight and supported in a chair, with your feet flat on the floor. Your arm should be supported on a flat surface like a table or solid chair arm, with your upper arm at heart level. 

Sit quietly without talking (or texting) for 5 minutes before a measurement.

Measure at the same times twice every day; take two or three readings at a time, a minute apart.
Top-Scoring Blood Pressure Monitors