Why Measuring Your Blood Pressure With a Wearable Device Isn't a Great Idea, Yet
Some smartwatches and fitness trackers are starting to read this vital measurement, but the technology isn't fully developed
When you shop through retailer links on our site, we may earn affiliate commissions. 100% of the fees we collect are used to support our nonprofit mission. Learn more.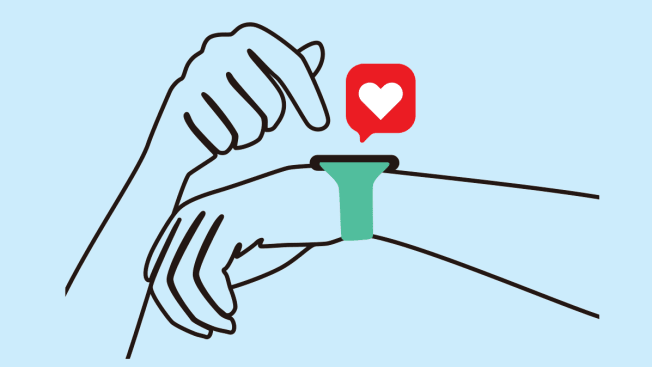 If you have high blood pressure, home monitors can be a great way to track your levels and keep them under control. Most of the devices currently available are versions of what your healthcare provider uses, stand-alone devices with cuffs that you apply to your wrist or upper arm.
But smartwatches and fitness trackers are starting to get in on the action, too.
That could be a good thing because uncontrolled hypertension is on the rise, says Jordana Cohen, MD, hypertension specialist and assistant professor of medicine and epidemiology at the Perelman School of Medicine at the University of Pennsylvania in Philadelphia.
"I think people are increasingly interested in their numbers," she says. "If we can get people engaged in what their blood pressures are, then hopefully that can help lead to much better blood pressure control."
Indirect Blood Measure Measurement
A traditional monitor measures blood pressure by sensing the pressure exerted by blood on an artery. That's what is happening when the cuff tightens and then relaxes around your arm.
Smartwatches and fitness trackers, on the other hand, gather other biological data from your body and use that to approximate your blood pressure.
The Samsung Galaxy Watch Active, as well as the Samsung Note 9, S9, S9+, S10, and S10+ smartphones, for example, can measure something called pulse transit time, which is how long it takes a pressure wave created by a heartbeat to travel between two points along an artery.
Importantly, pulse transit time on its own can only provide you with relative percentage changes in your blood pressure from measurement to measurement. To come up with an absolute blood pressure reading, you first have to establish a baseline by using a standard blood pressure cuff and entering the data into the device. That calibrates the device to your body's norms and allows it to provide you with blood pressure readings expressed in the familiar ratio of systolic to diastolic blood pressure measured in millimeters of mercury (for example, 120/80 mmHg).
Moreover, for devices that work in this way, you need to periodically repeat that process, says Tammy Brady, MD, associate professor of pediatrics at Johns Hopkins University School of Medicine in Baltimore and co-chair of the Association for Advancement of Medical Instrumentation Sphygmomanometer Committee. Brady says the accuracy of the readings tends to drift over time, and scientists aren't yet sure how fast or to what degree that drift occurs.
This method of detecting blood pressure is still in the early stages, though it's already being used by some devices, including Samsung's watches and phones, which detect pulse transit time using optical sensors. Samsung says the blood pressure app available for download to its devices—called My BP Lab—should not be used to diagnose high blood pressure but is for research purposes only. In fact, anyone who uses that app must agree to join a study led by researchers at the University of California, San Francisco, who worked with Samsung to develop it.
Users of the app are asked to measure their blood pressure using their phone or watch several times a day and answer questions about their sleep, stress levels, and more, according to the study's principal investigator, Wendy Berry Mendes, PhD, professor in the department of psychiatry at UCSF. The goal is to better understand how stress affects blood pressure—and to gather data to improve wearable blood pressure measurement in the future.
Other products that use optical sensors to gather biological data used to estimate blood pressure include BioBeat and Heartisans smartwatches, both of which also require calibration with a traditional cuffed monitor, similar to My BP Lab.
But smartwatches and fitness tracker-based blood pressure monitors face another challenge: ensuring accuracy. Scientists have settled on standards for testing the accuracy of traditional digital, cuff-based blood pressure monitors. But those standards don't apply to available cuffless devices and can't be used to validate their accuracy, says Ramakrishna Mukkamala, PhD, a professor of bioengineering and anesthesiology at the University of Pittsburgh who has studied cuffless blood pressure technologies. That's one reason he urges caution to people considering using them.
Omron's Healthcare Heart Guide
Omron, a leader in traditional home blood pressure monitors, has introduced a model that has an inflatable cuff built into the wristband of a fitness tracker and that syncs up with an app on your phone. CR did test the Omron Healthcare Heart Guide BP8000-M Blood Pressure Monitor, along with other cuffed blood pressure monitors.
While Omron blood pressure monitors typically score high in CR's ratings, the PB8000-M one did not. In fact, it was the lowest of any model we tested. At $499, it was also the most expensive.
CR's testing has found that monitors with a cuff that you wear on your wrist are generally not as accurate as those with a cuff that you put on your upper arm. In our tests, the Heart Guide received a Poor score for accuracy, and our testers found it somewhat hard to use.
"With wrist monitors, it is difficult to position them correctly for the most accurate reading," says Susan Booth, CR's test engineer in charge of blood pressure monitor testing.
Carol Lucarelli, Omron Healthcare's director of marketing and e-commerce, told CR that the device is "held to the same standards as all other blood pressure monitors in our portfolio" and that many customers report that using the monitor has helped them make taking their blood pressure a regular habit. "As a wearable, it is essential that the size, fit, and placement be correct for accuracy," she said. She also encouraged anyone having challenges with fit to contact Omron customer service.
For accuracy and reliability, stick with devices that have upper arm cuffs and have performed well in CR's tests. You could also check out a list from the American Medical Association of home monitors that adhere to established standards.
Whichever monitor you try, remember that blood pressure can vary depending on activity, emotions, and other factors. To get the most accurate readings, take these steps, even in the doctor's office:
Don't smoke, drink caffeine, or exercise for at least 30 minutes beforehand.

Use the bathroom and then rest without talking for 5 minutes before the reading.

Place the cuff on your bare upper arm at heart level.

Sit on a sturdy chair with a supportive back, with your cuffed arm on an armrest or a table and your feet flat on the floor.
If you buy a standard home blood pressure monitor, the American Heart Association recommends taking it to your healthcare provider's office to check its results against those of equipment in the office.
Recommended Blood Pressure Monitors