When you shop through retailer links on our site, we may earn affiliate commissions. 100% of the fees we collect are used to support our nonprofit mission.
Learn more.
One of the most important factors in determining whether a child booster seat will protect your kid is how well the seat belt works with it.
A booster that fits well should place the lap portion of the seat belt flat across your child's upper thighs with the shoulder belt at mid-shoulder. Check these points on your child's body, in your own car, when selecting a booster seat. (See our Booster Seat Fit Checklist.)
Most states now have laws that require booster use, although there are plenty of variations in the ages when they're required, and lots of confusion around their use. Check your state's laws for guidance.
Regardless of age, weight, or your state law, Consumer Reports recommends booster seats be used until your child can comfortably and safely sit using the vehicle belts alone. If you're unsure if the vehicle belts will fit your child appropriately without a booster, ask the same questions as those found in our Booster Seat Fit Checklist, but without the use of the booster.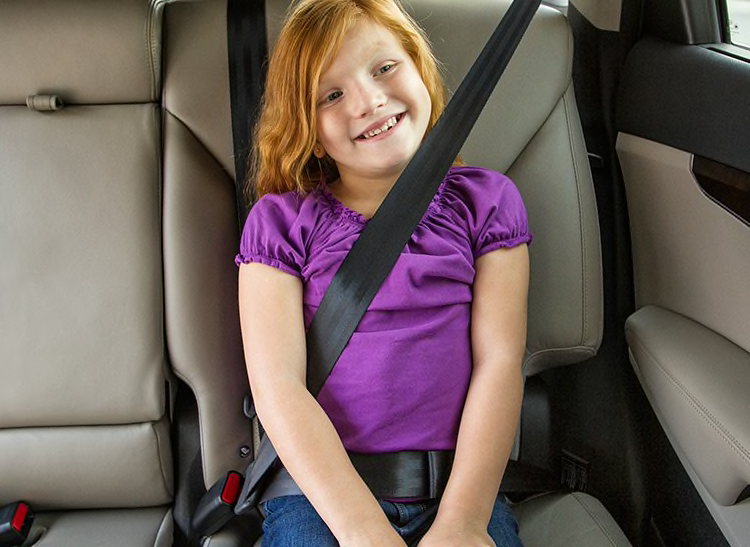 Check Out Booster Ratings at CR and IIHS
To get a good handle on which seats are likely to meet your needs, check out CR's ratings and the Insurance Institute for Highway Safety's findings.
In its report last month on child booster seats, the IIHS found that 13 of 16 new booster seat models it evaluated provide a good belt fit, properly positioning the shoulder belt at mid-shoulder and the lap belt flat across a child's upper thighs.
The IIHS says that its ratings are based on seeing how three-point lap and shoulder belts fit a child-sized test dummy seated in the booster on a stationary test fixture.
However, the best booster not only fits the child well but also keeps the belt in the right places after kids move around in the seat.
That's why Consumer Reports tests boosters for how well they do just that, and also tests them in a variety of different vehicle types to create our ratings.
CR uses a child-sized (6-year-old) dummy in a variety of vehicles. Kids who sit in boosters, typically ages 4 to 8, have the freedom to move around when using a vehicle seat belt, and many do. CR goes a step further in our testing, simulating that activity by moving the belted dummy forward and side-to-side. Then we evaluate how well the vehicle belt stays in place on the dummy. In many cases, the belt moves out of the ideal position after a child has moved.
Additionally, vehicles have different rear-seat layouts that influence how well a booster seat can fit, or how easy it is for children to buckle seat belts on their own. Our ratings account for these differences by testing booster seats across a range of vehicles.
Consumer Reports and IIHS ratings provide a good initial guideline for shoppers, but parents should try them out in their own cars with their child to make sure the belts can be properly positioned. Before you buy a seat, make sure the store will allow you to return or exchange it if it doesn't meet your needs.
There are many boosters that show up twice on the IIHS list because they are dual-use seats that can be used either with the back attached (highback) or in backless configurations. Our tests indicate that highback models tend to offer the best potential for providing a proper belt fit. They often provide the added convenience and protection of side "wings" for children to rest their head against and provide some additional protection in the event of side-impact crashes.
Though we may not prefer backless boosters for everyday use, they are a great option to keep in your car as a spare when the need arises, such as with carpools.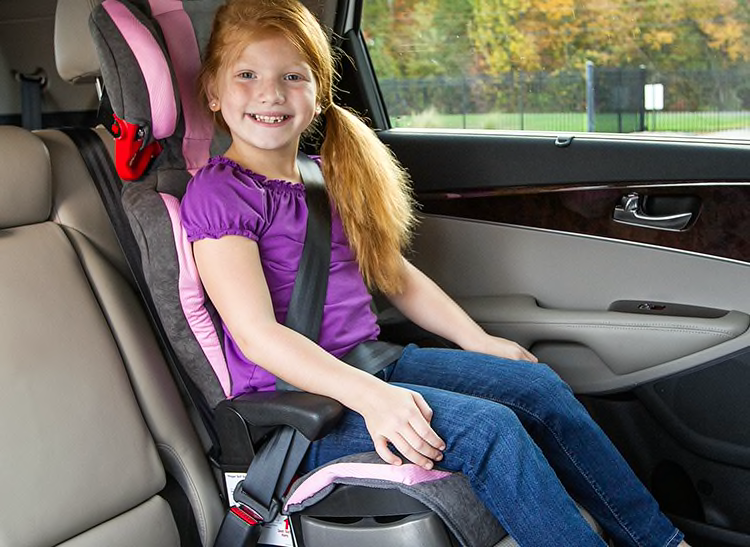 When Should You Use a Booster?
Child-passenger safety experts, including Consumer Reports, say children can transition to a vehicle seat belt alone when they are 8 to 12 years old and at least 4 feet 9 inches tall. The American Academy of Pediatrics says that a vehicle seat belt will not fit most children correctly without a booster until they are 10 or 11 years old. And remember, all children under age 13 should ride in the rear seat.