When you shop through retailer links on our site, we may earn affiliate commissions. 100% of the fees we collect are used to support our nonprofit mission.
Learn more.
Of all the car-buying decisions that you'll make, selecting a color may not be the most involved, but there are implications. A vehicle's color and finish influence the initial purchase price, maintenance, repair, and resale—all greater concerns today, given that many Americans are retaining their rides for five years or more, and the average age of cars is about 11 years.
The stakes are high for automakers to offer compelling hues. "Thirty to 40 percent of potential buyers will walk away from a car purchase if their first color choice is not offered for that model," said Paul Czornij, technical manager in the color excellence group of the auto-finish manufacturer BASF.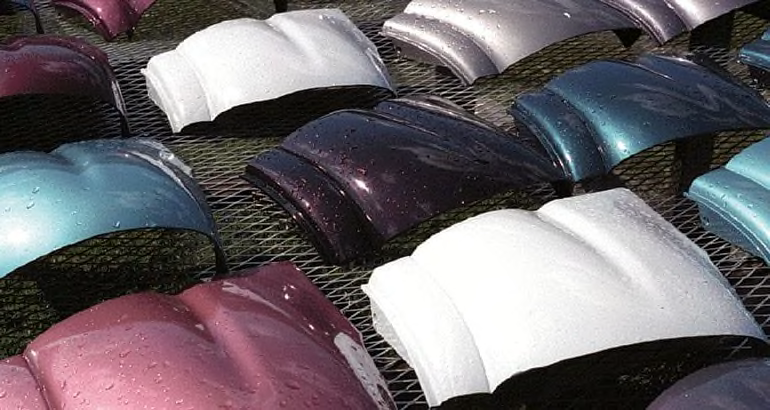 How Colors Are Developed and Tested
About seven years of color research and testing go into making a car color and finish showroom ready. New hues are designed to last for at least 10 years, according to Jane Harrington-Durst, manager of color styling for the auto-paint manufacturer PPG. To ensure that a finish will retain its appearance for at least a decade, it is put to the test against natural and man-made abuse.
Before a paint premieres on the showroom floor, it goes to the farm—a panel farm, that is—where it endures South Florida's heat, humidity, and sun for up to five years to prove that it has the staying power to coat your car. The farm is the "New York, New York" of the auto world—if the automotive paint can make it there, it'll make it anywhere. Automotive paint samples are also put through their paces in a "gravelometer," where they are pelted with gravel and evaluated for durability.
In talking with paint companies, there is the clear message that paint science is constantly improving, yet there continues to be reports of clear coat and paint finishes bubbling and peeling a few years after purchase on some vehicles.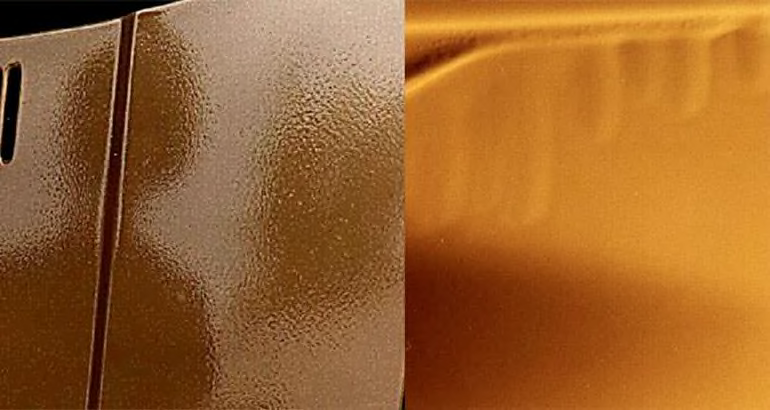 Pigment-Purchasing Primer
Although the automakers, and their suppliers, put much effort into ensuring a top-notch finish on new cars, the quality on individual cars can vary. To check the quality of a finish, follow these expert tips:
Think apple—not orange—to avoid a lemon of a finish. Czornij advises that you want the car surface to look smooth like an apple's surface, not textured and mottled like an orange peel. The orange peel effect happens during the automotive paint application if droplets prematurely dry and harden.
Look at the hood of the car, not just under it. The hood is the easiest part of the car to paint, so if the paint isn't smooth and even there, it's a sign that the car doesn't have the best paint job. Or it was repaired.
Check car doors (including doorjams). Vertical surfaces are harder to paint. Make sure you don't see paint drips on the side of the car.
Inspect the paint finish on bumpers and mirrors. These pieces are generally made of plastic, and the automotive paint may not adhere as well in these areas.
Say "metamerism" 10 times fast. That's the tongue-twisting term for a car color appearing to change under different lighting conditions. Two Subaru design and color gurus, Peter Tenn and Michael Gobin, say that it's important to get that car out of the showroom to see what it looks like in natural light.
Ask the paint/finish price. Car colors can cost from a few hundred to thousands of dollars extra. Red (and also colors that require a good portion of red, like brown) tends to be a more expensive color. And even though pearlescent and metallic finishes are common, check the window sticker, because there might be an additional charge for these three-layered coatings (as opposed to traditional two layers). An exclusive matte finish will set you back significant money, depending on the car, and a color-shifting ChromaFlair coating can add thousands of dollars. (ChromaFlair on the 2017 Land Rover Range Rover Autobiography costs $9,000.)
Tint can also cost a mint (or at least a few hundred extra). Tinted clear coat is time intensive at the factory, according to Czornij, requiring careful cleaning of the spraying equipment.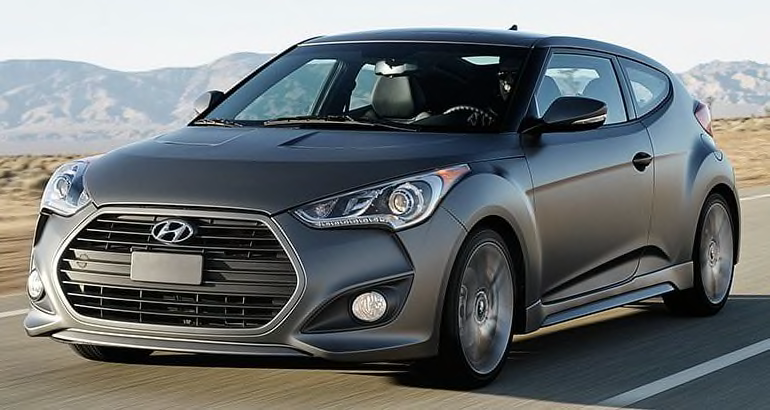 High Maintenance
If a paint color/finish is more expensive to buy, chances are it's more expensive to maintain and repair.
The diva award in this category goes to the matte finish. Consider the do's and don'ts in the 2013 Hyundai Veloster Turbo matte finish paint owner's guide paraphrased below:
Don't use wax or any products made for normal paint.
Don't put the car through a commercial car wash.
Do hand wash with a soft wash mitt and mild cleaning product safe for matte paint.
Do use a fan-tipped hose and hold it at least 10 inches away from the paint.
Do use microfiber cleaning cloths with alcohol-based window cleaner for basic surface cleanup.
Do avoid circular motions that can leave swirls in the finish.
Do note that maintaining the matte appearance is solely the responsibility of the vehicle owner.

Matte is also an expensive finish to doctor if it gets dinged. Even a small repair area might require fixing an entire car panel, according to Tony Passwater, an Indianapolis-based auto-finish repair expert and president of AEII (an international consulting, training, and systems development organization specializing in the collision repair industry).
Passwater also confirms that pearlescent and metallic finishes are generally more expensive to repair because of material costs and the previously mentioned multilayered aspect of these sparkly surfaces. And red can also get you into the red because more pigments are required to make this color.
Keeping It Clean
With all this talk of high maintenance, is there a low-maintenance color that hides dirt well? Matt DeWolf, spokesman for the International Carwash Association, says that the midtone pewter and silver-colored vehicles are the best grime-hiding hues. Black is the worse at dirt display, mirroring the muck, and high-contrast white also does a bad job of showing it off. So going gray or silver is the way to go. (Use our car-washing tips.)
Reselling Your Ride
Neutral colors are usually best for resale, according to Czornij of BASF. In North America, white remains most popular (23 percent), followed by black (19 percent), gray (17 percent), silver (15 percent), red (10 percent), and blue (8 percent), according to automotive paint supplier PPG.
The auto industry refers to colors such as white, black, gray, and silver as the neutrals, and their numbers have increased in the U.S. in recent years.
If a car color is associated strongly with a car, like the little red Corvette that Prince immortalized in song, that will work for resale. But trendy colors can look outdated a decade later.
Geography and the car model are also facets of the resale prism. Bob Graham, vice president of Vehicle Remarketing for Automotive Resources International, a fleet management company, says that a car color's resale value also depends on these elements. "It's not likely that either a subcompact buyer or a buyer in Florida or Nevada would choose black," Graham says. "If you think of a sports car, a subcompact, a luxury sedan, and a pickup truck buyer, it's unlikely they would ever think of their color choices in the same way."
The takeaway is that white, black, silver, and gray are strong for the used-car market, but also consider what car colors are popular for your type of car and for where you live. Go wild with the color, and it may be harder to find a buyer, especially if the car color is as trendy as orange, which was a hot color at the car shows this year. At resale, it may scream "so 2017."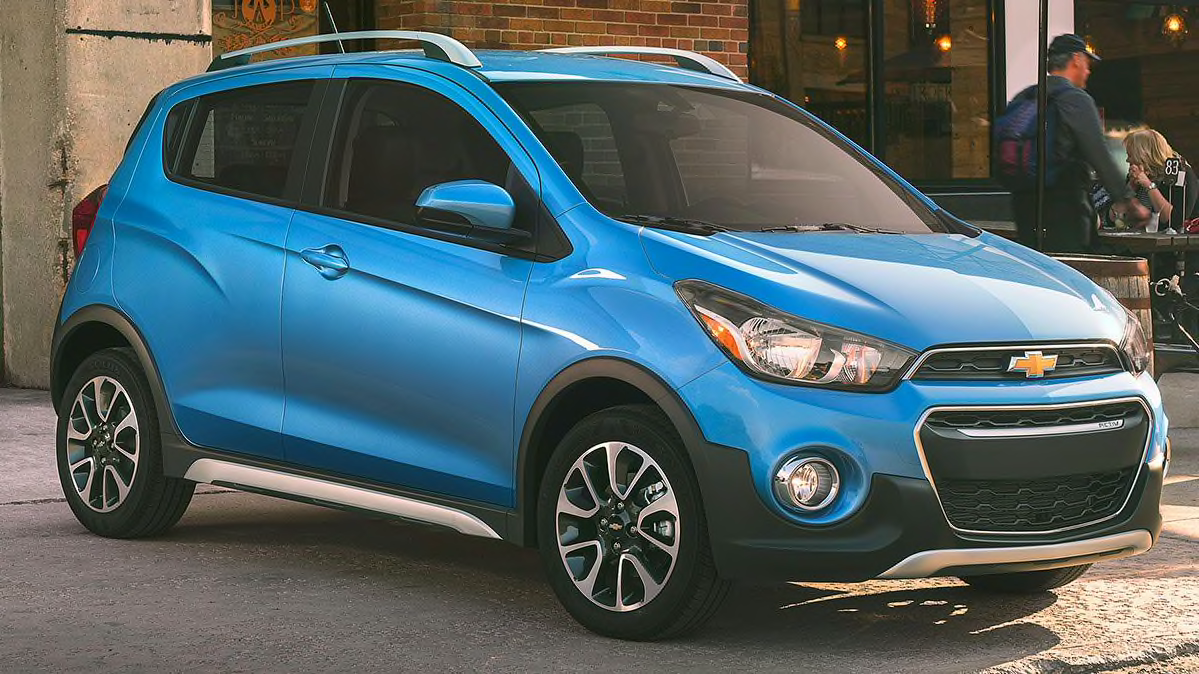 Tint Trends
Despite the popular neutral tones, we are not destined for ho-hum hues on the highways. There's still a palette of pigments on the pavement. Smaller cars, such as the Chevrolet Spark and Mini Cooper, offer color varieties rivaling nail polish selections. And color analysts say that it's going to get easier to be green. Harrington-Durst of PPG forecasts that more "natural" greens will be on the road in the next few years. Czornij of BASF seconds that trend, associating it with the emergence of environmental awareness. Harrinton-Durst and Lockhart of Axalta also say that rich browns are trending up.
Bottom line: Just as safety, price, and fuel economy are chief components of the vehicle selection process, hue should not be eschewed as a frivolous factor. Color is an important part of the car buying, owning, and selling scenarios. The right color can be satisfying to look at and easy to maintain.