When you shop through retailer links on our site, we may earn affiliate commissions. 100% of the fees we collect are used to support our nonprofit mission.
Learn more.
All modern cars have a lot of safety gear, such as seat belts, airbags, antilock brakes, and electronic stability control. But not all cars will behave the same way in a crash or protect occupants equally well.
Below is a guide to car safety ratings, followed by details on recommended safety features.
Car Safety Ratings
Several elements affect a vehicle's overall safety capability.
Crash tests. Frontal- and side-impact crash tests are conducted by the Insurance Institute for Highway Safety and the National Highway Traffic Safety Administration.
Starting with the 2011 model year, NHTSA made its crash tests more stringent. As a result, the 2011 and newer model results are not comparable with older years.
In 2012 the IIHS added the small-overlap front test, which replicates the driver side of a car hitting a tree or pole straight on. The IIHS retroactively applied the results of cars crashed in 2012 and later to earlier versions of the same model. The model pages online include major crash-test results for the past 10 years.
Accident avoidance. A vehicle's ability to help you avoid an accident is just as important as its ability to protect you in a crash. For every accident, there are numerous near misses that statistics don't reflect. Several factors contribute to a vehicle's accident-avoidance capability, with the two most important being braking and emergency handling. Using our test data, CR.org provides an accident-avoidance rating for all tested vehicles.
Rollover resistance. Rollover accidents are of particular concern with SUVs and pickups. To help consumers compare vehicles, NHTSA provides a rating system called the Rollover Resistance Rating. The RRR is based on two factors: a vehicle's Static Stability Factor and a dynamic rollover test. The SSF, determined from at-rest or "static" measurements of the vehicle, essentially indicates how top-heavy it is. The dynamic rollover test simulates a driver having to make severe steering maneuvers, as can happen in an emergency.
Vehicles that tip up fail the test, but this failure downgrades the overall star rating only slightly. We will not recommend a vehicle that tips up in this type of situation. The ratings are available at safercar.gov.
Roof strength. The IIHS also tests for roof strength. During a rollover, stronger roofs crush less, reducing the risk that people will be injured by contact with the roof itself.
Rear-impact protection. Although rear-end accidents have a low fatality rate, they have a high injury rate, especially for whiplash neck injuries. The design of a car's head restraints and seats are critical factors in the severity of a whiplash injury.
Consumer Reports evaluates head restraints. Front head restraints usually meet or exceed evaluation requirements, but rear head restraints differ greatly.
Another good source for information on rear-impact protection is the IIHS website. The Institute conducts evaluations of head restraints and performs dynamic rear-impact tests that measure how well the seat/head-restraint combinations in different models protect against whiplash.
Rear blind zones. Every year children are injured or killed because drivers don't see them while they are backing up their vehicle. A contributing factor is that larger vehicles, such as SUVs and pickups, have very large blind zones. The blind zone is the area behind a vehicle that the driver can't see when looking in the rearview mirror.
To check a vehicle's blind spot, sit in the driver's seat of the parked vehicle while someone stands in back and holds out a hand at about waist level. Have the person walk back slowly until you can see the hand through the rear window. This will give you an idea of how big that vehicle's blind spot is.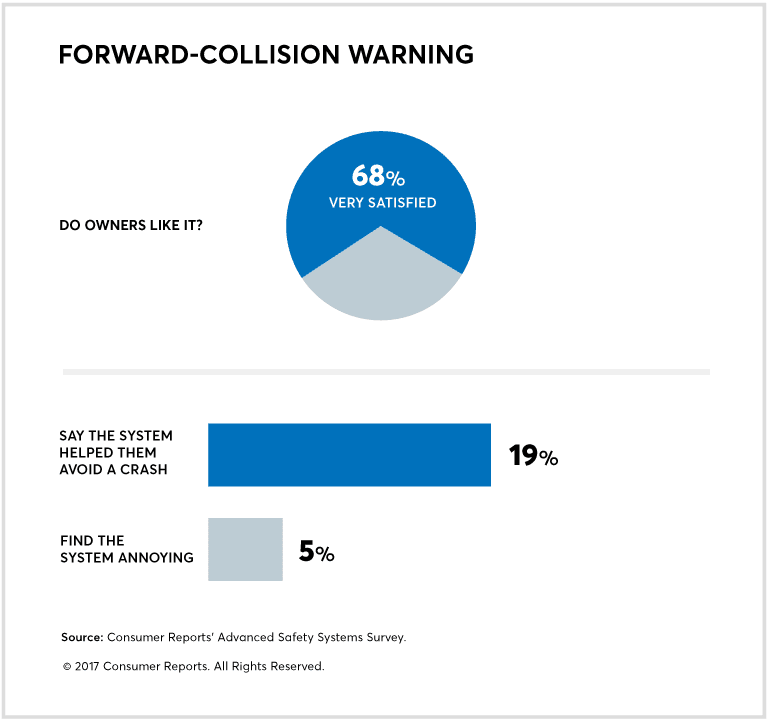 Recommended Safety Features
Buyers often overlook important safety features because they aren't aware of them or don't understand their benefit. We recommend that you look for the following when buying a vehicle. To see which models have particular safety features, see the vehicle profiles.
Antilock brake system. This system prevents the wheels from locking up under hard braking, particularly on slippery surfaces. Without it, the vehicle tends to keep plowing ahead in whatever direction it was going. You can't steer, and locked wheels can cause a vehicle to slide sideways or even spin.
Electronic stability control. ESC helps keep the vehicle on its intended path during a turn to avoid sliding or skidding out of control. It's especially helpful in slippery conditions and accident-avoidance situations, such as when trying to steer around a person or car that has pulled out in front of you. It can also help keep a top-heavy vehicle, such as an SUV or a pickup, from getting into a rollover. Note that starting in 2012, all cars and light-duty trucks have standard ESC, which means they also have ABS.
Head-protecting side airbags. You should look for a car with dedicated head-protection airbags that deploy from above the windows. Curtain airbags cover the side windows in both front and rear, preventing occupants from hitting their heads, while also helping to keep a person from being ejected in a side impact or rollover.
Forward-collision warning (FCW) and automatic emergency braking (AEB). These stand-alone or combined radar-, laser-, and/or camera-based systems warn drivers of an impending collision by using visual, auditory, or physical cues. Certain vehicle systems also precharge the brakes and take other steps to prepare for impact. If the driver ignores the warnings, systems with automatic emergency braking will apply partial or full braking force. They can be active at anywhere from walking to highway speeds. (Learn more about FCW and AEB.)

Blind-spot warning (BSW). A blind-spot monitoring system uses radar or cameras to scan the areas beside and behind you, looking for vehicles entering or lurking in your blind zones. When such a vehicle is detected, an illuminated icon appears in or near the appropriate side-view mirror. If you signal a turn while a car is in your blind zone, certain systems send a stronger alert, such as a blinking light or louder chirps. More advanced systems help keep you in your own lane by applying the brakes on one side of the vehicle. (Learn more about blind-spot warning.)

Rear cross-traffic warning. Often part of a package that includes blind-spot warning, this system warns of traffic approaching from the sides as you reverse. The warning usually consists of an audible chirp and a visual cue in either the outside mirror or the rear camera's dash display. The more advanced systems can also pick out bicycles and pedestrians. (Learn more about rear cross-traffic warning.)

Lane-departure warning (LDW) and lane-keeping assist (LKA). The first system uses visual, audible, or haptic (often a buzzing in the steering wheel) warning to alert the driver if he or she is crossing lane markings and wandering out of the lane. Lane-keeping assist will automatically correct the steering input—or even brake the car—if it crosses the markings, in an effort to bring the vehicle back into the proper lane. (Learn more about lane systems.)
Rearview cameras. Also known as backup cameras, these will be mandatory with the 2018 model year. They can help prevent a back-over accident, such as hitting a child who wanders behind your car.

Adaptive cruise control. Using lasers, radar, cameras, or a combination, these systems automatically maintain a safe following distance between you and the car ahead. (Learn more about adaptive cruise control.)
Avoidance Maneuver Testing
How important is car handling when it comes to emergency maneuvering? 'Consumer 101' TV show host, Jack Rico, joins Consumer Reports' experts at the test track to find out.