What Makes a Car Really Comfortable
CR's new Comfort Score will help you find the most relaxing, well-appointed ride for the money When it comes to buying a car, we believe consumers should find a vehicle that's safe and performs well. But Consumer Reports also evaluates aspects of vehicle comfort—ride, noise, the front and rear seats, driving position, and access. We've rolled these evaluations into a new Comfort Score that you can use when shopping. "A brief test drive will tell you whether a car is quick or fun to drive," says Gabe Shenhar, associate director of CR's Auto Test Center. "But it takes a lot of time to really appreciate comfort."
Comfort for us is also a question of safety. We find that a comfortable, fatigue-free driver is more relaxed and more likely to pay better attention to driving than someone who is aching because of an unsupportive seat or irritated by a stiff ride and road noise.
What follows are the categories we individually assess that become part of our Comfort Score­, with extra weight given to the first two. Scoring in each category is determined by a jury of testers who drive each car in their daily lives for thousands of combined miles. Our testers also come in several heights and sizes, ensuring that we take into account a range of perspectives. See below for five car models that score high in comfort.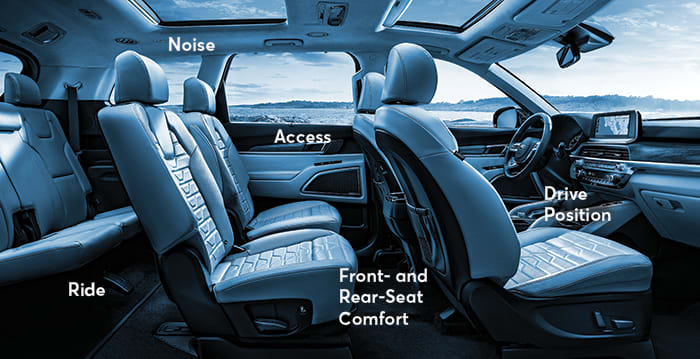 1. Ride: Our testers assess how well a car absorbs road bumps. A lot of engineering and expense can go into creating forgiving sus­pen­sions that help glide you down the road, but in some cases you also might sacrifice handling, Shen­har says. "Sedans gener­ally ride better than SUVs because SUVs need firmer sus­pen­sions to keep their taller bodies stable and under control," he says.
As part of our extensive autos program, CR determines each tested model's ability to coddle. We believe you and your passengers have the right to a smooth and relatively quiet experience. To home in on our comfort champs in various price ranges, our data analysts took the test results for ride, noise, seat comfort, and other variables and spun them into a new, specialized CR Comfort Score. Here we highlight five of the highest-scoring models on a 100-point scale in several vehicle types—sedans and two- and three-row SUVs. All of the vehicles in this feature are CR-recommended. We left out pricey ultra-luxury cars—many costing in the six-figure range­—because we expect them to already be really comfortable.
Subaru Legacy: Midsized Sedan Under $35,000
The Legacy owes its smooth ride to a suspension system that soaks up road imperfections with the grace of luxury cars that cost three times as much, keeping passengers unaware of most bumps. To its credit, the Legacy uses new technology to add to its comfort while staying in a lower price range. The optional turbocharged engine, for example, delivers a lot of power, and it runs quieter than the base trim's nonturbo version. The Legacy's quiet cabin is big enough to comfortably accommodate a variety of body types. The Premium trim we tested came with two-way lumbar support seat adjustment, which we think is essential. CR recommends the Limited trim, which has more supportive seats than the base model and also has a power front-passenger seat. EyeSight, the standard suite of active safety features, includes adaptive cruise control, which can reduce stress in stop-and-go traffic by adjusting speed to maintain a safe following distance.
Subaru Forester: Small SUV Under $35,000
The Forester lavishes you with comfort from the first time you open its large doors and effortlessly slide into its easy-to-access hip-height seats. Once inside, the elevated driving position gives you a commanding view of the road. We found the Forester to be one of the most comfortable SUVs toward the lower end of the price scale, with its great elbow room, endless hat space, and—on most models—a driver's seat with adjustable lumbar support. The optional dual-zone climate control helps the driver and front passenger dial in their preferred temperatures for personal comfort. The interior can be preconditioned by remote start using Subaru's Starlink app, a nice treat on hot or cold days, although the feature is subject to a monthly service fee. Drivers also have great visibility, among the best to be found anywhere, thanks to slim roof pillars and large side windows. So no neck strain when backing out.
Chrysler 300: Large Sedan $35,000-$55,000
Flying under most people's radar, the Chrysler 300 has remained nearly unchanged over the last decade. That includes Chrysler's steadfast commitment to plushness, which seems to be the main point of this now-classic sedan. The 300 exudes a modern, good-handling version of 1970s-style comfort, offering a smooth ride and lush seats. As part of this attitude the 300 has a quiet, luxurious interior, plus a large back seat and roomy trunk. The driver and front-passenger seats come with power lumbar support adjustment. The best combination is the smooth V6 and slick-shifting eight-speed automatic transmission, which delivers better fuel economy than the V8 and is available with all-wheel drive. Plus, the 18-inch wheels provide a smoother ride than the 20-inch versions. Chrysler's Uconnect infotainment system is extremely user-friendly, adding to the de-stressing atmosphere inside the cabin.
Lexus RX: Midsized 2-Row SUV $35,000-$55,000
The RX delivers a driving experience that accentuates comfort, tranquility, and luxury. Its soft suspension does a great job absorbing bumps, creating a smooth, relaxed ride. The silky, nonturbo V6 engine provides lots of power without strain. The efficient hybrid version can glide along silently in electric-only mode, typically up to 25 mph. The plush seats are wide and supportive, and can be readily tailored with the power lumbar support. More expensive trims get height-adjustable lumbar support that takes it to the next level. The second row is roomy, with a flat floor that offers adequate space for even the center passenger's legs, and the seatbacks recline. Big doors allow easy access front and rear. The infotainment system's touchpad controller is one of the few downsides; the best strategy is to avoid it by using voice command and steering-wheel controls when possible.
Kia Telluride: Midsized 3-Row SUV $35,000-$55,000
The well-balanced Telluride offers a mountain of features for the money, making it a worthy alternative to vehicles costing thousands more. There's a lot to like about this acclaimed SUV, and it shines especially in the comfort department. Wide, welcoming seats and a comfortable ride, combined with a roomy, quiet cabin and smooth power delivery, allow the big Kia SUV to punch above its weight. The front seats come with power adjustments and can accommodate a variety of body types. The third-row seats are best suited for children, but a novel one-button control moves second-row seats out of the way to give access. The three-zone climate control system, as well as an easy-to-use infotainment touch screen, leather upholstery, and heated and cooled front seats on the EX version, contribute to an all-around tranquil experience.
Editor's Note: This article also appeared in the May 2021 issue of Consumer Reports magazine.