When you shop through retailer links on our site, we may earn affiliate commissions. 100% of the fees we collect are used to support our nonprofit mission.
Learn more.
Pickup truck owners know their vehicles are workhorses, and they often rack up many more miles than owners of typical sedans or SUVs. So accessories can play an outsized role in keeping your truck livable.

We talked to Mark Williams, editor of PickupTrucks.com, and John Ibbotson, chief mechanic for Consumer Reports, about the features every truck owner should consider and why.
If you're buying new from the dealer, see if the manufacturer offers accessories together in a package. Getting these items from the dealer allows you to roll the cost into your financing, and also lets you negotiate price, options that aren't often available when buying aftermarket products.
"The best advice we can give to new-truck customers is to ... know what you need before you buy," Williams says. "The most common mistake we see from first-time pickup buyers is they've either bought too much or too little of what they really need."
There are thousands of truck accessories available—but this group selected by CR will make the biggest difference for you. We've listed them in order of how much functionality, convenience and value they'll add over time to your truck and your experience with it, according to Williams, Ibottson and other CR experts. (Prices below were drawn from the product websites.)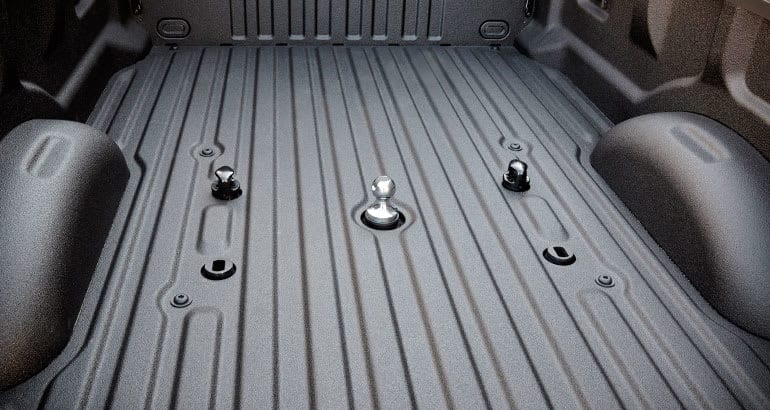 Spray-in Bedliner
Why get one: Even though the pickup truck bed is meant to haul everything from dirt to plywood, most owners don't want it to be marred by scratches, dents, and dings. A bedliner helps defend the truck's metal bed from damage, and also provides a skid-resistant surface that helps to keep cargo from sliding around.
We prefer a spray-in bedliner better than a drop-in one because it protects the bed from rust better; doesn't allow dirt, water, or debris to collect under it; and it offers better traction if you're standing in the bed when putting things in it or cleaning it out.
However, it's important to understand that spray-in liners are permanent, says Ibbotson, and that could make some bed repairs challenging. Some trucks have a lined bed as a standard feature.
What it can cost: For a 2018 Chevrolet Silverado 1500 LTZ, for example, a spray-in bedliner from Chevy runs $495, while a drop-in liner for a long box bed is $305, plus $50 for a liner for the inside of the tailgate. Amazon offers plenty of DIY approaches that can run as much as $200, not including installation.
Do it yourself? We advise against it. Buy the truck with one installed, or have a professional do it.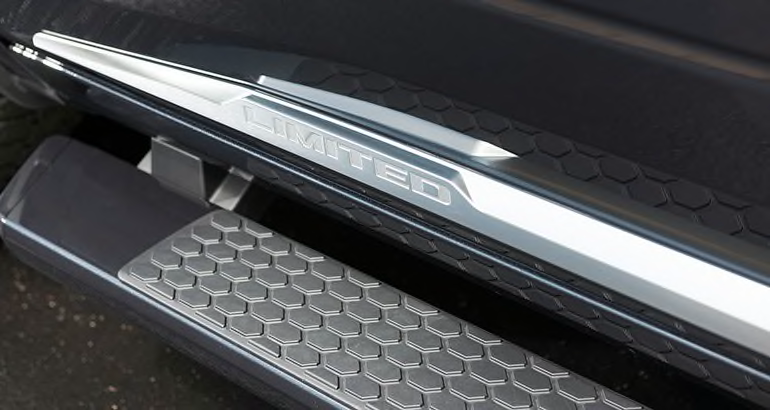 Running Boards
Why get one: For a lot of larger pickups, it can be a long stretch from the ground into the cab. Drivers can make it easier on themselves (and their passengers) by adding running boards, Ibbotson says. Be careful where they attach, Williams says; some are more cosmetic than others.
"Those that attach underneath to the body are not very strong," he says. "Those that attach to the frame are the sturdiest you can get."
Williams says be wary of chrome running boards because some don't mix well with salt spray from winter roads. The metallic finish can peel off, or rust pretty quickly, he says, and they might have to be replaced in just a couple of winters.
His favorite are articulating running boards that are activated when the door is opened. They extend out from underneath the body, sometimes as much as six inches, to provide an easy step up into the cab. He points out that they're relatively expensive compared to other options.
What they can cost: On a 2017 Toyota Tundra Platinum Edition, running boards cost $345. Aftermarket running boards on Amazon run from $200 to $300, but you'll have to install them yourself, or have someone else do it. Articulating running boards can run $1,500 or more.
Do it yourself? Only if you really know what you're doing. Buying it from the dealer gives you some recourse if something goes wrong.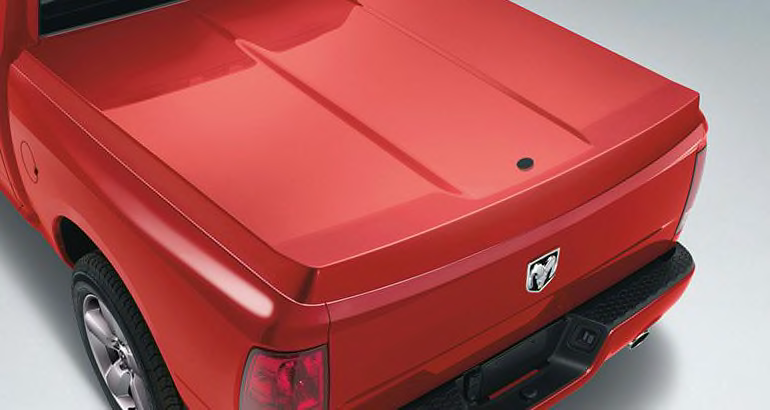 Tonneau Cover
Why get one: As much as pickup owners love the open space of their bed to carry big things when they need to, they also hate when things in the bed are exposed to the elements. A cover allows for a watertight shield to protect items, as long as you buy a good one.
We recommend an aluminum cover that folds, so you can still easily load items into the bed. The aluminum version also offers more security than vinyl ones because vinyl can be cut through.
One warning, Ibbotson notes: Folding covers can be hassle if they don't fold completely out of the way or if you can't easily remove them when loading or unloading. More expensive roll-away versions can be connected to your electrical system, and can be unlocked, opened and closed through a key fob.
What they can cost: A factory cover for a Chevy Silverado 1500 can run $575. From Amazon, they can run from $250 to more than $1,500 for a retractable one.
Do it yourself? For the most part, they're simple and easy to install, Williams says. For an electrified model, you may want to have a professional install it.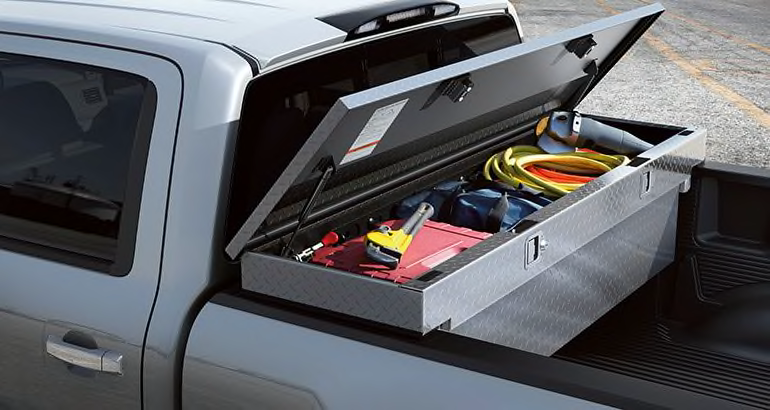 Locking Toolbox
Why get one: Truck drivers often have tools or other items they might need and want to keep secure. Many of these lockboxes fit in the bed, across the back of the cab, and some can move on tracks toward the tailgate to ease access when you're working in the field.
The most important thing to consider, Williams says, is the type of material.
"The best ones are diamond plate, which has a design of alternating diagonal marks," he says.
It's a design meant to give you more traction if you walk or stand on it. Although a chrome finish is available, it's more susceptible to pitting and rusting, or to the effects of any chemicals truck owners might work with.
The locks are important, and a lot of the original locks on these boxes can be flimsy. Williams notes that there are aftermarket options with stronger, more advanced locks, all the way up to locks you can unlock using a smartphone app. Of course, he says, they're more expensive, and will require a power source to boot.
What they can cost: There are also units that fit along the bed sides, like the removable, lockable Nissan "Titan box" for $985. On Ram trucks, the "Rambox" is a lockable cargo space that's built into the edges of the bed, which can be locked and unlocked with a key fob. It runs $1,295 from Ram. On Amazon, locking tool boxes for a pickup bed run from $200 to more than $400, depending on size.
Do it yourself? You may want to have a dealer install one, especially if power is involved.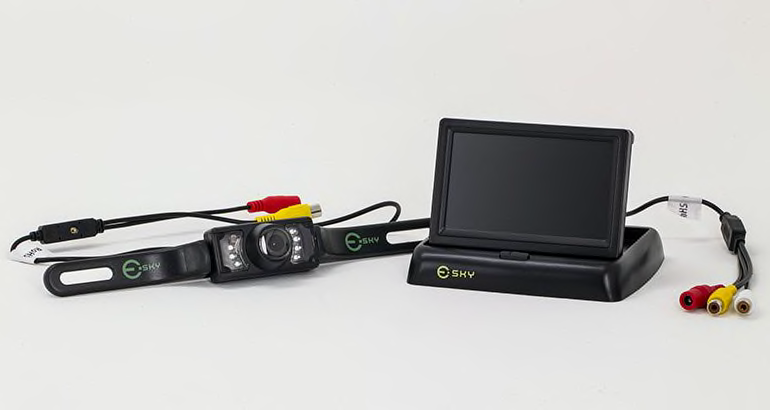 Backup Camera (for older used trucks)
Why get one: Much like SUVs with their inherent rear blind spots, parking a pickup can be a real nightmare. A backup camera can ease the process (although drivers shouldn't rely on it alone).
Starting in May 2018, all new vehicles built for the U.S. market will have to have a backup camera, by federal mandate. But older trucks may not have one.
They come in all sorts of sizes and approaches, Williams says: "You can go all the way up to a wireless system that ties directly into your center screen, or even to your rearview mirror."
What they can cost: These cameras are available on Amazon from $30 for basic devices, to as much as $150 for cameras with big, in-cabin screens that can also help if you're hooking up trailers or boats. The more expensive and the more complex the electronics are, the more expensive they're going to be. Williams estimates that drivers can spend $1,000 or more for the most elaborate systems, including installation charges.
Do it yourself? Yes, but only if you're handy, have the right tools and understand electrical work.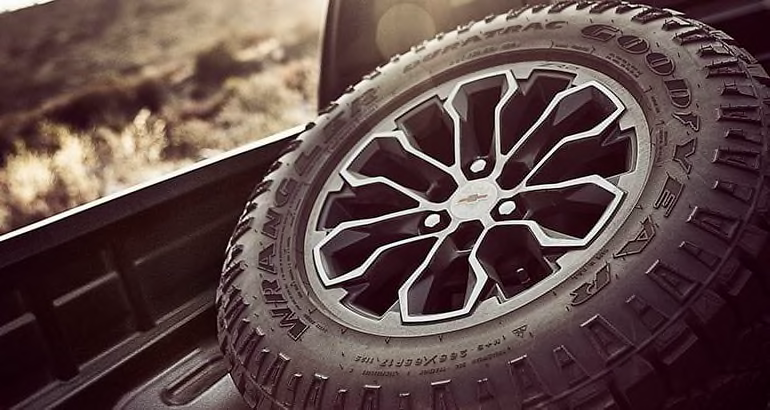 Full-Size Spare Tire
Why get one: Most new, full-sized pickups are equipped with a full-sized spare tire, but some smaller pickups, like the Honda Ridgeline, only get a "donut"—a smaller spare with limited range, speed, and grip. If you're buying a truck (especially used), check to see if it's equipped with a full-sized spare tire. If it has just a donut, ask the dealer if the storage space will accommodate a full-sized tire.
If you purchase a spare for your pickup, chose the same make, model, and size as the four currently in use. This ensures the tire will perform similarly, aside from the impact of wear, and that the spare has the same load capacity as the other tires. Consult your owner's manual for additional advice. You may have to settle for the factory spare tire.
In some cases, if a new truck comes with an upgraded wheel/tire combination, the full-sized spare may not be a direct match. Instead, the non-matching tire is likely a base tire that will suffice in a roadside emergency, but it shouldn't be considered a permanent replacement.
Most pickup truck spares are stored below the bed and accessed from below the vehicle. This can make inspecting the tire a dirty chore. But it is an important one, especially given that many trucks are used for serious work duty, such as long-distance trailering, that can make a breakdown particularly inconvenient. The spare tire pressure should be checked once between each oil change and again during the oil change, with the shop inspecting the tire while it is on the lift.
Note that compact spare tires typically require rather high pressure levels, likely 20-30 psi greater than a full-sized tire. Consult the owner's manual and/or the sticker in the driver's door jamb for recommended pressures. (Never use the tire sidewall as a guide.)
Because trucks often lead a hard life, facing mud and road salt in some parts of the country, and are routinely parked outside, the spare tire mount can become rusted. Once a year, make sure the tire can be lowered and removed from the carrier. If you hold onto your truck for years, there will come a time when doing that will become difficult, making it worthwhile to replace some hardware.
What they can cost: The typical cost for a 17-inch wheel and tire is $230. Owners can expect pay $300 or more for larger tires and wheel combos.
Do it yourself? Should be easy to do, as long as there is a secure spot for a full-size spare, Ibbotson says.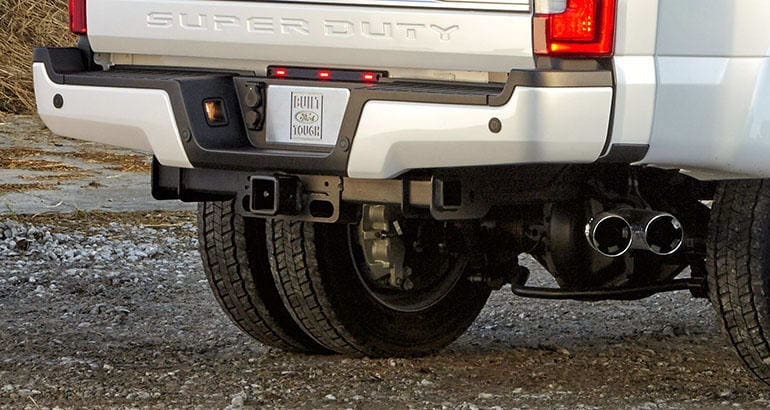 Tow Hitch
Why get one: If you plan to tow anything, this is a no-brainer, but even if you're not, this can be a valuable item to have when you're ready to sell the truck. All of the tow hitches for sale are regulated, so they have stickers on them that will tell owners how strong they are, and how much they're rated to tow. Any hitch you could buy should be labeled with the information you'll need to know, Williams says.
What they can cost: For any truck, a fully installed towing hitch package should run from $400 to $600, Ibbotson says. Kits that offer a tow hitch (and more) for a truck can be bought on Amazon for up to $200.
Do it yourself? Only those who know what they're doing should install the receiver hitch, Williams says. Even if you have a mechanic install it for you, it won't be very expensive and should not take very long. You'll be more secure—and have someone to blame if something goes wrong.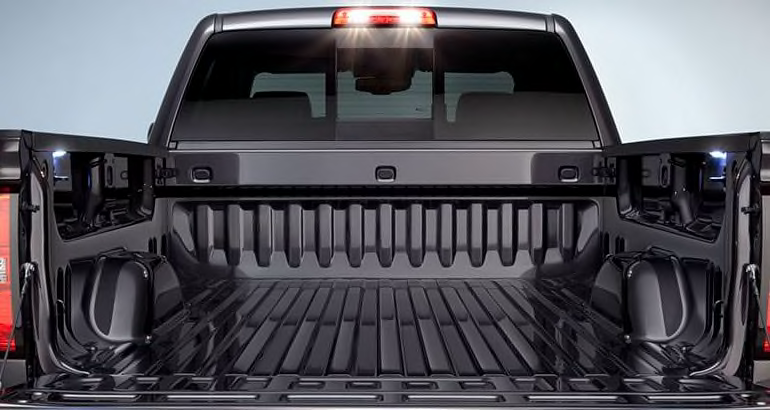 Bed Lights
Why get them: When you have to work in your truck bed in the dark, it's easy for things to get lost. Most new factory pickups come with a central, high-mounted light on top of the cab that lights up the bed, and some will have a camera included. The camera, which sometimes can be tied into your display screen, can be helpful to watch cargo.
Most new trucks do not come with lights built into the bed itself. But pickup owners can add lights to brighten the bed up, including from the manufacturer. Ibbotson says these LED light systems, whether from the factory or aftermarket, are especially handy for trucks with tonneau covers. After all, the cover makes it like a cave in there, and the high-mount cab light can't help in that situation. Some LED lights are inexpensive and easy to tuck underneath the bed lip to keep them out of the weather, and they typically tap into the electrical system, which could lead to a switch inside the cabin, Williams says.
Those optional bed lights from the manufacturer typically consist of two LED lights that have been installed toward the back of the bed. Many aftermarket systems have lights that run nearly the entire length of the bed, but the safe bet is to stick with the OEM systems—you know you're getting a factory-installed, fully warrantied kit that's properly wired. As a Ram spokesman cautioned regarding aftermarket systems, "Tapping into a 12-volt system in modern trucks can void the warranty and potentially damage systems."
One advantage for manufacturer lights is that they often will have switches both in the cabin and in the bed for easier access.

What they can cost: For a new Ram 1500, bed lighting runs $145, for a Ford F-150 it's $125. On Amazon, kits run from $40 to more than $200, not including installation, depending on how much lighting you want to add.
Do it yourself? Only if you're an expert with the right tools and you know a lot about running electrical wiring, Williams says.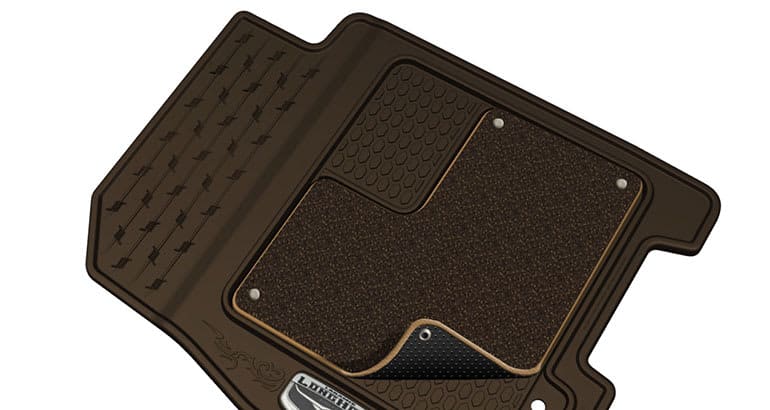 All-Weather Mats
Why get them: Pickups wind up in some messy places, such as construction sites, muddy fields, or mountain passes. You can keep the carpet in your cab cleaner by investing in serious floor mats. Just make sure that they're not going to interfere with your brake pedal or accelerator, Williams notes. If they're not locked down on the driver's side, and they can move forward, they can become a serious safety threat. Tip: Hang onto the original carpeted mats; when it's time to sell the truck, put them back in, and they'll look as good as new, helping you reclaim more money on the resale, Ibbotson says.
What they can cost: Floor mats for a Chevrolet Silverado were offered from as little as $35 a set to more than $170 on Amazon. From Chevrolet, they can run more than $200 a set, but they're custom-made for Chevy trucks.
Do it yourself? Of course.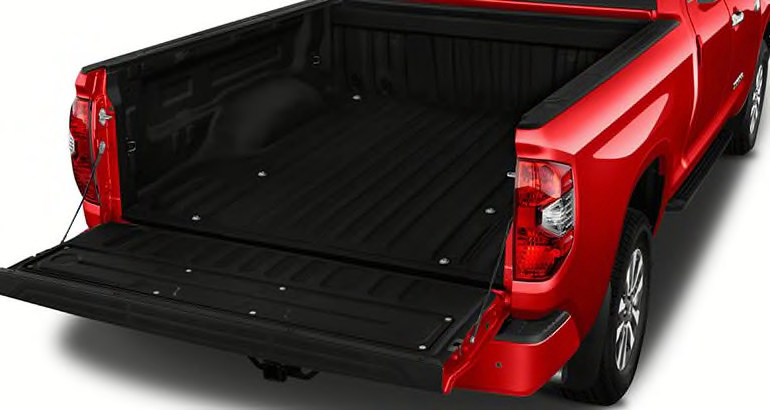 Tailgate Assists
Why get one: There perhaps nothing quite so jarring as hearing your tailgate clang open. Adding a tailgate assist lets it down easier, by using basically a strut (a big spring, really) to cushion the fall. They're simple, and they don't take up any cargo space, Williams says.
"Everyone knows that the tailgate can be one of the most annoying parts of a truck to deal with. That's why truck makers are making them lighter, or incorporating struts to begin with," he says.
What they can cost: While they are built into some new trucks, you can also get a kit from Amazon for less than $40.
Do it yourself? They're easy to install with just some basic tools.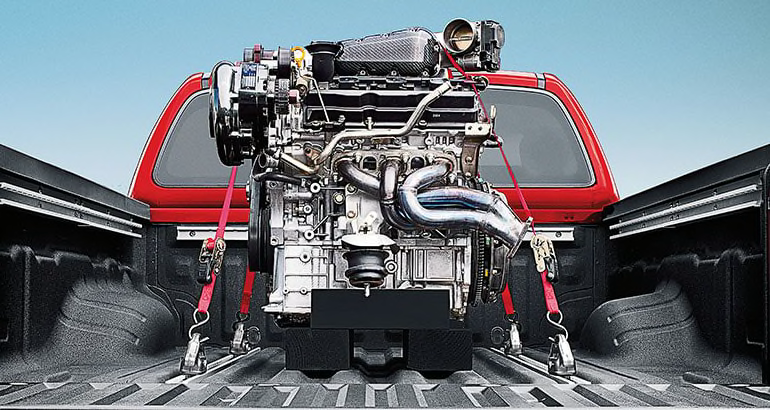 Tie Downs
Why get them: One of the great things about having a pickup is the ability to carry large items. Tie downs help drivers make sure those items stay where they should. Typically, the built-in tie-downs are limited, because they can't be moved, there may not be enough of them for your purposes, or they're too lightweight. Heavier-duty tie-downs are better and a strong metal clamp is better than plastic, Williams says. Big heavy steel clamps are overkill for most cargo; you just want to immobilize your cargo. Aluminum is likely the best all-around performer. Use ratcheting straps or spider-web bungee cords, which is like an elastic web, to hold things in.
What they can cost: They typically cost about $25 a pair for metal tie downs.
Do it yourself? Yes, it's easy.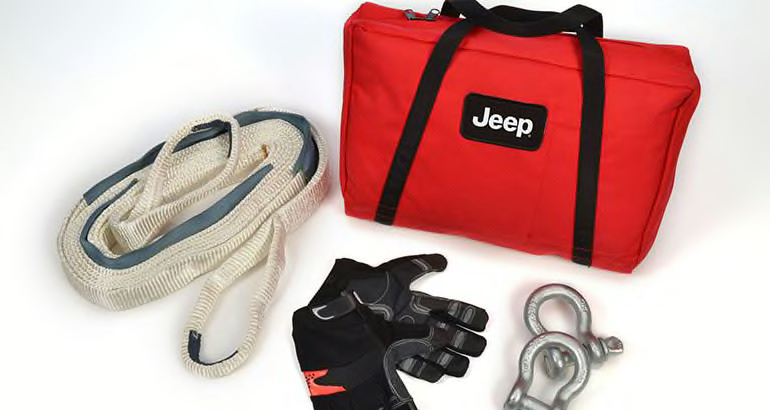 Tow Strap
Why get one: It's a just-in-case piece of equipment, essentially a big long rope to pull someone (or some vehicle) out of a bad situation. You can hook the strap to your truck and use it to grab someone who's stuck in snow, sand or some other mess. Most trucks will have a tow hook on the front, and many will have one on the back. If your truck doesn't have a tow hook, they're easily installed by a mechanic.
Tow straps are made of high-strength, woven material, kind of like a polyester cable. All reputable tow straps should have strength ratings associated with them, up to 30,000 pounds. For full-size pickup owners, a 20,000-pound tow strap would be right. If you need to use one, you should account for the weight of your own truck in addition to the weight of the vehicle you're trying to pull to freedom, Williams says.
What they can cost: These run from $20 to $50, depending on width, length and towing capacity.
Do it yourself? Easily stashed inside the cab.
Jeff Bartlett, Jon Linkov, Mike Monticello, and Gene Petersen contributed to this report.