When you shop through retailer links on our site, we may earn affiliate commissions. 100% of the fees we collect are used to support our nonprofit mission.
Learn more.
Every new passenger car and light-duty truck sold in the U.S. is required by federal law to have a fuel-economy estimate on the window sticker. Heavy-duty pickup trucks, however, continue to be sold without this valuable information being made available.
While light-duty pickups such as the Chevrolet Silverado 1500, Ford F-150, and Ram 1500 dominate sales year after year, contractors and serious trailer-towers often rely on more robust rigs, so hundreds of thousands of heavy-duty trucks are sold each year.
Many truck buyers are tempted to buy heavy-duty trucks because of their powerful diesel engines. But while diesel can be more fuel-efficient than gas engines, the weight of heavy-duty trucks actually reduces their mpg.
Even though the Environmental Protection Agency collects data from automakers on heavy-duty pickup truck emissions and fuel economy, it has never mandated that the results be made available to the public, largely for budgetary reasons.
To determine how the the heavy-duty trucks stack up, CR recently tested the Big Three of heavy-duty diesel trucks: the Chevrolet Silverado 2500HD, Ford F-250, and Ram 2500. All were equipped with four-door crew-cab bodies, turbodiesel engines, and four-wheel drive.
Nissan has tried to bridge the gap between the light-duty and heavy-duty trucks with its Titan XD (eXtra Duty)—with mixed success. CR tested the diesel-powered XD along with the three-quarter-ton diesel domestics. (Learn how CR tests fuel economy.)
What we found in our tests was that the efficiency of the diesel engines wasn't enough to offset the added bulk of these monstrous trucks. The heavy-duty diesels achieved only 14-15 mpg, which was 1-2 mpg less than their gasoline-powered light-duty counterparts.
The extra power and brawn of the heavy-duty trucks do give them more hauling capability. But for those just looking for improved fuel efficiency from a diesel engine, it's not worth upgrading to a heavy-duty truck. There is one exception: The Ram 1500 EcoDiesel is a light-duty diesel that returned an impressive 20 mpg overall in CR's tests.
Of course, fuel economy will vary significantly depending how you equip your truck, how much weight you haul, and whether or not you're towing a trailer on a regular basis. Our tests were conducted without a load or trailer, so consider these best-case scenarios. Heavy-duty trucks are less affected by hefty loads, so it is possible that a heavily laden heavy-duty truck might achieve the same or better fuel economy than light-duty pickup bearing that same load.
Consumer Reports is providing fuel economy data on these heavy-duty trucks to help shoppers make an informed decision on what pickup truck they buy.
But shoppers have a right to see the results of the EPA fuel economy tests as well, as they reflect a variety of powertrains and configurations, consumer advocates say.
"Heavy-duty pickup shoppers shouldn't be left in the dark when it comes to fuel economy," said David Friedman, director of cars and product policy and analysis for Consumers Union, the policy and mobilization arm of Consumer Reports. "NHTSA (National Highway Traffic Safety Administration) and the EPA should get this information to consumers as soon as possible and Congress should make sure they have the funds they need to do so."
Consumers Union believes NHTSA and EPA should make fuel economy, emissions, and expected average fuel costs for heavy-duty trucks available to consumers, both at the government's fuel economy website, fueleconomy.gov, and through the same kind of window stickers used for light-duty pickups.
Consumers Union is calling on Congress to ensure that these agencies have the resources they need to provide this information to consumers.
Here is how each of these models did in our fuel-economy tests, followed by a summary of what we like—and don't like—about the trucks themselves.
Chevrolet Silverado 2500HD: 14 mpg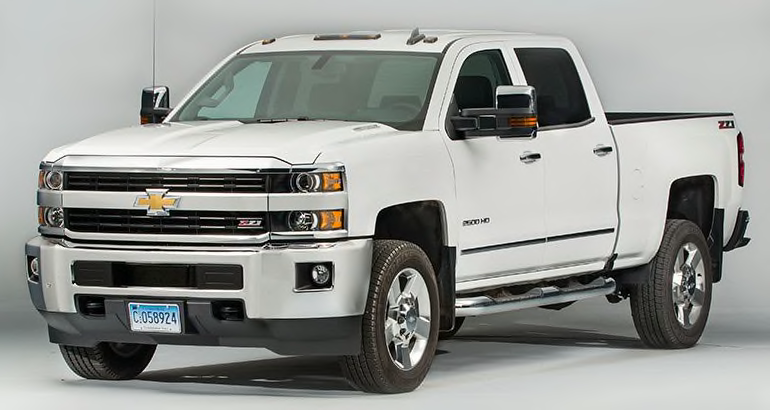 The Silverado 2500 (and its corporate sibling, the GMC Sierra 2500) is a true rough-and-tumble workhorse, with enough creature comforts and modern amenities that it can serve as a versatile mobile workplace.
The 6.6-liter V8 turbodiesel Duramax engine and Allison transmission make for an impressive team, allowing the truck to benefit from a smooth flow of power that makes towing a breeze. The cabin is relatively quiet except for some diesel clatter. Access to the tall vehicle entails climbing up and dropping out.
Unfortunately, ride comfort with the popular Z71 off-road package is atrocious. If you care for the well-being of your bladder and vertebrae, make sure you get the Z85 suspension with 18-inch wheels. It makes a world of difference, producing a truck that's much more civilized.
No one expects handling agility in an heavy-duty truck, and the Silverado is no exception; it's just as reluctant and clumsy as you'd imagine. The big beast is ultimately secure, however, when pushed to its limits. Another endemic weakness of heavy-duty trucks is long stopping distances, and the Silverado HD is not a great performer there.

Read the complete Chevrolet Silverado 2500HD road test.
| | | |
| --- | --- | --- |
| | Chevrolet Silverado 2500HD | Chevrolet Silverado 1500 |
| Trim | LTZ | LT |
| Engine | 6.6-liter V8 turbodiesel | 5.3-liter V8 |
| Horsepower | 445 | 355 |
| Transmission | 6-speed auto | 6-speed auto |
| 0-60 MPH, Sec. | 8.2 | 7.5 |
| Overall MPG | 14 | 16 |
| Towing Capacity, Lb. | 18,100 | 11,200 |
| Payload Capacity, Lb. | 2,260 | 1,710 |
| Price as Tested | $62,995 | $42,070 |
| Estimated Annual Fuel Cost1 | $2,125 | $1,780 |
Ford F-250: 15 mpg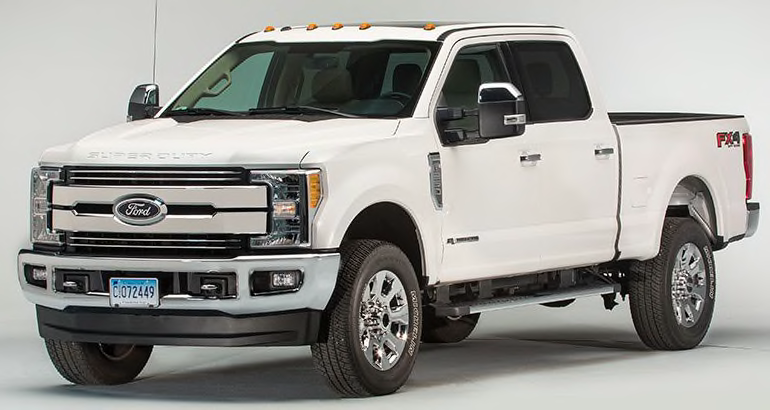 No question, the Ford F-250 can handle heavy loads and tough jobs. Like the light-duty F-150, the F-250 has an aluminum-alloy body and a frame mostly made from high-strength steel, a combination that makes the truck about 100 pounds lighter than the previous version.
The 6.7-liter turbodiesel V8 engine puts out gobs of horsepower, which helps it run just a bit faster than the competing diesel-powered Chevrolet Silverado 2500 and Ram 2500. It's also much quicker than Nissan's Titan XD.
The Ford's engine noise is more subdued than expected from a diesel, making long drives almost bearable. While going in a straight line is one thing, piloting this behemoth in corners is another matter. Handling is, in a word, clumsy, and this monster truck is reluctant to turn.
The ride is also expectedly rough but not as unyielding as the other mammoth trucks, even with Ford's stiffer FX4 suspension. One of the challenges of every four-wheel-drive heavy-duty truck is simply getting into the cab. Getting the burly FX4 off-road package for your F-250 gives the truck a high stance; even with running boards, you'll need a big step to get into this substantial rig.
The front seats are comfortable and the crew cab's rear seat is enormous. Of all heavy-duty trucks, the F-250 is a unanimous favorite among our staff.
Read the complete Ford F-250 road test.
| | | | |
| --- | --- | --- | --- |
| | Ford F-250 | Ford F-150 | Ford F-150 |
| Trim | Lariat | XLT | XLT |
| Engine | 6.7-liter V8 turbodiesel | 2.7-liter V6 turbo | 3.5-liter V6 turbo |
| Horsepower | 440 | 325 | 375 |
| Transmission | 6-speed auto | 6-speed auto | 6-speed auto |
| 0-60 MPH, Sec. | 8.1 | 7.0 | 7.2 |
| Overall MPG | 15 | 17 | 16 |
| Towing Capacity, Lb. | 15,610 | 7,600 | 10,700 |
| Payload Capacity, Lb. | 2,180 | 1,470 | 1,930 |
| Price as Tested | $65,935 | $45,750 | $46,755 |
| Estimated Annual Fuel Cost1 | $2,055 | $1,740 | $1,790 |
Nissan Titan XD: 15 mpg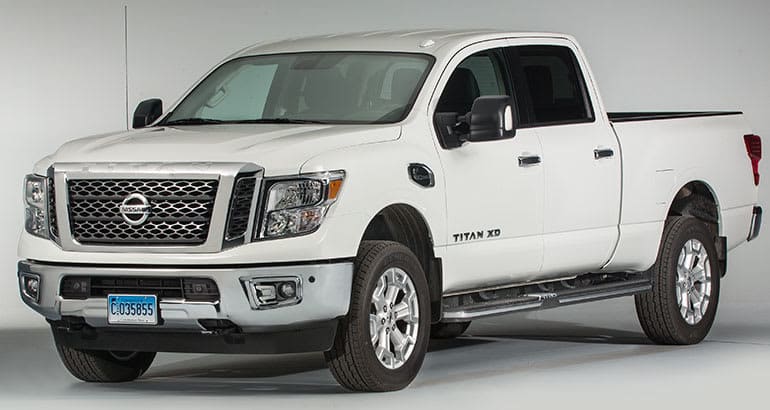 Nissan's first attempt at a behemoth on wheels is engineered to slot between popular half-ton trucks and the commercial-grade, heavy-duty three-quarter-ton variants.
The Titan XD is less pricey and slightly less unruly than heavy-duty pickups from Detroit, but in terms of towing and hauling capability, it's actually closer to light-duty trucks.
The Cummins-sourced 5.0-liter V8 turbodiesel goes easy on diesel clatter, yet it still gives you a feeling of driving a real big rig. Most trims come with extensive standard towing equipment, including a hitch, built-in brake controller, and huge towing mirrors.
What's innovative here is an integrated goose-neck hitch standard on XDs, lending itself to fifth-wheel towing. Handling is clumsy, with very slow steering response. Parking this long truck is a struggle, requiring a lot of back-and-forth maneuvering. The ride is stiff yet more civilized than typical heavy-duty trucks.
Read the complete Nissan Titan XD road test.
| | | |
| --- | --- | --- |
| | Nissan Titan XD | Nissan Titan |
| Trim | SV | SV |
| Engine | 5.0-liter V8 turbodiesel | 5.6-liter V8 |
| Horsepower | 310 | 390 |
| Transmission | 6-speed auto | 7-speed auto |
| 0-60 MPH, Sec. | 10.5 | 6.7 |
| Overall MPG | 15 | 16 |
| Towing Capacity, Lb. | 12,320 | 9,390 |
| Payload Capacity, Lb. | 1,600 | 1,440 |
| Price as Tested | $51,075 | $44,370 |
| Estimated Annual Fuel Cost1 | $1,995 | $1,855 |
Ram 2500: 14 mpg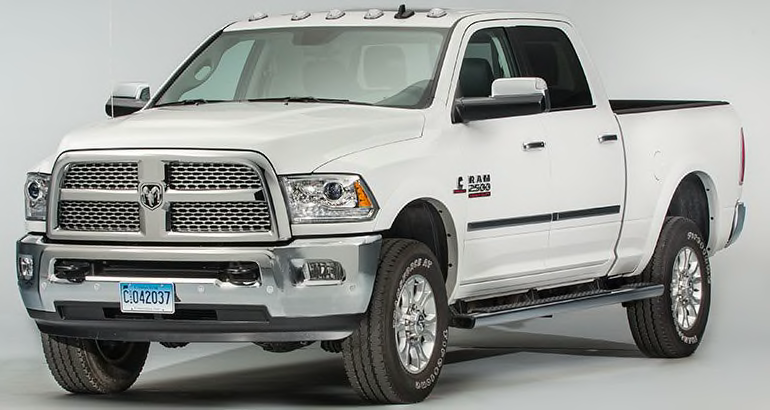 Undoubtedly, this massive Ram is built for work. With its coil-spring rear suspension, the 2500 delivers a ride that is a bit more civilized than those of competing heavy-duty trucks.
The Ram also benefits from an easy-to-use infotainment system. The torque-rich 6.7-liter Cummins turbodiesel inline six-cylinder engine is a strong-pulling diesel but a bit noisy with some engine clatter. The six-speed automatic transmission, however, can be jerky, making you feel practically every shift.
As with other heavy-duty trucks, handling is not agile, but the truck ultimately remains secure. Getting in and out of this very tall rig might require a ladder for some. Note that even though the Ram Box in-bed storage compartments are neatly designed and add convenient lockable storage, make sure they don't reduce the cargo room or the towing or payload capacity you might need.
Read the complete Ram 2500 road test.

| | | | |
| --- | --- | --- | --- |
| | Ram 2500 | Ram 1500 EcoDiesel | Ram 1500 |
| Trim | Laramie | Big Horn | Big Horn |
| Engine | 6.7-liter inline six-cylinder turbodiesel | 3.0-liter V6 turbodiesel | 5.7-liter Hemi V8 |
| Horsepower | 370 | 240 | 395 |
| Transmission | 6-speed auto | 8-speed auto | 8-speed auto |
| 0-60 MPH, Sec. | 8.9 | 9.5 | 7.1 |
| Overall MPG | 14 | 20 | 15 |
| Towing Capacity, Lb. | 17,210 | 8,750 | 10,050 |
| Payload Capacity, Lb. | 1,960 | 1,170 | 1,270 |
| Price as Tested | $66,485 | $49,155 | $42,810 |
| Estimated Annual Fuel Cost1 | $2,210 | $1,490 | $1,965 |
How Accurate Are Fuel Economy Estimates?
How accurate are the gas mileage estimates that come with new cars? On the 'Consumer 101' TV show, Consumer Reports' expert Ryan Pszczolkowski explains how CR confirms the amount of fuel an engine is using—and offers tips for maximizing your mpgs.