When you shop through retailer links on our site, we may earn affiliate commissions. 100% of the fees we collect are used to support our nonprofit mission.
Learn more.
Although half-ton, light-duty trucks dominate sales numbers year after year, contractors and serious trailer-towers often rely on heavy-duty (HD) rigs.
The domestic manufacturers—Chevrolet, Ford, and Ram—are the only players in this segment. Nissan has tried to bridge the gap between the light- and heavy-duty trucks with its new Titan XD (eXtra Duty), although with mixed success. CR has tested the XD along with the three-quarter-ton domestics—the Ford F-250, Ram 2500, and Chevrolet Silverado 2500HD—equipped with four-door crew-cab bodies, turbodiesel engines, and four-wheel drive. Like their light-duty sibling, each has its strengths and weaknesses.
Overall, these rough-and-tumble trucks aren't designed for everyday driving. Though a light-duty truck presents its own challenges, using these beasts for simple transportation is overkill.
Pulling Their Weight
All these trucks are immensely capable at performing heavy-duty work. They bring much higher towing capacities—some up to 18,000 pounds when properly equipped—as well as heftier payload limits. Versions of each domestic truck can be equipped from the factory with a gooseneck hitch for fifth-wheel towing (hooking up a heavy trailer directly to the frame through the bed). This is standard on the Titan XD.
Of the trucks we tested, the F-250 can tow the most, with a maximum capacity of 17,600 pounds, thanks to the massive torque from its 6.7-liter V8 diesel engine.
Nissan's Titan XD is kinder and gentler to drive, but it gives up ground when it comes to hauling. Though its 12,300-pound maximum towing capacity is about 2,000 pounds more than most half-ton trucks, it trails the HDs by about 2,000 pounds for a conventional trailer and about 6,000 pounds for a fifth wheel.
That ability to carry three-quarters of a ton—or more—of payload necessitates a very stiff suspension setup and very high tire pressures. This results in a ride that is uncomfortably harsh when the truck is unladen, but it is far better when there is some weight in the bed. Still, be aware that the optional off-road suspensions—such as the one on the Chevrolet Silverado Z71—can be jarring. A better option would be the similar GMC Sierra equipped with the less-harsh Z85 suspension. Overall, the F-250 delivered the best ride.
A challenge with all of these trucks is how they handle on a day-to-day basis. There's no getting around that they feel reluctant and clumsy when turning around corners. Navigating parking lots and squeezed-in parking spaces is tough in a quarter-ton truck, and it's even more challenging in the HDs because of their increased height and length.
Finally, a big deficiency of all HD trucks is long stopping distances. The worst performer in our 60-to-0 mph test was the Silverado 2500, which took 157 feet to stop on dry pavement. In comparison, the light-duty trucks needed between 135 and 141 feet.
Full Speed Ahead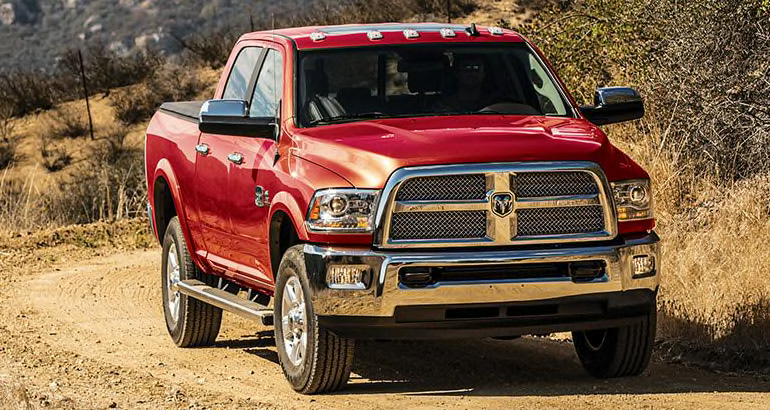 All can be equipped with either gas- or diesel-power engines. The Cummins turbodiesel engine from the Ram 2500 is a standout. Its seemingly endless supply of torque makes towing an almost effortless event. We also enjoyed the smooth, responsive six-speed Allison transmission in the GM trucks, but none of them are speed demons. The slowest was the Titan XD, which took 10.6 seconds to reach 60 mph.
Manufacturers don't have to report fuel economy for these big trucks, but we put each one through our full battery of tests. (See full fuel economy test results below.)
Our tested half-tons returned between 15 and 17 mpg overall, and the diesel Ram 1500 got an impressive 20 mpg overall.
With all trucks, noise levels from diesel engine clatter and turbo whistle add to some racket in the cabin. You'll also hear a fair amount of wind rushing by the large side mirrors and a substantial roar from the big tires.
On the safety front, some models offer forward-collision warning, blind-spot warning with rear cross-traffic warning, and adaptive cruise control. Considering how unwieldy the HDs are, we would recommend buying as much safety as you can afford.
Finally, these HD trucks don't come cheap. Even though base models start in the low-$30,000 range, opting for one of the higher trim lines with the diesel engine can set you back some serious cash. Adding in work features—such as a snow-plow prep package and a gooseneck hitch—or comfort-focused ones such as heated seats, power-adjustable pedals, and a navigation system can easily raise the cost to more than $65,000.
Clearly, for most people who don't regularly tow a large, heavy trailer or aren't tradesmen or contractors, these trucks are too heavy-handed. But for the tasks that they are designed for, these big work trucks are unbeatable.
Giant Steps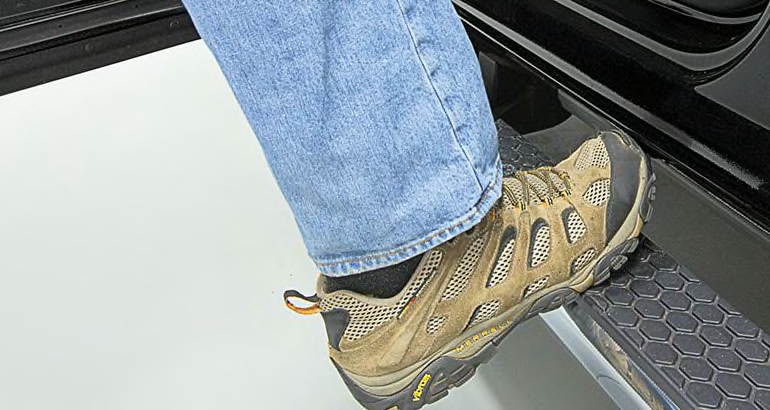 HD trucks usually have lofty ground clearances—which is great if you're driving off-road on a regular basis, but they can making it taxing to simply get in and out. We highly recommend getting the running boards with any of them, particularly with the F-250 and its FX4 suspension, which give it a ridiculously high cabin and overall height.
Once you climb into the cabin, you might find that, despite the large windows, it's not that easy to see out. You peer over a very high dashboard and long hood, making it difficult to determine where the front of the truck ends—and it's a particular challenge to see things like a child or pets immediately in front of the truck. Likewise, the high pickup-bed sides and tailgate create blind zones around and behind the truck.
With that in mind, we consider a rearview camera a must-have feature; those with a 360-degree bird's-eye view are a definite plus. Some camera systems are mounted near the top of the cab, giving a view of what is in the cargo box and helping the driver line up the truck when connecting to a trailer.
See the heavy-duty diesel pickup truck comparison chart below for fuel-economy test results and more.
Recent Truck Reviews
If you're reading this article on your smartphone, we recommend you rotate your phone to landscape mode to better view the tables below.
Heavy-Duty Diesel Pickup-Truck Comparison
| | | | | |
| --- | --- | --- | --- | --- |
| | Chevrolet Silverado 2500HD | Ford F-250 | Nissan Titan XD | Ram 2500 |
| Trim | LTZ | Lariat | SV | Laramie |
| Engine | 6.6-liter V8 turbodiesel | 6.7-liter V8 turbodiesel | 5.0-liter V8 turbodiesel | 6.7-liter inline six-cylinder turbodiesel |
| Horsepower | 445 | 440 | 310 | 370 |
| Transmission | 6-speed auto | 6-speed auto | 6-speed auto | 6-speed auto |
| 0-60 mph, sec | 8.2 | 8.1 | 10.6 | 8.9 |
| Overall MPG | 14 | 15 | 15 | 14 |
| Towing, lbs. | 18,100 | 15,610 | 12,320 | 17,210 |
| Payload capacity, lbs. | 2,260 | 2,180 | 1,600 | 1,960 |
| Price as tested | $62,995 | $67,130 | $51,075 | $66,485 |
| Estimated annual fuel cost1 | $2,125 | $2,055 | $1,995 | $2,210 |
What to Know About Towing
There are so many vehicles to satisfy your inner adventurer. On the "Consumer 101" TV show, Consumer Reports expert Mike Monticello explains to host Jack Rico what to know about getting these beauties from point A to point B.