The Big Business of Bad Car Loans
How major auto lenders profit at the expense of the most vulnerable consumers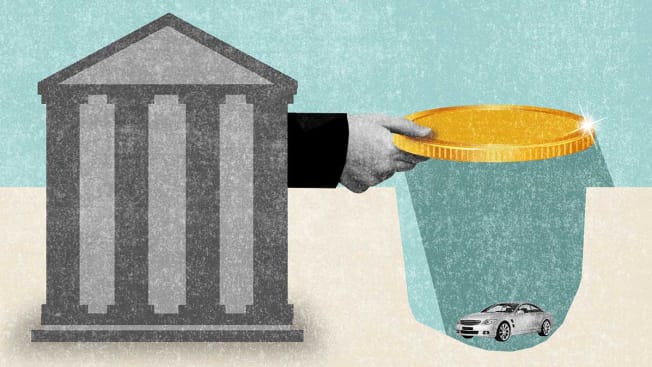 In late 2019, Oklahoma resident Becky Perrin was searching for a used vehicle to run errands and get to doctor appointments when she came across a 2014 Chevrolet Camaro at a local dealership.
To buy the sedan, Perrin, a retired nurse who was 67 at the time and recovering from cancer, had the dealer arrange the financing, as most Americans do when obtaining a loan for a car. The dealer, according to the complaint in a lawsuit Perrin later filed, ultimately secured the loan through Michigan-based Credit Acceptance Corporation, which primarily caters to consumers with low credit scores. 
But the cost of the loan—which had a 20 percent annual percentage rate and a monthly payment of $388—turned out to be more than she says she agreed to and more than she could afford, and Perrin quickly fell behind on her payments. Soon after, Credit Acceptance repossessed the Camaro, forcing her to depend on friends and family for rides.
Lenders often know that their customers won't be able to afford the loans they are given but agree to purchase them from car dealerships anyway.
Kathi Rawls
Those methods, according to a Consumer Reports review of regulatory filing and legal documents, sometimes start with lenders working with dealers to mark up cars sold to low-income borrowers more than they do for customers with better credit, or to upsell them into pricier cars they can't afford. Lenders are also accused of structuring the loans and their arrangements with dealers in ways that all but guarantee a profit even if borrowers default, the attorneys general say.
And when borrowers fall behind, as often happens, lenders aggressively work to collect debts through repossession and wage garnishment, according to allegations in the documents CR reviewed.
"There are some lenders with a business model, it seems, that expects some level of repossession, perhaps even desires some level of repossession," says Pamela Foohey, a professor at the Benjamin N. Cardozo School of Law in New York City, who has published several studies on auto lending.
In the the third quarter of 2021, Credit Acceptance and Santander reported net profits of $250 million and $763 million, respectively, over the preceding three months.
In other words, it's good business writing bad loans. 
But it's a perilous model for low-credit consumers. The sky-high interest rates, with terms often stretching 72 months or longer and monthly payments eating up a significant portion of their income, make default likely. 
And when that happens, lives can be turned inside out. When a person's car is repossessed and their wages and tax refunds are garnished, a vicious cycle begins that makes it difficult for them to rebuild credit, hold down a job, or pay rent or other bills.  
Santander declined to comment on specific questions from CR about the allegations, but said in a statement that it's a "responsible lender" operating in a highly regulated environment.
"We treat our customers as individuals, striving to find sustainable financing solutions that work across a broad range of incomes and credit scores," said Laurie Kight, a company spokesperson. "If customers fall behind on payment, we seek to provide options to help them maintain their vehicle, including loan modifications and payment deferments, as repossession is always a last resort."
Credit Acceptance also declined to comment on specific questions about ongoing legal cases, citing company policy. 
"Credit Acceptance has been in business for nearly 50 years because we offer financing programs through car dealers nationwide allowing credit-challenged and credit-invisible consumers to purchase vehicles and build or rebuild their credit," the company said in a statement to CR. 
"We were pleased to have resolved the allegations brought by the Massachusetts Attorney General and Mississippi Attorney General in 2021, and proudly continue to serve customers in those states through our financing programs."
Josh Lauer, an associate communications professor at the University of New Hampshire who has written extensively about the credit scoring industry, points to the development of credit scores—something that factors heavily into the underwriting of auto loans—as a double-edged sword. As a result of credit scoring, more people can get access to loans, but for some, those loans can be a financial disaster. 
"It helps unethical lenders identify the most vulnerable borrowers, and then to take advantage of them," Lauer says. "Most lenders are presumably trying to make money but do it in an ethical way."
Lenders providing used-car loans to consumers such as Perrin tend to frame their business model as one based on a big gamble: They're taking a chance on subprime borrowers—generally those with a score of less than 650—who may otherwise be unable to get a loan. 
Those borrowers, they say, are riskier to lend to than people with a high credit score, which justifies the high interest rates they charge. 
But a September 2021 study from the Consumer Financial Protection Bureau undercuts that argument. 
The analysis found that borrowers who got loans from auto finance companies, who tend to have lower credit scores, were more likely to receive higher interest rates on average and have more trouble keeping up with payments than consumers who got loans from banks or credit unions. 
But the CFPB's analysis suggests that the higher rate of default among borrowers with low credit might not be because they pose a higher risk but because they're charged higher interest rates, about 15 percent, on average, by auto finance companies compared with about 10 percent for those securing financing from a bank. 
Indeed, after controlling for multiple variables, the agency estimates that an average borrower with a credit score of at least 560 would receive a higher interest rate from a buy-here-pay-here lender (a type of car dealer that offers loans directly to customers) than from a bank, despite posing the same default risk to both lenders. 
"It's completely understandable that lenders want to charge higher rates to riskier customers, but this report strongly suggests that subprime borrowers are charged way more than warranted," says Chuck Bell, a financial policy advocate at CR.
The business model for lenders such as Credit Acceptance and Santander may be less risky than they make out for another reason as well: Their arrangements with car dealers are allegedly designed in ways that protect their profits—even if borrowers default. 
Here's how, according to court records reviewed by CR. 
At least 80 percent of car financing is arranged through dealers. But the loans themselves come from lenders, such as Credit Acceptance and Santander, who pay the dealers a fee for brokering the deal. 
Lenders say the system works for dealers and car buyers. 
"They're incentivized to set the customer up for success," said Douglas Busk, a former Credit Acceptance senior vice president and treasurer, in a 2017 deposition. 
But lenders often design the deals in ways that protect their profits no matter what, according to lawsuits brought in 2017 and 2020 by the multiple state attorneys general against Credit Acceptance and Santander. Specifically, the AGs alleged that the greater the risk a customer appears to pose to the lender, the smaller the fee it pays the dealer. 
That ensures that the company's profit "remains the same, no matter how much—or how little—of the loans it expects to collect," according to one case, filed by Attorney General Maura Healey of Massachusetts, against Credit Acceptance. In fact, even including when borrowers default, Healey says that the company stood to gain over $3,100 in profit on the average loan it made to Massachusetts borrowers between 2013 and 2019. 
Credit Acceptance neither admitted nor denied wrongdoing in the suit, which was settled in September 2021. 
The high interest rates and monthly payments that typically come with the loans can also help lenders make their money back fast, even when borrowers default. 
For example, in the Mississippi lawsuit filed against Santander, the state's attorney general alleged that the company set interest rates high enough to guarantee a profit after a customer made as few as three to six monthly payments. And the state's complaint cites internal company communication in which an unnamed Santander vice president told staff that "the company makes money even when customers default," and another employee said a loan "made sense" even if the customer was only expected to make one year's worth of payments. 
The Mississippi AG denied a public records request by CR for copies of the interviews, saying they were covered by a protective order.
Repossessed Cars, Garnished Wages
Lenders have another way to balance their books: When borrowers default, they can repossess and resell the cars, or garnish wages or tax refunds. 
In the case of Credit Acceptance, the importance of those strategies appears to be reflected in the composition of its workforce, according to the Mississippi lawsuit against the company. Nearly half of its staff focuses on servicing and collecting loans, while just 28 percent originate loans. 
For Santander, each year the company repossesses about 14 percent of cars with outstanding loans, according to an analysis of publicly available annual reports filed from 2011 to 2020. Credit Acceptance has an even higher repossession rate—roughly 35 percent—according to statements made by Busk, the company's senior vice president and treasurer at the time, to stock market analysts in 2015. By comparison, Ford's auto lending entity has a repossession rate of about 1 percent. 
After repossessing vehicles, the lenders will try to "re-market" them, which typically means reselling them at auction. Santander has repossessed over 1.25 million cars over the last five years, spending about $1,000 for each repo, according to the company's financial filings.
And if the lenders don't make enough from reselling the vehicles to pay off the loan balance, they can go to court to garnish the wages or tax refunds from the borrower. 
An example cited in the Mississippi case against Credit Acceptance illustrates how the debt can follow consumers around for years. 
The state's attorney general cited a resident who, in 1997, financed a car with a roughly $6,500 loan from Credit Acceptance, carrying an 18 percent interest rate.
Santander has repossessed over 1.25 million cars over the last five years, spending about $1,000 for each repo, according to the company's financial filings.
When the person defaulted, Credit Acceptance took the borrower to court to recoup what was still owed. The court sided with the lender. After attorney's fees were tacked on, the consumer owed $5,515. 
Yet by 2013, interest on the remaining balance had ballooned the total amount to $11,475, nearly double the original loan amount, according to the Mississippi AG. 
Indeed, the company relies heavily on obtaining wage garnishments, a 2018 investigation by the auto news site Jalopnik found.The investigation, which reviewed tens of thousands of garnishment cases brought in the City of Detroit, found that more than 9,000 had been ongoing for over a decade. About 2,200 of those cases had extended beyond 20 years. 
"Auto finance companies that engage in unsafe, risky lending fail their customers and communities," says Bell at CR. "Who is going to crack down on auto lenders who overprice their loans and set borrowers up to fail?"
More Expensive Cars for Low-Credit Borrowers
Lenders' efforts to make money from low-credit customers may sometimes begin even before borrowers buy a car. 
In the case of Credit Acceptance, the lender does that by working with their partner dealerships to set higher markups for cars sold to customers with low credit than they do for those with good credit, lawsuits allege. 
Here's how. 
Used-car dealers often get the cars they sell by buying them at auction or receiving them as trade-ins from customers. And, according to documents in a 2020 lawsuit brought by investors, Credit Acceptance tells dealers to set those car prices high when they enter them into the company's loan pricing system, noting that prices can always be lowered during the sales process if necessary. 
That cost-lowering appears much more likely to happen with high-credit customers than low-credit ones. In a review of loan data, the Massachusetts attorney general found that the original cost of vehicles sold to customers with good credit was, on average, $7,284 and the cost paid by the borrowers was $10,013—a markup of 37 percent. But for customers with low-credit, the markup was 68 percent, from $6,533 to $10,957. 
Setting the value of the car so high harms consumers in another way, too, the manager in the 2020 investor complaint alleges: "Customers often could not refinance or get a better interest rate on their vehicles because the true value of the vehicle was way less than what the customer owed."
The lawsuit is ongoing. Credit Acceptance has denied the allegations.
All of those measures may help the lenders protect their bottom line—often at the expense of borrowers. 
For example, in some cases, the high interest rates given to those borrowers often forces them to spend a third or more of their monthly income on their car loans, according to Mississippi's lawsuit against Santander. Lending experts recommend consumers spend no more than 10 percent of monthly income on a car payment. 
These consumers can barely afford their monthly payments alongside their other costs of living, and have no savings for the additional, unexpected expenses that are regular occurrences in anyone's life, such as medical emergencies.
Mississippi Attorney General's complaint against Santander
In one example from the lawsuit, a consumer with a low income purchased a Nissan Altima sedan with a six-year loan from Santander that carried a $445 monthly payment and an interest rate of 21 percent. Her monthly income at the time: roughly $1,200. 
"She worried the monthly payment was too high," the state attorney general's complaint said, "but she needed a car immediately and convinced herself she could handle the payments."
That turned out to be too optimistic. She fell behind on the bill, allegedly leading Santander to hound her with relentless calls to collect. Eventually, she succumbed to bankruptcy to avoid having the car repossessed. 
"These consumers can barely afford their monthly payments alongside their other costs of living, and have no savings for the additional, unexpected expenses that are regular occurrences in anyone's life, such as medical emergencies," the complaint reads. 
And witnesses cited in the investor lawsuit against Credit Acceptance said that the lender routinely approved loans that would eat up more than 25 percent of a borrower's income, despite internal company policies. 
Credit Acceptance did the "bare minimum" when vetting a consumer's financial background, the lawsuit alleges, summarizing the testimony of another employee who worked at the lender for over a decade, until fall 2020.  
Customers were, according to the employee, set up for failure.
Shopping for a car loan can be a daunting task. Consumer finance experts widely recommend that it's best to try obtaining financing through a bank or credit union beforehand, because they are likely to charge lower interest rates. If you go through a dealer, negotiate not just the price of the car but also the terms of a loan offer. 
And if you begin to struggle paying your car loan, John Van Alst, an attorney and auto loan expert at the nonprofit National Consumer Law Center, recommends taking the following steps:
While you should keep up with your regular car insurance, consider canceling any other "gap" insurance you bought from the lender, as well as any other add-ons you purchased, such as a service plan. 

Try to negotiate a better deal with the lender. 

Sell the vehicle before it gets repossessed. You'll still have to pay back what's owed, but at least you'll get part of that covered. 

Note that repossessors can't legally break into a locked garage to get a vehicle. But never try to physically prevent them from taking your car, because that could be dangerous. If the repossessor uses force, call the police and contact an attorney. 

If your car is repossessed, try to get back any personal property left in it. Creditors can't keep that as collateral, so immediately demand by phone and in writing that anything in the car be returned, detailing each item. And remember to immediately cancel your insurance and add-on programs, and seek refunds for any payments made after the car was repossessed.
If you're in need of a car, programs exist around the U.S. to provide low-income consumers with access to reliable cars at lower interest rates. 
More regulatory action could be forthcoming. Federal regulators, in particular, have been investigating Credit Acceptance for years, and in June the Consumer Financial Protection Bureau sought out additional information about its lending practices. 
Nonetheless, business has been good for both Santander and Credit Acceptance. In the time it took the Massachusetts AG to investigate and reach a settlement with Credit Acceptance, over six and a half years, the company's stock price increased more than fourfold. Santander has fared well, too.
This past summer, during a call with analysts to discuss the company's business results for the second quarter of 2021, Santander president and chief executive officer Mahesh Aditya boasted about how things had gone amid the COVID-19 pandemic. It had been the most profitable quarter in the company's history. 
Aditya pointed to low supply and higher used-car prices as major drivers of the company's record quarter. But another part of the company's success may be found in a single number buried deep in the company's financial report: 84,249, the total number of vehicles Santander repossessed that year from its customers.